No doubt that Serum is base on an advanced wavetable synthesizer. It differs from a subtractive synthesizer that filter or cut out sound to create new wave shapes, or Am and Fm processes where modulating oscillators are crucial.
The serum is built to be more advanced and very powerful, in the sense that it can collect waveforms that already exist in wavetables.
It can also store different digital samples of sound from various instruments, which can then be manipulated to reproduce music defined by a digital input signal.
Feature Details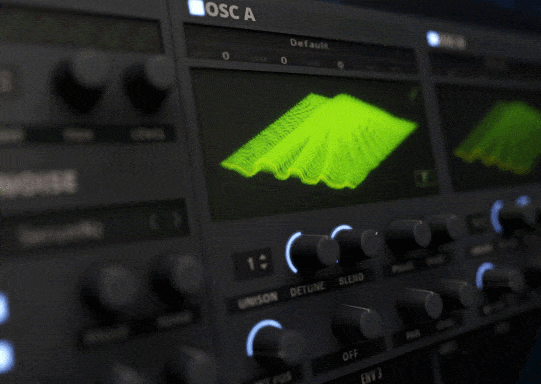 Serum comes loaded with great features which are superb and a good arsenal to your audio production.
Create Custom/unique Sounds In Serum
Gone are the days where designing custom sounds are complicated, with Serum you can import audio files and breaking it into a different desired waveform of your choice.
Also, an advanced wavetable editor in front of you, where you can import single-cycle wavetable, even multiple at once.
There is a built-in option to add effects like fades, crossfades, normalize, and much more.
Clarity In Oscillators
Serum is design to operate with an ultra high-level of resampling to play different frequencies at once.
No unwanted dull, gibberish sound, just that clean sound you always think of.
Modulation and LFo made Simple
If you are the type that wanna create a more advanced and pronounced sound, then the modulation tool and Lfo tool are presented in front of you. Play with the tools and get it to work with the sound you have in mind.
Advance Filter Type
Serum includes all of the filter types you would expect in a standard synthesizer.
They further improve the tool with some brand new ones - Flangers, Phasers and Comb filters which can fit the musical tone you play.
Effects Included In Serum
Serum included one effect insert with ten effect modules that will let you get the sound to your face.
Unison In Serum
Serum also can let you load up a single oscillator to use up to 16 voices at once.
Each of the oscillators has an advance unison parameter, tuning modes and more you would expect.
Serum Specification
Serum comes with over 450 presets and 144 wavetables.
Available as Vst/Au/Aax both 3bit and 64bit.
Windows and Osx supported.
System Requirements
Cpu with SSE2.
Windows 7 Sp1, or Mac Osx 10.6 or higher.
Vst 2.4, Au or Aax Compatible host software.
Minimum of 1gb ram.
Price
Serum comes with a fair price tag of $189.00. Learn more Xfer
Serum also included some toolkit designed by renowned synthesizer expert Francis Preve, and the kit contains one hundred presets and a price tag of $29.00 each.