XILS DeeS is a Dessing plugin by XILS Lab that helps you mitigate audio recording issues while preserving their unique, precious character.
What I really love about this plugin is that it is super easy to use, you can detect and correct de-ssing issues in recordings almost instantly.
Just move the Frequency Knob and apply Reduction. No more sibilance, easy peasy!
The way XILS Dess works is by splitting a signal into two independent channels (Detection Step): The Voice (Minus Sibilants) and the Sibilants Only, with a distinctive EQ, which you can then remove the sibilants using the detection module.
The Detection Module

With the detection module, you can select the cutoff frequency between voices & sibilants, and then you proceed by tweaking the amount of reduction you want to apply with the reduction knob. The interesting thing is that you can also adjust the quality of the de-essing, e.g fast or slow de-essing, on top of this, you also have a solo switch, which makes you better adjust the parameter to a suitable taste.
Note: The VU meter simply displays the detected sibilants.
Sibilant Module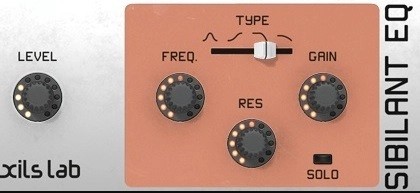 Select your preferred filter type (Low Pass 6dB, Low Pass 12 dB, Bell, High-Shelf) and tweak the cutoff frequency, resonance (or emphasis) and Gain when applied. The Level knob allows you to reduce or increase the Sibilant audio path.
What I find interesting is that you can listen to your equalized sibilants by clicking on the SOLO button
Voice Module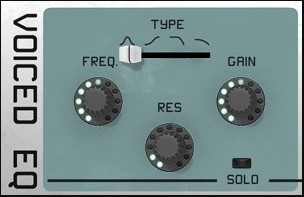 Almost the same as the Sibilant path, except that it has no specific level
Similarly to the Sibilant module, you can listen to your equalized voices by clicking on the SOLO button.
Analog EQs
XILS DeeS features an internal algorithm that allows you to equalize with different settings between the two split signals ( The voice, and the Sibilant ). Also, it also features LP, Bell, and HP TO simulate an analog in the high-frequency range (zero-delay filters), with no artifacts.
Display:

The display allows you to "see" what happens in your audio track and simultaneously visualize the Voice and the Sibilant spectrum, as well as the curve and spectrum of the applied EQs, as usual, trust your ears, and move on.
Only with the XILS DeeS:
Entirely Transparent: No filter sweep effect like with traditional similar tools.
Fast: The detection can be applied as fast as it should be, resulting in lively, natural voices (No more lifeless voices).
Input independent detection: Retains the whole dynamic range of the incoming audio.
Simple: Sibilant and Voice Channels are clearly identified on each UI part: Knobs, Graphs share a common color code.
Exclusive: Plosive detection for better recognition
Then go even further: Endless possibilities to change, adapt, or polish the character of voices with two independent EQing audio paths (Analog like 0-delay-feedback filters).
System Requirements
XILS DeeS is Available in the Following Formats:
Mac OSX 10.5 and later: VST, Audio Unit, RTAS (Protools 7.0 and later), AAX (32&64 bits, native)
Windows XP, Vista, and 7&8; VST, RTAS (Protools 7.0 and later), AAX (32&64 bits, native)
XILS DeeS is a 32 and 64-bit plug-in protected with a serial number
Minimum System Requirements:
1 Gigabyte of RAM and a 1 GHz processor.
XILS DeeS is a plug-in and is not available in a standalone application.