The Orb Filter by AudioThing is one of the neatest, most intuitive, and simple Filter plugins I have ever seen and used, I'll have to admit that this filter has been built with a clean GUI in mind, much better than FilterFreak interfaces, not saying SoundToys FilterFreak is bad, but this one is much better in terms of interface and easiness.
Let's go over its features...
The Orb Filter is built to simulate the characteristic of the human voice, which means it is a formant filter where several prominent bands of frequency determine the phonetic quality of a vowel, so the Orb can transform any sound into a vowel-like formant-filtered sound.
It features a set of three bandpass filters and three LFOs which give you the option to modulate the Vowel, the Emphasis/Resonance of the formants, and the Drift, which can shift up or down the frequencies of each formant. You can also create your own set of vowels by changing names and frequency for each vowel/formant, which is super awesome.
Going further, each sector of the orb represents a Vowel, which can be changed by clicking on the vowel name in each sector, for example, the image below represents the number of custom Vowels you have out of the box: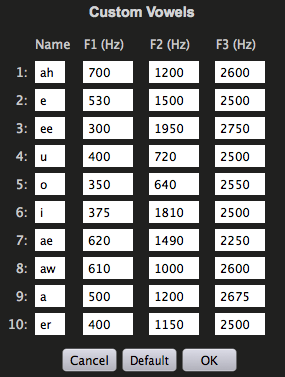 If you feel the need, you can change each vowel name and frequency for the three formants, also, each custom vowel set will be saved in a preset, this way, you can create as many as possible by saving to a new preset. The Orb is different from your normal stock plugin filters, you can experiment and create exciting drama in your music, enjoy away!
Video Overview
►Key Features:
Three Band Pass Filters (ZDF design)
Vowel Sets: Male, Female, Child, and Custom
3 LFOs (destinations: Vowel, Emphasis, and Drift)
Lightweight on CPU
Preset system with randomizer
Formats: VST, AU, and AAX (32/64bit)
Platforms: OSX, Windows
►System Requirements:
Mac: OSX 10.6.8 or later
Win: Windows XP SP2 or later
2 GB RAM / 500 MB HD
Screen resolution: 1024×768
VST2, AU, and AAX 32-bit or 64-bit host
Intel Core 2 Duo 2GHz / AMD Athlon 64 or equivalent