Soundtoys plugins are one of the best music effect tools of this era, and I would have to admit that their products are one of my favorites, and here we have another of their plug-in - Mr. EchoBoy!
EchoBoy is the collection of numerous, and classic echo devices in one clean cutting edge interface, if you want an echo that just works right off the box without fiddling with tons of knobs, then this is your go-to plugin.
The interesting thing about this plugin is that it features 30 built-in styles modeled on vintage gear, so, no matter the track you are working on, you'll find an echo tone that fits with the mix, for example, you'll find classic echo box tones, including EchoPlex, Space Echo, Memory Man, DM-2, and the TelRay oil can delay.
Additionally, it emulates the CE-1 chorus, which is considered a holy grail of guitar chorus pedals. It doesn't stop there, If you want warm, smooth saturation, try the "Studio Tape" style, inspired by Ampex ATR-102 half-inch two-track machine.
I also love the fact that you can fine-tune the echo's rhythm with the Groove, Feel, and Accent controls. If you want to sound realistic, for example, if you are creating a drum loop, you can shuffle or swing to match the groove of the track.
Here is a drum loop I am working on, I love how the element sits together, but, I'll love to add some kind of shuffles to the clap to make the chorus more interesting, here is the before and after:
No EchoBoy:
With EchoBoy:
You see how the shuffles and swing add an interesting vibe to the drum loop altogether, this is my secret to creating groovy drums, don't tell anyone the secret ;)
Expressive Tools
EchoBoy is not only easy to use but is also incredibly versatile, in short, with this plugin, you are limited by your imagination. Do you want to keep things simple? use the Single Echo mode, you want powerful stereo echo effects? dial in the Ping-Pong mode, or dive deep with EchoBoy's powerful Rhythm mode and the Echo Style editor.
Exciting New Rhythms
I'll say this again, EchoBoy is not any delay plugin mate, you can achieve endless possibilities with this plugin, and thank goodness, they've loaded it with a super awesome rhythm. Simply switch EchoBoy to Rhythm Echo mode for a new experience entirely. In this mode EchoBoy lets you select the rhythmic timing of up to 16 repeats. Rhythm Mode is like having a tape echo with up to 16 read heads (or "taps").
You can add taps to the Rhythm Editor graph, control their timing, and sculpt their loudness curve using the Shape control. Rhythm Echo mode is a unique take on delay effects that might just become your new secret weapon in the studio.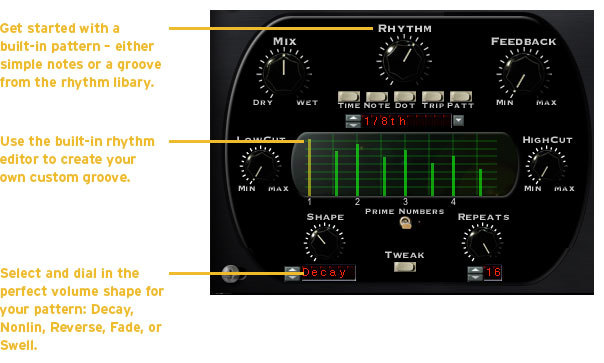 Deep Customization Options
This plugin gives you endless options right off the bat, but it can't make an omelet without breaking some eggs (It might not satisfy your need), you can slide open the Style Editor to get access to a full set of creative tools that let you create any delay sound you can dream up.
Choose the amount and type of analog saturation to get the vibe just right. Dial in some realistic tape wobble, or add reverb-style diffusion.
►Key Features
Choose from 30 different echo styles: Echoplex, Space Echo, Memory Man, DM-2, and many more
Warm-up vocals with high-end tape sound modeled on the Ampex ATR-102
Control saturation, tape flutter, and diffusion for strikingly analog-sounding effects
Create rich stereo delays with Dual and Ping-Pong modes
Adjust shuffle, swing, and accent. The only echo with true "groove"
Design one-of-a-kind rhythmic delay effects using Rhythm Echo mode
►System Requirements
Plug-in Formats (64-bit only):
AAX Native, AAX AudioSuite, VST, and Audio Units (AU)
Supported Sample Rates:
Minimum: 44.1 kHz, Maximum: 192 kHz
Minimum Requirements:
Operating systems: Mac OS X 10.8 or later; Windows 7 or later
An internet connection is required at the time of activation
A FREE account at ilok.com is required (a physical USB iLok is not required)
Officially Supported Host Applications
All version 5 Soundtoys products come with 64-bit VST, AU, and AAX Native plug-in formats. Here is a list of all of the DAWs (Digital Audio Workstations) that we currently support:
Fl Studio 10 and above (I personally tested this, that is what I used in the audio demo above)
Pro Tools 10.3.5 - 2018 (Mac & PC: AAX Native and AudioSuite)
Logic Pro 9 & X (​Mac: AudioUnits)
Ableton Live 9.2.2 - 10.1 (Mac: AudioUnits & VST; Windows: VST)
Digital Performer 8 - 10 (​Mac: AudioUnits & VST; Windows: VST)
Studio One 4.5 (Mac: AudioUnits & VST; Windows: VST)
Cubase 7 - 10 (Mac & PC: VST)
​Nuendo 6 - 10 (​Mac & PC: VST)