A song without a bass instrument would, well, sound lifeless, and incomplete. You might think it shouldn't be necessary, well you might be right as songs are different, but the moment you add a superb bassline, then you would quickly notice the depth and life of the song, and you would enjoy whatever you are doing by just adding a simple bass.
But... don't take my word for it, here is a before and after of a simple track, one with no bass, and the other with a bassline:
Use a headphone of course
Here is a demo with no bassline:
and here is one with a bassline:
You can see how the bass gives it a lead on, it just feels more punchy and relaxing, here is another example:
Here is one with no bassline:
and here is one with a bassline:
Be the judge, my guest ;)
Since we know the importance of using a bass instrument, I would be recommending some of the best bass virtual instruments that sound good and realistic, enjoy the rest of the show...
1.) ujam Virtual Bassist DANDY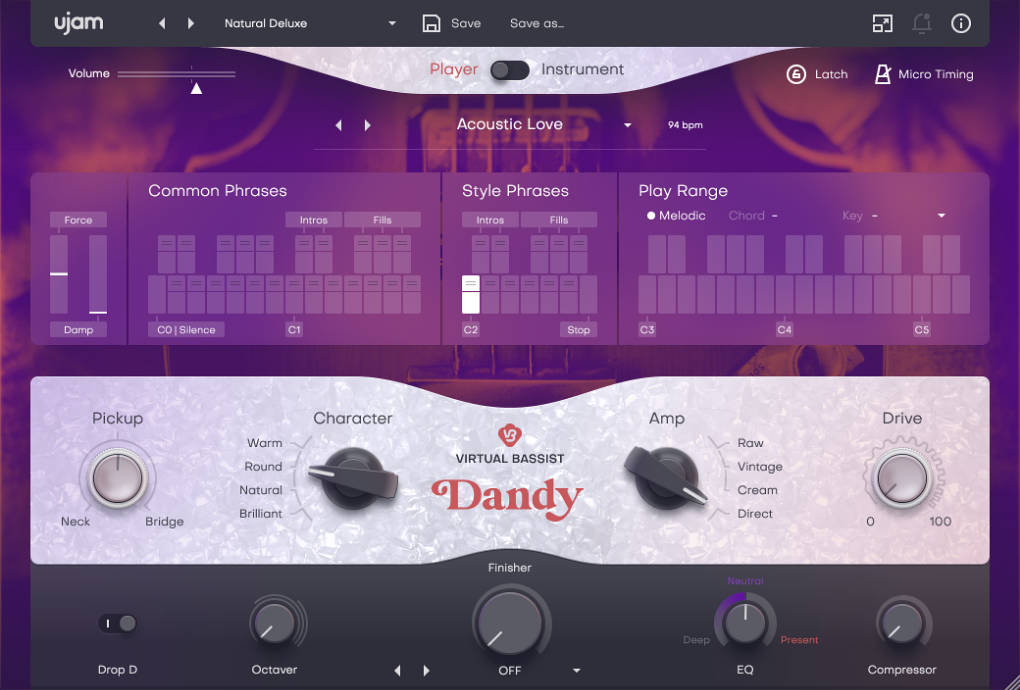 ujam 'DANDY' is the latest addition to the acclaimed Virtual Bassist line. This meticulously crafted plug-in features a sampled bass with flat-wound strings for a classy, warm, and restrained sound.
DANDY perfectly complements the Virtual Bassist Series including ROYAL (electric
fingered session bass), ROWDY (energetic picked electric rock bass), and MELLOW
(fingered acoustic double bass).
The Virtual Bassists can be played freely in the Instrument Mode, follow key and chords intelligently to play phrases in the Player Mode, or automatically accompany a track using PreSonus Studio One Chord Track and Key Switch features.
►Key Features:
30 styles and 990 phrases
100 signature presets
4 character and smart mix presets each
15 built-in Finisher multi-effect modes
MIDI Drag and Drop and a resizable GUI
Instrument & Player modes, Studio One Chord Track, and Key Switches
2.) ikmultimedia - MODO BASS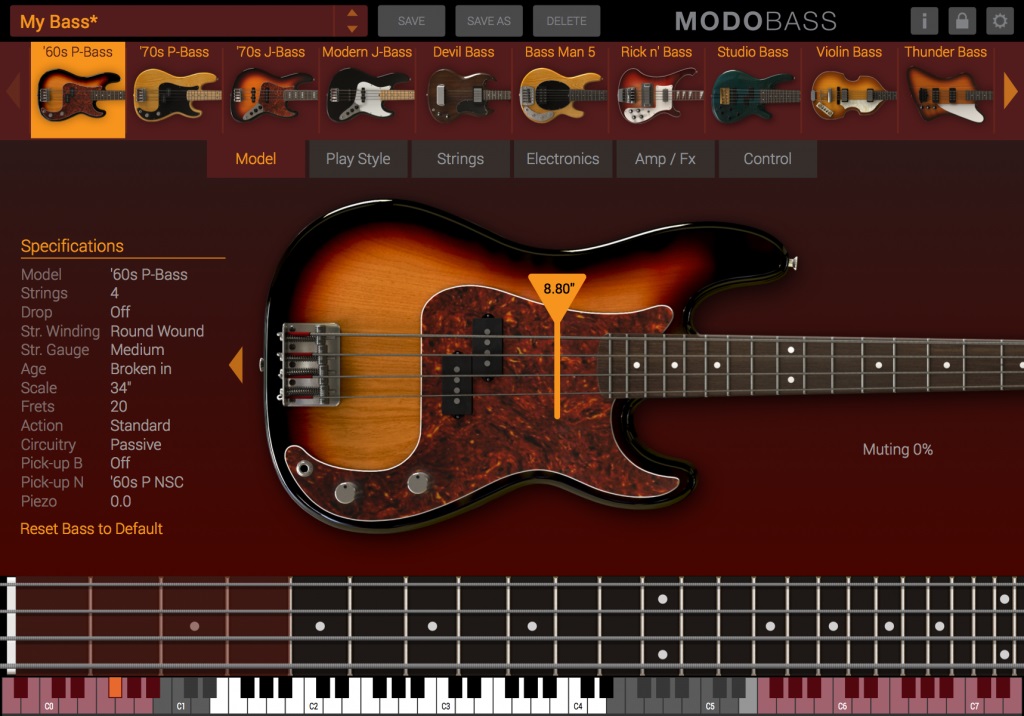 ikmultimedia doesn't need an introduction, their products are one of the best in the music market, and now, we have exemplarily Bass. MODO BASS is one of the first physically modeled electric bass virtual instruments that give you an astounding realistic performance for your music tracks.
MODO BASS isn't a mere traditional sample-based virtual instrument, but a groundbreaking realistic BASS that utilizes astonishing technology to breathe life into bass tracks. Unlike traditional sample-based virtual instruments, MODO BASS utilizes modal synthesis technology and an ultra-optimized sound engine to model each string as a nonlinear resonator.
The good thing about MODO BASS is that each string's acoustic behavior is determined by its physical parameters, as well as modeling the action of the player as a nonlinear physical interaction with certain areas on the string surface and the interaction of the string with the fretboard, body, and pick-ups of the instrument.
On top of that, you can add IK's cutting-edge analog modeling expertise, the amp and effects rig of the electric bass is added to the sound chain.
The thing I find the most interesting is the fact that it comes bundled with a collection of 14 iconic bass models that define virtually every style and every genre of music recorded with electric bass.
Each bass model was chosen for its particular timbre and wood tone, and every detail of the instrument's performance has been meticulously modeled and recreated.
►Key Features
The first physically modeled electric bass virtual instrument
Groundbreaking real-time modal synthesis technology — no samples used to create the sound
Recreate virtually every electric bass sound imaginably
14 iconic bass models that span the history of recorded electric bass
Models the entire act of playing an electric bass – player, instrument, FX & amp
Ultra-small memory footprint
Choose playing style — pluck, slap, and pick
Freely move the playing hand for realistic performance
Customize string force, fingers used, pick thickness & technique
Customize string number, scale, tuning, gauge, construction, action, age
24 faithfully recreated, interchangeable iconic bass pickups with volume
Choose active or passive electronics with parametric EQ
Under-bridge piezo pickup with blend
7 bass stompbox effects configurable in 4-slot chain
2 iconic bass amps – Solid State and Tube derived from AmpliTube
FX and amp global bypass for routing
Optimized resizable interface
Works as a 64-bit plug-in or standalone instrument for Mac/PC
Full MIDI control with MIDI learn, key switches
Full DAW automation control support
3.) Bass Engine 1 by DopeSONIX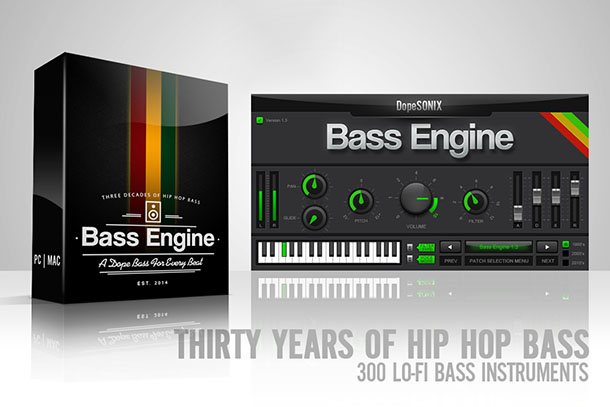 Bass Engine 1 is a Hip-Hop bass plug-in by DopeSONIX, it features low-end bass and 808 sounds. DopeSONIX did thorough research on the last three decades of Hip Hop production, and have selected the most useful and relevant ones of that era.
You'll find a different collection of basses such as dusty jazzy upright bass to floor shaking 808's and everything in between. Let's learn how they came about the selection of the sounds in those eras...
►Key Features
300 Pre-EQ'ed Hip Hop bass instruments including twenty fat 808′s
An unrivaled collection of the Finest USEABLE Hip Hop bass instruments ever!
50 Hip Hop MIDI basslines included featuring a selection of styles and keys
Built-in pitch, pan, glide, and volume controls
Mono, Poly, and Legato Modes
Built-in ADSR controls
Built-in Hi & Lo pass filter
Ultra-low CPU usage [perfect if you own a laptop/tablet / low spec PC/MAC]
Ultra-fast patch loading [flick through patches in lightening quick times]
Program your basslines manually or use a MIDI/USB controller/keyboard/MPD
System Requirements
Mac:
OS X 10.4 - 10.15 (MacOS 10.15 Catalina now supported)
125MB disk space required
2 GB RAM
Audio Units (AU) or VST DAW compatible host required (64-bit only)
Windows:
Windows XP / 7 / 8 / 10
139MB disk space required
1 GB RAM
VST compatible DAW host is required (32 or 64-bit)
Get Bass Engine 1 By DopeSONIX
4.) Bass Master by Loopmasters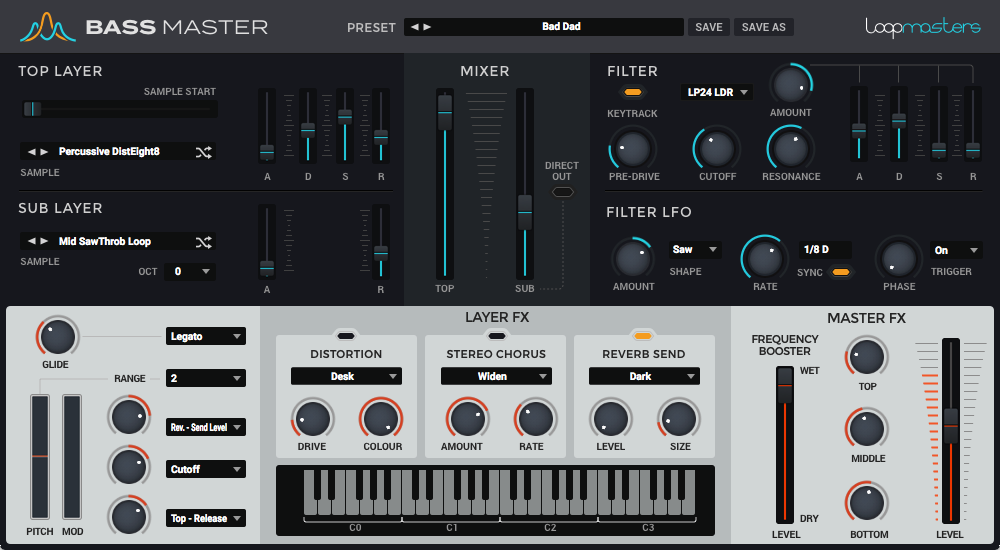 Bass Master by Loopmasters features a huge variety of bass sounds and provides inspiration for a weighty, powerful bass tone in any genre.
Across two layers, the curated set of 217 waveforms (that's almost 50,000 possible combinations), taken from a mixture of legendary hardware classics and cutting-edge synth science.
It comes with over 350 mix-ready presets with a clean and simple UI, meaning it's a breeze to dial in your ultimate bass tone.
The onboard filter offers 13 filter types: including a range of low-pass, band-pass, and high-pass models, ladder filters, and a comb filter. The filter envelope (ADSR) and LFO (including Random and Drift shapes) give Bass Master even more sculpting power.
The interesting feature I love is the Legato and Portamento that is included in the Global controls, this gives you a lot of flexibility with the glide time and the pitch bend.
►System Requirements:
macOS:
10.12 - 10.15 (officially tested OS X Platforms)
Formats: AU (64-bit only) and VST (64-bit only)
Windows:
10, 8 and 7
Formats: VST (64-bit only)
Get Bass Master by Loopmasters
5.) Monoment Bass by Softube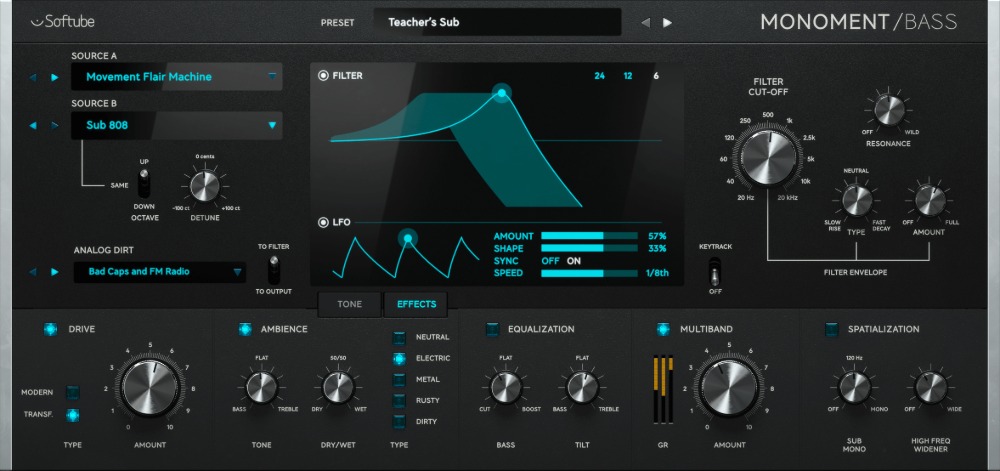 Monoment Bass is tailored to producing huge, solid bass tones with complex, organic overtones and focused effects for a mix-ready low-end – is more than just useful. It's foundational. It lays the groundwork for top-quality tracks.
The good thing about this Monoment Bass is that all of the source material was recorded in stereo from high-end rare and boutique synths, giving huge, wide, and mood-defining sounds.
Also, it includes a purpose-built multi-band compressor, and a spatialization tool for fine-tuning your stereo image, Monoment Bass has great-sounding effects, but more importantly, the right effects for the job.
►Key Features:

Super-high-quality bass synth with stereo source sounds from top-end boutique hardware
Top-notch synth architecture that's both versatile and easy to use
Blend noise with two different sources at once for a textured and highly complex sound
Professional presets from Madison Mars, Vandalism, Sample Tools by Cr2, WA production, Black Octopus, and Function Loops
A heavy focus on modern bass sounds makes this the perfect addition to the forward-thinking studio
Fills a soundstage with domineering weight and power, yet is easy to mix thanks to dedicated effects
►System Requirements:
Mac OS X 10.12 or newer (older OS versions may work but are not tested (64-bit only).
Windows 64-bit, versions 7, 8, or 10 (64-bit only).
Intel Core 2 Duo, AMD Athlon 64 X2 or newer.
Screen resolution 1280x800 or larger.
Supported sample rates: 44.1, 48, 88.2, 96, 176.4, and 192 kHz, in both mono and stereo.
8 GB RAM or more is recommended, as well as at least 8 GB hard disk space for installation (individual plug-ins take less space, while sample libraries may require additional disk space).