Ideal by Xoxos (Free 2d Circular Membrane Synth)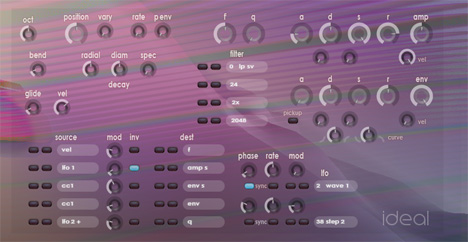 Ideal by Xoxos is a free 2d circular membrane synth plugin. This is a drum synthesizer
Related Post(s)
FirePresser By United Plugins (Free For 2 Weeks)

United Plugins has announced that its renowned FireSonic plugin, created in collaboration with FireSonic, will be available for a limited time for free ( April 3-16, 2023).  The plugin includes four compressors that have been precisely modeled after some of the most iconic vintage analog designs, allowing users to blend them together in a series, creating a comprehensive tool.

The 15 Best Free [Guitar] (VST/AU/AAX) Plugins 2023

After searching for good free guitar plugins here and there, I finally came up with a couple of dope ones that will sound at least similar to regular guitar instruments. Bear in mind that these are f

Top 7 Free Sax (Saxophone) VST Plugins

The saxophone is one of a member of the woodwind family and is usually made of brass. The prices of a real saxophone can be from 2,000 USD to 10,000 USD depending on the shape and sizes, the good new

Sweet 10 Free Synth Plugin [2023]

In this guide, we would look into the best free synth plugins you could use for music production of any type. Synths are an essential part of any electronic music producer's toolkit or just about any genre, providing endless possibilities for creati

The Must-Have VST Synth Plugins [2023]: Get the Perfect Sound Every Time!

In this guide, I'll walk you through some of the best VST plugins you'll ever need to harness your music production game, plus a bit of quick advice before getting a synthesizer, and lastly, I would

The Best (Free & Paid) Stereo Widening/Imager [VST/AU/AAX Plugin] [2023]

Stereo widening or imager is basically what it sounds like - widening the stereo of an element or sound. The best free and paid stereo widening plugins...