Chorus is one of the members of a modulation effect, it occurs when similar sounds with approximately the same time, and very similar pitches, are perceived as one. An example of this is when a choir has multiple people singing each part, some may be single in Alto, and others in Tenor, when mixed, it creates an effect that sounds like the vocals are being played simultaneously.
It doesn't have to be a choir, chorus effects are also used with Instruments (e.g guitar, piano, etc), Vocals, Drums, and whatever you can think of, as long as it musically blends with the rest of the elements in your mix.
In this guide, I would be recommending you to some of the best free and paid Chorus effect VST plugins for music production, please use the table of contents to navigate around!
Chorus Effect Plugins (Paid)
Starting with...
1.) MeldaProduction - MChorusMB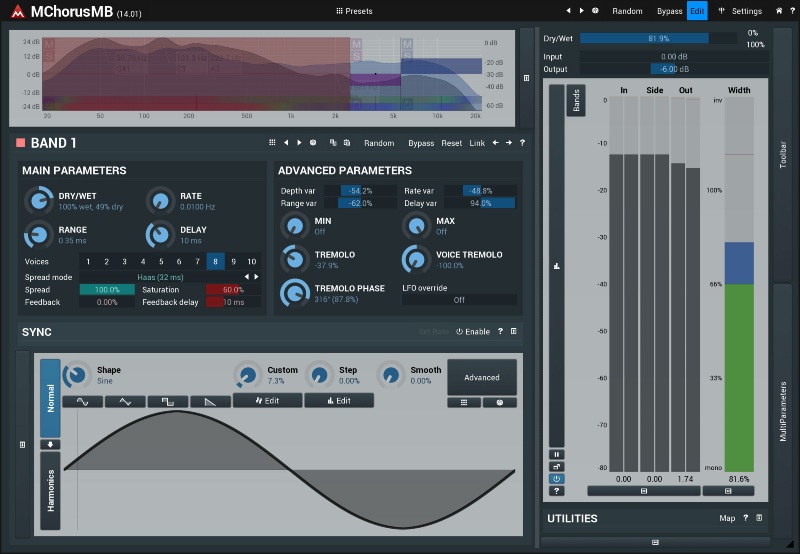 MeldaProduction - MchorusMB isn't just a mere chorus effect plugin, it is a sounding powerful multiband chorus plugin, meaning you can split into bands and adjust each band individually. Whether you plan on using it on Vocals, guitar tracks, or even percussions, it processes them intuitively with outstanding audio quality and an inspiring set of features.
One of the reasons I dig this plugin is the amounts of independent bands it gives you out of the box, you can configure 1-6 fully independent bands built on 3 perfectly transparent crossover algorithms (analog, linear-phase, and hybrid) with fully adjustable limits and input gains. Also, it Includes peak meters for all bands and the master.
While some chorus can only handle mono and stereo signals, MchorusMB can handle up to 8 channels of surround audio, making them ideal for audio production, movies, games, and whatever you can think of.
Key Features:
Up to 10 voices with advanced adjustment
6 stereoizing algorithms
1-6 fully configurable independent bands built on 3 perfectly transparent crossover algorithms with fully adjustable limits and input gains
Integrated tube saturation gives the sound a great vintage analog feel.
Up to 8 channels surround processing
Adjustable up-sampling 1x-16x to minimize aliasing and get an even clearer sound.
Very fast, optimized for SSE and SSE2 processors.
Global preset management and online preset exchange
Fully Automatable.
System Requirements:
Windows Vista / 7 / 8 / 10 (32-bit or 64-bit) // Mac OS X (10.7 and newer, 32-bit or 64-bit)
VST / VST3 / AU / AAX compatible host (32-bit or 64-bit)
Intel/AMD processor with SSE2 support
As a general rule: Always use 32-bit plugins in 32-bit hosts or 64-bit plugins in 64-bit hosts!
2.) D16 Group - Syntorus 2

Syntorus is an award-winning chorus effect plugin that is built to emulate the analogue chorus effect, according to D16 Group, it is inspired by the revered effects found in classic synthesizers such as the Solina String Ensemble, Elka Synthex, and Roland Juno-106.
As you probably know that a classic chorus effect is created by mixing an audio signal with one or more delayed and pitch-modulate multiple copies of it. D16 Group did something different, they constructed an extremely precise model of a high-quality BBD (bucket brigade device) analogue delay line in the digital domain, which in turn results in an incredibly warm, musical sound with no unwanted digital artifacts.
Another interesting feature of the Syntorus effect plugin is the Filter and Tremolo, as you can see in the above image each delay line has its own multimode filter and a tremolo effect built-in, both governed by the same modulation sources as the delay time.
There is also the cut-off knob, which you can use to create interesting automation.
Lastly, it is perfectly synchronized with the host DAW, while you might face phasing issues with synchronizing in other chorus effect plugins, Syntorus 2 tackles that, and the phase would be perfectly synchronized to the play head position within your project, ensuring that your chorus always sounds exactly as it should at any point on the timeline.
Key Features:
High-quality analogue BBD delay line emulation
3 delay lines, each one featuring: New Multimode filter, Tremolo effect, and a New Panning
3 LFO generators, each one featuring: 6 waveforms, Timeline-locked tempo sync, Independent phase shift controls for left and right channels with link option, and an Amplitude control with an invert option
3 LFO-to-delay-line routing configurations
Tag-based preset browser
Three GUI scaling options
64-bit internal processing
Over 100 presets
and many more
System Requirements:
Windows 7 / 8 / 10 (32-bit or 64-bit)
Mac OS X (10.7 and newer, 64-bit only)
Windows - 2.5 GHz with SSE (Multicore system 2.8 GHz recommended)
Mac - CPU Intel-based 2.5 GHz (2.8 GHz recommended)
Win: VST / AAX compatible host application (32bit or 64bit)
Mac: AU / VST / AAX compatible host application (64bit only)
3.) kiloHearts - Ensemble Snapin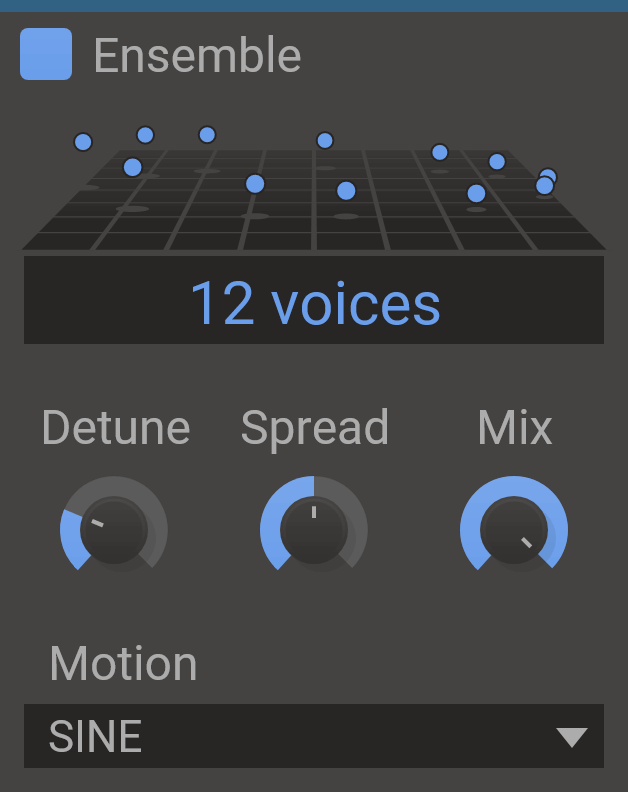 Ensemble Snapin has a really simple and intuitive interface. The way it works is by creating an illusion of multiple voices playing in unison. It creates this effect by playing delayed copies of the incoming sound. Another super sleek feature of Ensemble Snapin is the way it modulates the phases of each voice to create a silky smooth result without any metallic flanging. Of course, this can all be controlled to suit your style.
Key Features:
Voices: Number of voices to play simultaneously.
Detune: How quickly to modulate the delay for each voice, affecting how detuned the voices will be.
Spread: Pans voices left or right for a stereo effect.
Mix: The dry/wet mix of this effect. A lower value will let some of the unmodified signals through.
Motion: Selects between different patterns for the modulations of the voices.
Resize handle: The bottom right corner of all Kilohearts plugins is a resize handle for scaling the UI to any size.
System Requirements:
Windows (7 or newer) or Mac OS X (10.7 or newer)
CPU: 2 GHz or higher
Memory: 1 GB or more
AAX / AU / VST2 / Snapin
4.) XILS Lab - ChorX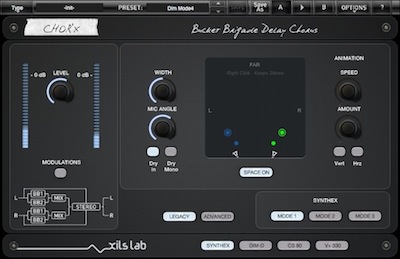 The next chorus effect plugin on our list is the Chorx by XILS Lab. ChorX combines four types of Vintage Chorus effects (Synthex, CS-80 Dim-D and V+ 330 ), based on Bucket-Brigade Delay (BBD) emulation with a sophisticated True Stereo Dynamic Spatializer. The True Stereo engine can position all the signals in a stereo image. Whether you want to push the element in front of the stereo field or father, it's well capable of that.
In short, ChorX gives you the opportunity of controlling the space of whatever you are mixing, be it a lead vocal, instrument, etc. I mentioned that you can add a chorus to a percussive instrument above, but with ChorX, you can do it better as it doesn't destroy the low end of your instruments, it will let you treat percussive material while leaving the transients dry, only adding chorus to the tail of the instruments, you get the idea.
The Chor'X 1.5 provides four standard chorus structures you can choose by clicking on the Synthex, Dim-D, CS80 or V+330 buttons. These choruses are built with special filters and compander (compressor-expender) emulations to get as close as possible to the existing old analog chorus unit.
Key Features:
Easy and Fast workflow with the Legacy/Advanced mode
Four Bucket-Brigade Delay emulations
Four standard chorus structures (with special filtering and compander emulations)
Two 2-D pads for easy parameter tweaking
True Stereo Dynamic Engine
Advanced Dry/Wet modulation with an impulse follower
Advance Amount modulation with an envelope follower
True stereo path with independent Right and Left Chorus structures
Advanced preset management
All parameters are MIDI controllable
System Requirements:
Mac OSX 10.5 and later: VST, Audio Unit, RTAS (Protools 7.0 and later), AAX (32&64 bits, native)
Windows XP, Vista and 7 & 8; VST, RTAS (Protools 7.0 and later), AAX (32&64 bits, native)
1 Gigabyte of RAM and a 1 GHz processor.
5.) Sinevibes - Blend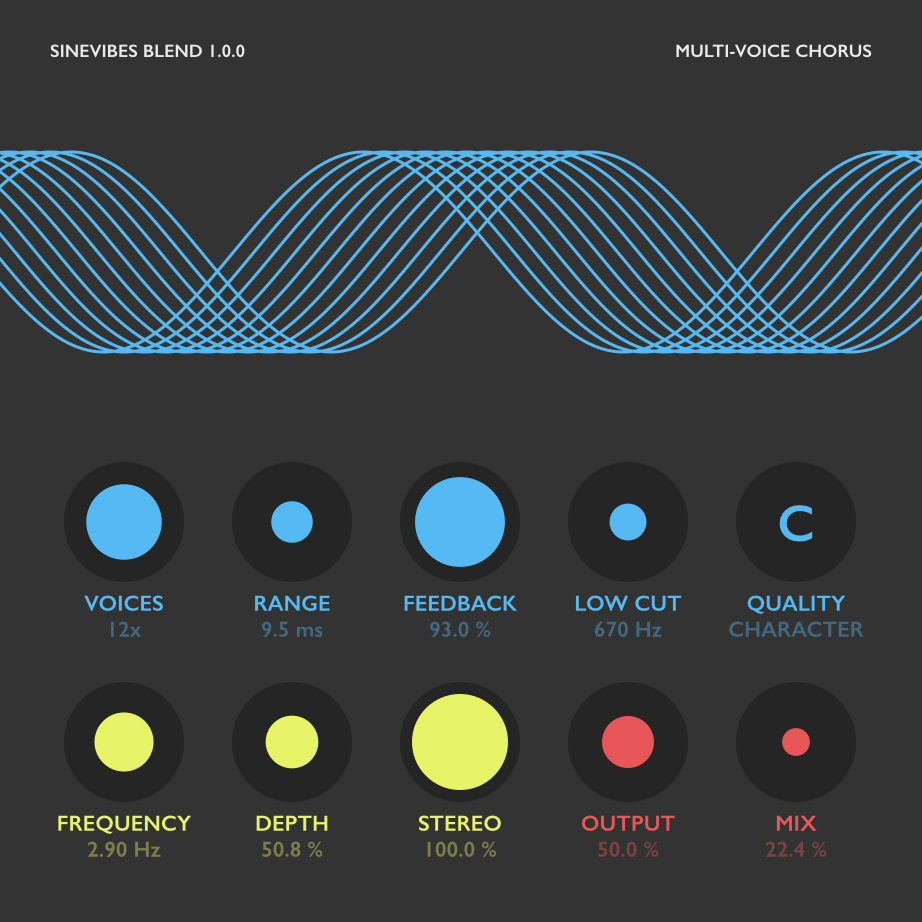 The last chorus effect plugin on our list is the Blend by Sinevibes. The blend is a multi-voice chorus effect plugin that comprises of up to 16 separate layers. Each layer is a chorus effect on its own, with a dedicated modulation generator and a feedback loop. Another fantastic feature of Blend is the three different interpolation algorithms, each giving it a slightly different sound character. It just doesn't work as a chorus effect, it is super flexible in the sense that, you can create additional effects such as vibrato, tape wow, flanger, dissonance – even reverb – are just a few tweaks away.
Please Note: This software is Mac-compatible only (Audio Units) and will not function on PCs.
Key Features:
16 chorus layers each with an individual feedback loop.
Three selectable interpolation algorithms: vintage, character, and modern.
16 sine wave modulation generators, one per chorus layer, with proportional phase offsets.
Variable stereo width and low-frequency cut.
Color-coded graphics with subtle animations.
Fully hardware-accelerated rendering with support for retina screen resolution.
System Requirements:
Mac compatible only (Audio Units)
Works with any application that supports Audio Unit effect plugins.
Supports OS X 10.6 or later running on 32 or 64-bit Intel Macs.
Chorus Effect Plugins (Free)
6.) Acon Digital - Multiply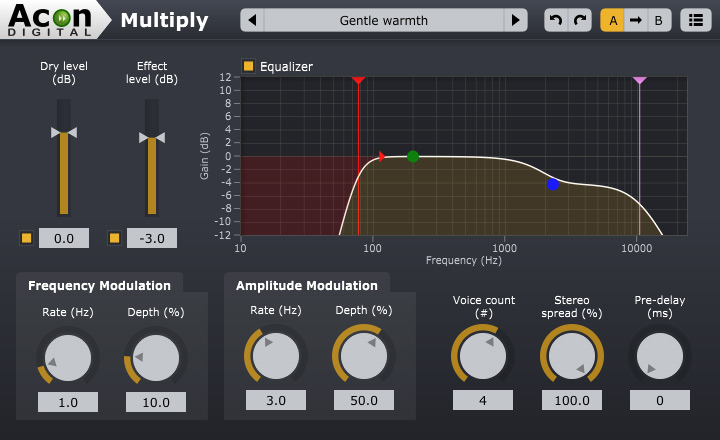 Multiply is a free and versatile chorus effect plugin by Acon Digital. With this plugin, each simulated voice is processed with a phase randomizing filter so that unpleasant comb filter effects are avoided.
The effect can be used to simulate the effect of several performers playing the same tones simultaneously, to widen the spatial image, or to create special effects for sound design.
Also, it can simulate up to 6 additional voices and both the pitch and the loudness of the voices can be modulated, and on top of that, there is also an integrated equalizer consisting of low cut, low shelf, high shelf, and high cut filters that can be applied to the effect signal.
An integrated pre-delay section makes it possible to create modulated and diffuse echo effects.
Acon Digital Multiply is available for both Windows (PC) and OS X (Macintosh). Both 32 and 64-bit versions are available, and the plug-in formats VST, AAX, and Audio Units (OS X only) are supported.
Video Sneak Peek
Chorus effect with up to six separate voices
Randomized phase filters in order to avoid comb filtering effects while keeping delay times short
Amplitude modulation
Frequency modulation
Adjustable pre-delay
Integrated equalizer for the effect signal
Graphical visualization of equalizer frequency response
Undo and redo parameter changes
A/B comparisons
Preset manager
Save, load, and categorize user presets
Native 32-bit or 64-bit versions of all plug-ins are available
Supports sampling rates up to 96 kHz
Mono and stereo (true stereo processing)
System Requirements:
PC Version (Windows):

A Pentium IV or higher
Minimum 256 MB RAM (1 GB recommended)
Windows 10, 8, 7, Vista, or XP
A host application that is compatible with VST (32-bit or 64-bit) or AAX (Pro Tools 10.3.5 or higher)

Macintosh Version (OS X):

64-bit Intel CPU
OS X 10.6 or later
A host application that is compatible with AU, VST, or AAX (Pro Tools 10.3.5 or higher).
7.) Blue Cat Chorus

As you probably know that the Chorus effect was designed to simulate several voices, just as if several singers or sounds are playing simultaneously with a variable delay between them. This is one of the typical effects that you can get with Blue Cat's Chorus.
Blue Cat Chorus also enables you to drastically change the original sound and create deep pitch modulation or crazy 'bubbling' effects.
With the additional "Spread" control on the stereo version, the famous stereo widening and head-spinning chorus effects are a few clicks away.
Features:
Single voice vintage chorus effect.
Stereo spread control.
Sine or triangle LFO shapes.
In or out of phase mix control.
Full MIDI control and automation support, MIDI Learn.
No CPU load on idle: processing shuts down when fed with silence (optimal CPU usage).
Customizable user interface with transparency & zoom.
Smooth Bypass: noiseless plug-in activation/deactivation.
Undo/Redo.
Full-featured integrated presets manager.
Copy/paste the state of the plug-in between instances.
Any sample rate supported.
System Requirements:
Windows
An SSE2-enabled processor (Pentium 4 or newer).
Microsoft Windows Vista, Windows 7, 8, or 10.
Any VST / AAX compatible host software (32 or 64-bit).
Mac OS X
An Intel processor.
Mac OS 10.7 or newer.
Any VST / Audio Unit (32/64-bit) / AAX compatible application.
8.) Kjaerhus Audio – Chorus

This is an old free chorus plugin released back in 2003 by Kjaerhus Audio, but really, don't be deceived by the oldness, the quality of this plugin pushes out some of the best premium chorus effects out of da water.
It is a great-sounding and easy-to-use classical Chorus VST plugin. If you are looking into adding depth, fatness, and stereo perspectives to any electrical instruments or vocals, then this plugin is your go-to tool.
It features delay times ranging from 1.25ms to 320 ms and stereo spread with modulation depth and rate.
The Classic Chorus audio plugin supports sampling rates up to 96kHz and is great for adding depth, phatness, and stereo perspective to almost any sound signal.
Features:
Smooth Chorus effects
Stereo spread
Ultra-low CPU usage
Supports sampling rates up to 96kHz
Full VST automation
Tips From Kjaerhus Audio:
Make an old mono Rhodes track come alive with the factory preset "Fat on Rhodes", or make your vocal tracks sound better by creating a stereo doubling effect using the preset "Vocal Overdub". Much more great presets are available for fattening up your instruments!
Use it for a good vibrato effect.
System Requirements:
The developers' website is dead, fortunately for you, I got the original copy on my hard disk, so, download it directly below.
Download Kjaerhus Audio – Chorus
9.) OSL Chorus

OSL Chorus is a free chorus plugin for AU & VST formats by Oblivion Sound Lab that is modeled after the Juno 60's onboard chorus. It produces rich, wide choruses that are perfect for bringing dry synthesizers to life, but it sounds equally good on guitar, bass, and other instruments.
In its default configuration, OSL Chorus emulates the original unit, but adjustable parameters let you dial in custom choruses that range from subtle to extreme.
Features:
Adjustable LFO rate and depth
Adjustable delay offset
Low pass filter to control the chorus brightness
Separate dry and wet controls for precise mix levels
All parameters can be automated from the host DAW
Supports stereo-to-stereo and mono-to-stereo channels
Compatible with 32 and 64-bit hosts
System Requirements:
32 and 64-bit VST (Windows and Mac)
32 and 64-bit Audio Units (Mac)
10.) Sender Spike - Modul8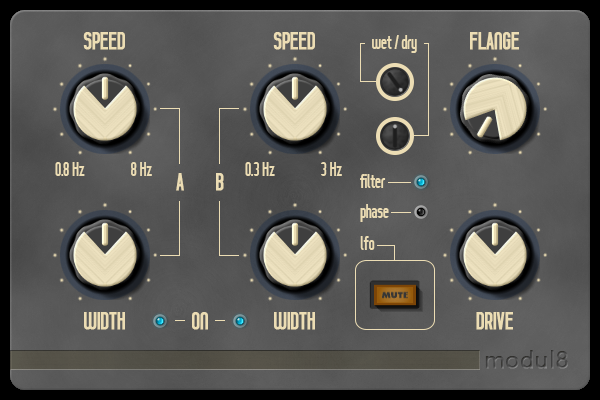 Modul8 by sender spike is inspired by multiple Japanese stomp-boxes well known for their unique sound and approach to modulation, which in turn makes Modul8 a dual LFO stereo chorus plugin. The dual means that the resulting modulation is a combination of two LFOs scaled according to their respective modulation width, which results in an almost endless number of rhythmic variations in the modulation pattern.
I am currently experimenting with Modul8 on some vocals and other sounds. So, you should definitely give this a try, anyway, here are the features:
Two independent LFOs with on/off switches and adjustable speed and width (LFO A oscillates at 0.8 Hz to 8 Hz, and LFO B oscillates at 0.3 Hz to 3 Hz)
Feedback control that sets the amount of flanging
Optional filtering and adjustable drive of the modulated signal
Phase invert on R channel for wide stereo (mono incompatible)
LFO mute "kill-switch" for musical phrasing
Separate wet and dry controls
Please note that Modul 8 is a plugin for Windows (VST, 64-bit). The download is instant and doesn't require any kind of registration.