An equalizer is a tool that is used to change the balance of different frequency bands in an audio signal. Equalizers are used to correct or attenuate unwanted sounds (rumble sounds, a low hum from a guitar amplifier, etc).
The most common use of equalization is using it to adjust the frequency balance of individual instruments and or voices to fit individual elements within the overall frequency spectrum of the mix.
If there is one thing you should learn before using an EQ, it should be selecting good samples or instruments right off the bat, this way, you won't need to fight with the eq, and thus eqing would be a breeze.
Having said that, let's go over the best EQ VST plugins I have ever come across, starting with...
1.) MAutoDynamicEQ by MeldaProduction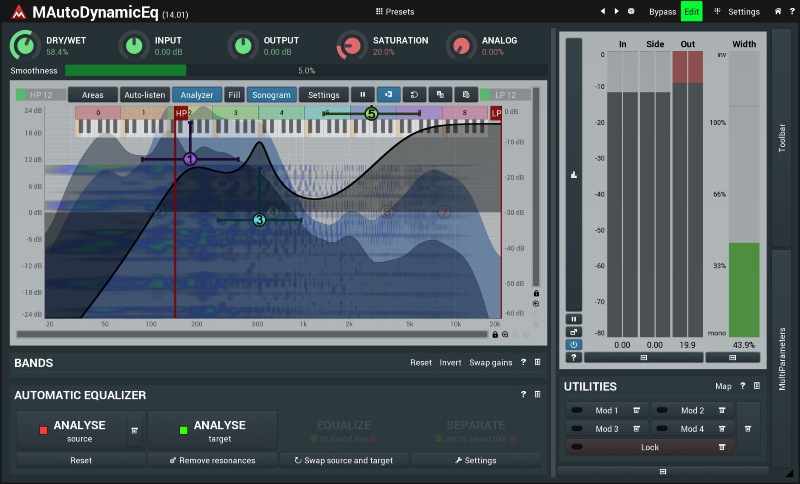 When we are talking of Dynamics processors, we are majorly referring to compressors, and or expanders, which on its own dynamically manipulates the overall level of audio material, and an equalizer is a tool that is used to change the balance of different frequency bands in an audio signal.
What if we combine both together? Well, that is what MAutoDynamicEQ is all about, it bridges the gap between a Dynamic processor and an equalizer, it is a plugin for manipulating the spectral character, and can also react to input levels, now that we know that, let's get to know some of its major features…
MAutoDynamicEQ doesn't just support the ability to work on multiple bands, it also has a separate level processor, so, you can say this plugin is a band and a dynamic processor. All the settings for the band are on the Band Settings window, which is displayed by right-clicking the band number on the equalization graph or on the band list.
It also supports Automatic equalization, it would automatically equalize your recording if of course, the recording isn't too bad right from the start. The way it does this is to first analyze your recording, this can be started by pressing the playback and pressing the Analyse target button, you then get a source or predefine analysis by using the load button; what you want the end result to sound like and you finally click equalize, and it is as simple as that.
The automatic equalization is powered by Melda Production's Filter Adaption technology a.k.a MFA , the good thing about this is that it can perform your equalization for you based on an analysis of your recording, another recording, or even your own 'drawn-in' spectral content!
►Key Features:
The most advanced user interface on the market - stylable, resizable, GPU accelerated
Unique visualization engine with classic meters and time graphs
exceptionally versatile modulators
Adjustable oscillator shape technology
4 multiparameters
M/S, single-channel, up to 8 channels surround processing...
Smart randomization
Automatic gain compensation (AGC)
Safety limiter
Adjustable up-sampling 1x-16x
MIDI controllers with MIDI learn
Very fast, optimized for SSE/SSE2/SSE3 processors
Global preset management and online preset exchange
Supports VST, VST3, AU, and AAX interfaces on Windows & Mac, both 32-bit and 64-bit
No dongle nor internet access is required for activation
Free-for-life updates
►System Requirements:
Windows
Windows Vista / 7 / 8 / 10 (32-bit or 64-bit)
VST / VST3 / AAX compatible host (32-bit or 64-bit)
Intel/AMD processor with SSE2 support
Always use 32-bit plugins in 32-bit hosts or 64-bit plugins in 64-bit hosts!
64-bit plugins can't work in 32-bit hosts even if the operating system is 64-bit. Do NOT use 32-bit plugins in 64-bit hosts. They would have to be bridged and can become slow and unstable.
Mac OS X
Windows Vista / 7 / 8 / 10 (32-bit or 64-bit)
VST / VST3 / AU / AAX compatible host (32-bit or 64-bit)
Intel/AMD processor with SSE2 support
2.) T-Bone by Boz Digital Labs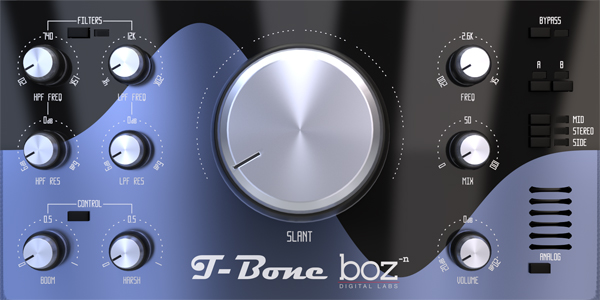 T-Bone is a slant EQ by Boz, and if you know what slant EQ is, then you should know that they are built to automatically boosts one end of the frequency spectrum while attenuating the other end.
Using this Eqing technique is useful for brightening or darkening your tracks very quickly, also, it is an awesome tool for changing the tone of your track without changing the overall level, which isn't the case in traditional EQ plugins where when boosting a certain frequency, the overall sound gets louder, so, by using this plugin, you can ensure you are using the right tool for the right job.
Another stuff I find really interesting is the fact that it comes bundled with a coupled of good features, e.g, you have a high pass filter with resonance control, and a low pass filter with resonance.
Additionally, it features a Boom and Harsh Control which lets you control the level of harshness when boosting the levels at a certain frequency.
►System Requirements:
Available Formats
Windows (32/64): VST2, VST3, RTAS, AAX Native
Mac (32/64): AU, VST2, VST3, RTAS, AAX Native
Get T-Bone by Boz Digital Labs
3.) KickBox by SoundSpot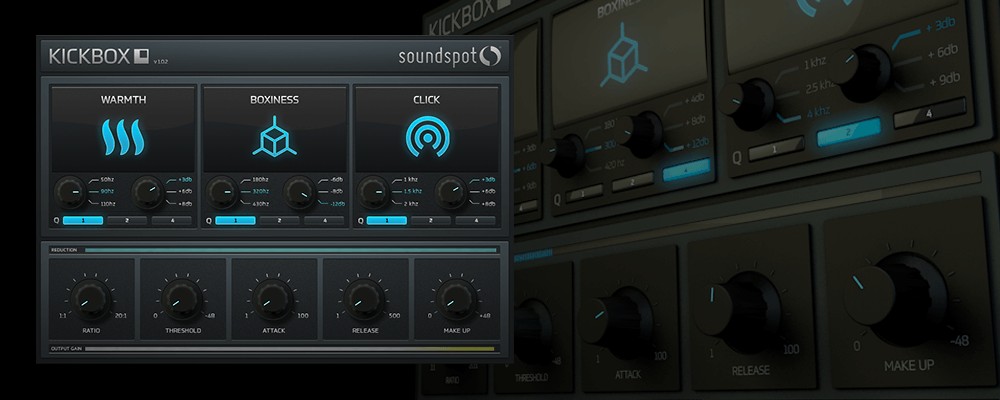 If you are into modern music genres e.g Progressive House, Electro, etc, then you know the importance of kick drums, in fact, they are the backbone of much modern music and they can either kill or make your music sound great.
A well-mixed kick drum has a warm-sounding low end and doesn't conflict with the rest of the mix, which is what Kickbox by sound spot is made for, they focus on simplifying the mixing process for any modern kick drum.
The KickBox is modeled after analogue filters and separates the relevant frequency ranges in a very transparent way. KickBox can help you get your kicks sounding extremely tight in a matter of just a few clicks.
The good thing about this plugin is that it works smoothly on both mono and stereo tracks, and the EQ section of the KickBox has been stepped to target the most common areas of the frequency spectrum, allowing you to achieve precise balanced adjustments in a matter of a few clicks.
Each band has a frequency and db control and can be operated with a simple click. This allows you to run through the values without looking at the plugin, so you can trust your ears and not your eyes.
It also features a built-in compressor that has been designed with a completely unique algorithm that has been designed to get your kick drums sounding punchy and clear.
And the most important part of the plugin to me is the presets, you can use the presets as the foundation of whatever you want to achieve, and you tweak them to your tastes, enjoy.
►Key Features:
Fast and intuitive workflow.
Analog-modeled filters.
Suited for electronic and acoustic kick drums.
Extremely light on CPU and RAM.
►System Requirements:
macOS (Catalina not supported) and Windows
VST
VST3
AU
AAX (Pro Tools 11.0.2 or higher)
RAM: 8 GB RAM or more is recommended. Plus at least 8 GB of hard disk space for installation.
Processor: Intel Core 2 Duo, AMD Athlon 64 X2 or newer.
Licensing: Internet access for activating the license key. Please ensure any outgoing connection blockers are deactivated.
Sample Rates: Supported sample rates: 44.1, 48, 88.2, 96, 176.4, and 192 kHz, in both mono and stereo.
4.) FabFilter Pro-Q 3 EQ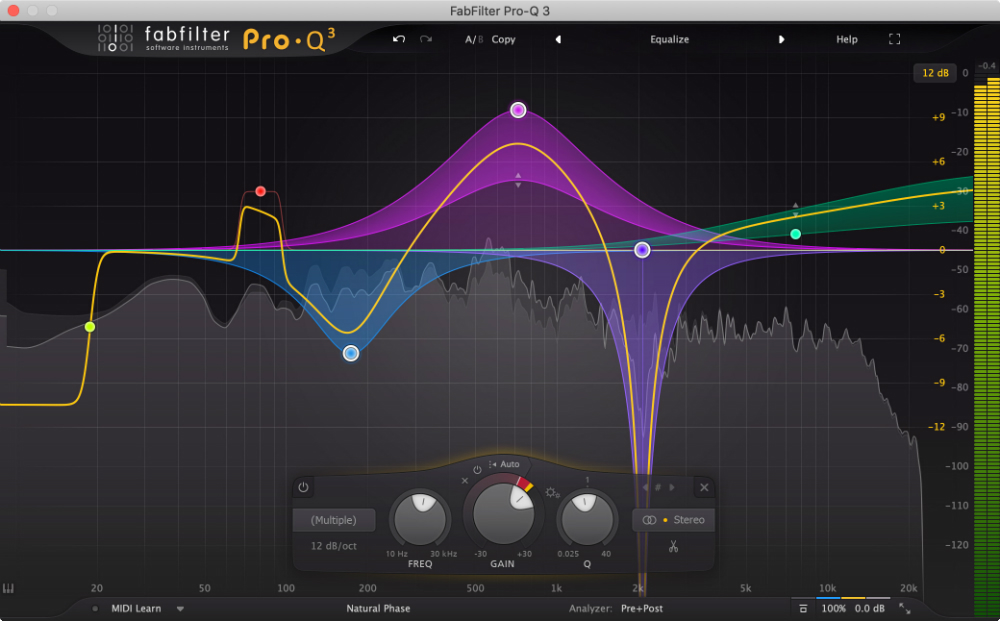 Fabfilter isn't new to the game, and their product is one of the best in the music production industry.
Pro-Q 3 offers everything that a demanding engineer could wish for: top-quality linear phase operation in addition to the zero latency and unique Natural Phase modes, Mid/Side processing, variable stereo placement of EQ bands, an intelligent solo feature, optional Auto Gain, and a built-in, fully customizable spectrum analyzer.
I really dig the design of the Pro-Q 3, it helps you achieve your sound in the quickest way possible. Via the large interactive EQ display, you can create bands where you need them, enable dynamic EQ for any band, and select and edit multiple bands at once.
►Key features:
Highest possible sound quality
Up to 24 EQ bands
Optional Dynamic EQ mode for all bands (Bell and Shelf shapes), using any slope setting and with perfect analog matching
Operates in zero latency mode, linear phase mode with adjustable latency, or the unique Natural Phase mode
Flat Tilt filter shape, a flat tilting correction curve over the whole audible frequency spectrum
Spectrum Grab: just grab and adjust a peak in the real-time spectrum analyzer right away!
Different interface sizes and additional Full-Screen mode
Filter shapes: Bell, Notch, High/Low Shelf, High/Low Cut, Band Pass, Tilt Shelf, Flat Tilt
Universal filter slope support for all filter types, up to 96 dB/oct
EQ Match feature to automatically match the spectrum of another Pro-Q 3 instance or an external signal
Built-in spectrum analyzer with Pre-EQ, Post-EQ, and external spectrum visualization, adjustable range, speed, resolution, tilt, freeze, and collision detection
Auto Gain and Gain Scale
Optional piano roll display to quantize EQ frequencies to musical notes
Different display ranges: 3 dB and 6 dB ranges for mastering, 12 dB and 30 dB for mixing
The intelligent solo mode makes it easy to find problem frequencies and hear the effect of a band
Phase Invert option to change polarity
Large output level meter with peak level readout
Extreme CPU optimization: Pro-Q 3 uses very little CPU and memory, so you can use hundreds of instances in a session
GPU-powered graphics acceleration
Double-click the text entry of parameter values
Supports common Pro Tools hardware control surfaces
Smart Parameter Interpolation
Sample-accurate automation of all parameters
Extensive help file with interactive help hints
Available in VST, VST3, Audio Units, AAX Native, and AudioSuite formats (all both 64-bit and 32-bit)
►System Requirement:
Windows
64-bit: Windows 10, 8, 7, or Vista
32-bit: Windows 10, 8, 7, Vista, or XP
VST 2/3 host or Pro Tools
macOS:
OS X 10.8 or higher (64-bit only)
AU or VST 2/3 host or Pro Tools
Intel processor
5.) TDR Nova GE by Tokyo Dawn Labs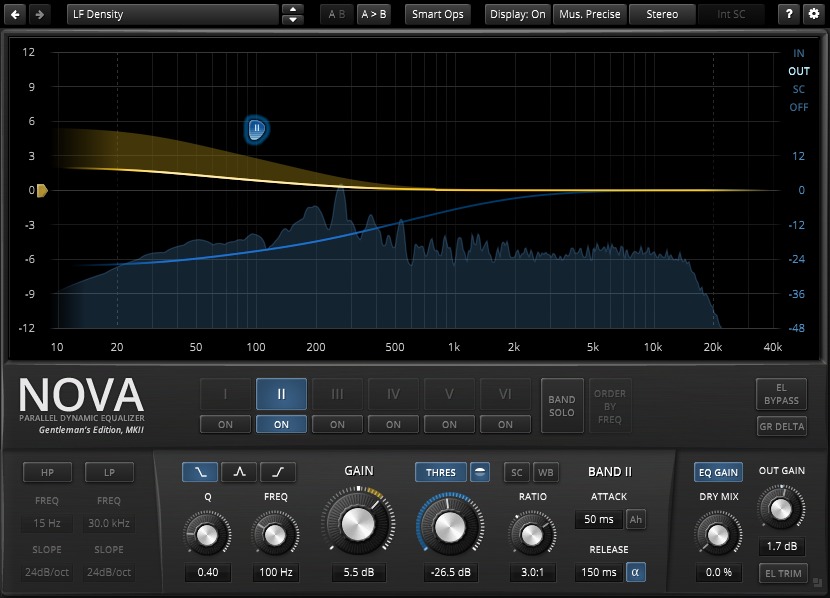 This is similar to Tokyo Dawn Labs SlickEQ, but NOVA GE is more powerful, it is not only a parallel dynamic equalizer but includes flexible dynamics processing options allowing the coverage of an impressively wide range of applications.
Be it a master lacking density, muddy mixes, the drum bus asking for more crispiness, snare looking for smark, or a sibilance problem in your perfect take: NOVA is your ultimate goto plugin.
It includes a total of six dynamic EQ bands, each with independent dynamics processing ranging from downward compression over upward compression, and upward expansion, up to downward expansion (including gating).
In addition, NOVA GE features an advanced "Smart Operation" panel, which offers a unique way of automating and orchestrating the plugin for spectral matching, resonance removal, and much more.
►System Requirements:
Windows
Win XP SP2 or above
VST 32-bit / 64-bit
AAX 64-bit
Mac
Mac OS X 10.6.8 or above
VST, AU, AAX 32-bit / 64-bit
6.) Equalize 2 by Acon Digital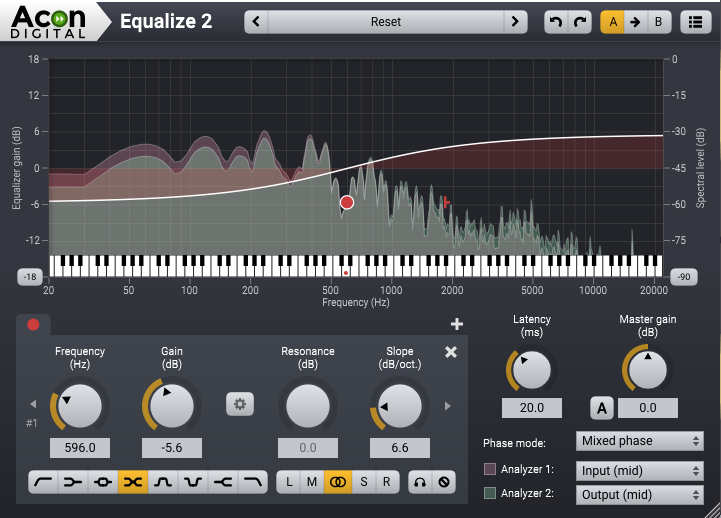 Acon Digital Equalize is yet another parametric equalizer plug-in that isn't only easy to use but also offers great flexibility in your mixing workflow.
What this equalizer does better is featuring an adjustable frequency, gain, and bandwidths, on top of this, you can also filter slope for each band. The filter slope can be set anywhere from 3 dB to ultra-sharp 120 dB per octave.
One of the things I love about this plugin is the way you can operate it. It features as a zero-latency plug-in when using the minimum phase mode or you can choose to preserve the phase relationships in the linear phase mode.
If you've ever used Fabfilter Equalizer, then I'll say the user interface is somewhat similar to Acon Digital Equalizer, the band parameters can be adjusted using handles directly in the graphical representation of the frequency response, including bandwidths and filter slopes.
A flexible real-time analyzer lets you monitor every aspect of the processing. You can easily switch between full, mid, side, left, or right channel processing for each band, and Equalize automatically routes the audio signal internally to ensure the best results and lowest possible latency.
►Key Features:
Available as VST, VST3, or AAX plug-ins on PC (Windows)
Available as VST, VST3, AAX, or AU plug-ins on Apple Macintosh (OS X)
Native 32-bit or 64-bit versions of all plug-ins are available
Supports sampling rates up to 96 kHz
Supports multi-channel formats such as 5.1 and 7.1 surround
Up to twelve equalizer bands
Eight different band filter types (low cut, low shelf, peak, tilt, bandpass, notch, high shelf, and high cut)
Band frequency, gain, bandwidth, resonance, and filter slope are freely adjustable for each band
Three different filter modes, minimum phase, linear phase, or the novel mixed phase
Adjustable latency and pre-ringing time in mixed-phase mode
Zero-latency in minimum phase mode
Channel mode (mid, side, left, right, or full processing) can be set independently for each band
Multiple selections of bands
Resizable graphical user interface
Solo and bypass modes
Optional automatic makeup gain
Optional gain to bandwidth linking
Two spectrum analyzers that can analyze the input or output signal from the mid, side, left, or right channel
Graphical visualization of the equalizer frequency response
Preset manager and a large number of factory presets
Save, load, and categorize user presets
►System Requirements
PC Version (Windows)
A Pentium IV or higher
Minimum 256 MB RAM (1 GB recommended)
Windows 10, 8 or 7
A host application that is compatible with VST, VST3, or AAX (Pro Tools 10.3.5 or higher)
Macintosh Version (OS X)
64-bit Intel CPU
OS X 10.7 or later
A host application that is compatible with AU, VST, VST3, or AAX (Pro Tools 10.3.5 or higher