Imagine creating music with no reverberation whatsoever, you hear the audio directly with no simulation of the sound of space (a room, hall, or a sound-reflective space), this would give you a dry signal, which is unnatural to the human ear, and this is because we are used to getting the illusion of the simulation of a real space in a mix.
Reverb is one of the tools and effects used by music producers/engineers to extract selective clarity, size, richness, wideness, etc. from the various elements of a multitrack production.
It can be used to create all sorts of effects, and can greatly make your music or mix stand out if used properly, but it can easily be misused too, typically, reverb effects can be used to…
Create depth in a mix; pushing elements further back in a mix
Multitrack projects are often crowded with 24, 36, and often more tracks filling the arrangement simultaneously (fighting to be heard), adding long reverb times can make certain elements uncluttered in the mix
It can be used to bring coloration to a sound
You can use it to create drama in a track, for example, the intro can bring in a lush sound, and when the first verse begins, you can automate or dial back the lushness aggressively, making it sound not only dramatic but also pleasing to the ear.
To create a reverse reverb, the original sound is reversed in time (flipping back), and you then add a duplication of the original track to the next bar, which when played together snaps back to its original place in time, using this can be used to create suspense in a track, super useful
A before and after of a simple melody I just created, one with no reverb, and the other with a classic reverb:
No Reverb:
With Reverb:

You see how the reverb added more clarity and depth to the melody, wish I could show more examples, but I'll leave that in your hands.
Since we know the importance of using reverb, I would be recommending some of the best reverb effects plugins in the music production scene right now.
Let's get going…
1.) MangledVerb by Eventide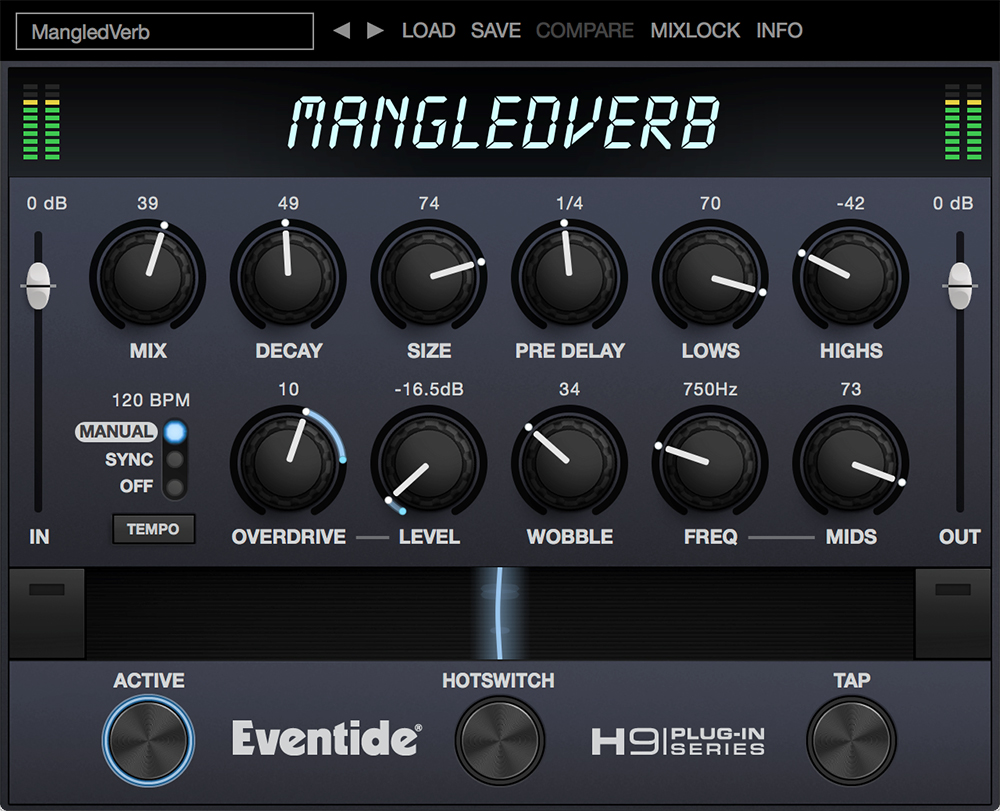 MangledVerb combines reverb and distortion to give you a stunning effect, it sends a stereo reverb into distortion, and when that is done, you get a plugin that is capable of creating lush reverbs, ripping distortion leads, and sound-sculpting musical chaos.
This plugin is especially great if you are a guitarist, and if you are performing live, you'll enjoy the RIBBON, you can program two settings for any combination of the controls and seamlessly transition between them.
The way the RIBBON work is you click on the white dot at the tip of any knob and drag it to the desired setting for the left-hand side of the Ribbon. This will program the knob and draw a blue arc from the initial knob position to the new, programmed knob position.
►Key Features:
Create out-of-this-world soundscapes by increasing the Size and Overdrive.
Use it as Mono-In/Mono-Out, Mono-In/Stereo-Out, or Stereo-In/Stereo-Out for ultimate flexibility.
Smoothly move from Softclip distortion to Overdrive for ripping transitions.
Use the Wobble control to create spooky detuning effects.
Use The Ribbon control to easily manipulate multiple parameters in a live situation.
Program the HotSwitch to instantly change multiple parameters at once.
Optimized for live use with MIDI control of The Ribbon and Tap Tempo for quick meta-control on the fly.
Use Mix Lock to scroll through presets while keeping the wet-dry mix constant.
►System Requirements:
Windows 7 or higher // 32-64bit
macOS 10.7 or higher // 64-bit only
64-bit only
AAX, VST2 & VST3 Formats for Windows, and
AAX, AU & VST2 Formats for mac
2.) MorphVerb by United Plugins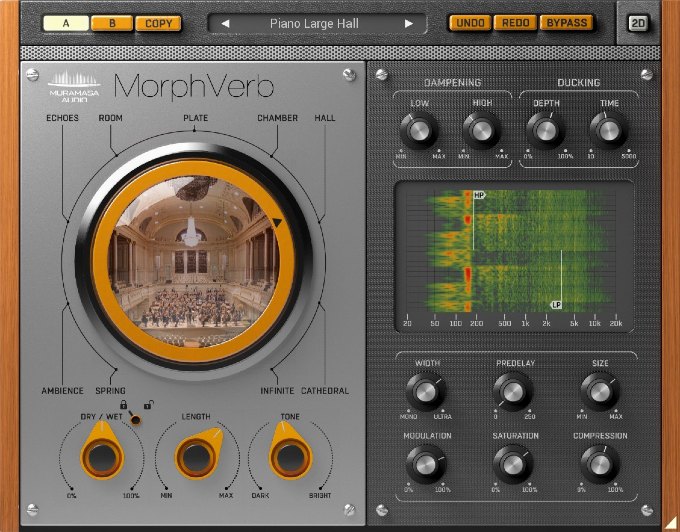 MorphVerb is a multipurpose reverb plugin, whether you need a chamber, hall, algorithms for spring, ambience place, and a plethora of reverb effects.
The beauty of this plugin is the fact that it supports multiple reverb types, it features a lush algorithm for Spring, Ambience, Echoes, Room, Chamber, or Plate. It also features great spaces like Hall or Cathedral and your reverb can even be Infinite.
Another interesting feature of this plugin is that you can blend smoothly between any two neighboring reverb types. So you can get 20% Chamber and 80% Hall. MorphVerb fills the gaps between reverb styles and gives almost infinite possibilities.
►System Requirements:
Mac
macOS 10.10 and newer
64-bit only
Intel/AMD processor with SSE2 support
VST2, VST3, AAX, or AU-compatible host
Windows
Windows 8-10
32-bit or 64-bit
Intel/AMD processor with SSE2 support
VST2, VST3 or AAX-compatible host
Get MorphVerb by United Plugins
3.) XenoVerb by Audiority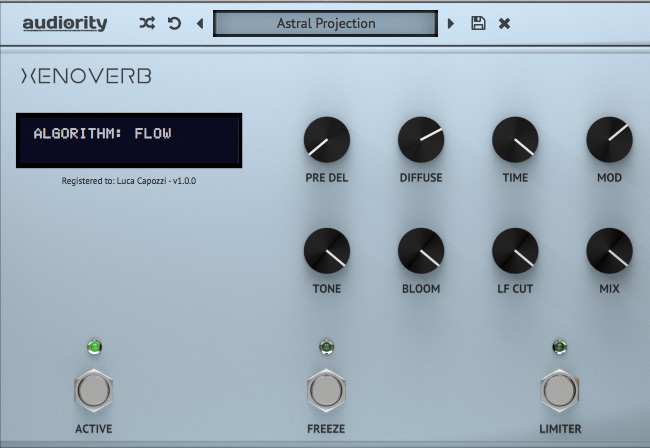 XenoVerb is a superb Multi-Algorithm Reverb plugin with a sleek and intuitive GUI, I really love the interface of this plugin but it doesn't only thrive in that aspect. It also features both classic and creative reverb algorithms delivering a wide range of reverbs with a clean and simple interface.
►Key Features:
10 Reverb Algorithms:
Room, Hall, Plate 1, Plate 2, Springy, Glass, Flow, Shimmer, Bode, Formant
Over 250 presets
Pre Delay
Diffusion
Modulation
Tone Control
Reverb Freeze
Soft Limiter
►System Requirements:
PC
Windows XP SP3 or later
Intel i3 or higher
2GB RAM
Screen resolution: 1024×768
VST2, AAX 32-bit or 64-bit host
MAC
OSX 10.7.5 or later
Intel i3 or higher
2GB RAM
Screen resolution: 1024×768
VST2, AU, and AAX 32-bit or 64-bit host
4.) Perfect Room by denise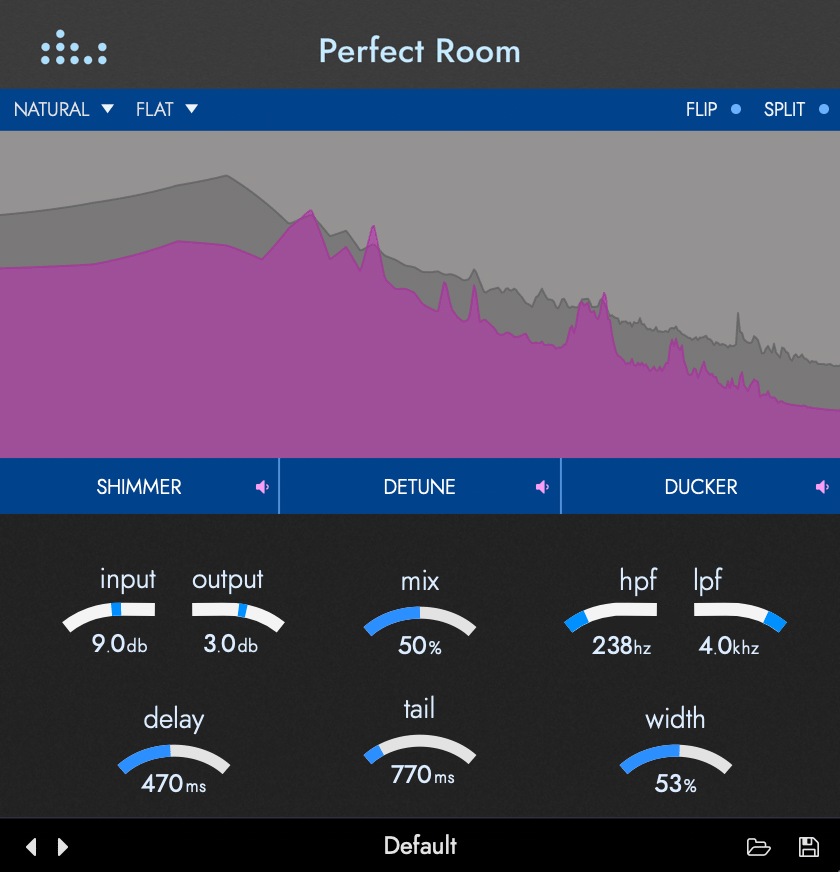 Perfect room plugin is a re-implementation of the classic algorithmic reverb, denise ditched the method of using a combination of short feedbacking delays to create the illusion of reverberation, they instead created TXVerb™ technology.
This technology doesn't use delays for the tail and will enhance the character and coloration of any audio you run through it in an extremely natural way, whether you are using it for drums, vocals, and any other instrument, you'll absolutely enjoy the mechanism and sound quality of this plugin.
►System Requirements:
Mac:
OSX 10.7 to macOS 10.14 (64-bit only)
VST, VST3, AU, AAX
​Windows:
Windows 7 or newer (64-bit only)
VST, VST3, AAX
5.) GrainSpace by Audiority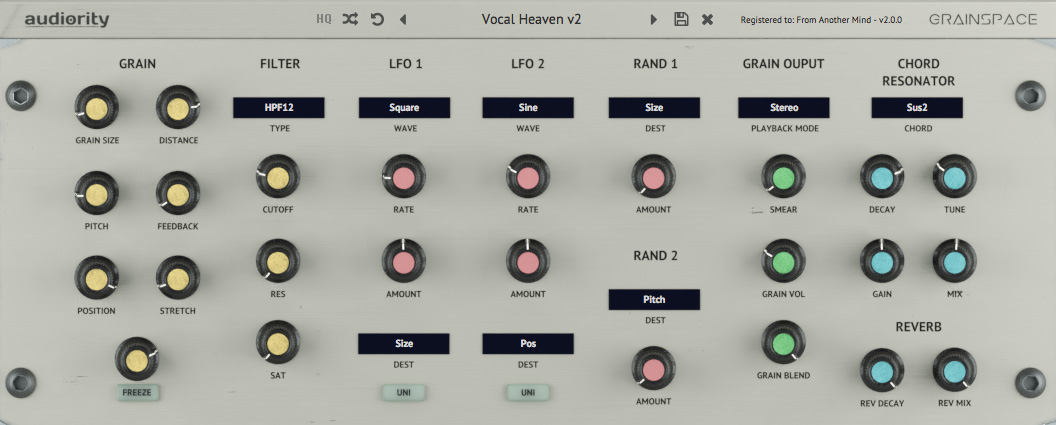 GrainSpace is a granular processor by Audiority that focuses on real-time granularization and reverberation of the incoming audio signal.
GrainSpace provides dynamic grain generation (up to 32 per channel), 7-grain parameters, 4-grain modulators (including two 11 waveforms LFO), smearing, chord resonator, and reverb to create crazy sound effects, rich textures, and much more.
System Requirements:
Windows XP SP3 or later // OSX 10.7 or later
Intel i3 or higher
2GB RAM
Screen resolution: 1024×768
VST2, AAX 32-bit or 64-bit host
6.) Spring by Eventide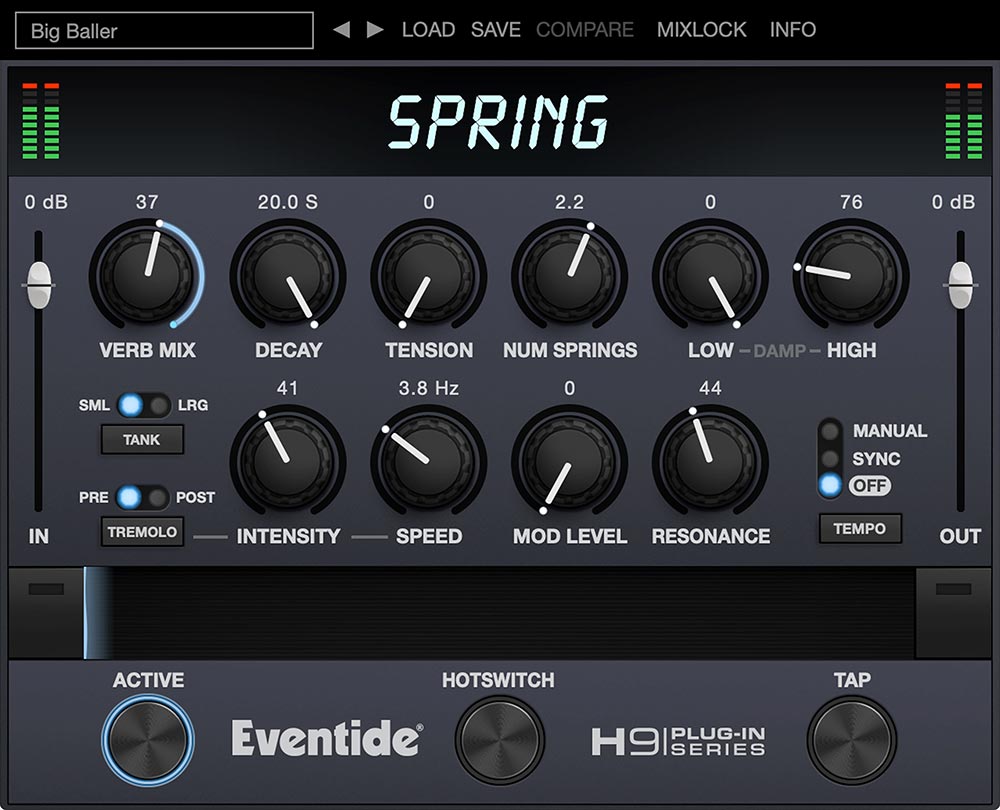 Eventide Spring is an easy reverb that models the sound and character of the popular artificial reverb found in guitar amplifiers, with an additional tube amp style tremolo.
It doesn't only model the sound and the character, but also allows you to make further tweaks to physical parameter controls not readily available in the real unit.
One thing that struck me with this plugin is its intuitiveness and play-ability. You can easily adjust the knobs or specifically, you can use the RIBBON to program two settings for any combination of the controls and seamlessly morph to any sound between them.
► Key Features:
Artist presets by Matt Lange, Nick Hook, and Nu-Trix.
Tempo Sync reverb decay to your DAW
Craft original sounds by changing the number of springs and damping frequency
Alter overall resonance by selecting the size of the spring tank
Tube-amp-style tremolo that can be routed pre- or post-reverb
Create chorus-like effects by altering the Modulation Level
The Ribbon controller allows for the dynamic modification of several knobs at once to easily morph between settings
Programmable Hotswitch provides the ability to jump instantly to an alternate sound at the push of a button
Mac/Windows plug-in version works as VST, AU, AAX
► System Requirements:
Windows 7 or higher
macOS 10.7 or higher
64-bit only
AAX, VST2 & VST3 Formats for Windows, and
AAX, AU & VST2 Formats for mac
Note: Eventide tests its plugins in Ableton Live, Cubase, FL Studio, Logic Pro, Pro Tools, and Studio One. However, their plugins should work with any compatible host.