When I first get started with music production, I wonder why some music producers would want to mess with a distortion effect in their tracks, perhaps, I initially have an understanding that there is a limit to how loud an audio signal can be, once this limit is reached, it would distort and produce an annoying, raspy, fuzzy loud sound that is unwanted for the hearing.
This is where I got it wrong, I was thinking in terms of digital clipping, although not bad as sometimes the DAW peak meter can be somewhat pretentious (use your ear for accurate judgment), but it gets worse when your sound is being cut off when the signal reaches 0 dBFS (full-scale) on a meter, which results in an unsmooth distortion.
Welcome to the world of analog distortion which is more forgiving in how it distorts when compared to digital, the output waveforms are "rounded" when it reaches the limit. Analog distortion is used creatively by musicians and recording engineers all the time.
Does that mean, you need to buy analog hardware to use a distortion effect, hell no! There are lots of VST plugin emulations that can act as close as possible to the real thing, and honestly, how you use them is strictly a matter of choice, just don't overdo and trust your ears.
For example, you can use them to warm up your sound, by giving them more character and not too harsh a type of sound, and you can also go the other way round, e.g creating an in-your-face, crunchy type of effect. Anyways, it is up to you how you use it, let's go over the best free and paid distortion effect VST plugins of the year 2020.
Please use the table of contents to navigate around!
Distortion Effect Plugins (Paid)
Starting with...
1.) Trash2 + Expansions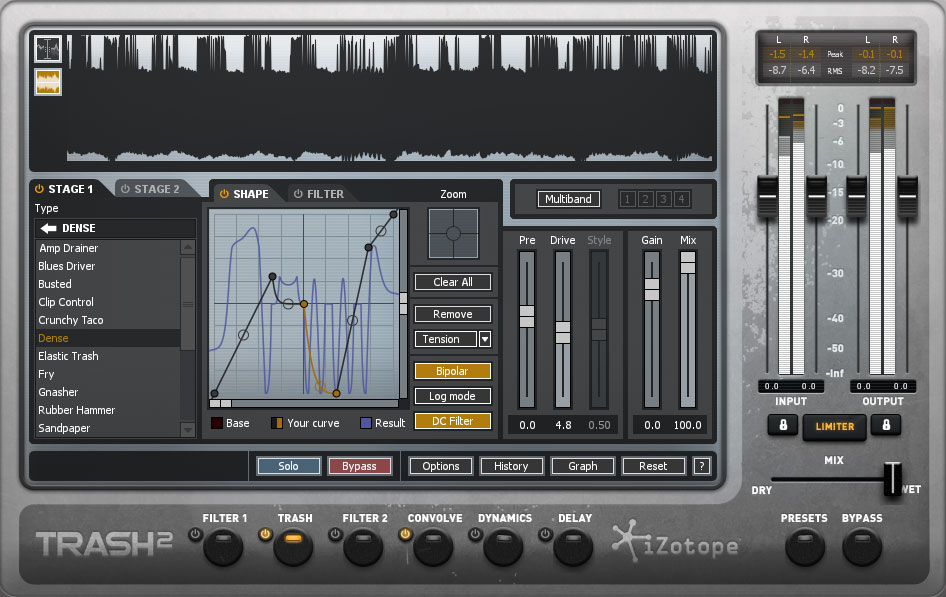 The first giant on our list is the Trash2 distortion plugin by renowned Izotope, this new version is built to feature an entirely new sonic architecture, with optimized performance, pristine sound quality, and better support for modern hosts & formats.
Let's deep dive into Trash 2 main features:
The edge Trash 2 has over other distortion plugins is that it combines the power of multi-band, dual-stage distortions, and advanced post-filtering for immediate sonic transformation. If you want a warm crunch on the midrange or you want to spice your low end without sacrificing the quality of the sound, then Trash 2 is what you want, it does the job without little to no side effects.
Ideally, you'll want to use distortion for your guitar or perhaps basses, well, that's an old story, you can use it for your drums, synths, woodwinds, and more as long as it musically connects the rest of the elements in the mix.
What if you could design your distortion algorithms? With Izotope Trash 2, you can simply draw in, tweak, and create a plethora of distortions, if you are like me, I'll go over the 60+ distortion algorithms and adjust to your heart's desire.
Creating a distortion algorithm is one thing, morphing sound from one object with the Convolve module is another thing, with this module you can load any .wav or .aiff file into Trash 2, and create a powerful sonic characteristic of your wildest imagination onto any track or instrument., all done with a single mouse click. Also, the Convolve module includes over 100 impulse responses—a collection of amps, objects, animal sounds, and mouth shapes that are ready and waiting to transform your sound.
Another interesting thing about Trash 2 is that you can control the frequencies you want into distortion or tame the ones you don't want. On top of that, you get over 20+ sweepable filters for tons of tonal options that range from clean and warm to fat and juicy to harsh and clipping.
What I do not like about Trash 2 is that there are lots of options to play with, just too many to count, so, if you are looking for an advanced distortion plugin, then Trash 2 is the way to go, if you are looking for something simple and snappy, then I'll recommend using either Ravage or Distortion Snapin, which are both covered on this list.
Key Features:
Distort in ways you never dreamed of with the Trash module's 60+ distortion algorithms, perfect for transforming your sound into something never before heard
Design your unique distortions, from massive to mild and everything in between, with a new, customizable, multiband Waveshaper
Let your tracks inhabit any space or object with the new Convolve module. Choose from over 100 impulse responses or load your own to put your bass in a washing machine or your keys in a cave
Find a new voice: make your audio speak and growl with two redesigned Filter modules, each one featuring new vowel formant filters, screaming peaks, node modulations, and more
Start trashing your audio immediately with an extensive new preset library and an ear-friendly Limiter that ensures you can play without fear
A Sampling of 30+ Impulses: Voodoo, Muck, Gravel, Big Wheel, Magnum, Taxicab, Powerman, Ignite...
A Peek at 70 Patches: Electric Blaze, Hard Cider, Parasite, Filter Shred, Bleached, Ugly Couch...
System Requirements:
Mac: OS X 10.8.5 Mountain Lion – macOS 10.15 Catalina
PC: Win XP (32–bit Service Pack 3) – Win 10
AAX (64–bit), AU, RTAS (32–bit), VST, VST3
Let's get onto the next one...
2.) Subvert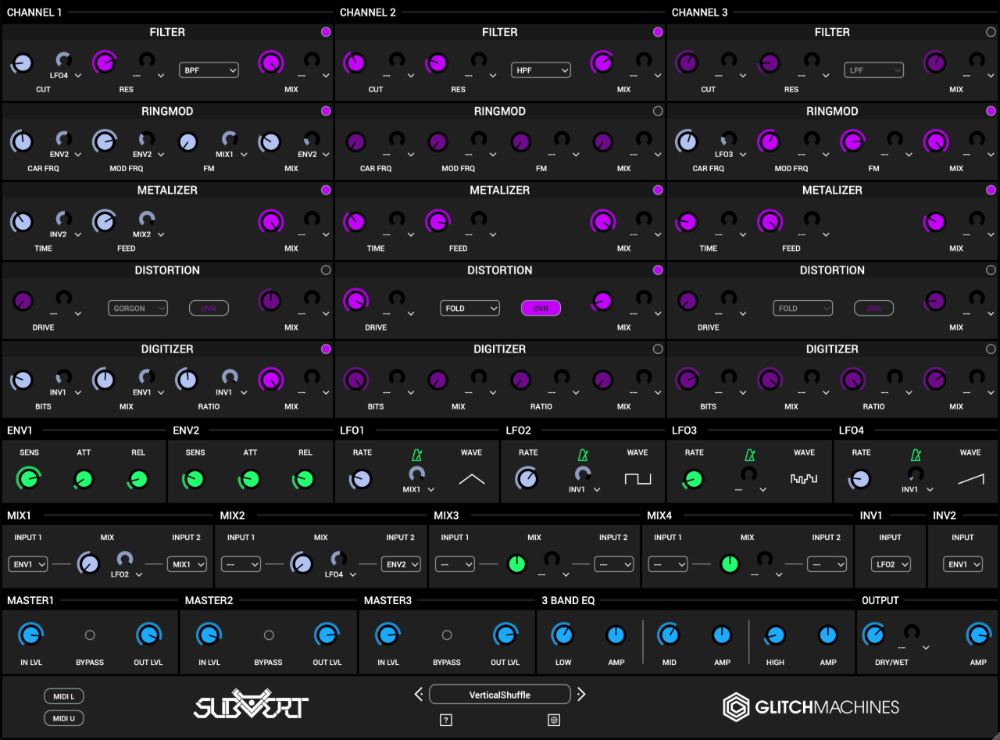 Subvert comes bundled with a plethora of features to create a great distortion effect. It incorporates 5 effects: multimode distortion, FM ring modulator, digitizer, metallizer and multimode filter. Also, it offers three parallel channels of each effects chain as well as rich modulation routing options.
With its multi-channel layout and per-effect bypass option, you can readjust the order of effects in each chain in a variety of creative ways. On top of that, there are 15 effects processors, global EQ, numerous modulation options, and a global randomizer.
Lastly, it has a multi-mode filter which gives you the possibility to set up multi-band effects patches where each channel is processing a different frequency range of the incoming signal. Bypassing certain effects within a chain allows you to globally reconfigure the order of effects, thereby giving you many options in setting up parallel and serial processing patches.
Unfortunately, there are way too many options in this plugin, and a little hard on the eye, so, if you need something really simple, you might want to check other plugins on this list, other than that, it is a powerful plugin and gives you the flexibility to create an advanced distortion effect.
Key Features:
Multi-Channel Distortion
3 Parallel Multi-Effects Chains
Extensive Routing Options
Extensive Modulation Options
Global 3-Band Equalizer
Scalable User Interface
Win/Mac VST/AU 32/64bit
System Requirements:
Mac: OS X 10.8 or higher (32 & 64-Bit / PPC not supported)
Win: Windows 8 or higher (32 & 64-Bit)
Minimum 2 GB RAM
Minimum recommended CPU: Core 2 Duo, 2GHz
CPU with SSE2 support
VST/AU
3.) Ravage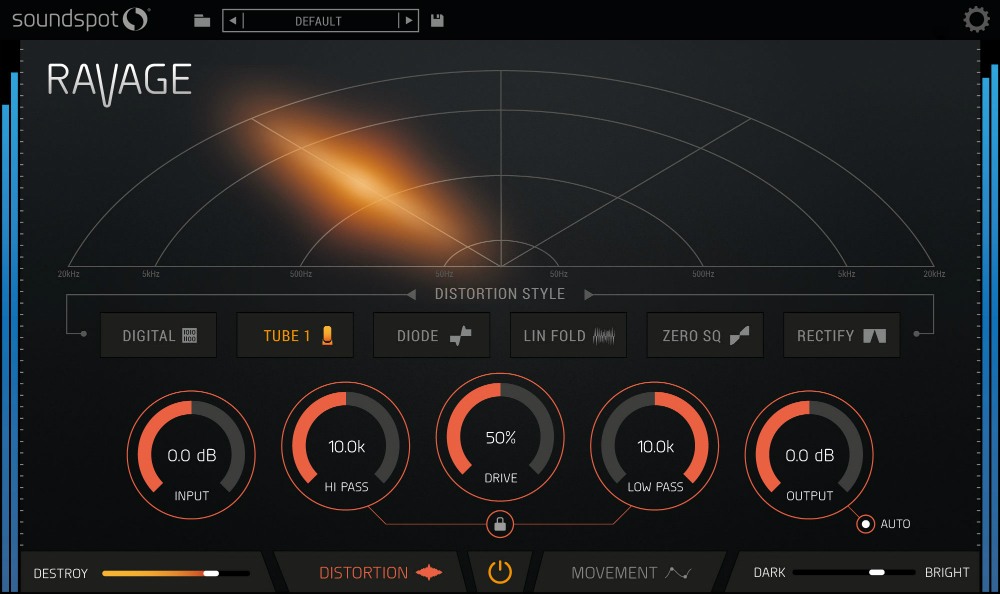 Ravage is one of the most renowned and simple distortion plugins out there, it features six modeled distortion algorithms: Tube, Digital, Diode, Linear Fold, Zero Sq, and Rectify, each with a different personality for adding grit and dirt to audio.
It also has a Drive control for pushing the signal harder, and depending on the level you aiming for, you can also experiment with the Destroy parameter for achieving an in-your-face type of distortion, just don't overdo it. There is also a high and low pass filter, as well as a Dark/Bright slider to weigh the distortion's energy.
One of my favorite features of this plugin is the Ravage's Movement panel, which lets you assign modulators to one of eight destinations including Drive and Pan. You also can customize an LFO's movement using nodes and curves to whip up customized patterns. To take your modulation further, Ravage offers played reversal, waveform smoothing, and pulse width manipulation.
Key Features:
Heat things up with 6 distortion types: Digital, Tube, Diode, Lin Fold, Zero Sq, and Rectify
Add movement to parameters using custom-drawn modulation shapes
Destroy parameter pushes the signal even harder through the distortion processor
Pan the distortion across the stereo field
Tailor the distortion response with filtering, input/output gain, and dark/bright weighting
Reverse, Smooth, and adjust Pulse Width for modulator signals
Auto output control compensates level when Drive is increased
Oversampling is set intelligently behind the scenes to ensure the best sound quality
System Requirements:
Mac: 10.12 – 10.14 (Catalina not supported)
Windows: 7, 8 or 10 (32 & 64-bit)
VST/VST3/AU/AAX (Pro Tools 11.0.2 or higher)
RAM: 8 GB RAM or more is recommended. Plus at least 8 GB of hard disk space for installation.
Processor: Intel Core 2 Duo, AMD Athlon 64 X2 or newer.
Sample Rates: Supported sample rates: 44.1, 48, 88.2, 96, 176.4, and 192 kHz, in both mono and stereo.
4.) Screamo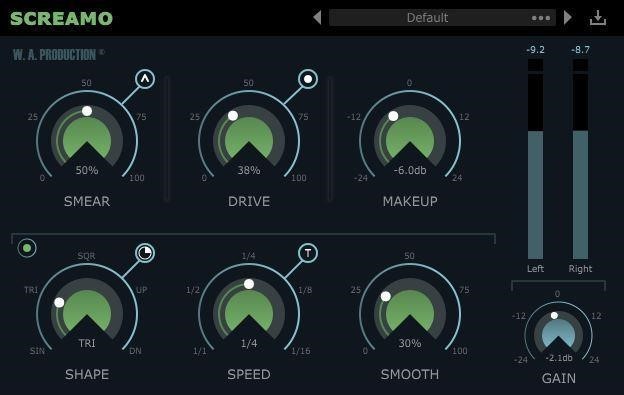 Screamo is an intuitive distortion plugin that features a few numbers of knobs to get a superb distortion effect, let's get to know some of its features:
Smear: These are two resonant shelving filters that produce a talk-box-like effect when used with restraint or a full-on screamer when pushed hard. You have the option to play with 3 different styles of smear effect: upward, downward, or two-way frequency modulation.
Up next is the Drive control which makes your drum loops or synth cut through the mix, this won't work for all synth or percussion loops for sure, you just have to pay careful attention to details when applying the control. For example, you can push your signal from subtle saturation to extreme overdrive.
Also, you don't have to worry about syncing, the Smear, Drive, and Makeup controls are all synced together allowing you to create tempo-synced scream effects that would normally be very complex to achieve with normal plugin routing.
I also love the way you can add more control to the distortion, for example, Screamo features the Shape, Speed, and Smooth knobs for controlling and designing how you want the waveform to look, It's possible to create a slowly evolving talk-box effect or crazy fluttering overdrive - and everything in between.
Key Features:
25 Creative Presets for one-click transformations
3 Smear modes
3 Distortion types
5 Sync modulation wave shapes with adjustable start points
Sync speed control with straight, triplet, and dotted rhythms
Real-time output level display and gain
Full PDF Manual & Tutorial video
System Requirements:
VST Windows 7 or higher (32 / 64 bit)
VST / AU Mac OSX 10.7 or higher (64-bit only)
AAX - ProTools 11 or higher
5.) Devastor 2

Devastor 2 is a plugin by the D16 Group, and it is built with multiband distortion unit in mind, it has full control over multiband processing, which can greatly enhance your sound,
The way Devastor work is that it has nine different connection topologies between its filters and diode-clipper. So, you can either process the signal before or after it gets fed into the diode-clipper, but some of the configurations even allow the filters to work alongside the clipper, which greatly increases the possible sonic palette.
Whether you plan on using it on a percussion loop, guitar, synth and whatever you can think, it can be used to improve the character of the sounds, just make sure you are gently applying it, this way, you can achieve more of a warmth and detail in your sound without introducing unwanted distortions, but if you are looking for something rugged and jagged, you can also push up the knobs accordingly.
Another great thing about Devastor is that D16 Group has built special antialiasing techniques to the output signal to make sure it was devoid of aliasing, this way, it sounds more interesting, warm, and musical, enjoy away.
Key Features:
Probably the best diode-clipper emulation on the market today
Analog-modeled filters of extremely high quality (refined filter models)
Dynamics flattener (with improved peak detection and more natural envelopes)
Optional output limiter
Tag-based preset browser
Two alternative GUI sizes
MIDI-learn functionality throughout
9 different topologies of connections for filters and the diode-clipper
64bit internal processing
Ultra-low aliasing output
System Requirements:
Win: OS version Win 7, Win 8, Win 10
Mac: OS version 10.7 and later

CPU 1.5 GHz with SSE (Multicore system 2.0 GHz recommended)
RAM 4 GB (8 GB Recommended)
Software AU / VST / AAX compatible host application (32bit or 64bit)
6.) FabFilter Saturn Distortion Unit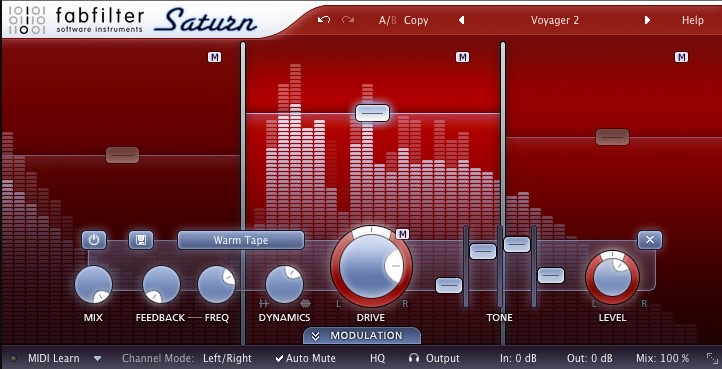 The next distortion plugin on our list is the Saturn Distortion Unit by Fabfilter, it offers a range of numerous high-quality distortion models, which are inspired by the vintage sound of tubes, tape, and guitar amps. To top that, you get three creative distortion styles, with which you can smudge, stretch, crush, rectify, and clip your sounds in weird and unimaginable ways.
There is also a multiband design and per-band feedback module, which can help you narrow down on how you want the distortion applied to your track, on top of all this, you also have the ability to blend in modulation for a great warm and superb distortion effect.
Key Features:
Sixteen different distortion styles, from subtle saturation to heavy guitar amps and bit crushing
Multiband processing (up to 6 bands)
Per-band drive, mix, feedback, dynamics, tone, and level controls
Per-band solo and mute options
Optional HQ mode (8x oversampling)
Mid/side processing
Interactive multiband display
Easy-to-use interface, using our innovative what-you-use-is-what-you-see concept
Endless modulation options, with all the 16-step XLFOs, XY controllers, envelope generators, envelope followers
Easy drag-and-drop modulation with 50-slot modulation matrix
Over 150 presets
Modulation source signal visualization
Interactive MIDI Learn
Unique per-component presets
Available in VST, VST3, Audio Units, AAX Native and AudioSuite formats (all both 64-bit and 32-bit), as well as RTAS (32-bit only)
System Requirements:
Windows:
32-bit: Windows 8, 7, Vista or XP
64-bit: Windows 8, 7 or Vista (x64)
VST 2/3 host or Pro Tools
Mac OS X:
32-bit: OS X 10.5 or higher
64-bit: OS X 10.6 or higher
AU or VST 2/3 host or Pro Tools
Intel processor
7.) Distortion Snapin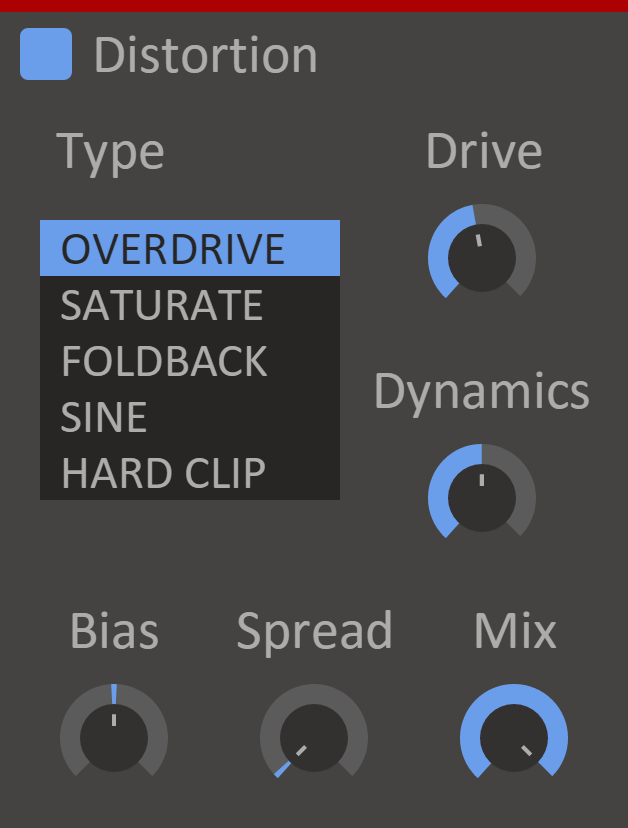 Every kiloHearts plugin I have tried always have a form of simplicity, and to be honest, they are good and straight to the point. Distortion Snapin is one of their product and offers 5 different distortion shapes, which can be used to add a tinge of edge or rip things apart.
It is as simple as that, if you need something complex, then you can check one of the distortion plugins above.
System Requirements:
CPU: 2 GHz or faster
Memory: 1 GB or more
Operating System: Windows (7 or newer) or Mac OS X (10.7 or newer)
A VST / Audio Unit / AAX compatible DAW
Supported formats: AAX / AU / VST2 / Snapin
Chorus Effect Plugins (Free)
8.) Temper Distortion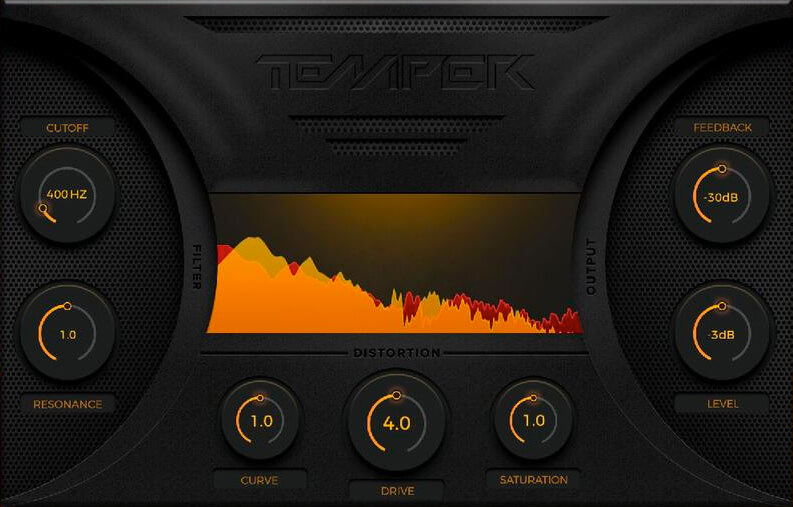 Temper is a modern digital distortion plugin by the Team at Creative Intent, it features a rich saturation stage and a unique phase distortion. You can use the variable saturation curve to add warmth and edge to your sound and let the phase distortion bring character and clarity through your mix.
It also features a simple resonant lowpass filter and a feedback path to drive the intensity of the tone.
If you are a plugin developer, I would want you to know that the open source is widely available, you can contribute and glance through the code, you can even the tweak it to your use cases, that is the beauty of open-sourcing.
Video Sneak Peek:
Features:
Unique Phase Algorithm: Temper delivers a unique phase distortion algorithm that adds energy and clarity to any element of your mix.
Before & After Visualisation: Temper's design features a real-time comparison of your input and output audio spectrum to help you see your sound.
Multiple Formats: Available in VST, VST3, AU, and AAX for both Windows and Mac OS X.
System Requirements:
Windows: 64-bit VST2, VST3, AAX
macOS: 64-bit AU, VST2, VST3, AAX
Microsoft Windows 8.1 or newer, and
MacOS 10.9 or newer. Note: Catalina
compatibility and AAX support for Remnant is coming soon.
Download Temper Distortion Plugin
9.) Rangebastard (Free Distortion Treble Booster Plugin)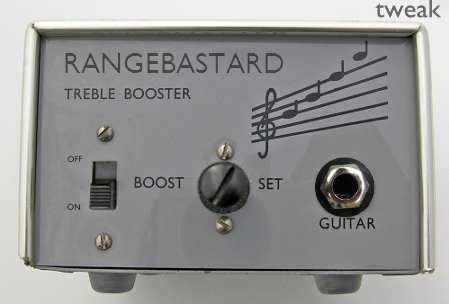 When it comes to emulating distortion effects, I give Distorque Audio 90% rating, and now they present Rangebastard which is an emulation of a Dallas Rangemaster with added controls for tweaking or for use as a full-range booster, an overdrive, and more. Also, it supports both mono, and stereo, and has 2x oversampling.
About Rangematser
The Rangemaster was a Germanium transistor treble boost developed in the 1960s. It and similar effects have been used by Eric Claption, Brian May, and many more great guitarists. It's most often used to drive a distorted tube amp into more distortion, while boosting the upper-mids for a screaming lead sound.
Features:
emulation of a Dallas Rangemaster
overdrive
full-range booster
2x oversampling always on
Input Level – This is a volume control on the input of the effect. You can adjust this to compensate for different pickups, different input levels, etc. It can also be cranked to overdrive the simulated transistor.
Input Filtering – This adjusts the amount of filtering that is used on the input, which gives the 'treble boost' frequency response. Turn it down for a full-range boost, or put it at maximum for the normal Rangemaster sound.
Treble – This allows you to roll off some of the high ends. This is useful to avoid harsh distortion if you are using the effect as an overdrive. You can also turn this down along with the Input filtering control for a mid or bass boost.
Transistor – This lets you pick between two simulated transistors
Stereo/Mono – This switches the effect between Stereo and Mono operation.
Grid Current – Turning this above zero activates an emulation of tube grid limiting clipping. That's the tube distortion caused by the Rangemaster overdriving the input of a tube amp. The higher the control, the more distortion.
Pickup – This emulates the interaction between the Rangemaster and guitar pickups. For the most accurate tone, set this to match the kind of pickup that you're using. The 'None' setting turns off the pickup filtering, emulating running a buffer before the effect or using an active pickup.
System Requirements:
10.) TAL-DAC (Free Bit-Crusher)

TAL-DAC is a free bit crusher and sample rate reducer by TAL Software.
It is based on the TAL-Sampler sound engine, and emulates a sample recorded on a low sample rate with reduced bit depth, and upsamples it to the desired host sample rate.
Also, it is possible to choose different algorithms for the upsampling process to emulate the characteristics of different samplers.
Features:
A low and high shelf EQ together with an AMP Drive in the reconstruction section allows it to approximate the sound character of different sampler AMP's.
Also, it is possible to emulate hot recorded signals using the input volume knob.
This plug-in can be used on a wide range of audio material, but it's especially useful and authentic on drum sounds.
Recording stage with input volume control and soft clipper (adds odd harmonics).
Variable recording sample rate (1000Hz-44100Hz).
Variable recording bit-depth (4bit-16bit) with different algorithms (mu-law, mu-law delta, linear).
Reconstruction section with different reconstruction methods (hold, variable, linear, S1000/sinc).
Very steep reconstruction filters (optional).
AMP drive (add's even and odd harmonics to the signal).
A high- and low shelf filter (12dB).
All non-linear components are 8x oversampled to avoid aliasing.