I posted a gigantic list of free VST plugins two weeks ago, the post was awesome, and I am glad you guys loved it.
On this page, you will find a list of the ten best free and paid autotune VST plugins you can download and use for free in your various Daw Software.
Before you start tweaking the knob on various autotune plugins, I think we should understand the basics of what autotune VSTS does, if you have an idea about that, skip this section, and if you are a newbie just getting into knowing how things work first, then continue reading.
What is an Auto-Tune?
Autotune is an audio processing VST that is used to correct an inaccurate pitch in vocal tracks or perhaps used to modify or alter pitch in performances, music instruments, and or vocals.
In simple terms, It is used for automatically tuning an off-key or off-pitch sequence, allowing vocal tracks to be perfectly tuned.
When You Should use Auto-Tune
As a singer, you would notice that when you try to sing outside of your comfortable range (range of notes you are physically capable of producing), you sing out of tune.
In this case, you might want to use an autotune plugin to fix that, if necessary. Also, you might use the tool, if you struggle to record multiple takes.
Note: Do not use an autotune plugin on too plenty of pitchy vocals; The best thing to do in this scenario is to take a lesson and practice to sing better.
In my opinion, you do not necessarily have to use an auto-tune plugin on vocal if it sounds great and less pitchy, this is just a preference!
Auto-tune can also be used on a wide load of sounds from an instrument, to get a type of effect (T-pain effect), enhance vocal expressiveness, and so on.
Let's count down from the good to the best!
10) KeroVee (Free)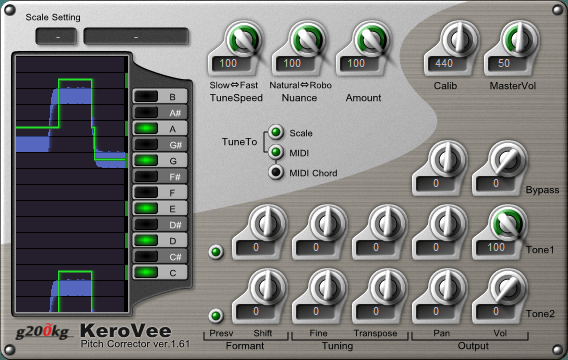 This is a pitch correction VST plugin tool and has been strengthened to support natural pitch correction.
This tool is handy and can perform different and various types of voice effects, for example, a conversion of the male voice to a female voice and vice versa.
KeroVee comes bundled with useful parameters for the effectiveness of the auto-tuning process, Parameter includes:
Scale Button: This is for specifying the scale you want to tune. Setting a wrong scale would result in an awful result, in a simple sentence, Know your scale before you go into this one
TuneSpeed: This will allow you to set the speed of correcting the pitch.
Nuance: This is one of the best and lovely parameters, you can use this to set a fine vibrato of the original sound, and use this to create all sorts of weird effects.
Amount: Set to zero (0) if you want no correction, setting to 100 will result in full correction of the pitch
and many more parameters like the Transpose option, master volume, etc.
System Requirements
A compatible host program that supports the VST formats
Download KeroVee Auto-Tune Plugin
9) X42-Auto-Tune (Free)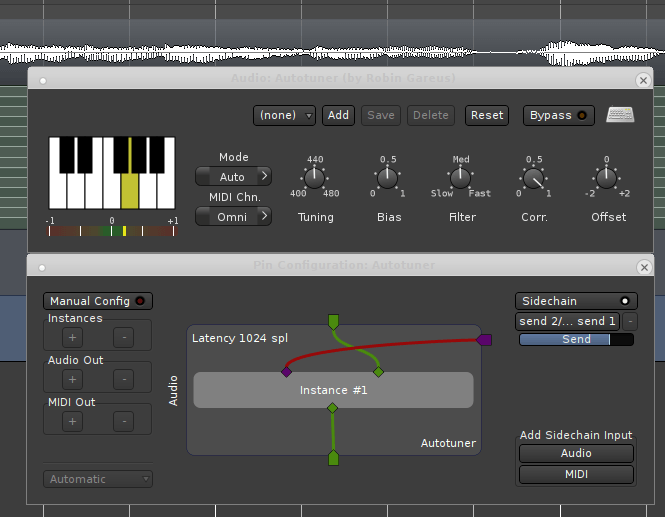 This is an auto-tune plugin that is developed to correct the pitch of a voice when going out of tune.
Its main function is for the correction of tune in vocal range, although it can and may be used on some instruments.
It as a pretty cool and friendly GUI, parameters included are Tuning, Bias, Filter, Correction, offset, and pitch error meter.
Download X42 Auto-Tune Plugin
8) Graillon (Free)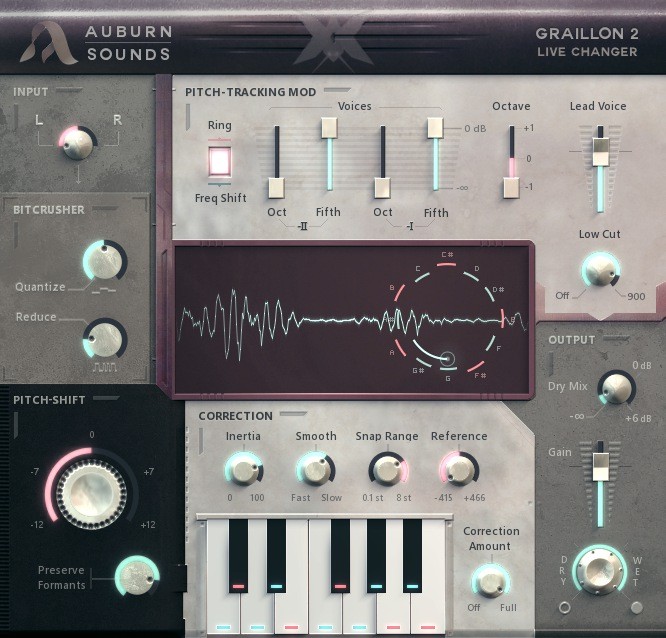 This is an autotune VST plugins designed and developed by Auburnsounds. This plugin is superb in the way it handles pitch correction.
It not only supports pitch correction but supports the generation of throat sounds, making octave sounds, and enriching, and enhancing vocal expressiveness.
Also, there is a pitch shift parameter that transposes vocals up and down in octaves and semitones.
System Requirements
Available as VST, VST2, AAX, and Audio Unit plugin for macOS and Windows platforms.
Download Graillion Auto-Tune Plugin
7) GSnap (Free)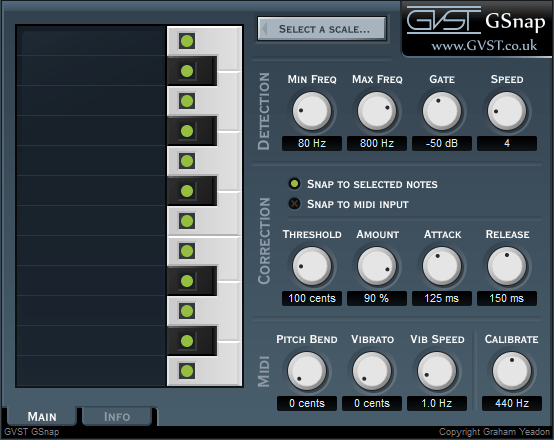 This is an autotune plugin developed by Graham Yeadon of Gvst, Gsnap is one of my favorite autotune plugins, and I use it to create a specific type of effect.
GSnap was designed to automatically detect when a voice is pitchy, that is, when a note is off-key, it would indicate red, and when in tune, it would indicate green, interesting!
However, if you want to achieve a not-to-perfectly tuned voice, I would suggest you use it with subtle settings.
Extreme settings can create sounds like famous Daft-Punk, T-pain, or Char effects, if this is what you are looking for, go with this setting.
System Requirements
Available in VST format (32/64bit) for windows only
Download Gsnap Auto-Tune Plugin
6) VisualVox (Free)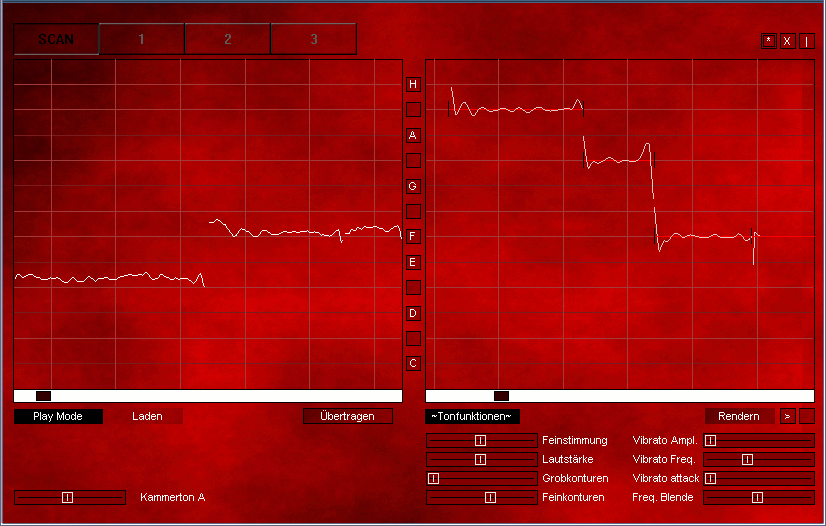 A lightweight intonation correction VST plugin, that comes bundled with pretty cool features like:
Producing a perfect vibrato effect
Know when your voice is pitchy and when you are in tune
Ability to fit a voice into a rhythm by stretching, cutting, and also a cut and paste option alongside
Ability to create an artificial polyphony from a single voice, e.g. multiple voices,
and many more features.
Why do we need an autotune plugin? To automatically correct off-key vocals back in line, count on Visualvox.
System Requirement
Compatible with a VST host system
Download VisualVox Auto-Tune VST plugin
5) MAutoPitch (Free)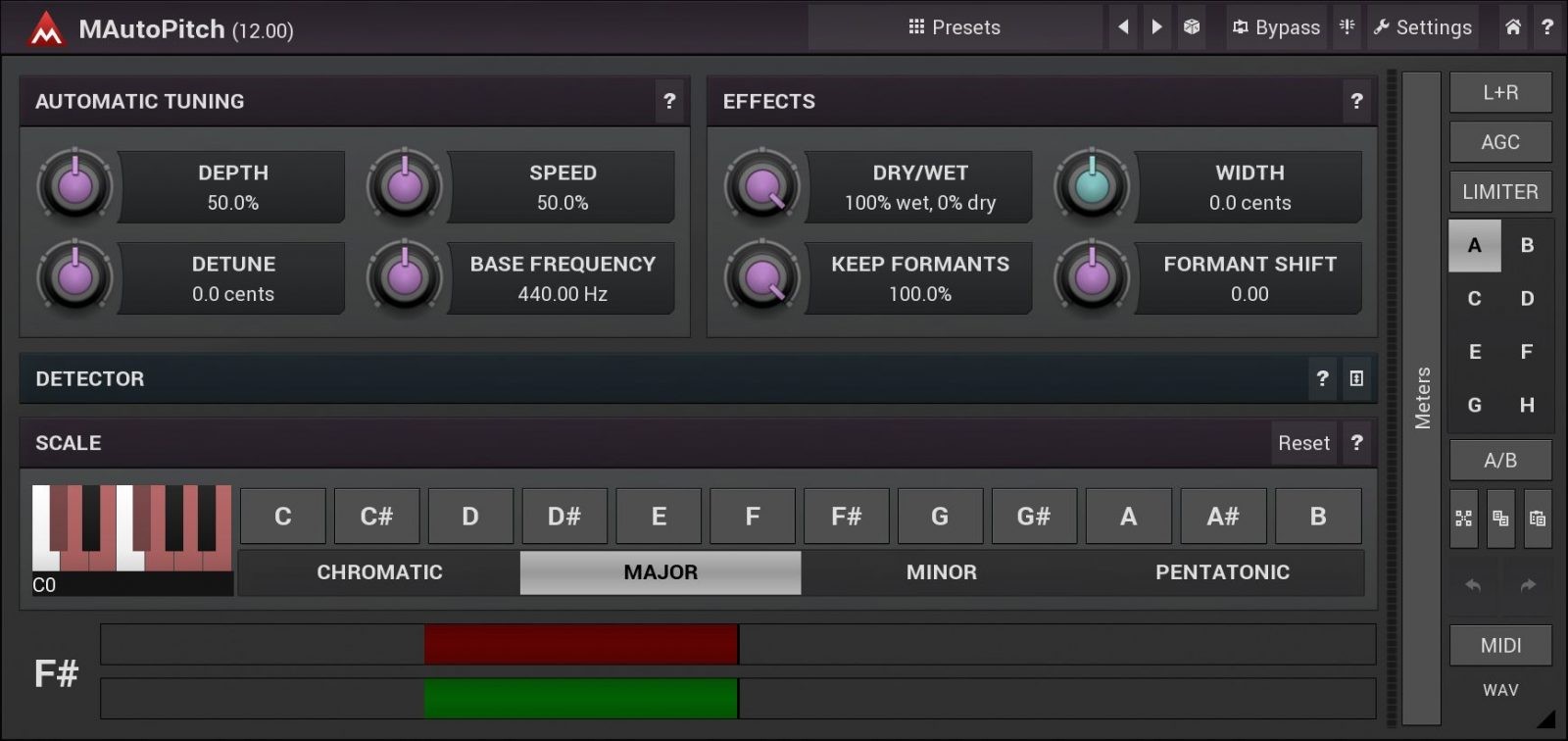 With over 50,000 downloads every month, we should crown MAutoPitch the best free autotune VST Plugin.
This free pitch-correction tool is one of the most downloaded, and it is designed for vocals and other monophonic instruments. It features a scalable and resizable GUI and also lets the user chooses between knobs, sliders, and buttons.
The primary goal of a good VST plugin or tool, in general, is to deliver outstanding results in performance and also be capable of handling larger processes, MAutoPitch isn't far from that.
With the ability to handle not only mono and stereo signals but also mid/side encoding for stereo field processing.
Also, it provides high audio quality performance, and uses 64bit audio processing to handle any sample rate (e.g. 192Khz), it is not advisable to go above that, these are just the tip of the iceberg of what MAutoPitch can do, it is robust and a great free autotune VST plugin you should lay your hands on.
System Requirements:
Windows
Windows Vista / 7 / 8 / 10 (32-bit or 64-bit)
VST / VST3 / AAX compatible host (32-bit or 64-bit)
Intel/AMD processor with SSE2 support
Always use 32-bit plugins in 32-bit hosts or 64-bit plugins in 64-bit hosts!
Mac Os X
Mac OS X (10.7 and newer, 32-bit or 64-bit)
VST / VST3 / AU / AAX compatible host (32-bit or 64-bit)
Intel/AMD processor with SSE2 support
Download MAutopitch VST plugin
4) Melodyne (Paid)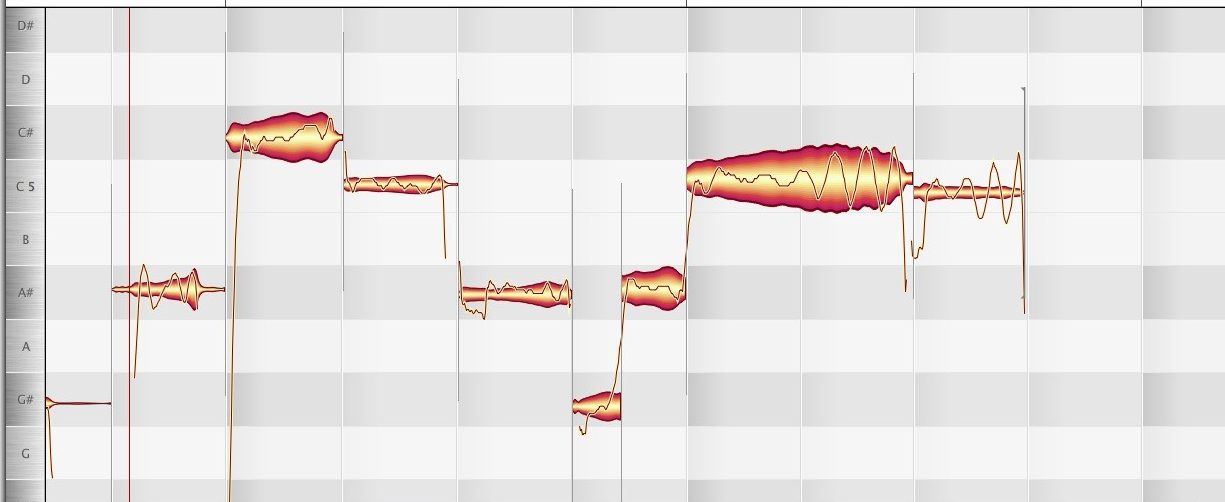 I said this earlier, using pitch correction on a bad vocal track would give an undesirable result, great singers make mistakes and this is where the tool comes in handy if and only if needed.
Melodyne is one of the best paid autotunes plugins out there. It is designed to work with vocal tracks, percussion, sound effects, and different kinds of sounds you might think of.
It features:
Manipulation of notes, harmonies, melodies, grooves, rhythm, editing intonation, and even with polyphonic instruments (e.g. piano or guitar: each note) Crazy right?
Automatically detect the tempo, scale, and tunning of a sound
Beautiful GUI design, and also user-friendliness,
and many more features you should check out.
Price
Melodyne comes with a hefty price tag of €699 for the complete Melodyne bundle, Melodyne editor €399, Melodyne assistant €249 and Melodyne essential €99.
System Requirement
macOS
Intel Dual Core processor (Quad Core or better recommended), macOS 10.6.8 and 10.11.x to 10.14
4 GB RAM (8 GB or more recommended)
Windows
Intel or AMD Dual Core processor (Quad Core or better recommended), Windows 7, 8.1, or 10 (64-bit recommended), ASIO-compatible audio hardware
4 GB RAM (8 GB or more recommended)
Activation
Activation Computer-based or iLok USB dongle (2nd or 3rd generation), Melodyne 4 essential only computer-based. Internet access is required for activation.
3) ReTune (Paid)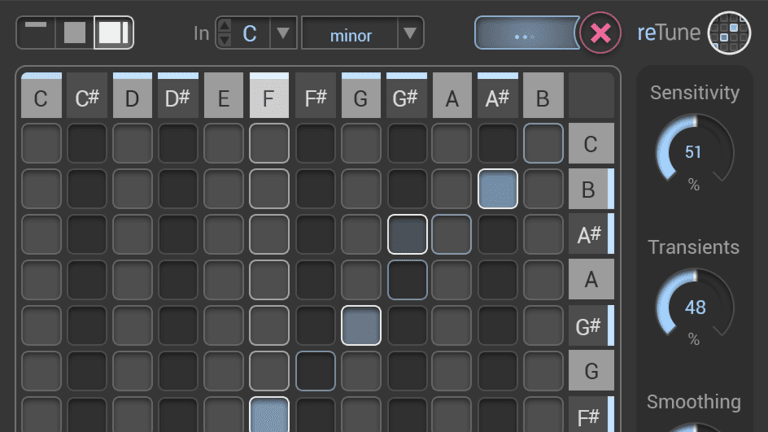 To be honest, auto-tune is mostly used for correcting pitches, some users do not even know pitch correction is a single feature in auto-tune plugins.
It can be used to create broad sorts of effects on vocals and instruments or sound effects.
ReTune is an autotune plugin developed by zplane, and it can be used to nudge off-key notes to the nearest semitone, and also supports controls such as the sensitivity of the pitch corrections, smoothing of pitch and more useful features such as:
Real-Time Processing: It can be used during live performances on stage and in the studio.
Automatically detect input key using zplane's TONART V2
Presets for major/minor scales, chromatic scale, church modes, and gypsy
Allows the use of controls for pitch detection sensitivity, transient levels, and pitch contour smoothing,
and many more features.
System Requirements
Compatible with AAX, AU, and VST host system
A minimum of 2Ghz and 4gb ram minimum.
2) Waves Tune (Paid)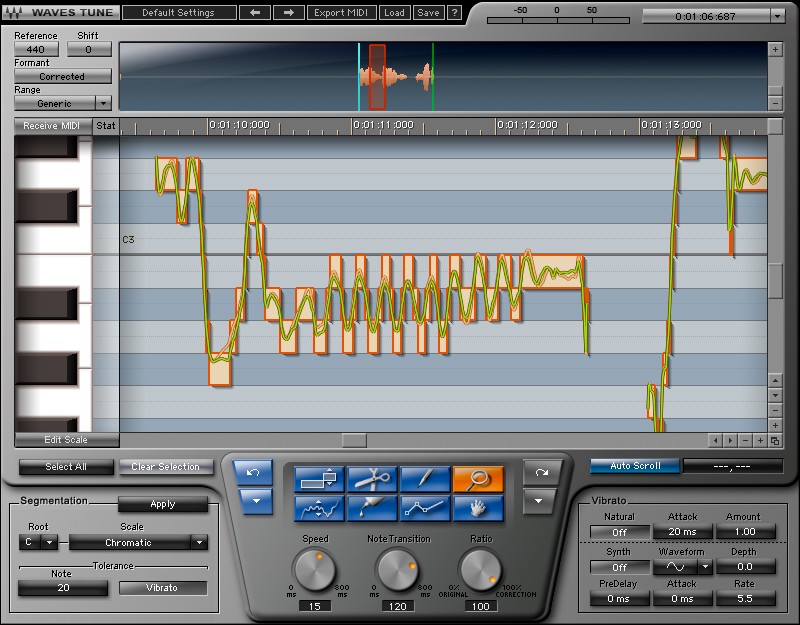 Waves Audio Ltd is one of the biggest, most trusted, and leading companies in audio-related software. Let's take a brief description of the types of wave to auto-tune VST plug-ins.
Waves Tune is an auto-tuning plugin developed and designed for pitch correction, and for correctly tuning to a natural taste for creative effects.
There are three types of Waves Tune:
1) Waves Tune Real-Time,
2) Waves Tune and
3) Waves Tune LT.
Waves Tune Real-Time - It can be used during a live performance on stage or performance in the studio, or perhaps for pitch-correcting pre-recorded tracks. Hence, it works in real-time mode.
Waves Tune - It can be used for pitch-correcting pre-recorded tracks at a greater level of detail, also has a more robust tool for editing pre-recorded tracks, while Waves Tine Real-Time doesn't have that.
Waves Tune LT - This is a lighter version of the Waves Tune with basic editing tools for a starter.
Prices
Waves Tune comes with a price tag of $ 119, Waves Tune Real-Time is tagged $49, and Waves Tune LT is tagged $29, learn more and buy here:
System Requirements:
Mac
Intel Core i5 / i7 / Xeon
8 GB RAM
8 GB free disk space on the system drive
Operating System - 10.11.6 - 10.14
Screen Resolution
Minimum: 1024x768
Recommended: 1280x1024 / 1600x1024
USB displays are not supported as the primary display.
Windows
Intel Core i3 / i5 / i7 / Xeon / AMD Quad-Core
8 GB RAM
8 GB free disk space on the system drive
Operating System
Windows 7 with SP1 64 bit
Windows 8.1 64 bit
Windows 10 64 bit
Screen Resolution
Minimum: 1024x768
Recommended: 1280x1024 / 1600x1024
Learn more and buy here: Waves Tune
1) Auto-Tune Pro (Paid)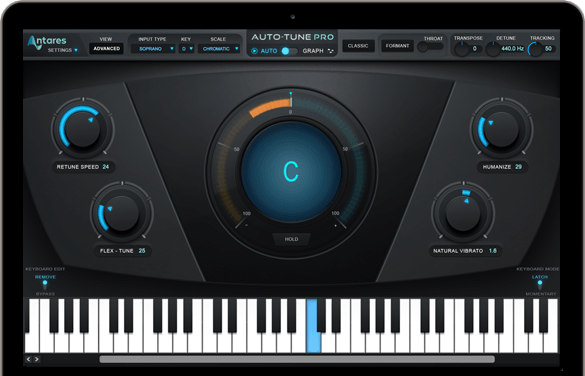 Auto-Tune Pro is a plug-in developed by antarestech, and it has been undergoing a lot of changes for the past 20 years.
It includes auto-mode and graph mode, auto-mode is for real-time intonation correction, while graph mode is for detailed and time editing.
This program has been used by the most iconic and popular music producers - T-pain, Cher, and Daft-punk, to mention a few.
Auto-Tune has been more powerful with the invention of Auto-Tune Pro, and more comfortable to use than ever before.
Antares added automatic key detection with the new Auto-Key plug-in, now better and easier to use.
Also, it is designed in such a way that allows a user to naturally correct pitches, and humanize for more transparent and low Latency mode so a user can perform in real-time without distracting delay.
Price: $399
System Requirements
Requires iLok Version 2 or Version 3. not compatible with iLok Version 1
Mac- Supports AAX Native (64-bit only), VST3 (64 and 32-bit), and Audio Units (64 and 32-bit)
Windows - Supports AAX Native (64-bit only), and VST3 (64 and 32-bit)
Learn more and buy here: Antares Autotune
Any suggestions on the Auto-tune plugins listed above? drop your messages below and let's have discussions on what you think about this list, don't forget to share this! :)