Panning! Sweeping sounds from left to right, and vice versa right?
Yh, it is as simple as that, but there is more to panning, think of a tool that can perform a rhythmic auto panning with different ratings, and lots of creative possibilities to instantly add some super awesome dramatic texture in your mix, fortunately, we have one - and that is PanMan by Soundtoys.
PanMan by Soundtoys is more than a mere panning plugin, it opens a lot of creative possibilities such as recreating the sounds of classic hardware panning boxes, complex rhythmic patterns, dizzying sweeps, and a plethora of awesome effects that "words" can't explain. Let's get to know some of its features...
The Trigger Divider: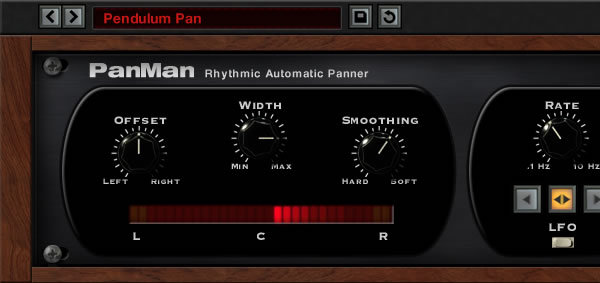 Soundtoys PanMan emulates classic auto-panners, and one of its main features of it is the trigger divider, which lets you set the number of trigger events it takes to move to a new pan position. For example, you can set it to scan from the left to right in three triggers.
You can either trigger the panning by clicking with your mouse or automate the trigger with your host DAW and even set a threshold to have it respond to incoming audio (similar to sidechain triggering). On top of that, you can filter the audio going to the trigger so it responds to just low, or high, frequency events, plus 7 different analog modes that add saturation and a real analog vibe when you push PanMan hard.
Modern Tools:

PanMan also goes a bit further by offering advanced rhythmic tools that let you create your own signature pan effects. Two different rhythm modes give you tons of possibilities:
Step Mode: This lets you choose a new position on each beat and sync it to your host
Shape Mode: This lets you choose from a library of custom panning shapes or even draw your own.
If you want to follow the feel of the music, you can set the threshold control and trigger PanMan using the dynamics of your track. Move the width, speed, and offset controls based on the rhythm of the audio. There are lots of creative things you can do with the plugin e.g changing the speed of the panning based on the loudness of a vocal, or just a simple rhythmic panning.
Key Features:
Create custom auto-panning effects, locked perfectly to your song's tempo
Choose from 6 different panning modes including LFO, step, and random
Recreates the clever "trigger divider" feature from the vintage PanScan hardware
Design your own rhythmic patterns and panning waveshapes
Set the threshold to let your music's dynamics control speed, offset, and width
Add vintage tone with 7 different analog emulation algorithms
Video SneakPeek
PanMan Pricing
It is priced at $129.00 at the time of writing this review!
Is PanMan Worth Using?
Yh, PanMan is actually worth it, honestly, I find this kind of plugin easy to use, and can be a handy one for all panning effects, if you can go over the hurdle of manually creating a panning, then you don't need it.
System Requirements:
This software is 64-bit only and is not compatible with 32-bit systems.
AAX Native, AAX AudioSuite, VST, and Audio Units (AU)
Minimum: 44.1 kHz, Maximum: 192 kHz
Operating systems: Mac OS X 10.8 or later; Windows 7 or later
An internet connection is required at the time of activation
A FREE account at ilok.com is required (a physical USB iLok is not required)
Officially Supported Host Applications:
Pro Tools 10.3.5 - 2018 (Mac & PC: AAX Native and AudioSuite)
Logic Pro 9 & X (​Mac: AudioUnits)
Ableton Live 9.2.2 - 10.1 (Mac: AudioUnits & VST; Windows: VST)
Digital Performer 8 - 10 (​Mac: AudioUnits & VST; Windows: VST)
Studio One 4.5 (Mac: AudioUnits & VST; Windows: VST)
Cubase 7 - 10 (Mac & PC: VST)
​Nuendo 6 - 10 (​Mac & PC: VST)
Personally Tested: