In this post, we won't only be doing a review of ERA 4 De-Clipper, but also a practical guide of the ins and out of the plugin, so, first…
What is ERA 4 De-Clipper
ERA 4 De-Clipper is a simple and easy-to-use Declipper that automatically detects and re-digitizes or restores any clipped portion of an audio signal, the good thing about this plugin is that it retains the fidelity of the audio signal.
Why use ERA 4 De-Clipper?
Short Answer: If you want to restore clipped material, be it a vocal recording, dialogue, or any audio material, this is the best and simple plugin that gets the job done extremely fast, and smoothly.
Long Answer: Audio clipping occurs when an audio signal gain is louder than the maximum volume that the audio equipment (analog or digital) can reproduce. When audio is clipped, the tip of the waveform looks clipped off as seen in the image below, since it is going over (> 0 dBFS) what a D/A converter can convert, they start fighting their way through, and in turn becomes jiggered and produces an unwanted distortion.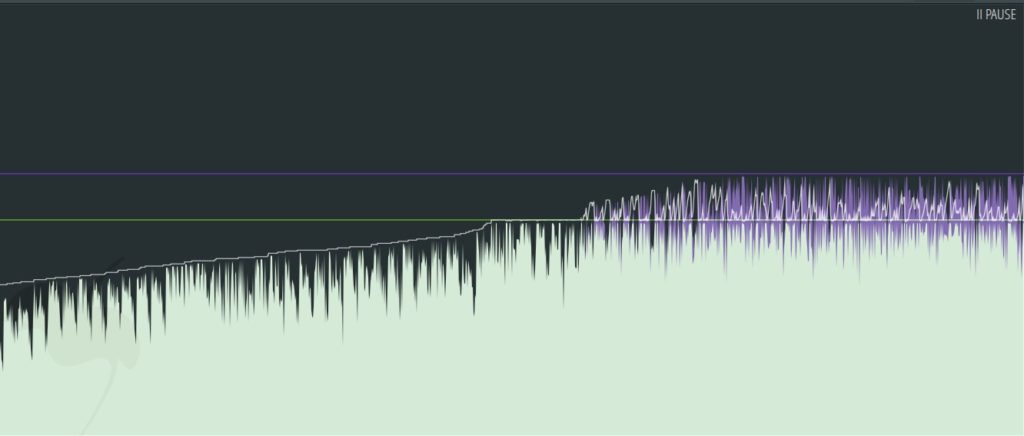 When clipping occurs, a portion of the original audio signal is lost, which is why I am a firm believer in this quote:
Sometimes the easiest way to solve a problem is to stop participating in the problem -- Jonathan Mead
However, when repairing is the only option, (say you can't re-record the audio or you downloaded it from somewhere), your best bet is to fix the clipping issue, and this is where ERA 4 De-clipper comes in, it can automatically detect clipping, and perform the plausible replacement for the clipped part of the original signal.
The good thing about this plugin is that it doesn't compromise the quality of the sound if it is not totally bad already, we would be performing an actual practical experiment in a moment.
Getting Started With ERA 4 De-Clipper
De-Clipper is a simple and easy-to-use plugin, it features few parameters, so, it's fairly straightforward, nevertheless, let's dive deep into the core features…
Superb Processor
ERA 4 De-Clipper features two types of processing; Type 1 and 2. These are toggles you can use to disable the processing of the plugin, typically, Type 1 pretty much detects and repairs clipped audio, but if that isn't doing the job, you can switch to Type 2.
On the other hand, you have a two-way toggle button to select the processing quality, which is Standard and High Quality.
Similarly to the Type I & II scenario, the Standard quality is enough, but you can also switch to the High quality for even more improvement, as you'll see in my test in a moment, I didn't see any noticeable difference.
Heads Up: Using the High-Quality option might be CPU intensive, especially if you are having multiple instances running, so, you might want to bounce to audio if you prefer that option
Clipping Indicator & Output Protection indicator
On the right top of the De-Clipper window is a clipping detection indicator that flashes when it detects a clipped part of your audio.
At the left side of the plug-in is the output protection indicator, once the OUTPUT is flashing, it is telling you that the repaired signal is exceeding what your DAW host could reproduce (this is also clipping), to mitigate this, you reduce the output gain slider until it stops flashing.
Amazing A/B switch
This is one of my favorite features of this plugin, A/B switch is nothing new, but the way Accusonus implemented this is amazing. You can use the A/B switch to compare two settings, and it doesn't stop there, you can adjust the controls such as Processing, Gain, and Quality Mode independently for the A and the B setting, which is super awesome.
What I'll Love Included In ERA 4 De-Clipper
One powerful feature that I'll love Accusonus to implement is a Threshold slider, this way, users can manually set the clipping threshold, which is useful for fine-tuning the audio level where the peaks of the waveforms are most present.
Practical Experiment
It's time for an experiment…
I am using Fl Studio for this experiment, De-Clipper works well with major DAWS, so, you are in safe hands. I'll love to point out that I had a little latency delay when I loaded an instance of this plugin, I fixed the issue by creating a separate bus for declipping, you might not face this issue, just pointing out.
Note: I wanted to try the experiment with a WAV format, but, it would be too heavy, so, I'll go with an Mp3 format with a bit-rate of 320kbps or 250kbps which is okay for this experiment.
Here is the layout of the experiment:
Original Audio -> Clipped Audio ->Reconstructed (De-Clipped) Audio
Caution: I pushed the limit in the clipped audio sample, so, watch ya ears!!!
Practical Experiment 1 (Electric Synthesized Piano)
Shout-out to Larm for this sample (Fully Licensed on Exclusivemusicplus)
Pay attention!
Original Audio:
Clipped Audio:
Reconstructed Audio:
I give ERA 4 De-Clipper 8/10 here, I let it perform the declipping automatically, and I lowered the Output to match that of the original audio signal, in the next experiment, I'll leave the volume intact.
Practical Experiment 2 (Layered Lead)
Shout-out to Horlaes for this sample (Fully Licensed on Exclusivemusicplus)
Pay attention close attention to the clips, preferable to listen with a headphone!
Original Audio:
Clipped Audio:
Reconstructed Audio:
The result of the reconstructed signal wasn't expected, I exaggerated the clipped signal, and ERA 4 De-Clipper did super well on this, a 7/10 from me.
Practical Experiment 3 (Afro Bass)
Shout-out to Ferola for this sample (Fully Licensed on Exclusivemusicplus)
Original Audio:
Clipped Audio:
Reconstructed Audio:
There aren't too many differences in this last experiment, but if you pay attention closely to the reconstructed signal, you'll see how it dynamically adjusts the signal.
Note: To get a closer result to the original signal, you might want to play with the OUTPUT slider. Lemme know if you have any questions, Enjoy ;)
►Key Features:
Simple button operation
Simple and streamlined user interface
Automatic clipping detection
Efficient audio replacement
Precision-grade audio repair functionality
Uncompromised sound quality
Resizable UI
►System Requirements:
macOS 10.10 or higher // Windows 7 or higher
Hard Disk Space: 250MB (minimum) for Windows and 600MB for macOS
Screen Resolution: 800x600 (minimum)
Sample Rates: 44.1, 48, 88.2, 96 kHz
RAM: 2GB (minimum)
VST, AU, AAX Native (64-bit)