At first, I never taught of writing a solid guide on the best music recording software, but when I tried searching for a detailed guide on the best music-making software. I wasn't pleased with the information I found on the web.
Having said that...
I am glad you found this website, I will take you through the proper steps in selecting the right DAW or perhaps the best professional music recording software.
Whether you plan on setting up a bedroom studio or a professional one, and you want to choose the right music recording software, you will learn the nitty-gritty of selecting the right music DAW (Digital Audio Workstation).
Also, I will make this guide detailed, and to the point, I will also add workflow videos for all the music-making software, making it easier to judge what best fit your need.
Jump to any link using the table of content below
My Top 3 Picks!
Fl Studio 20
Fl is quite different from other DAWs in terms of workflow, and one of the ways it helps you lay down your idea faster is when creating beats or drum loops with the step sequencer.
Ableton Live 10
One of the ways Ableton increases your workflow is the ability to move and change audio clips intuitively and easily.
Pro Tools 12
Pro Tools is adopted by many because of the mixing capability, layout, editing, and workflow. It is a huge time saver for music producers or professional audio engineers wanting to track multiple sounds at once.
---
---
Below is the list of the top ten music production software, please note that I am categorizing the DAW by ease-of-use, interface, and features.
I will be adding the Pros and Cons of each Daw on the list as promised, I will be adding video overviews to judge for yourself if it fits into the category of what you are looking for.
Let's get rolling...
First on the list
1. Fl Studio 20
No doubt, Fl Studio formerly known as fruity loops, is one of the most downloaded DAW's, and the world's most popular music production software or DAWs out there.
Fl studio 20 has a super-intuitive user interface, and immensely easier to learn if you have no prior experience. Fl is quite different from other DAWs in terms of workflow, and one of the ways it helps you when you are getting started is if you're creating beats or drum loops with the step sequencer.
Let me quickly give you a brief of a Step Sequencer:
Fl studio sequencer breaks down beats into steps, and each step is editable and customizable to fit your beats or song. For example, if you break up a loop with 4 bars (in standard 4/4 time), it will have 16 steps (known as beats).
The beauty of the step sequencer is once a sequencer clip is created, you can copy it, duplicate it (known as a clone in Fl), add new sounds to clone and none clone sequences, swing it, add velocity, and also add it to your playlist window to create your track.
You can see Fl studio workflow is different, you can achieve the same in other DAWs, but you won't have an option for a step sequencer, most times, you will have to use a third-party Vst Plugins or work with the audio clips directly.
You can use a drum rack in Ableton to achieve this, but Fl's own is much cleaner and more accessible. That being said, having multiple ways to achieve a task is a great joy for music producers, in Fl, there are several ways you can go about a different task, choose whatever you love, and stick with that.
For example, instead of adjusting your audio samples volume in the mixer, you can do it directly from the step sequencer, I account for this a lot, perhaps because I love to work in multiple of ways.
One of the most exciting parts about this Daw program is that you get lifetime updates for free for any bundle you buy, other DAWs haven't been able to achieve this.
If you are a beginner and want to get started easily and intuitively with a music production software, you should opt-in for Fl studio.
Video SneakPeek
https://youtu.be/iQ4M-MNLUtA
Pros
Clean, easy to visualize, and inviting to being creative.
Cons
It can become messy when working with a complex project.
Recommended: Beginner -> Professional
O.S: Mac or PC
2. Ableton Live 10
Ableton Live is one of the DAW I tried when getting started, and from a first starter point of view, Ableton is minimal, simple, and easy for both beginners and professionals.
Live offers Drum sequencing, sampling, arranging, mixing, mastering tons of effects, instruments, and sounds of all kind of creative feature is all you need to make any music.
One of the ways Ableton increases your workflow is the ability to move and change audio clips intuitively and easily.
Also, Ableton has been praised by lots of producers for its session view; you can think of session view as a way for matching and playing roughly with ideas without the constraint of a timeline or an arrangement view.
Session view is ideal for improvisation, what it means is that you can record midi loop freely while also playing with audio loops of various lengths without stopping, from here you can move the content to an arrangement view for the final arrangement of the overall track.
I will be honest with you here, what Ableton Live and Fl offer that others DAWs do not, is the thriving online communities that are always ready to trigger answers to any of your questions. As a new producer getting started, it is beneficial when it comes to either getting help with functions or features that aren't clear or finding tutorials or collaborating with other buddies.
Video: Feature Walk-through
https://www.youtube.com/watch?v=lVe7l5H1f8Y
Pros
The design is minimal and simple, which enables the rapid design of any song.
Cons
No built-in support for 32-bit plug-in bridging, and there isn't a plan to develop that.
Recommended: Beginner -> Professional
O.S: PC or Mac
3. Pro Tools 12
Pro tools capability is very impressive, intuitive, great for recording multiple takes of live performances and mixing down large professional sessions.
With Pro Tools, you would be able to compose, record, edit, and mix audio in the studio or in the cloud, from anywhere, and anytime.
Pro Tools is adopted by many because of the mixing capability, layout, editing, and workflow.
It is a huge time saver for music producers or professional audio engineers wanting to track multiple sounds at once. If you are familiar with the analog studio setup, then Pro tools should look easy to you, it emulates analog tracking, where you have tracks as a signal chains, and then mixing the chains.
Unlike Fl Studio, one of my favorite feature of Pro tools is the ability to work on a project with other Pro Tools users online, with the power of AVid Cloud Collaboration, you can work with up to 10 collaborators or buddies on a single project. If you feel space isn't enough, you can start a cloud plan at USD 4.99/month.
That said, things can get out of place when creating beats or playing with drum racks or sequencers (which isn't laid out in Pro Tools), Pro tools can achieve this, but In my opinion, it isn't designed for that, it is more for recording takes or perhaps live tracking, mixing and mastering in my opinion.
Avid Pro Tools lacks VST support, meaning you won't be able to use VST plugins with it. Pro Tools want strict control over how third-party plugins are created; they came up with their design specifically called AAX, If Pro Tools stocked plugins isn't enough for you, you will be able to use third-party plugins that have been acquired through the Avid Market Place.
If you are an experienced user and need more mixing and mastering capabilities, you might try opting in for Pro Tools.
Video: Feature Walk-through
https://www.youtube.com/watch?v=9H--Q-fwJ1g
Pros
Recording multiple takes, and mixing heavy audio sessions as quickly as possible.
Cons
Not designed for composition and beat-making
Recommended: Amateur -> Professional
O.S: Mac or PC
4. Steinberg Cubase
Steinberg Cubase is developed and maintained by the people who gave us the VST format, which makes Cubase an extremely powerful and easy to use professional music production software.
One of the things I found irritating with Fl Studio is the way the project files are organized -flps are in a different section; used data files are in a separate section, this way of arrangement isn't nice, with Cubase the projects and data are arranged and organized to keep used data in one directory per project, this way, you know the specific files that are being used.
Another exciting feature of Cubase is the ability to use Macros, Keyboard shortcut customization, and the ability to build your custom skins which you would rarely see in other music making software, out of the feature outlined, the one that caught my eye was the ability to use macros.
With macros, you will be able to save time that would otherwise be spent doing repetitive tasks. With the tools offered in Cubase, you can create any music quickly, and intuitively whether you're just getting started or professional composer, Cubase offers you the tool you need for turning your idea into a meaningful and a piece of professional music.
Video: Feature Walk-through
https://www.youtube.com/watch?v=XkAfjh_4dSM
Pros
Extremely powerful, and offers everything most audio professionals would need.
Cons
eLicenser dongle is the biggest disadvantage (Not stable)
Recommended: Amateur -> Professional
O.S: PC or Mac
5. Apple Logic Pro X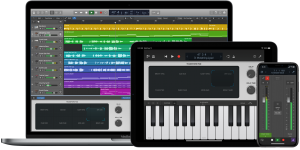 Apple Logic Pro X is a Mac-only music production software that turns your idea into creativity, this amazing DAW has the capability of capturing your compositions, and recording, whether you want to track a live band to a solo software instrument session, or you need incredible tools and resources to enhance your creativity, its all bundled in Logic.
If you are a certified Garageband user, then transitioning from Garageband to Logic should be very easy as its being developed as intuitive and easy-to-use as possible from the same company (Apple).
Unlike Protools that's shady when working with MIDI instruments, Logic Pro X is great for both audio and Midi production, very intuitive, and easy to layout song idea and composition.
What I find interesting about Logic Pro, is that you only pay for a single version, you don't have to select various editions or packages, Logic is an economical pack with a massive collection of effects, sound library, and instruments, you only pay an affordable price, and Logic lays everything in front of you.
If you are a Mac-only user, experienced user, or beginner, and want to get started easily, intuitively, or need more of mixing and mastering capabilities, you should opt-in for Apple Logic Pro X.
Pros
Very Reasonable Price, easy to learn, and runs smoothly on Mac
Cons
No search functionality; you can't search for clips or tracks in your project
Recommended: Beginner -> Professional
O.S: Mac Only
6. Propellerhead Reason 10
Reason is a self-contained digital audio workstation developed and managed by Propellerhead.
It is adopted by many because of its intuitiveness and how virtually appealing it is.
What makes Propellerhead Reason different from other DAWs (music software) is the way it handles its virtual instrument, it emulates racks of different processors found in a professional studio, and lets the user freely interconnect or perhaps do some cable routing virtually, and intuitively.
Also, I love the way virtual devices are designed in Reason; it imitates a professional studio rack where you can add virtual devices such as Effects, Instruments, Mixers, e.t.c.
Another great advantage of this feature is that it can be controlled from Reason's built-in MIDI sequencer or used as a controller in other sequencing music production software such as Fl Studio, Cubase, Logic, Pro Tools, e.t.c via Propellerhead's Rewire Protocol (Interesting and Great!).
I'll suggest you use Reason if you are a Visually oriented user, or you want to imitate how a professional studio uses a studio rack, the advantage to this is that You will learn and understand the control signal flow of a professional studio rack.
Video: Feature Walk-through
https://www.youtube.com/watch?v=FxxYxlfRxLI
Pros
Reasons Rack is great, virtually appealing. It's a most-have for studios that uses Rack.
Cons
Not great if all you want is to lay down/compose beats.
Recommended: Amateur -> Professional
O.S: PC or Mac
7. Acid Pro Next
ACID Pro doesn't knock the door of the controversial arena when users are engaged in the DAW war or perhaps picking sides and swearing by the useful features of their various music software.
Could ACID Pro Next be the next round discussion in the scene? I guess so! With the collaboration of Zynaptiq's Stem Maker Technology, Acid Pro is said to be the first DAW with integrated audio separation technology. Yes, you heard that!
Unlike any other DAW (music software) in the market, the Stem Maker audio source separation technology in Pro Next takes a standard stereo file, and separates it into different pieces of components tracks (audio files) for sampling, remixing and or creating mash-ups.
If that sounds complicated, here it is - Let's say you want to remix your favorite artist music, the feature mentioned above split their song into its component tracks, for example; it extracts Vocals, Instrumentals, e.t.c. And you use that in your song for remixing or mash-ups.
Acid was known as a loop-based music sequencer in its earlier days, which seamlessly allows mix, match, transpose, repeat to form a song.
Acid Next is more powerful with all new MIDI playable chopper that will enable you to split loops to one-shots, hits, and any chops you could think of, also, you would be able to play, and record them in a go (MPC style!).
It isn't just for splitting songs; it also comes bundled with more virtual instruments such as Synths, Acoustic sounds, and more.
Just like any other music recording software, it also has lots of effect plugins such as Delay, Chorus, Mastering effects, and more!
Bottom line, If you like playing with songs or you would like to know how different songs are connected or constructed (which makes life easier), Acid Pro Next would be the best Daw for that function, it can as well be used for full music production.
If you are the type that doesn't care about advanced engineering of Loops, audio splitting technology, you can check out other DAW.
Video: Feature Walk-through
https://www.youtube.com/watch?v=qYKW2Gzjru8
Pros
Fascinating cutting edge sampling technology
Cons
Not that great for composing tracks/ laying down beats
Recommended: Beginner -> Professional
O.S: PC Only
8. Studio One 4
PreSonus Studio one was initially released on September 21, 2009, that's nine years ago as of this writing, the fact they are late in the DAW market gave them the rise to build from the ground up.
The result of this gave birth to powerful music-making software, which can be used to create, record, mix, and master digital music smoothly and seamlessly.
Straight up to the fact...
There are so many DAWs to choose from, and they all have the features of making professional music, the issue most face is workflow and ease-of-use of working with the music program, worry less with Studio One, it is being designed to increase your workflow, and this helps in being more creative as a music producer.
The feature I love the most is the Chord Detection tool or the chord track.
This tool is far more than just a simple mere Chord detection tool.
With this tool you can take a sample, identify the chords used or perhaps extract the chord data, play notes from your keyboard or piano roll, and it will automatically convert it to the right chords for you.
Another quick thing you can do with the chord track is, let's say you have another instrument within the one you just converted, by selecting follow chords will automatically align the notes with the one you just converted, that's a powerful feature you will hardly see in any other Daw.
I don't know why you will want to use the Printable notation feature if you're more into using lead sheets, or you just played a cool harmony, then the Printable notation feature would be handy for you.
Video: Feature Walk-through
https://www.youtube.com/watch?v=_lOhFWCK6sg
Pros
Super fun and intuitive to use, functionality is also laid properly for both beginners and professionals.
Cons
The fact they are late into to the DAW market makes the community and resources lesser.
Recommended: Beginner-> Professional
O.S: PC or Mac
9. Reaper

Reaper is an acronym for Rapid Environment for Audio Production Editing and Recording, the full meaning of Reaper gave you the view of what can be achieved within the DAW.
Let's dig into some of the features of Reaper.
I'll be honest here...
I don't use Reaper, and it's not my main DAW, a friend recommended Reaper to me, and shared me a link to test the trial version, the first thing that got my eye was the size of the program, I have never seen a DAW as lightweight as Reaper on the entire web.
Reaper is a bit stripped down in terms of user interface and stock plugins, and If you aren't concerned about beautiful visuals, you'll love Reaper.
If you are concerned about the beautiful User interface, you have the option to build one yourself or download hundreds of ready-made intuitive Reaper skin for free from thriving members.
Also, Reaper is very powerful for audio recording and multi-tracking/mixing, it also supports Custom actions (macros), and are easily configurable for the user, builds and tweak any way you like with scripting.
Bottom line: Reaper is a good fit if you like fiddling and playing with settings, it's also insanely powerful for audio processing, and you'll most likely spend some time getting it to work at first run.
If you aren't a fan of tweaking settings or want to lay some midi patterns as quickly as possible, I'll recommend you check out other DAWs (that would be easier as a first-timer)."You reap what you sow."
Video: Feature Walk-through
https://www.youtube.com/watch?v=kn2SlBMpzwY
Pros
Allows you to do much-complicated things; custom actions, high midi capability, and more
Cons
GUI isn't intuitive, though you have options to use custom skins, & it's not the right fit if all you want is to lay down/compose beats.
Recommended: Amateur-> Professional
O.S: PC or Mac or Linux (Experimental)
10. Garageband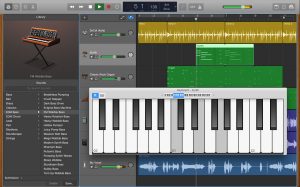 Garageband and Logic is owned and maintained by Apple, and are both Mac only, meaning you can use either of them on a Mac computer only.
Right off the bat...
Garageband is free without limitation to Mac users, a fully equipped music creation software with a complete sound library, and a handful of useful stock instruments and effects plugins.
Best of all, you can use it on IOS too. As a Mac user, it makes more sense to use Garageband if you're starting (it's free), and it would help you understand the basics, and figuring how to work in a Music program software.
Garageband is virtually appealing, intuitive, and great for quickly laying down tracks. You can further enhance your track with pre-built effects in Garageband.
What I find the most interesting about Garageband is the Drummer session player, which lets you create a variety of groove, and rhythmic drum sounds if you feel like you need some ideas or inspiration sound, Drummer Loops gives you an extensive collection of prerecorded sounds which are easily customizable and added to your song with few clicks.
An added advantage is...
You have as a Mac user is the ability to share your finishes track easily with friends, fans, and family via social network.
Also, you can export your new track to your iTunes library, where it can go live (impressive!).
Bottom line, Garageband is great if you're just getting started, it's like a companion to Apple Logic Pro X, if you need more features, instruments, and more great added function, you should definitely switch to Logic Pro, they are made by the same company, the transition would look Smooth and easy.
Pros
Free for Mac users, Very quick and easy to layout song ideas and compositions.
Cons
Only for basic kinds of stuff, it's not designed for professional uses.
Recommended: Beginners -> Amateur
O.S: Mac Only
Helpful Guide & Tips!
What is Music Recording or a Music Production Software?
To begin with...
A music production software is a software used for the composition of music, editing, mixing, and mastering a track.
That is a simple definition of music-making software, another way to think of a music production software is to think of it as a software feeder, it feeds you /supply the necessary tools you need in composing a piece of music.
For example, professional music production software basically:
gives you a multi-tracked timeline or a playlist pattern to arrange your audio track, a mixing engine to send all your audio files while also working with each audio files sent in real-time mode
a set of plugins for spicing up your sound (e.g. plugins for mixing/mastering track), and should deliver top-notch audio transparency and clarity.
Another essential point...
Music production software is also called a DAW software, and Daw is an acronym that stands for Digital Audio Workstation, I will be using the two terms interchangeably.
What is the best music recording or DAW software?
The disturbing and tormenting questions among newbies are what DAW should I use for producing a specific type of genre, what DAW is suitable for mixing, what music production software or DAW is good for midi scoring or perhaps tracking or mixing audio-heavy sessions, and similar questions.
The answer is...
There isn't any best DAW out there, and every DAW is made equal with the exception of the work-flow, and user-interface (I account for this a lot).
I will be honest here, whatever you can do in DAW A, you will highly most likely be able to do it in DAW B, and C (the only difference is how you approach them).
New or pre-getting started music producers are misguided that some DAWs are used for a specific genre.
There is this belief that Fl Studio is mainly used for producing Edm tracks, that is not true, it can be used to create any type of music as long as you know the essential part of the particular style.
The best camera does not make the best photographer, just as buying a DAW doesn't automatically make you a badass music producer.
I am afraid to tell you downloading multiple, or a dozen different DAWs does not make you an expert by any means and you're likely intriguing your thoughts of finding your favorite Daw software or music production software.
Even with all that said...
There is still a great reason to choose a DAW over another, and that's what I will explain in the next section.
Pricing and Updates
Setting a budget should always be the first thing you put in your notebook when researching the DAW or music production software to buy.
The price of your DAW depends on what you need it for. A professional music production software or a DAW typically ranges from $99 to $899 depending on the function and package you want.
Some will offer you a minimum number of stocked plugins and also an additional sample library, if you are on a low budget, you can buy the lower-priced one, and as you develop your skill or as your need grows, you scale accordingly.
Another thing to note is the amount of price you need in updating each version of the new release or new updated version of your Daw software.
For example, some DAWs give you a free lifetime update, meaning you pay once and have access to future updates for free, while with some DAWs you will have to pay for every update.
Interface
"Every DAW is made equal." - Does that mean you should select any random DAW, and make one your favorite?
No...
There are things you need to get straight into your head before you decide ​on your target DAW app for music production
.DAW's work-flow is different, likewise interface defers even if they perform the same functionality.
And...
Switching to a different DAW or music recording software because it has a better interface is a perfect reason to change. If a DAW has a more comfortable interface, making music will be much faster and enjoyable rather than using a Daw with a complicated interface.
If you want to finish a track faster, then knowing your DAW interface is essential, the ease-of-use of a DAW will boost your work-flow, and I account for this a lot. If the interface of a DAW is complicated, you can lose focus and find it hard to get started with a primary or essential concept.
The question you need to ask yourself is...
Would this DAW boost my productivity when working with a project. If the question feels daunting, check out some of the DAW walk-through above.
O.S (Operating System) Requirement
Do not make the mistake of buying a music production software before researching whether it supports your O.S (Mac or PC) or not. Some Daw support both P.c and Mac, while some do not support both, some are Mac only, while some are PC only, by the end of this guide you should be able to decide which is best for you or leave the judgment to your budget.
This brings us to the end of the things you need to know before selecting your Daw of choice, use this information to select your DAW of choice.
One Last Thing!
I hopefully guided you through the DAWs for your studio, and I gave you some insight into how to choose your target DAW, the next thing you need to do is to install your music program software.
If you aren't familiar or don't know much about installing software, use the manual (it's made to guide you), or drop your comment, and I'll help you out hopefully.
If you feel like something isn't right with this list, drop your comment, you don't need to register (it's a free world ;)) - ​
Another thing I need to point out is sometimes you'll be frustrated at first with the way of setting up things, it's normal (The Pros started from somewhere), and by carefully using the manual, you'll get there."Experience can't be bought."