Choosing music production apps for your mobile or smartphone can be quiet daunting if you are new to the music-making landscape, which is where I come in to help, I have properly researched some of the best Digital Audio Workstation (DAW) Applications for both Android and iPhone.
Below is the list of the top five best music-making apps, please note that the list has been categorized by the ease of use, Features, and Clean Interface.
Also, I will be adding video overviews to judge for yourself if it fits into the category of what you are looking for.
Let's get rolling...
First on the list ...
1.) FL Studio Mobile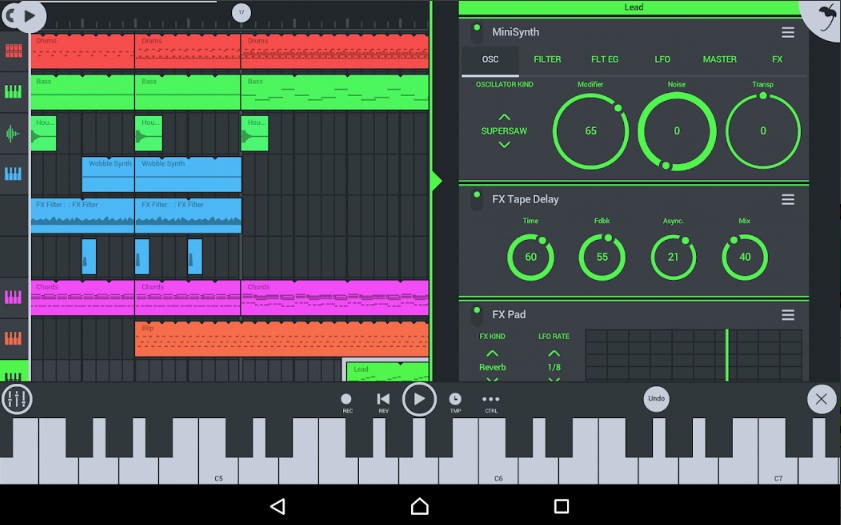 Fl Studio is one of the most downloaded and used music-making applications in the world, and it is popular for a reason, - it is super easy to lay down great beats. With the Fl Studio Mobile application, you can create, and save multi-track music projects on your Android Phone, Tablet, and iPhone.
The good thing about this app is that it supports audio recording, sequencing, editing, and you can absolutely render a complete song.
► Key Features:
High-quality synthesizers, sampler, drum kits & sliced-loop beats
Wide range of Effects include to enhance your mix (see below)
Step sequencer for fast percussion programming
Configurable virtual piano-keyboard & Drum Pads
Class-compliant MIDI controller support. Play instruments and link to knobs/sliders
MIDI file import and Export (Single-track or Multi-track)
Audio recording, track-length stem/wav import
Mixer: Per-track mute, solo, effect bus, pan and volume adjustment
Piano roll editor to enter notes & chords or to edit recorded performances
The intuitive screen layout is configurable to work with all screen resolutions and sizes.
Save and load your songs, export to WAV, MP3 & FLAC
Load your projects in the FL STUDIO Plugin Version of this App#
WiFi share projects with other FL Studio Mobile Android, iOS, and Windows Apps.
Full-screen DeX & Chromebook support.
Included Instrument modules (all generators modules are included): Drum Sampler, DirectWave Sample Player, GMS (Groove Machine Synth), Transistor Bass, MiniSynth & SuperSaw.
Included Effect modules (all Effects modules are included): Auto Ducker, Auto-Pitch (pitch correction), Chorus, Compressor, Limiter, Distortion, Parametric Equalizer, Graphic Equalizer, Flanger, Reverb, Tuner (Guitar/Vocal/Inst), High-Pass/Low-Pass/Band-Pass/Formant (Vox) Filters, Delays, Phaser and Stereoizer.
Video SneakPeek
https://youtu.be/i_1JJzCYMkU
Get Fl Studio Mobile on Android | Get Fl Studio Mobile on iPhone
2.) Caustic 3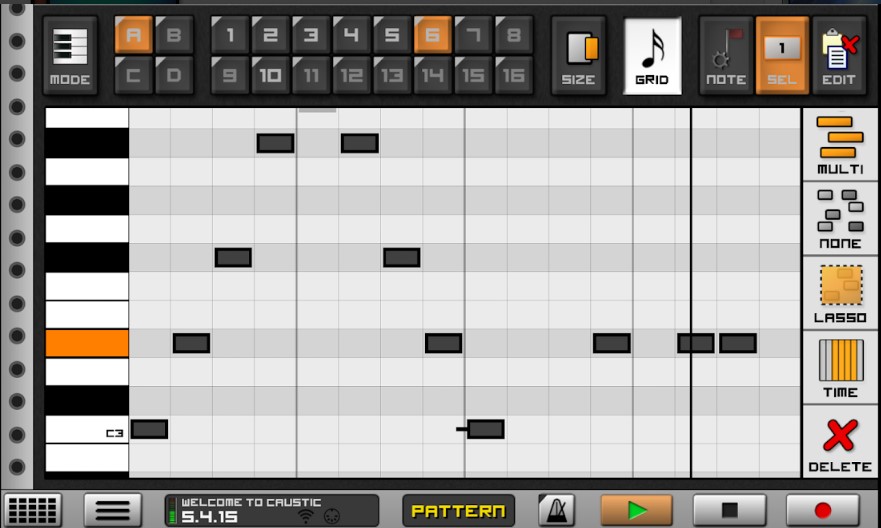 The second music-making app on our list is Caustic 3, which is a music creation tool inspired by rack-mount synthesizers/samplers rigs. What I love about this app is the simplicity and the way it is optimized for mobile applications.
Please note that this is a bit different from Fl Studio, has this is based on Effect Rack and might be difficult a bit to get used to if you aren't familiar with the way effect rack works, but this is more advanced and can be the best if you know what you are doing. The good thing is, it supports automation on most controls and includes powerful editors for modifying recorded automation curves, say, you want to automate a break section synth to a chorus, you get the idea ;)
All files are stored on the user-accessible storage, and users can supply their own WAV files for use in the PCMSynth, BeatBox, and Vocoder.
► Key Features:
Supports all uncompressed WAV files (8-16-24-32bit, any sampling rate).
The PCMSynth can also load SoundFont files (.sf2), SFZ and FL Studio mobile instruments (.instr, .ZIP)
Class-compliant USB MIDI controllers can be connected via USB OTG cable on devices running at least Android 3.2 and supporting USB host mode.
Effects rack supporting 2 effects per machine. (20 effect types)
Mixer desk with global Delay/Reverb effects
Master section with parametric EQ and limiter
Song sequencer
Instruments Includes:
Subsynth - Virtual analog subtractive synthesizer
PCMSynth - Multi-sample wave synthesizer
BassLine - 303-like monosynth
BeatBox - 8-channel sampling drum machine
PadSynth - Harmonic table pad synthesizer
8BitSynth - 8bit equation solver synthesizer
Modular - Fully configurable and routable synthesizer
Organ - Hammond-like tonewheel organ with rotary speaker
Vocoder - 8-band harmonic vocoder
FMSynth - DX-style 3-operator FM synthesizer
KSSynth - Karplus-Strong string modeling synth
SawSynth - Supersaw-type polysynth (new!)
Video SneakPeek
https://youtu.be/Bi2j4UOZic4
Get Caustic 3 on Android | Get Caustic 3 on iPhone
3.) BandLab - Music Recording Studio & Social Network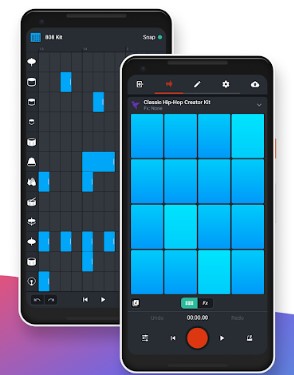 Bandlab is more than a music recording application, you can either make music from scratch, and or, collaborate with up to 50 music producers in real-time, and publish your next banger!
It features a multi-track editor, which is a launchpad for you to record, edit, mix, and remix track. You can add fx, creative effects, loops, and vocals from a pre-packed sound library.
The edge that Bandlab has over other music-making app is that it features social networking, with the social networking features, you can connect with collaborators, start a band with fellow musicians and guitarists, find your nearest hip hop or EDM beatmaker and start your very own live stream.
With this app, you'll get unlimited cloud storage so you can create 24/7 and share music all day long. BandLab's the only music studio that works on all devices --- a crossover to their desktop site to load your projects, feed, bands and communities instantly.
And on top of that, it is 100% FREE to use. No subscription fees, paywalls or limits to your experience.
► Key Features:
16-Track Mix Editor -- Access our multi-track digital audio workstation (DAW) to record live audio or import and mix tracks for the perfect melody mixdown. Start music editing with customized track layers and add lyrics --- you're the composer and pacemaker here.
100+ Vocal / Guitar / Bass Presets

-- Access premium effects with real-time monitoring. Apply a medley of effects and filters, from drum phaser to gated reverb. Use the app as a voice recorder anytime you want.

Looper

-- Be a true DJ with our extensive loop packs. Build an orchestra of sounds, add some synth or reverb, and create a whole new mixtape while on the go. Beats making has never been easier!

Creator Kits

-- Produce new grooves using preloaded sound packs across all genres. Think of us as your favorite virtual drum pad machine (DPM) or music production controller (MPC).

100+ Virtual MIDI Instruments

-- Make music using acoustic guitars, keyboards, pianos, synthesizers and drums, all within an app that fits in your pocket.

Explore

-- Not in the mood to create music? No problem. Use BandLab as your source of inspiration as you explore new artists, genres and collections curated just for you.

Creator Connect

-- Team up with creators just around the corner or halfway across the world! Just fill out your profile and we'll match you to people who share your musical taste.

Mastering

-- Need your mix to sound like it came from the production studio? Drop your song or recording and let our built-in equalizer work its magic. Supports mp3 and other formats.

Tuner and Metronome

-- Finding your rhythm is now a cakewalk with these essential audio tools for the modern song maker and music producer.

Remix Tracks

-- Use BandLab as your song mixer and have the audacity to 'fork' tracks that any music creator has shared, to make your own beat and mashups.COLLAPSE
Get BandLab on Android | Get BandLab on iPhone
4.) n-Track Studio DAW Beat Maker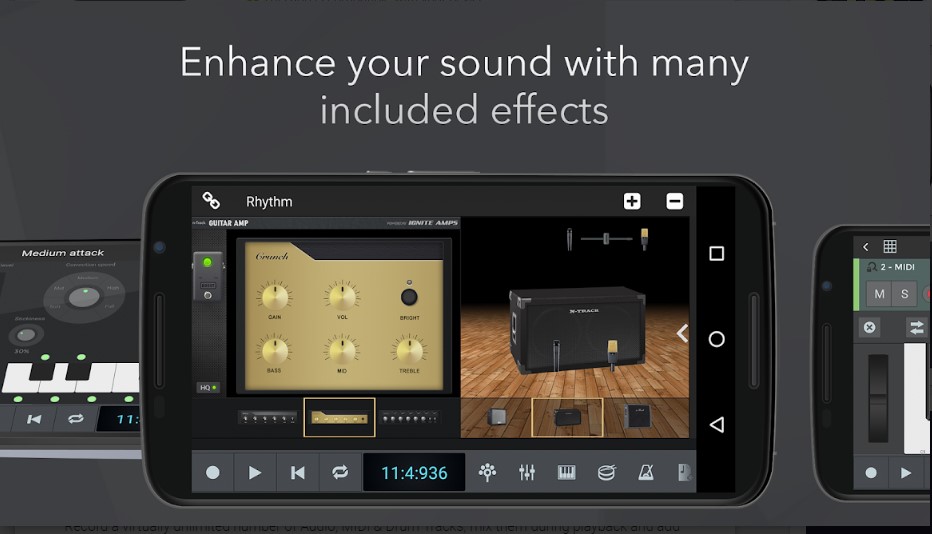 n-Track Studio Daw is an intuitive portable music-making app that completely changes the way recording and beat making are done on mobile phones.
With this app, you can record an unlimited numbers of Audio, MIDI & Drum Tracks, mix them during playback and add effects: from Guitar Amps to VocalTune & Reverb.
To get started, simply record a track with the built-in or better still an external audio interface, add & edit the recorded tracks using the Loop Browser, or use the vast sample library provided, create melodies and harmony using the internal keyboard with the built-in virtual instruments. You can connect external keyboards too, use the mixer to adjust levels, pan, EQ and the likes, and finally Save or Share the recording directly from your device
► Key Features:
Stereo & Mono audio tracks
Step Sequencer Beat Maker
MIDI tracks with built-in Synths
Loop Browser & in-app Sample Packs
Virtually unlimited number of tracks (max 11 tracks without in-app purchases)
Group & Aux channels
Piano-roll MIDI Editor
On-screen MIDI keyboard
EQ with 2D & 3D Spectrum analyzer + chromatic tuner*
VocalTune* - pitch correction: automatically correct any pitch imperfections on vocals or melodic parts
Guitar & Bass Amp plugins
Reverb, Echo, Chorus & Flanger, Tremolo, Pitch Shift, Phaser, Tube Amp and Compression effects can be added to any track & the master channel
Built-in Metronome
Import existing tracks
Automate track volumes & pan using volume and pan envelopes
Share your recordings online
Collaborate to create music with other musicians with the integrated Songtree online music-making community
64-bit double-precision floating-point audio engine*
Follow Song Tempo & Pitch Shift dropdown menu on Audio Loops
Export 16, 24 or 32-bit audio files*
Set sampling frequency up to 192 kHz (frequencies above 48 kHz require an external audio device)
Internal audio routing
Sync with other apps or external devices using MIDI clock & MTC sync, master & slave
Record 4+ tracks simultaneously from USB pro-audio devices such as RME Babyface, Fireface & Focusrite*
Support for multiple audio outputs when using compatible USB devices*
Input monitoring
Video SneakPeek
https://youtu.be/_k5oUDl4r0M
Get n-Track Studio on Android | Get n-Track Studio on iPhone
5.) Beatwave Pro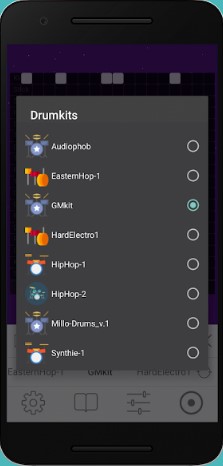 Beatwave Pro is inspired by the Beatwave app on iOS and an open-source drum machine called Hydrogen.
With Beatwave Pro you can create music directly on your device, practice, compose tracks, make recordings, and surprise your friends! It's all in one app!
Beatwave Pro can also create a random melody for you (Randomize feature in Song Session). Wish you luck with this feature and got a great melody :)
► Key Features:
Create songs simply by tapping on the grid
About 15 pre-defined drumkits available (more drumkits will be added in the future)
Freely change song parameters like BPM, volume, metronome...
Ability to export your own tracks to WAV format
Ability to generate a random melody
Easily manage your creations
Cool design