Have you noticed some harsh syllables on recorded vocals or a vocal you recorded, this is perfectly normal as humans can lay emphasis on some syllables than others, an example of the sound that would likely occur are 's', 'ch', 'z', 'sh', 't' and more.
The causes of this prominent harsh frequency can be due to different reasons, first and foremost is the mouth anatomy of the individual recording the vocal, this can be controlled with lots of practice, and other causes can be due to microphone choice, or even too much of High‑frequency EQ boost.
This is where the de-esser plugins come in, with these tools, you can mitigate the excessive prominence of sibilant consonants. For those that aren't aware, the process of doing this is called de-essing or desibilizing.
In this guide, I would be recommending you to some of the best De-Esser effect VST plugins for music production, starting with...
1.) DE555 Native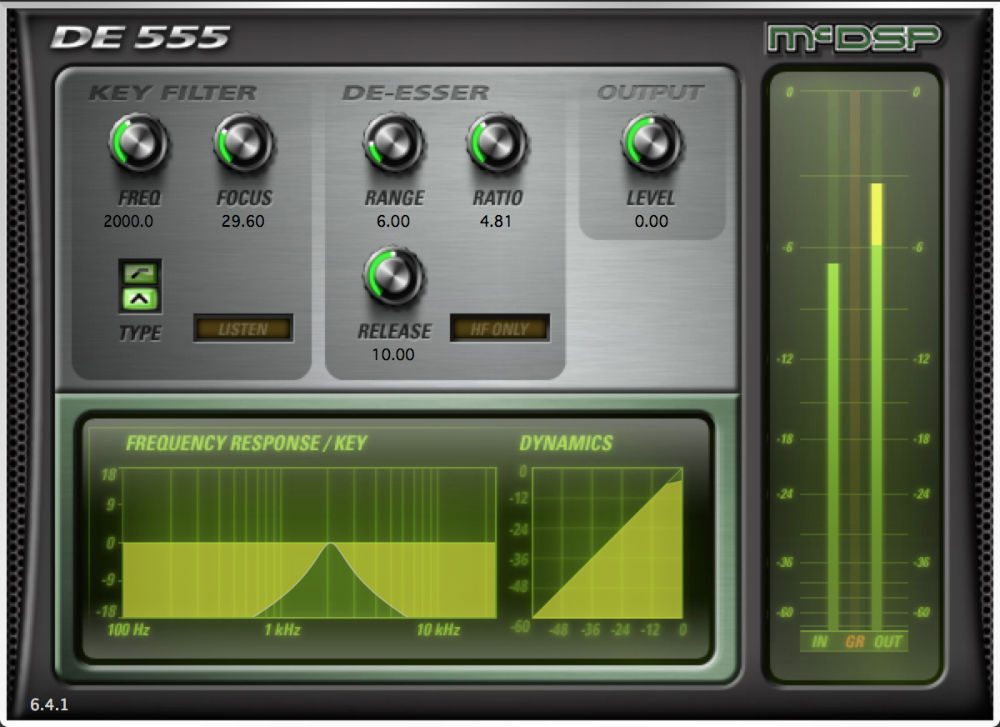 The last buddy on our list is the DE555 Native de-esser plugin. It is a simple plugin that provides transparency, and precise de-essing with unique flexibility. It features a continuously adjustable ratio and releases control to fine-tune the de-essing amount, plus a high frequency (HF) only mode for reducing the signal level of only the 'sss' and not the original dialog.
You also have the Key Filter options which include high pass and band pass filtering. Also, the key filter output can also be monitored.
Video Walkthrough
Key Features:
Advanced de-essing technology
Unique key filter focus and de-essing controls
Real-time metering and key filter response plot
High frequency (HF) only option
Double precision processing
Ultra-low latency
Mono and stereo versions
System Requirements:
Mac: OSX 10.8 or higher (64-bit only)
Windows: 7 or higher (32/64-bit)
VST/AU/AAX
AAX versions require Pro Tools 10.3.8 or higher, or Pro Tools 11.1.3 or higher
S6L versions require VENUE OS 5.2 or higher
AU versions recommended for Logic X, or higher
VST versions are recommended for Cubase 7.x, 8.X, or higher, and Nuendo 6.5 or higher
Compatible with major DAWs.
2.) FabFilter Pro-DS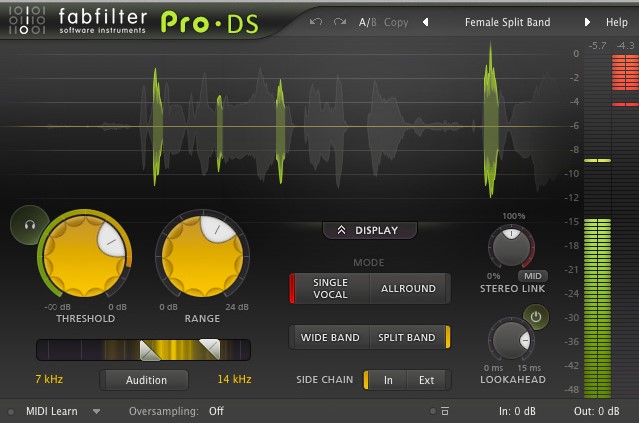 The next chorus effect on our list is the FabFilter Pro-DS, the first good impression of this plugin is the highly intelligent 'Single Vocal' detection algorithm, which accurately identifies sibilance in vocal recordings and attenuated it transparently, awesome!
Another is the way you can navigate the interface easily, although, it is less intuitive than ERA 4 De-Esser, so, if you want something really simple, go with the first De-Esser plugin on our list, if you want more options and better control, go with this one. For example, it has a Wide band or linear-phase split band processing, adjustable stereo linking with optional mid-only or side-only processing, and lots more under your belt.
Lastly, you get all the usual FabFilter goodies: perfectly tuned knobs, MIDI Learn, Smart Parameter Interpolation for smooth parameter transitions, an excellent help file with interactive help hints, SSE optimization, and much more!
Key Features:
Highly intelligent 'Single Vocal' detection, and classic 'Allround' detection
Transparent program-dependent compression/limiting
Adjustable Threshold, Range, and detection HP and LP filtering settings
Wide Band or linear-phase Split Band processing
Optional look-ahead time up to 15 ms
Freely adjustable stereo linking
Optional mid-only or side-only processing
Up to four times linear-phase oversampling
Real-time de-essing display, clearly showing the affected parts of processed audio
Side-chain input meter, making it easy to choose a good Threshold value
Real-time spectrum analyzer built into the HP/LP filter controller
GPU-powered graphics acceleration
High-quality 64-bit internal processing
Double-click the text entry of parameter values
Large and compact interface sizes
Stereo and mono plug-ins are available
and much more.
System Requirements:
Windows:
32-bit: Windows 8, 7, Vista, or XP
64-bit: Windows 8, 7, or Vista (x64)
VST 2/3 host or Pro Tools
Mac OS X:
32-bit: OS X 10.5 or higher
64-bit: OS X 10.6 or higher
AU or VST 2/3 host or Pro Tools
Intel processor
3.) Oxford SuprEsser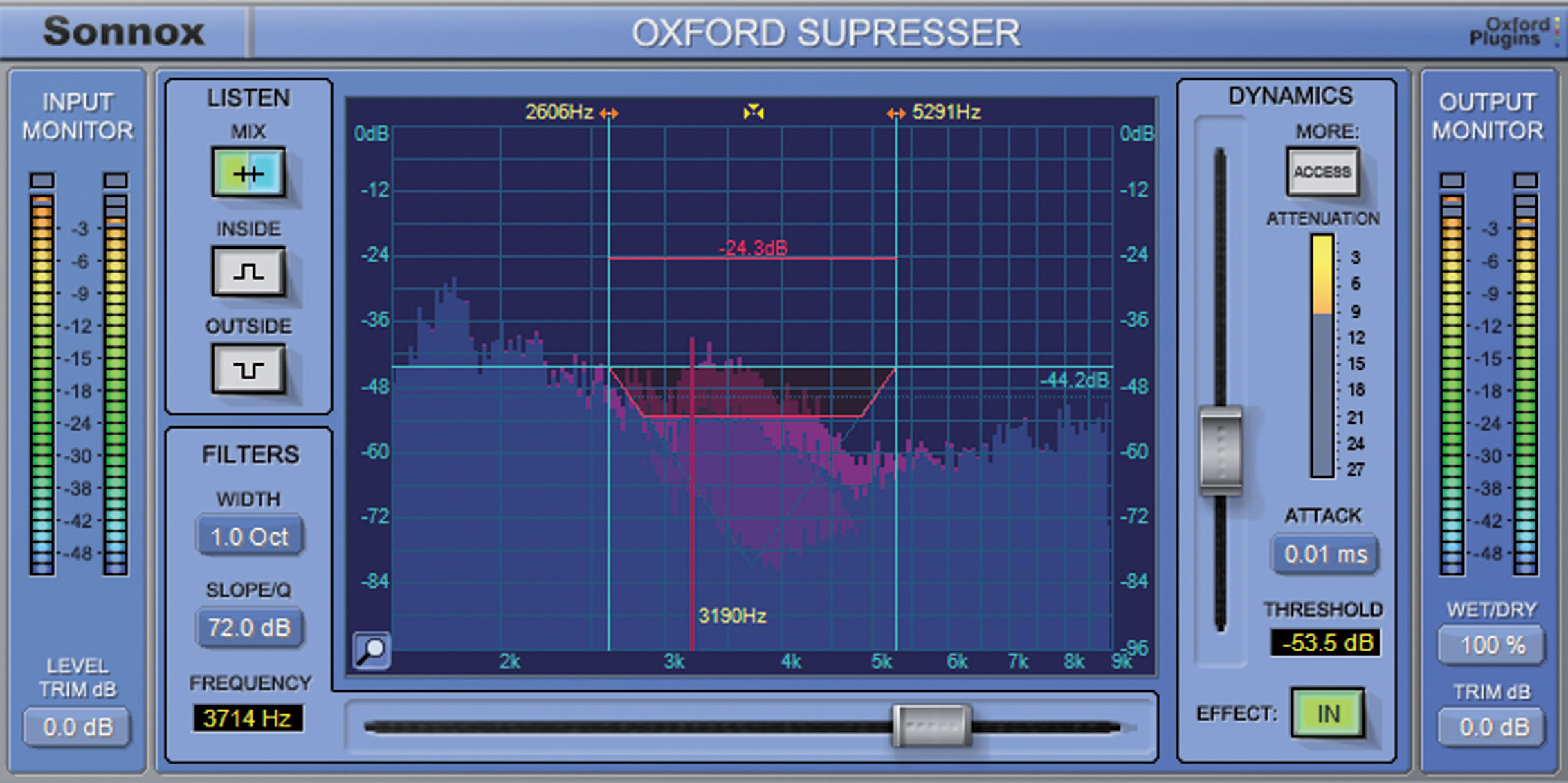 The Oxford SuprEsser does what it says, it suppresses harsh sibilance in vocal recording. It has the combination of an intuitive FFT display and three listen modes that enable you to easily see and hear exactly where the disturbing frequencies are located in the frequency spectrum, which in turn allows rapid reduction or removal of the offending frequency.
Since the SuprEsser can operate at all frequencies, 'plosives' and other annoyances can also be removed effortlessly, making it more than a simple De-Esser.
An issue with doing a static de-essing is that you are applying it to the whole audio, although, this can be mitigated by automation, again, it is time-consuming and since you would be working on lots of vocal mixed, you are better off with a plugin that does the heavy lifting for you. For example, the Oxford SuprEsser includes Automatic Level Tracking, Linear Phase Filtering, and a Wet/Dry blend control for final balancing. Also, you can take out unwanted frequency peaks as and when they occur - unlike applying a fixed EQ to the whole channel.
On top of all that, there is detailed visual feedback which allows quick identification of the frequencies that need treatment and where to set the threshold. The threshold level and peak hold levels of the user-definable band are shown on the graph, alongside the FFT display of the narrowband signal, which includes retention of the peak level and the frequency containing the most energy.
Video Walkthrough
Key Features:
4-bit compliant (AAX / AU / VST)
Highly featured professional De-Esser
Linear Phase Dynamic EQ
Transparently controls aggressive frequencies
Automatic Level Tracking follows energy levels (no need to automate threshold)
A large intuitive graphic display makes finding frequencies very easy
Full Spectrum Operation (20Hz -20KHz)
Three different 'Listen' modes
Very easy to use
Advanced Mode for ultimate control of the Dynamic EQ
Many creative as well as corrective uses
Presets giving good starting points
System Requirments:
Windows XP / Vista / Windows 7 / Windows 8
Mac OSX 10.4 or later 1
RAM 1GB minimum
iLok USB device with latest drivers OR active internet connection required
iLok2 / iLok3 OR active internet connection required for 64-bit plug-ins
- Pro-Codec and Codec Toolbox compatible with Intel Mac only
Pro Tools 7, 8, 9 & 10, 11
VST compatible applications (Fl Studio, Cubase, Nuendo, Wavelab, Sequoia, etc)
4.) Weiss Deess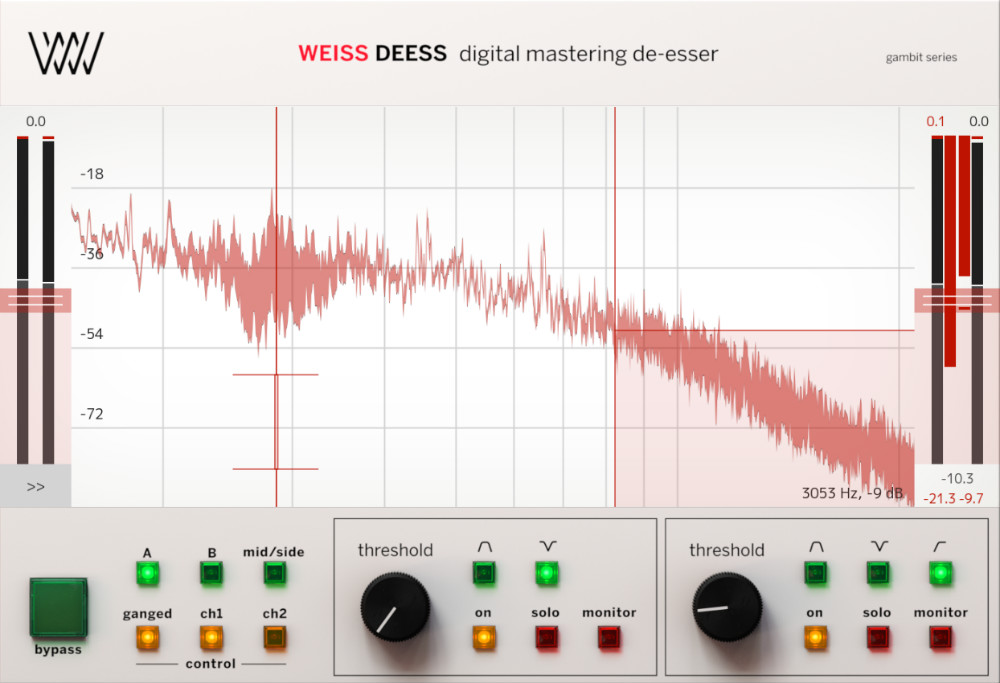 I guess you know de-essing isn't only for vocals, you can also use it to tame sharp-sounding hi-hat, and synth leads, and even use it to suppress harshness while mastering.
The Weiss Deess is part of the Weiss DS1-MK3, but is available as an individual plug-in, I am writing a review about the individual plugin anyway.
The first good impression about Weiss Deess is the two completely independent bands, which can help you narrow the offending sibilance even if you decide to use it on a master bus. Also, it has a variety of filter shapes and excellent band-width control, allowing you to nitpick on precisely what you need to deal with, without collateral damage.
Personally, when I am doing any mixes, I dislike looking at a visualization of the stuff I am working on, but it doesn't hurt to try as it can help you narrow things down faster, for example, the Weiss Dess features a large, colorful, and intuitive display shows FFT readouts as well as your filter shapes, so you can clearly see what effect you're having on your signal. I am not saying you shouldn't use visualization but trust your ears as visualization might be deceiving at times.
Video Walkthrough
Key Features:
A code-ported algorithm from the industry standard DS1-MK3.
Two bands of de-essing. This is the only de-esser you'll need.
Stunning and intuitive visualizations make this de-esser a breeze to use.
Clean tweak-and-go faceplate, with immensely detailed controls hidden in the side menu.
Ultra-professional tool, but without the daunting, complex look.
Low-latency mode allows you to de-ess while tracking a vocal.
All the versatility you need in terms of filter shapes, frequencies, etc.
System Requirements:
Mac OS X 10.9 or newer
Windows 64-bit, versions 8 or 10
Intel Core 2 Duo, AMD Athlon 64 X2 or newer
Screen resolution larger than 1280x800
1 GB RAM or more, and at least 6 GB hard disk space for installation (individual plug-ins take less space)
Any VST, VST3, AU, or AAX (Pro Tools 10.3.7, 11.0.2 or higher) compatible host application
Softube/Gobbler account
Gobbler application to manage license activation and plug-in downloads
5.) ERA 4 De-Esser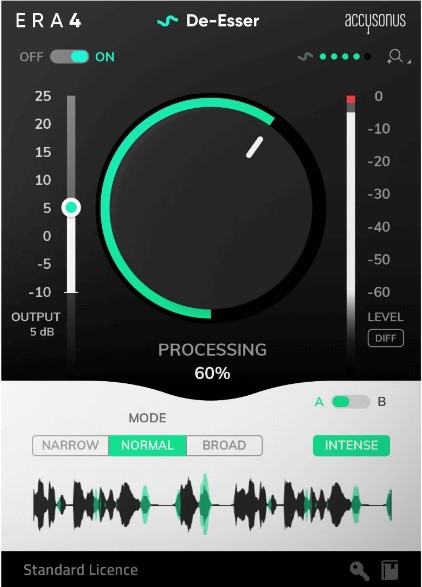 As you probably know by now harsh sibilance can be very annoying in vocal recordings and even more frustrating in the mix. There are manual ways to get over this issue, for example, you can use sidechaining to knock off the harsh part whenever it comes up, but that's really time-consuming, and would require lots of moving parts. This is where ERA 4 De-Esser comes in, it is developed to be of easy-of-use, fast, intuitive, and powerful tool that requires minimum effort but offers great results.
ERA De-Esser helps iron out audio problems caused by excessive sibilance consonants such as 's', 't', 'sh', and the like. The reason why it is one of the most used de-esser plugins is due to the fact that it is simple, and can improve the audio quality when de-essing with just a single knob. The new De-Esser offers an improved UX with features such as (i) a "Diff" button, (ii) a new elegant UI, and (ii) a real-time processing display that allows you to visually monitor the plosive reduction in real-time.
The Diff button allows you to listen to what is being de-essed from your recording during processing.
ERA De-Esser is not only useful for music production, but you can also use it for podcasting, vlogging, post-production engineering, and anything you might think of as long as saving time is your utmost priority.
Key Features:
Single knob operation
Simple and streamlined user interface
Automatic sibilance reduction
Precision-grade audio repair functionality
Uncompromised sound quality
Minimal CPU usage
Low latency
Resizable UI
System Requirements:
Mac: Versions 10.10 or later // AU, VST, AAX Native (64-bit)
Win: Versions 7 (SP1) or later // VST, AAX Native (64-bit)
RAM: 2GB (minimum)
Hard Disk Space: 660MB (minimum) for Mac and 250MB (minimum) for Win
Hard Disk Space: 250MB (minimum)
Screen Resolution: 800x600 (minimum)
Sample Rates: 44.1, 48, 88.2, 96 kHz