A Transient is a spike attack in your sound which occurs as a waveform build rapidly from silence to pick, an example is a percussion hit, you will often find this in a similar snappy instrument or samples. If you have too many transients in your sounds, you might want to even it out, and this is where a Transient Shaper plugin comes into play.
A Transient Shaper plugin helps in controlling the transient response and the envelope curve of an audio signal without affecting the overall level. At first, you might be pondering why you will ever need a transient shaper when you can use a compressor, it's similar but works differently.
The practical usage of a Transient shaper is when you are trying to shape the character of a dynamic signal during their attack and release phase, it doesn't rely on a threshold to do its job. On the other hand, a compressor allows you to control the dynamics of a sound to your input signal as it crosses a certain threshold.
The major difference between a compressor and a transient shaper is that a compressor relies on a threshold to kick in, while a transient shaper can affect all transients, both high and low in an audio signal without the need for a threshold. I hope you get their differences.
In this guide, I'll recommend some of the best Transient Shaper plugins to shape some annoying transient, let get started with...
1.) TS-1 Transient Shaper - Audiority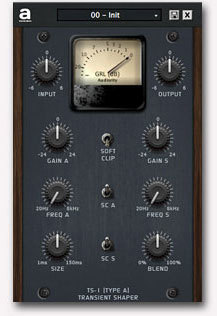 The first Transient Shaper plugin on how the list is the TS-1 by Audiority, which is a multimode frequency-dependent Transient Shaper. It is built to manage the attack and sustain of an incoming audio signal.
TS-1 Transient Shaper features 2 separate detection algorithm for Attack and Sustain, which helps in filtering unwanted spikes for pristine audio quality. Although this would greatly depend on the audio material you are using it on, make sure you start with a good audio sample, this way, you won't be aggressively using the plugin parameters for something totally bad already.
Additionally, it features two distinct modes names Type A and Type B. Type A retains the original TS-1 algorithm, and Type B features an inverse envelope curve on a negative gain value.
System Requirements:
Mac: OS X 10.7 or later
Windows Vista SP2 or later
VST2, AU, and AAX (64-bit host)
Core Duo 2GHz
2GB RAM
Screen resolution: 1024 × 768
2.) DS-10 Drum Shaper - XLN Audio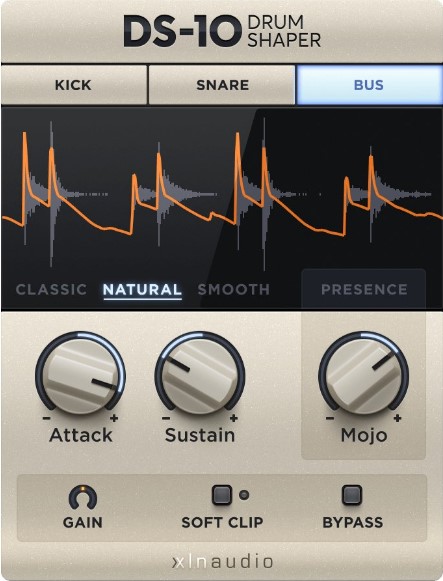 DS-10 is a simple and intuitive Transient Shaper by xlnaudio is designed specifically for percussions or drums. It can make your drums, beats, and loops sound huge or tight & punchy. With DS-10 you can dial in the attack knob for a more snappy shot, and also more gain in the sustain with the Sustain knob.
What I love about the DS-10 is how it treats different elements separately, for example, it has Kick, Snare, and Bus mode which can be individually tuned and optimized to give you the best sound for the source you want to enhance.
Lastly, with the MOJO knob, you can spice and color adjust your drums, It lets you shape the attack and punch in curated frequency bands while leaving others unaffected, opening a world of sonic awesomeness and sound design possibilities.
Key Features:
Make your drums, beats, and loops sound huge or tight & punchy
Shape the attack and sustain of your drums, beats, and loops
Fast and easy workflow
Intuitive and clean interface
System Requirements:
Mac:
macOS 10.9 or later (32 & 64-bit)
2 GB RAM (4 GB recommended)
VST, AU, AAX (32 & 64-bit)
Standalone Application
Windows:
Windows 7, 8, 10 (32 & 64-bit)
2 GB RAM (4 GB recommended)
VST, AAX (32 & 64-bit)
Standalone Application
3.) Transgressor 2 - Boz Digital Labs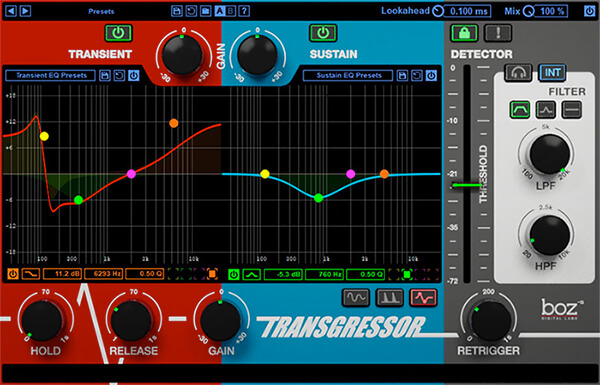 Unlike DS-10 that only allow you to control the attack and sustain an audio signal, Transgressor steps up the game by not only allowing you to control the attack and sustain but also letting you equalize the attack and sustain portions of the instrument's envelope individually. On top of that, you can also dial in the specific low, mid, and high frequencies independently on each.
One feature I dig about the Transgressor is the way it gives you the option to shape the transient, it gives you 2 EQs, one for the attack and one for the sustain, this way, you can tweak, and adjust the way you want the attack and sustain to sound. You aren't just given the EQ to tinker with, there are also three bands to each EQ section (low, mid, high) with variable frequency selection and gain for each band. As if that isn't enough, individual bands also give you three selectable filter types that are particularly suited to each band.
If you want to take the transients' control to another level, you can use the inbuilt detector with an external sidechain, this way, you can adjust the EQ and sustain any instruments triggered by another, this can be powerful if you know what you are doing.
Key Features:
Hybrid transient designer with two 3-band equalizers with selectable slopes
Gain controls let you boost or eliminate transients and sustain independently
The mix knob lets you adjust the wet/dry signal
Adjustable transient detector lets you control sensitivity, eliminate false triggers from bleed
Internal or external sidechain control of the detector
Sidechain EQ lets you dial in the frequencies that trigger the detector
Three sidechain modes with a "listen" feature to monitor the sidechain signal
Retrigger controls the time between triggered events
A/B bank comparison
Factory presets to get you started
System Requirements:
Mac
VST, VST3, RTAS, AU, AAX Native (32 and 64 bit)
Windows
VST, VST3, RTAS, AAX Native (32 and 64 bit)
4.) Transient Shaper Snapin - kiloHearts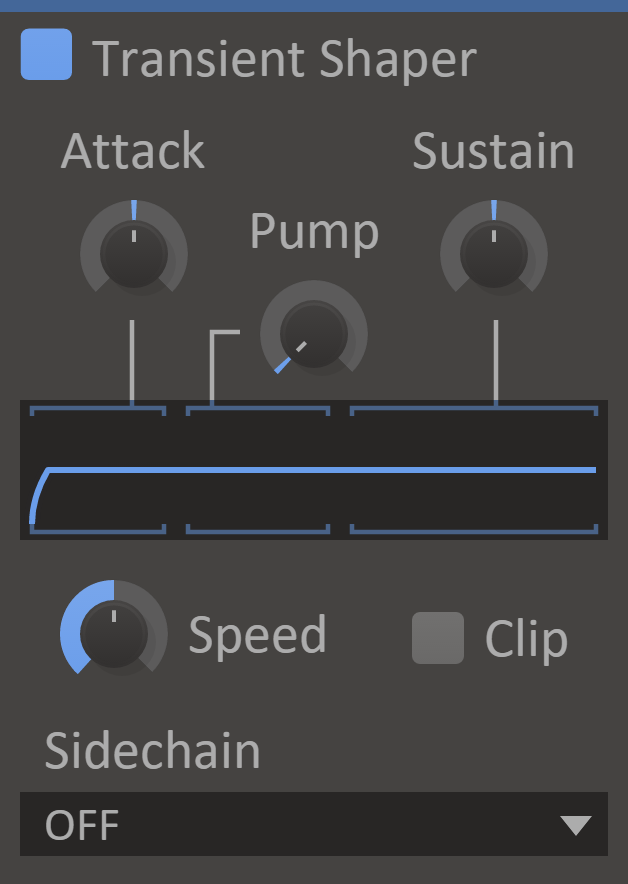 While Compressor can control the level of your transient, it's not ideal specifically for a transient spike, Transient Shaper Snapin works on the rate of change of the signal level rather than the signal level itself. This would result in indirect control over the character of both of the attack and the sustain level of the sound.
Transient Shaper Snapin features are:
Attack: The amount of amplification or attenuation of the transient.
Pump: The amount of attenuation directly after the transient, emphasizing the transient without increasing the level.
Sustain: The amount of amplification or attenuation of the sustained sound.
Speed: Higher values result in s snappier transient modification, and lower values result in smoother curves.
Clip: When enabled, the output signal is clipped to 0dB.
Sidechain: When enabled transients are detected based on a secondary input, but the effect is applied to the main input.
Settings panel: Whenever you have your mouse cursor over a snapin, there is a small arrow at the top right corner (not visible in screenshot). It opens a settings panel where you handle presets.
Enabled checkbox: The small checkbox to the left of the plugin name is a checkbox that bypasses the effect when disabled.
System Requirments:
CPU: 2 GHz or faster
Memory: 1 GB or more
Operating System: Windows (7 or newer) or Mac OS X (10.7 or newer)
Supported formats: AAX/AU/VST2/Snapin
5.) Transient Shaper - Softube

By now, you probably know that using Transient Shaper is a hidden gem if you care about taking your mixes to the next level.
The fact that you can control the attack and decay of a sound using plugins is great, an example of such a plugin is the Transient Shaper by Softube, it is a dual-band processor that works on different bands individually, for example, you can adjust the sustain and punchiness of the treble or bass portion of a sound without affecting other portions.
The dual-band operation makes Transient Shaper useful for much more than drum and percussion sounds. Give a vocal track clarity and presence by adding some high-frequency transients—add Punch with its frequency slider set to Hi. Or create a darker and more rounded sound that oozes with a vintage vibe by instead turning down the Punch knob. Use it on piano, bass, guitar, and electronic drums—Transient Shaper works on a wide range of sound types.
Key Features:
Dual-band transient processing tool
Add or reduce punch and/or sustain from any sound
Affect either the whole frequency spectrum, only the high frequencies, or only the low frequencies
User-selectable crossover frequency
The clip section adds output distortion
System Requirements:
Mac OS X 10.9 or newer
Windows 64-bit, versions 8 or 10
Intel Core 2 Duo, AMD Athlon 64 X2 or newer
Screen resolution larger than 1280x800
1 GB RAM or more, and at least 6 GB hard disk space for installation (individual plug-ins take less space)
Any VST, VST3, AU, or AAX (Pro Tools 10.3.7, 11.0.2 or higher) compatible host application
Softube/Gobbler account
Gobbler application to manage license activation and plug-in downloads
6.) Beatformer - accusonus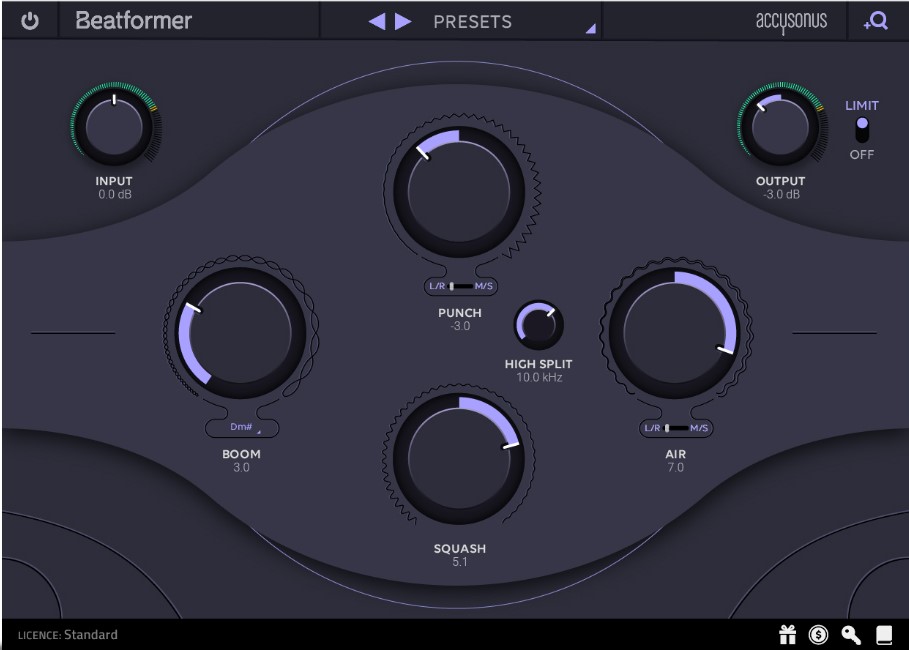 Beatformer is a really simple transient shaper plugin that lets you shape the sound of your percussion/drum loops with 4 intuitive controls, which are the Boom, Punch, Squash, and Air.
Key Features:
Glue your drum mix together
Bring energy into over-processed loops
Easily enhance your beat's dynamics
Add color and personal character to your beats
Add substance to thin sounds
Instantly transform the sound of your beats
System Requirements:
Mac OSX Versions 10.10 or later
Windows Versions 7 (SP1) or later
AU, VST, AAX Native (64-bit)
RAM: 2GB (minimum)
Hard Disk Space: 50MB (minimum)
Screen Resolution: 800x600 (minimum)
Sample Rates: 44.1, 48, 88.2, 96kHz