Little AlterBoy is a Voice manipulation tool by SoundToys, it comes bundled with several features to transform the pitch of a voice, or change the singer's gender with formant shifting.
Also, you can lock onto a single pitch for robotic sounds. You can even control the vocal's melody using MIDI for creative vocoder-like effects.
Note: Little AlterBoy is designed to process only clean monophonic vocal tracks (much like some other vocal tuning plug-ins). Please experiment away, no hard rules in music production
I'll let you on a little secret -- The Little Alterboy was the plugin I used to create the Exclusivemusicplus signature tag, here is a before and after:
Before:
After (Added Little Alterboy plus tweaking the pitch knob):
The Pitch and Formant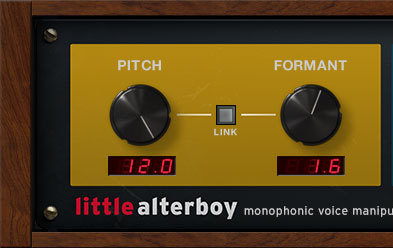 The PITCH knob allows you to alter the pitch of your vocal track in semitones up to an entire octave above or below the original. For example, turning the Pitch control all the way counter-clockwise to -12.0 will shift the vocal down by one whole octave, which is what I did with the above demo
The FORMANT knob allows you to control the speeding up or slowing down of a sample. When LINK is OFF, the pitch-shifted vocals will be more natural- sounding, and also allows FORMANT to be adjusted independently of PITCH.
Tip: To get DJ-style pitch warping, leave LINK set to ON. Also, this mode will sometimes produce smoother results, especially for more challenging vocal tracks or pitched instrument tracks.
Little Alterboy Mode & Drive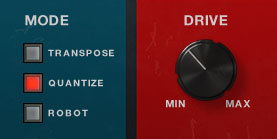 It features three modes, Transpose, Quantize, and Robot:
The Transpose is the normal operation mode, the pitch control will simply shift the pitch of the incoming vocal without automatic correction.
The Quantize tunes your vocal to the nearest chromatic semitone as quickly as possible. This would result in an automatic tuning effect found on popular pop/rap/ R&B tracks.
The Robot locks your vocal track to a single note. The specific pitch is controlled using the PITCH knob.
Tip: In ROBOT mode, when the PITCH knob is set to 0.0 the vocal pitch will be locked one octave above middle C. To produce notes other than "C", simply adjust the PITCH control.
The Drive knob is a classic tube saturation model from Soundtoy's plugin (Decapitator), it adds warmth and edge to your new vocal creation.
Control Your Creation
Once you've crafted your perfect vocal effect signature, you can use MIDI in your DAW to control the pitch for dramatic vocoder or harmony effects. It's a hugely powerful way to find new directions and drive new ideas.
History in the Re-Making - How SoundToys Created Little AlterBoy
Our roots are in pitch-shifting. Our founders were part of the team that created the Eventide H3000, one of the most iconic pitch-shifters of all time. They went on to start a company called Wave Mechanics (soon to be called Soundtoys), which created the first real-time pitch and formant shifter: PurePitch TDM. Back in the ProTools TDM years, SoundToys also produced other high-quality pitch-based effects including the acclaimed PitchDoctor and SoundBlender.

With Little AlterBoy, we've distilled all of that knowledge to create a potent little vocal tool. We wanted to give you a wide range of the most popular vocal effects of the day, and give you the freedom to create your own signature sounds, too.
Video SneakPeek
Is Little Alterboy Worth Using?
It depends! If you are looking for a simple plugin that handles voice manipulation easily, then you can never go wrong with Alterboy. However, it doesn't work too well with stereo sounds!
Little Alterboy
Pricing
It is currently available for $49.00, this is for a limited time only, so, you might wanna hurry up if you don't want to miss the offer.
Key Features
Transform vocals with a set of easy-to-use tools in one simple plug-in
Shift the pitch and formant (gender) of vocals in real-time
Use the mix control to create instant vocal harmonies
Lock vocals to a pitch for robot effects
Create vocoder-like effects using MIDI control
Get that "hard tune" effect heard in countless hip-hop and pop hits
System Requirements
AAX Native, AAX AudioSuite, VST, and Audio Units (AU)
Minimum: 44.1 kHz, Maximum: 192 kHz
Operating systems: Mac OS X 10.8 or later; Windows 7 or later
An internet connection is required at the time of activation
A FREE account at ilok.com is required (a physical USB iLok is not required)
This software is 64-bit only and is not compatible with 32-bit systems.