As much as I love using drum or percussion sample packs, there are downsides too, for example, you can't really customize it on the fly, say, you want to rhythmically create a loop by just adjusting a knob without using the channel rack or creating a loop expressively (changing the style of playing across a section), and many other reasons.
This is where a Kontakt Instrument comes in, with a Drums or Percussion Kontakt instrument, you can create percussion sounds, drum beats, rhythms, and even patterns/loops without the need of buying or scrolling through thousands of samples.
Basically, you would have a mixture of different percussion samples (bongos, congas, frame drums, djembes, dumbeks, hats, and so on) in the Kontakt Instrument, and with that, you can program your own rhythms and loops.
In fact, you might have the rhythm programmed right off the bat, so, you can customize it to soothe your style.
Most of the time, I program my own loops and I export each and every loop created, this way, I can reuse it easily without opening my Drum Kontakt Instrument plugin every time plus this also saves your CPU load.
That cleared, here is a rundown of the best free & paid percussions Kontakt Library instruments, I'll also be detailing what each of them does, let's get started with...
Percussion & Drums Kontakt Library (Paid)
Note: These are the current prices as of the time of writing this review, so, they might change.
1.) Ensemble Drums Collection ($149.00)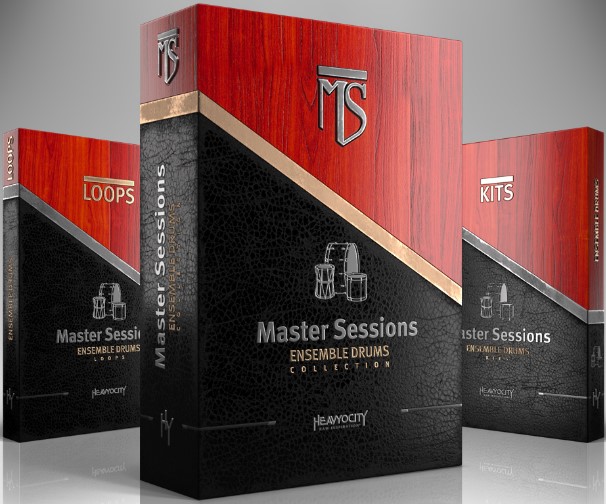 Ensemble Drums Collection a drum library performed by 5 amazing drum players and delivers 7 HQ unique multi-sampled drum ensembles with over 300 tempo-synced loops. Each ensemble consists of up to 10 different drums, that are creatively processed and mixed.
Inside the kit, you'll find the collections of drums such as taikos, roto toms, field bass drums and snares, concert bass drums, floor toms, and large containers.
These massive, punchy ensembles are presented in both menu and single kit presets, providing complete control over your sound. Heavyocity has further tweaked and affected the kits, creating an additional 24 presets with a more aggressive edge.
Sometimes, creating a drum loop from scratch doesn't cut it, so, you have a collection of over 300 tempo-synced loops in this library, they are arranged in menu and single loop presets. Rearrange and adjust the loops by slice with Heavyocity's signature "Loop Mutator". Dial-in the Trigger FX, master effects, filter modulation, and ADSR for radical sonic results.
One super cool feature I love about this library is the fact that you can create, and match loop stems to build your own rhythmical groove with the Loop Mutator, you can fully recompose over 300+ loops with outstanding results. You can recreate the steps, time signature, step subdivision (straight, dotted, or triplet), individual step duration, Loop/Slice selection, and velocity to suit your style, this is absolutely worth it, if you know what you are doing.
Ensemble Drum Collection is recommended for those that need to work with a vast number of percussion samples, and also the control to re-adjust them whether through the loop module or individually, however, this library might be too big for others and may feel intimidating real quick.
Features:
3.5 GB uncompressed (1.9GB on Disk with NI lossless compression)
Available as direct download only
1,650+ samples
470+ NKIs
30+ Kits
27 Loop Menus
400+ Single Loop Presets
5 Multis
The Stage for easy stereo placement
Playable Trigger FX™ for real-time control
Loop Mutator™ for real-time re-composing of loops
Stand-alone, VST, AU, AAX
System Requirements:
Powered by the Kontakt Engine
Kontakt 5 (Player) Version 5.5.1.451 or higher required.
Komplete Kontrol integrated (NKS-ready)
Mac: OS X 10.9, Intel Core Duo, 2 GB RAM
PC: Windows 7 (latest Service Pack, 32/64 Bit, Intel Core Duo or AMD Athlon 64 X2, 2GB RAM
2.) Tank Drum ($9.00)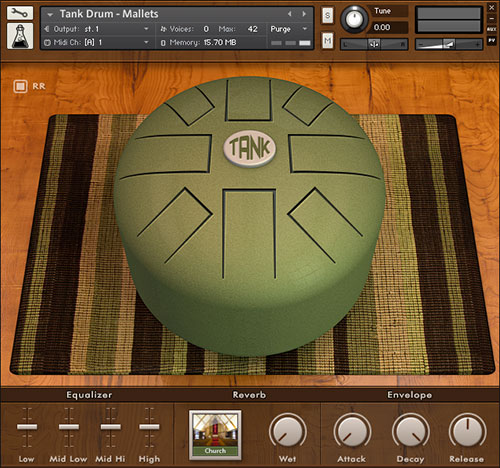 Note: This is designed for the full version of the NI Kontakt engine, and is not a physical product!
Tank Drum is a simple Kontakt library that features samples from a famous steel tongue drum, which is also called hank drums. You would find 8 tongues and it's tuned in E minor pentatonic. It was played both with hands and rubber mallets along with some sound effects with hands and brushes. The sound has a long release and is rich in harmonics.
Features:
7 Kontakt Instruments (.nki)
5 Round Robin samples
3 Velocity Layers
7 Custom Impulse Responses
274 Samples (44.1kHz / 24Bit)
Size: 790 MB
Formats: Kontakt and WAV
System Requirements:
The full version of Kontakt 5.1 or higher is required to run this instrument
3.) Samba Drums ($85.00)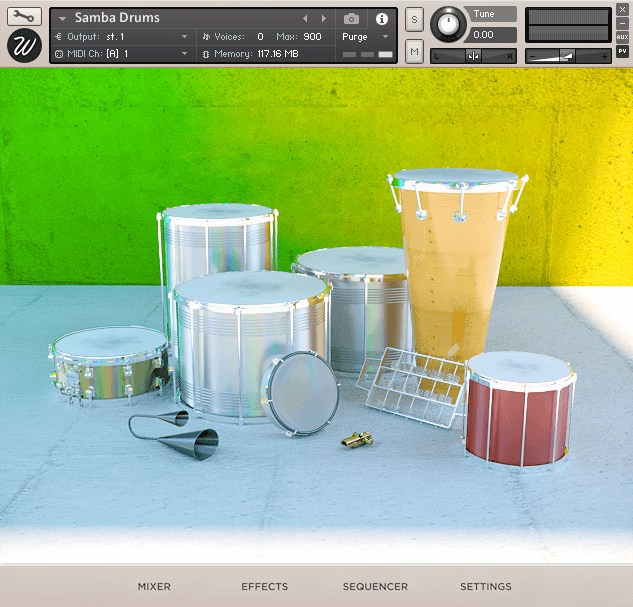 Samba Drums is inspired by a collection of Africa drums, which includes surdo 22″, 20″ and 18″, snare, timba, repinique, tamborín, rocar, agogó, and whistle. This drums is really compact and can be used to create Afrobeats, afro related genre, and more if you can be creative.
That is not all, it features Wavesfactory's advanced effect script that lets you insert any effect chain in any channel separately, some of the effects include: High-Quality EQ, Various types of compressors, Modulation: chorus, flanger, phaser, Algorithmic and convolutional reverb with more than 40 custom impulse responses, and more.
One of the features I really love in this library is the sequencer, it includes a full sequencer with 7 presets in which you can create your own rhythms, adjust the tempo, steps, intensity of each preset individually and play them on loop in your DAW. On top of that, you can define the velocity of each hit, making it very versatile and natural sounding.
Features:
Instruments include Surdo 18″, 20″ and 22″, Snare, Timba, Repinique, Tamborim, Rocar, Agogo, Whistle.
High-Quality EQ
Various types of compressors
Modulation: chorus, flanger, phaser
Distortion / Saturation / Tape
Algorithmic and convolutional reverb with more than 40 custom impulse responses.
Amp simulators.
Round robin: the instrument was sampled with 6 true round-robin repetitions, you can select the number you want and the rest will be purged from memory in order to reduce RAM usage.
Dynamic range: control the difference between the loudest and quietest hits.
Velocity curve:

control how the library reacts to incoming midi notes.

Envelope:

set the attack and decay time ballistics of the different instruments separately.
System Requirements:
The FULL version of Native Instruments Kontakt 5.7.3 or above is required to run this software.
This software will not function in full within the FREE Kontakt Player engine and will only be available in DEMO mode.
4.) Frame Drums ($6.00)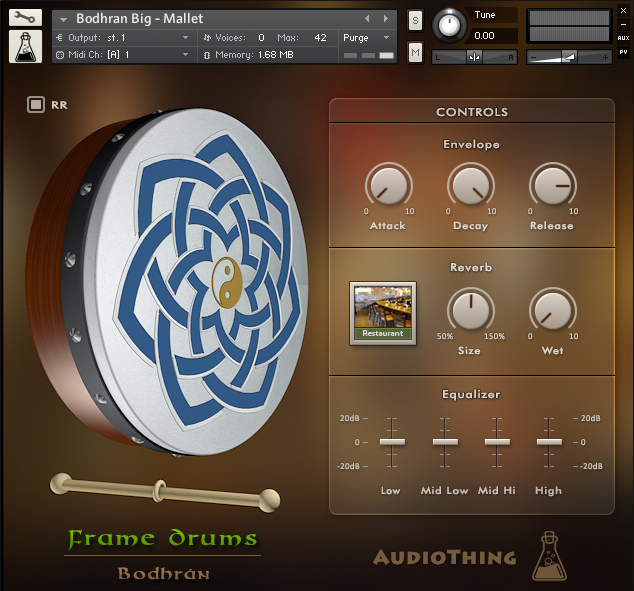 Note: This is designed for the full version of the NI Kontakt engine, and is not a physical product!
Frame Drum features two Bodhráns and two tambourines, which totals four drum samples. The Bodhrán is a traditional Irish frame drum usually played with a wooden stick. The main Bodhrán measures 18 inches while the main tambourine measures 8 inches. The other drums are small toy/souvenir versions. The frame drums were sampled using sticks, hands, and multiple gestures.
This is a really simple library, I'll recommend this if you are looking for something simple.
Features
19 Kontakt Instruments (.nki)
Up to 8 Round Robin samples
Up to 3 Velocity layers
160 Samples (48kHz / 24Bit)
Size: 178 MB
Formats: Kontakt and WAV
System Requirements:
The full version of Kontakt 5.1 or higher is required to run this instrument
5.) Grit Kit FX Drums ($49.00)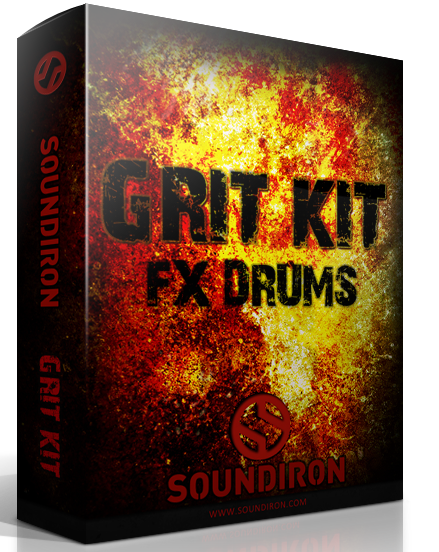 The next one on our list is a percussion library from renowned soundiron. It features a simple collection of 6 acoustic drum kit, It's your all-around basic stereo jazz set, with kick, 14" snare, 10" snare, floor tom, mid and high toms, hi-hats, ride-crash, large and small splashes.
If you are looking for a warm sound, then this is your best bet. It also features 12 round-robin variations per layer and fully responsive dynamic layering. Built into an easy to use preset with tons of built-in FX options, this by itself can serve as a great "plug and play" drum kit instrument for just about any style of music.
Features:
7.4 GB installed
7920 Samples
45.nki instrument presets
24 bit / 48kHz uncompressed PCM wav samples
Unlocked Kontakt presets and wav samples to allow user customization
Stereo acoustic jazz drum kit, with 14" snare, 10" snare, kick, floor tom, mid tom, high tom, hi-hats, ride-crash, large splash, and a small splash
15 aggressively distorted, decayed, degraded and destroyed FX drum kits with total sound-shaping control
12x round-robin variations per layer, with natural dynamic layering and responsiveness
Megamixer kit building interface, with customizable modules to combine any of the 352 sound sets in the library into your own custom 8-piece kits, with kit saving and loading
Dual-layer tuned percussion presets to create multi-layered chromatic tuned percussion and effect instruments
Core Kit Ensemble presets that put each unique drum kit at your fingertips
ARP meta-arpeggiation and EZ-roll system
Rack DSP Effects, including amp sim, cab sim, compression, distortion, delay, EQ, filter, flange, phase, chorus, and a huge range of custom room, environmental and special FX convolution reverbs
System Requirements:
This library is designed for the full retail version of Native Instruments Kontakt 5.1.0 or later.
This is a standard Kontakt open-format library, so the free Kontakt Player doesn't support this open-format Kontakt library.
6.) Epic: Cinematic Drums & Sound Design ($199.95)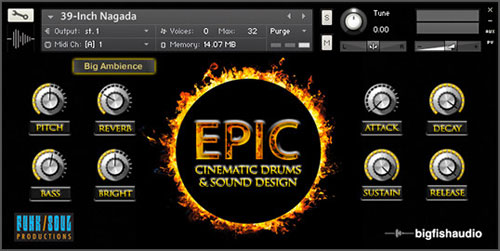 Let's lay down the fact! This library is truly epic (over 10.3GB uncompressed), it is a virtual instrument that is simple to use and created for composers and sound designers working in film, movie trailers, games, television, production music, web design, or advertising. Epic not only includes a huge variety of cinematic drum loops and sampled drums - but also a powerful and flexible tool for cinematic-style sound design.
If you care about creating drum and percussion loops real fast for your cinematic composition, then you shouldn't miss this one, in fact, you can create your own rhythmic fills and patterns with Epic's multi-sampled instruments.
Again, this might feel intimidating if you are not used to composing cinematical sound, so, you might be better off with a compact library if your niche is different.
A note from the producer:
EPIC features a huge variety of ethnic drums and percussion, including Chinese drums, taikos, African drums, frame drums, small and large gongs, cymbals, quints, a complete set of five Roto-Toms, and a massive, studio-shaking 39" nagada drum from India. We also included hundreds of high-quality cinematic sound design elements, like thundering Hits, Impacts, Metals, Risers and Whooshes.

Every construction kit features a selection of loops, one-shots, and cinematic elements, making it fast and easy to compose Action, Suspense, or Horror cues when you're on a tight deadline. Another time-saving feature: we mapped all loops according to their pitch, from low to high on the keyboard.

EPIC's Graphic User Interface is also a time-saver. It's pretty much plug-and-play - easy to use right out of the box, with the most important controls located on the front panel of the GUI. And of course, those who like to tweak their sounds and loops can find the full compliment of Kontakt effects under the hood just by clicking on the "tool" icon.
Features:
24 Performance Kits (consisting of 1711 loops and one-shots)
58 multi-sampled drum and percussion instruments
388 high-quality cinematic sound effects.
6.3 GB (10.3 uncompressed) library
Kontakt 5 Player included
System Requirements:
Kontakt Player 5 Included
Download file = 6.3 GB (10.3 uncompressed) library split into 5 downloads.
Percussion & Drums Kontakt Library (Free)
7) ImpactSoundWorks – CSD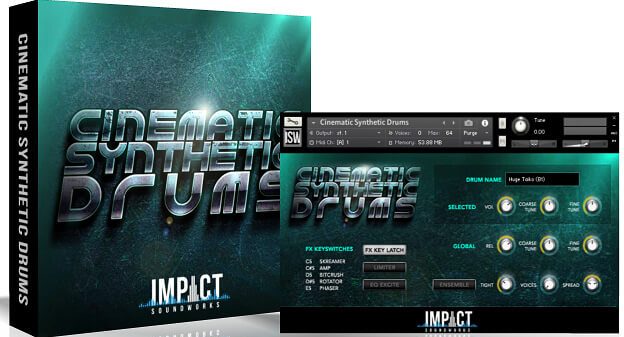 Cinematic Synthetic Drums is a rhythmic tool (Drum sound) for use in music production or a tool for hybrid orchestral and electronic scores.
The Library was inspired by a rich variety of both acoustic and electronic materials used in many modern films, TV, and game scores.
This pleasing and great Kontakt library is made using a Subtractive synthesis, Additive, and many other types of sound generation machines.
CSD was made and sampled into Kontakt with variation and velocity in mind giving user 10x variation in every drum hit. Also, it also features a smooth, snappy velocity to the response.
Content
No Re-used drum material or drum machines
0ver 50 individual sounds
Addition sounds, like drones, texture, reverse, and bass drops
Pre-processed and ready to drop into a mix
Includes WAV sample for drag-and-drop
Features
Free for Kontakt full version 4 or later
Low CPU intensive and easy to use
Custom UI with FX, mixer and ensemble maker
One-click instant gratification FX
Trigger/perform FX via key switch
All on a single page
Requirements
300MB disk space
Raw WAVs are also provided
KONTAKT4 full version Player
2GB of RAM required
Download ImpactSoundWorks [Cinematic Synthetic Drums]
8) Rhythmicrobot – PanaRhythm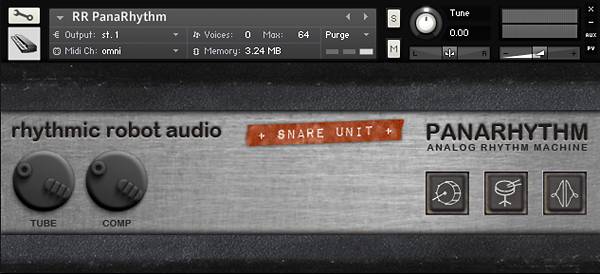 An analog Rhythm machine with only three sounds and a handful of rather tired onboard patterns.
You will find a characterful snare spread over a whole an octave to give the user some pitch variation, hats sound, and finally a randomized round-robins for an analog uncertainty to all sounds. All for free
Note: Downloading Requires free registration
Download Rhythmicrobot [PanaRhythm]
9) Ivyaudio – Scott Drums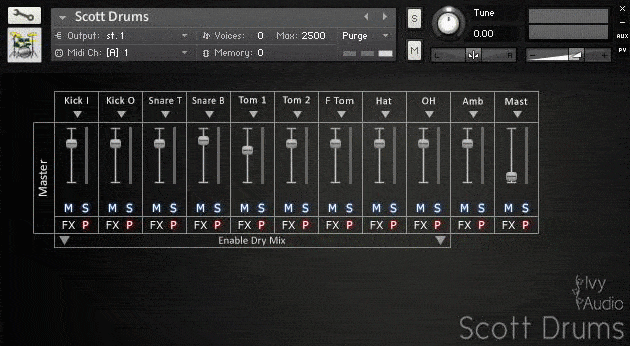 This Kontakt Library is Ivyaudio's first attempt into the world of percussion sampling. They took a medium-sized drum kit, split every individual piece to high-quality microphones, and recorded five round robins and eight dynamic levels across the board.
Scott Drums Includes everything from snare roll, cymbals, and built-in effects on every mic position.
Features
5 round robins and many dynamic levels
Multiple snare articulations, short and fast release samples on the cymbals
A High-quality recording
An easy to use UI
Note: To download without paying a fee, you would have to use a BitTorrent client or just donate any fee to download directly.
Download Ivyaudio [Scott Drums]
10) Cinesamples – 5 Kontakt Percussion Libraries

This Kontakt library includes six free Drum Libraries, and they are Modal Drum, Jam Buckets, Snaps and Claps, and Triangles.
Notes: All Cinesamples Percussion Library requires Kontakt FULL v5.3.1 or higher.
Modal Drum: A modal drum for Kontakt Library, Modal drum is a metal E-minor pitched "tongue" drum.
Note: Downloading Requires a free registration
Download Cinesamples [Modal Drum]
Jam Bucket: A free collection of Jam bucket for Kontakt
Download Cinesamples [Jam Bucket]
Snaps and Claps: Collection of free snaps and claps for Kontakt
Download Cinesamples [Snaps and Claps]
Triangles: Free Triangles collection for Kontakt