If you are looking for an innovative music production plugin, Izotope is one of the leading audio plugin manufacturers in the music scene right now, they are creating mind-blowing products, and now we have VocalSynth 2, which I would be reviewing in a moment.
In this review guide, you would learn…
The Features of VocalSynth 2
If it is worth using at all
Prices
and more, let's dive in…
Caution! VocalSynth doesn't mean you are generating a vocal instrument through a synthesizer, please don't confuse it with an actual synthesizer, it is instead a tool for coloring, and shaping a vocal sample/any audio samples, be it an instrument or whatever audio samples you can lay your hands on.
Note: VocalSynth 2 can use the plug-in's internal synthesizer to generate sound, although, you'll still need to route an audio sample to the mixer channel slot you placed VocalSynth 2
You can achieve this vocal exploration customization with five blendable eccentric-must-haves and stompbox-style studio effects, which are Vocoder, Compuvox, Polyvox, Talkbox, and Biovox: a brand new effect based on the sonic qualities of the human vocal tract, Yh, You heard it, in short, ama play you some stuff I am working on, it's so amazing.
Just to show you the possibilities of using this plugin, I would be doing a before and after on a piano:
Before:
After:
I added the following preset "Biological Math" Under the Deep Category, here is an image: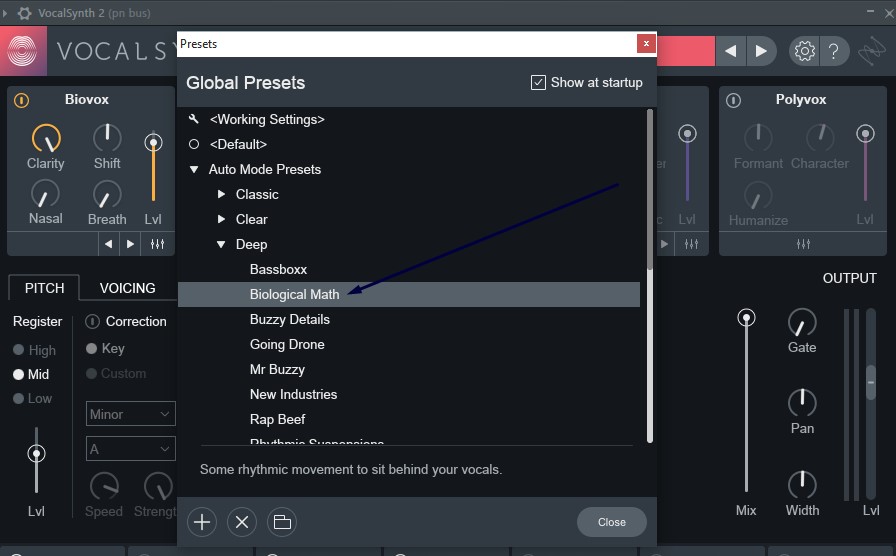 There is way too much stuff you can play with, from converting a single lead vocal into multiple stacks of vocals, creating textures, effects, blending, and morphing in an experimental vocal playground, and finally finding that secret something that makes your vocals stand out.
You absolutely don't have to create an effect from scratch, you can pick from hundreds of presets for quick impact.
Full Redesigned and Sounds Better Out of The Box
VocalSynth 2 has gone through rigorous testing, and fine-tuning, which makes it sound better, and faster compared to the previous version.
One thing I love about this version is that it is light on CPU, but with all honesty, it would eat up your CPU if you have few instances of it running, If I am not automating the parameters, I do all my customization on a different project session, which I then import into the main project.
They have also added brand new presets that take full advantage of all VocalSynth has to offer, so you can get up and running right out of the box.
Biovox: Break Down The Vocal Tract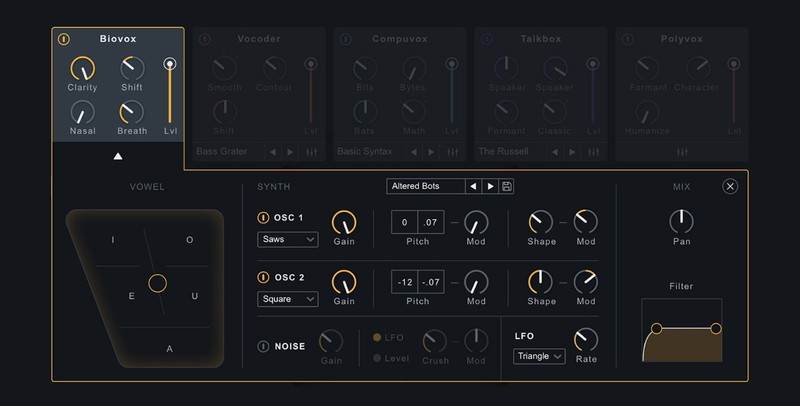 Biovox is a new vocal effect added in VocalSynth 2, it utilizes scientific modeling of a human vocal tract, and adjusts human vocal characteristics like nasality, vowel shapes, and formants for a smooth, textural vocal treatment to any audio signal.
Seriously, this is absolutely amazing, and I noticed it can easily be misused, so apply it creatively. and you should be fine.
Stompbox playground: Stunning In-built Effects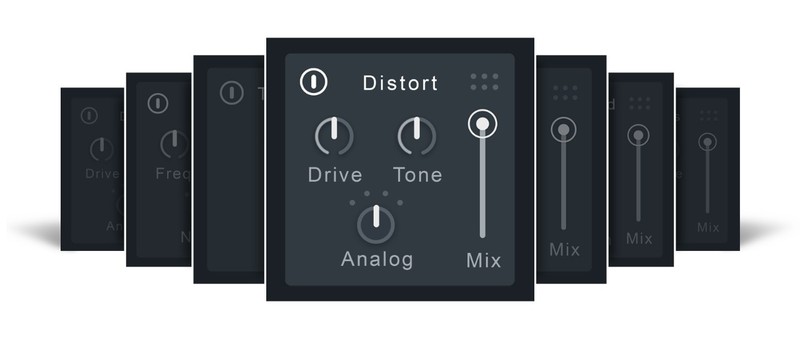 One of the good features of VocalSynth is that it comes bundled with a custom drag-and-drop vocal effects chain featuring seven experimental effects including a new and improved Shred, Ring Mod, Chorus, Distort, Filter, Transform, and Delay.
Interactive visualization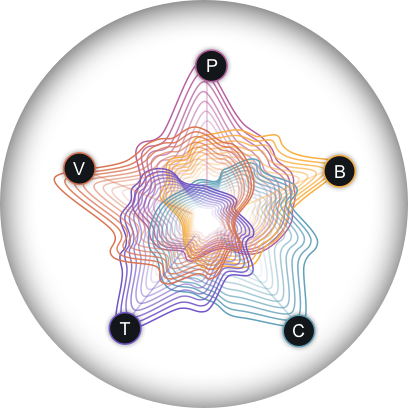 For those that prefer visualization, you would enjoy working with VocalSynth Anemone, it is a colorful animation that moves and grows with the shape of your vocal/audio signal.
It is driven by an advanced spectral analysis that reacts to the sonic characteristic of vowels, the Anemone blends fun interaction with a unique metering experience.
Inter-plugin communication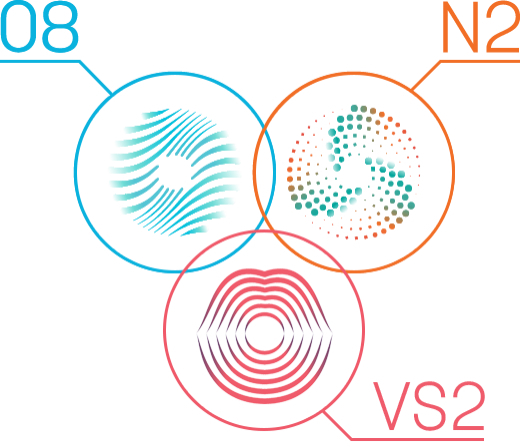 If you are a user of Izotope, I guess this isn't new to you, the inter-plugin communication works within the circle of iZotope products.
For example, Ozone, Tonal Balance Control, VocalSynth 2, and the like feature inter-plugin communication, allowing seamless integration with essential tools for music production and analysis.
VocalSynth 2 can be seen within Neutron 2's Visual Mixer and Masking Meter and also within Tonal Balance Control, allowing you to interact and get visual feedback in real time.
3 Distinct Ways to Play
iZoptope VocalSynth 2 features three different modes, which allows you to play with the plugin in a way that suits your style, and the good thing is that it would guide you on how to use the playing mode, regardless of whatever DAW, you are using.
The Three Mode are:
Auto: Lock your vocals into key with real-time pitch correction, generate additional voices and harmonies, and seamlessly blend your module settings with VocalSynth's intuitive mix panel.
MIDI: Use the MIDI signal to control your pitch and effortlessly create custom vocal harmonies as you play. Think of experimenting with a classic vocoder!
Sidechain: Rather than using the synthesizer within VocalSynth, pipe in your own audio to use as your "carrier" signal. This lets you make any audio "talk" or create new outlandish sounds that would be impossible otherwise.
Is VocalSynth 2 Worth Using?
If you've read this far, then you might have been getting a clear picture of the possibilities of creative things you can do with VocalSynth 2. Anyways, here is who I think would benefit from VocalSynth 2:
If you are interested in a simple pitch correction tool, this can be really handy, however, it won't replace an actual pitch correction plugin - say "Auto-Tune" but it's okay for simple auto-tuning, coupled with its inbuilt effects for stunning creative ideas.
It can replace a layer of multiple vocals, and the result is mind-blowing, I have been stuck in a situation where I need a chorus vocal, and I am only left with a single stack, VocalSynth Polyvox module was the gem, it was able to create chorus vocals programmatically, so, if you are interested, in this kind of stuff, you'll absolutely find it useful.
If you are interested in a robotic/vocoder/talkbox kinda effect
You love mangling with audio effects and want to test the possibility of Vocal effect
iZotope is not recommended if:
You are just getting started with music production, it is next to useless for newbies, It would waste your time as its learning curve is geared toward intermediary users.
You are not interested in a simple pitch correction tool
You are not interested in testing possibilities of what you could do with a vocal sample/audio effects.
You already have something similar in your audio plugin library.
Key Features
Biovox: Using scientific modeling of a human vocal tract, adjust human vocal characteristics like nasality, vowel shapes, and formants for a smooth, textural vocal treatment to any audio signal.
Stompbox-style effects: VocalSynth 2's effects include two brand new pedal-style effects: Chorus and Ring Mod with a unique tremolo effect. Now drag to re-order all seven effects including an improved Shred with sequencer as well as Distort, Filter, Transform, and Delay.
3 ways to play: VocalSynth 2 is built to be flexible, giving you three ways to interact and create: Auto Mode, MIDI Mode, and Sidechain Mode.
Inter-plugin communication: Use VocalSynth 2 within Neutron 2's Visual Mixer and Masking Meter, as well as Tonal Balance Control for a bird's eye view of your music production at all times.
Extensive sonic enhancements to the Vocoder module as well as Talkbox, Polyvox, and Compuvox that improve usability, CPU utilization, and sound quality.
Reimagined interface with deep control: VocalSynth 2 includes a brand new, modern interface and the addition of advanced synthesizer controls for each individual module. Paired with a fluid, evolving visualization, VocalSynth 2 is primed for hours of creativity with you at the helm.
Video SneakPeek
iZotope VocalSynth2 Pricing
VocalSynth 2 is regularly priced at $199.00, but at the time of writing this review, it is 75% off on Pluginboutique, which equates to just $49.00, you might want to hurry before the offer closes up.
System Requirements
Operating Systems:
Mac — OS X 10.8 Mountain Lion - macOS 10.15
PC — Win XP (32-bit Service Pack 3) - Win 10
Plug-in Formats:
AAX (64-bit), AU, RTAS (32-bit), VST, VST3
Supported Hosts:
Ableton Live 9 - 10, Cubase 9.5, Digital Performer 9, FL Studio 12, Logic Pro X, Nuendo 8, Pro Tools 10 - 12, Reaper 5, Reason 10, Studio One 3 - 4
Note: A graphics card with Open GL 2.0 support is required to display the visualizations in VocalSynth 2.