The difference between using a Kontakt Piano Instrument and a VST piano is that Kontakt is a sampler, which means Kontakt Library manufacturers can create digital instruments by using audio they've recorded (for example, a Kontakt Piano instrument manufacturer would sample the entire note on a physical keyboard for a different level of velocity qualities of attack, and more advance effects to get a similar tone of the real piano instrument, so, in most case, you won't notice much difference between them).
On the other hand, a VST piano can either go by using physical modeling (Model the physical properties of the instrument, and calculate how it'd sound) or synthesizing (This type generates a waveform (Sine, Saw, Square wave, etc.) and combine them, and then routing to the filter section for subtraction and addition of frequency and other effects to result in a distinct waveform that represents the sound that you are imitating. E.g. a piano sound, flute, lead, etc.).
Which you go for doesn't really matter, however, most people prefer sampling for piano because it imitates the real piano instruments in such a way you would likely tell any differences from the actual instrument, I would argue that the physical models are good too, I'll be writing a review about some of the best physical modeled piano in a future guide.
That said, here is a rundown of the best free and paid recommended Kontakt Piano library, I will also give you valuable information about each of the recommended piano libraries, good luck, and let's get started...
Piano Kontakt Library (Paid)
Note: These are the current prices as of the time of writing this review, so, they might change.
1.) ASCEND: Modern Grand ($149.00)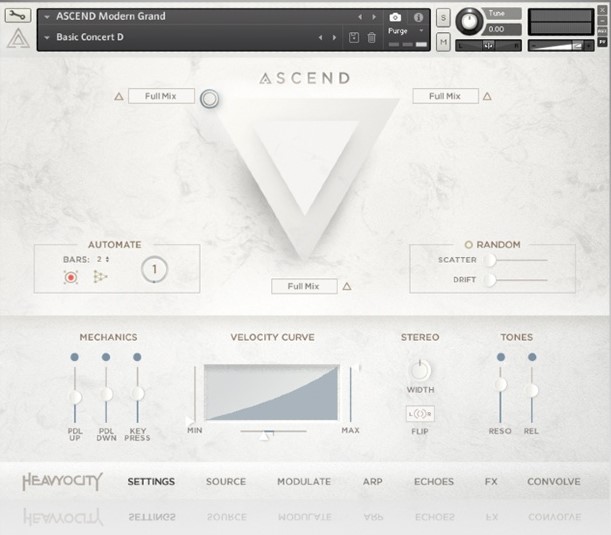 ASCEND is a modern grand piano by Heavyocity, it is a virtual emulation of a 9-foot Concert D, and the Heavyocity team chose to deeply sample this specific grand piano because of its outstanding warmth, depth, and detail. This is the cinematic composer's opportunity to play one of the finest pianos Heavyocity has ever heard.
This piano library is recorded at a historic NYC studio, coupled with a world-class selection of vintage and modern microphones, to bring this library into something stunning and great, Heavyocity partnered with acclaimed Film Score Mixer Satoshi Noguchi to bring the legendary Steinway sound into your studio.
Another great feature of ASCEND is its engine, the engine includes a collection of rhythmic convolutions and dozens of layerable sources and FX. The highly flexible Three Point Mixer provides instant inspiration, and the proprietary Echoes feature accompanies your performances with lush musical randomness.
Features:
47.8 GB uncompressed (23.3 GB on Disk with NI lossless compression)
Rich Concert D Grand Piano, captured in stunning detail
Creatively prepared piano articulations including Twine, Ebows, Brushes, and Chains
Beautiful pop performance. Captured for emotional cinematic composition
All-new ASCEND Engine creates a truly inspirational canvas
1 NKI
110 Snapshot Presets
25 Ascended
10 Core Concert D
25 Extended
25 Rhythmic
25 Rhythmic Melodic
16 Sound Sources
Intuitive Sample Browser
ARP for building complex, rhythmic arpeggios
Three-point mixer for real-time source blending
Stand-alone, VST, AU, AAX
System Requirements:
Powered by the Kontakt Player 6.1 Engine
Kontakt 6 (Player) or later
Komplete Kontrol integrated (NKS-ready)
2GB Ram
macOS 10.12, 10.13, or 10.14 (latest update)
Windows 7, Windows 8, or Windows 10 (latest Service Pack)
2.) Session Keys Grand Y ($99.00)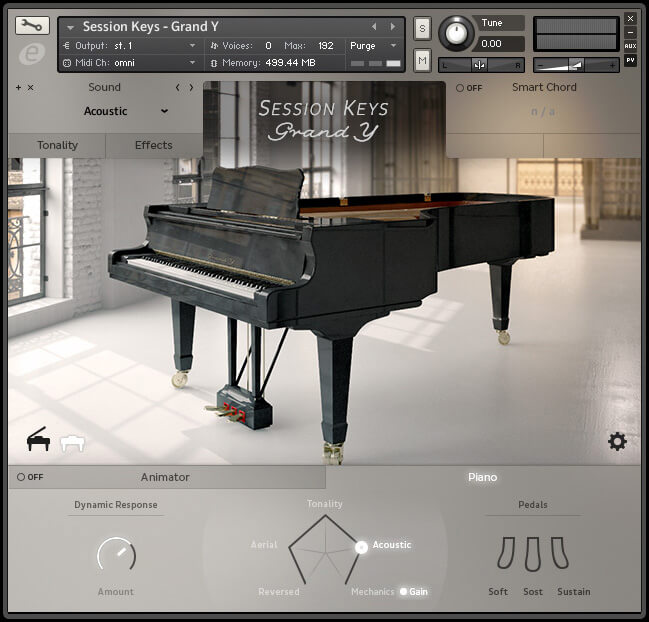 Session Keys Grand Y aims to capture the transparent and dynamic sound of the Yamaha CFIIS Concert Grand Piano, and they did an outstanding job on this one. It was recorded with an open lid as well as with the lid removed, and separate miking techniques, this resulted in two distinct piano sample sets, the first one is the "Concert", which is favored in classic recordings, and the other is "Studio" which is more generic and could be used across any genre of music.
The Grand Y piano just does not leave you banging with the knobs for a specific sound, it offers an intuitive way to play with more than 400 flexible piano phrases that follow your harmonies. Use the pitch bend and modulation wheels to increase or decrease complexity and control the dynamic of your session partner.
The one I find interesting is the Smart Chord module, it can play full chords or Animator riffs either via the pad controller or single keys. Just set the key of your song and let Smart Chord Mode create the harmonies.
Features:
Yamaha Concert Grand
Two separate sound banks: Studio and Concert
Pentamorph sound control to transform the whole sound with a single knob
Animator with more than 400 flexible piano phrases
Smart Chord function to create instant piano chords from single keys or pads
Native Instruments NKS compatible
Size: 10.2 GB / 4.35 GB (lossless sample compression)
24-bit, 44.1 kHz
System Requirements:
PC
Windows 7/8.1/10 (Latest Service Pack, 32/64-bit).
Intel Core 2 Duo or AMD Athlon 64.
4 GB RAM.
Compatible with the FREE Kontakt 5 Player or Kontakt 5 Version 5.5.1 or higher.
Mac
OS X 10.9 or later (Latest Update).
Intel Core 2 Duo.
4 GB RAM.
Compatible with the FREE Kontakt 5 Player or Kontakt 5 Version 5.5.1 or higher.
3.) Deconstructed Piano ($67.10)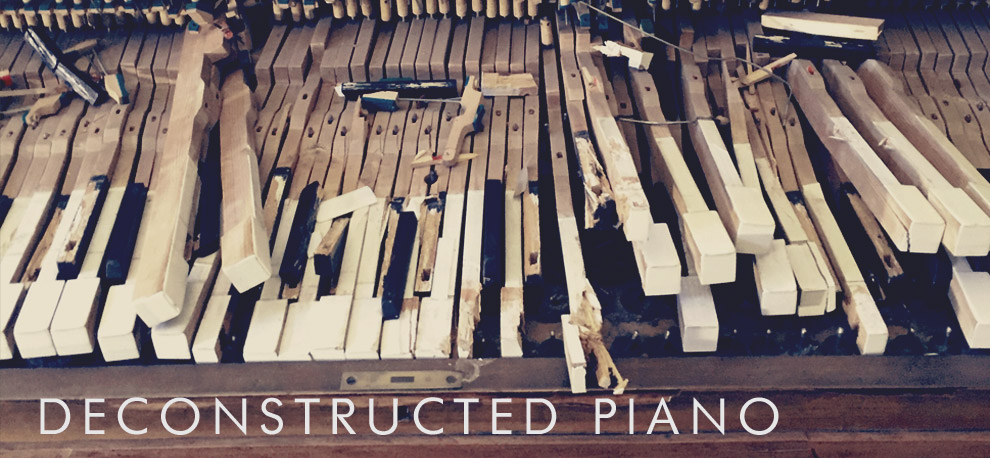 When something is deconstructed, we would say, it is properly analyzed, or perhaps, reduce (something) to its constituent parts to reinterpret it, and this library isn't different. The Deconstructed Piano is built by disassembling a piano from its soundboard, Cinematique Instruments which are the makers of this library played hit, stroke, and destructed the piano with a wide range of materials. Additionally, they incorporated a regular piano hammer, different kinds of mallets such as felt or woolen ones, screws, plecs, sticks, thumbs, and even straws to coax new inspirational harmonic sounds from the instrument.
Deconstructed piano is a great collection of sounds, noises, and textures exclusively created with a piano. It convinces with its diversity. No matter if you are using the powerful short hit from a metal bar, using the gentle screw piano sounds to give your music a subtle highlight, or using the massive strike sounds to create great impacts, the Deconstructed Piano adds a new color to your sound.
It comes with three distinct patches:
The Piano: This is the basic instrument, It delivers three different sound categories with eleven piano sounds in total. By dragging, you can control the volume of each sound. It gives you the possibility to combine and create your instrument setting. Besides an attack and decay slider, the instrument provides a button that randomizes the volume of each of the 11 sounds which results in new sound combinations. The patch also includes an FX section in which you can choose reverb, delay, distortion, and an EQ.
Strikes: Explore the sound of a sledgehammer bursting on the piano.
Texture: This patch is a very useful tool to create evolving textures with tension. on top of that, this patch provides an automatic volume variation with speed control as well as a "hold" button for an infinite sound.
Features:
0.5 GB of compressed audio files.
Three complex patches including four many different types and styles of piano sounds.
System Requirements:
Kontakt 4 full version or higher is required
4.) Emotional Piano Player Edition ($149.00)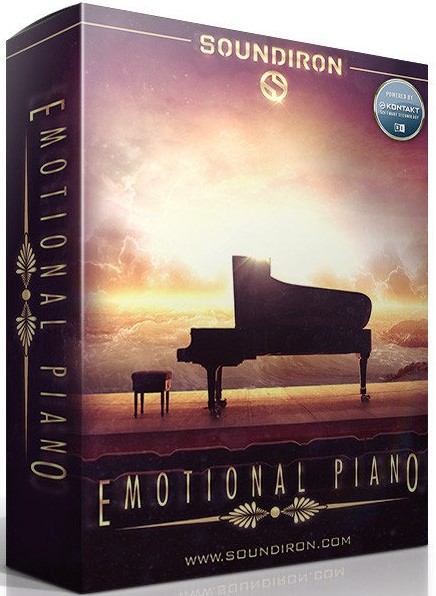 If you are interested in professional soundtrack scoring, songwriting, and even symphonic orchestration, then the Emotional Piano is a legendary virtual grand piano that is designed for your use cases. It's the perfect paintbrush for lush and emotive arrangements. Emotional Piano is also equipped with a huge selection of uniquely sound-designed custom presets and effects patches to give you an extraordinary range of sonic flavors and creative tools.
The interface is intuitive and gives you complete control over the piano sound, it also supports a fully-configurable multi-FX rack and intuitive sound-shaping features. The FX rack provides you with a 10-bay modular chain with full routing control and a selection of 18 of Kontakt's best built-in DSP effects to choose from. You can arrange the effects in any order and save your own presets for later. You can also choose from the dozen of Snapshot Presets that cover common use cases and provide lots of new creative possibilities.
Features:
Product Version 3.0
1,716 Samples
4.6 GB uncompressed / 2.57 GB Installed with lossless ncw compression
41 nki Kontakt instrument presets
24-bit / 44.1kHz lossless NCW format samples
Works with the free Kontakt Player (version 5.5.2+)
88 Keys
An average of 10 dynamic velocity layers per keynote and release
Pedal Action Samples
Close the microphone position for a full, rich sound
Adaptive Arpeggiator system in some presets
FX Panel with powerful and configurable controls for every effect.
Convolution reverb with 100+ custom natural and FX environments.
System Requirements:
This Powered-By-Kontakt Player Edition is supported by the latest version of the free Kontakt Player (VST, AU, AAX) and the special "Libraries" rack.
Windows XP or higher is required for the PC.
OSX 10.9 or higher is required for Mac.
Dual-Core CPU, 2 GB System Ram, SATA, or SSD hard drive recommended for this library.
This software is delivered as a digital download, so a broadband connection is required.
5.) Vapor Keys ($19.00)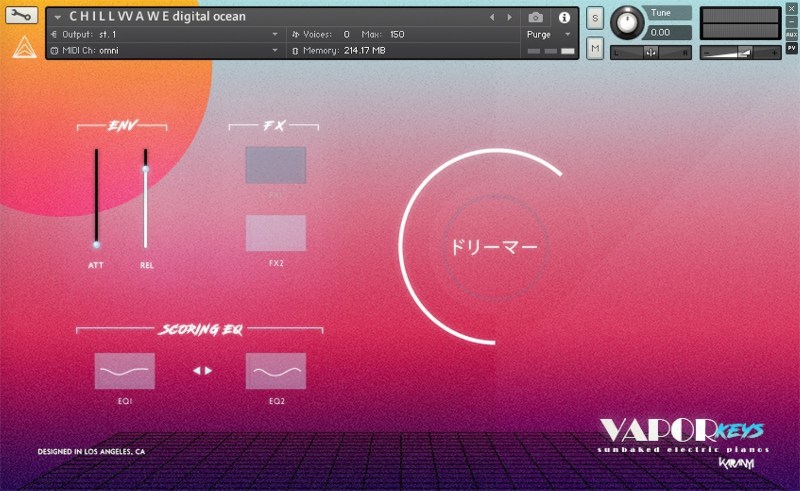 This is one of my favorites, it is a collection of outstanding FM Electric Piano sample libraries plus an inspiring collection of dreamlike keyboard instruments for Kontakt. It can sound sweet and naive, bright, bold, harsh, trashy, lush & sexy, spacy, or even dark and gloomy. Vapor Keys includes 3 deep-sampled classic and modern FM, algorithmic, and wavetable synth sources in 1 pack.
Vapor Keys is inspired by classic movies, and the collection is divided into two distinct parts, one is "Electric Piano" and the other is "Vapor Keys"
The Electronic Piano features dry, multi-velocity sampled instruments with classic EP presets from vintage FM gear with 2 effects/patches: a detuned chorus and a phaser, while the Vapor Keys are heavily sound-designed keyboard instruments with dry and wet signals mixed from various FM pianos, other synth sources, and reverb gears. The Vapor Key patches are great for chords, arps and shorter soundscapes.
Features:
1700+ samples
24bit / 48kHz sample rate​
3 GB total size (6 GB uncompressed wav)
Recorded with Universal Audio Apollo 8p
Equipment used: Neve 1073 Preamp + Roland Dimension D + Studer A800
Kontakt 5.7.3+ required
Royalty-free license
Multi-layer sampled Electric Piano patches with keyboard noises for additional reality and playability
Custom Yamaha DX7
9 Electric Piano patches
Full scales
Neve 1073 Preamp + Roland Dimension D + Studer A800 used for recording path
Combinations of various electric piano and wavetable synth patches with additional spaces
Custom Yamaha DX7
Arturia MicroFreak
Various wavetable & algorithmic synthesis sounds such as electric pianos, marimbas, strings, CMI Fairlight
Full scales
Neve 1073 Preamp + Roland Dimension D + Studer A800 used for recording path
Eventide Blackhole, Lexicon 224 effect processors
System Requirements:
Windows 7 (latest Service Pack, 32-/64‑bit), Intel Core Duo or AMD Athlon 64 CPU, 2GB RAM
Mac OS 10.7 or higher, Intel Core Duo CPU, 2GB RAM
4 GB free disk space
A full version of Kontakt 5.7.3 or above
The Full Version of Kontakt 5 is required to run this software.
6.) The Tack Piano ($85.00)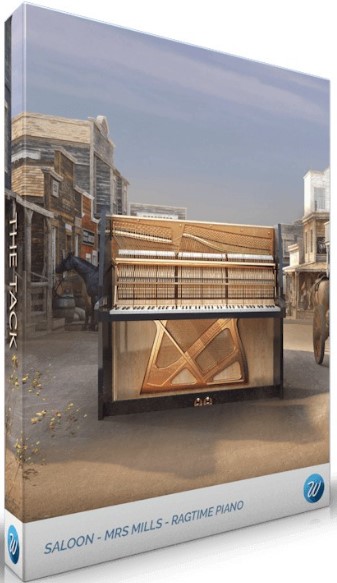 The Tack Piano is completely re-sampled from scratch, it sounds better than ever and is now a completely authentic tack piano featuring a new GUI with top-notch features that make it unbeatable and a dream come true for tack piano fans like myself. Equally, at home in music, sound design, or FX, the Tack Piano is like no other and a must-have addition to your piano collection.
Additionally, it has a full mixer with which you can control the three mic positions separately: Close, Mid, Far, and Mix; a combination of the three aforementioned positions. It also has a library of advanced effect script that is already implemented in Legacy Drums and some freebies. This script lets you insert any effect such as High-Quality EQ, Various types of compressors, Modulation: chorus, flanger, phaser, Distortion / Saturation / Tape, Algorithmic, and convolutional reverb with more than 40 custom impulse responses, Amp simulators, and more.
Features:
Size: 14.22 GB
Samples: 9,118
Mic positions: 3 + mixdown
Velocity layers: 8
Round robin: 2. Up to 6 with neighbor borrowing
Works with: Kontakt 5.5.2 – Full version required. Kontakt Player will run in demo mode.
Piano library for Kontakt featuring an upright with thumb-tacks on the hammers.
With a more percussive sound, it's often used to evoke the feeling of a honky-tonk, associated with ragtime pieces in old Hollywood Western movies.
Fully mixable 3-channel perspectives, 8 velocity layers, and 6 round robin.
System Requirements:
7) Native Instrument – Alicia's Keys ($99.00)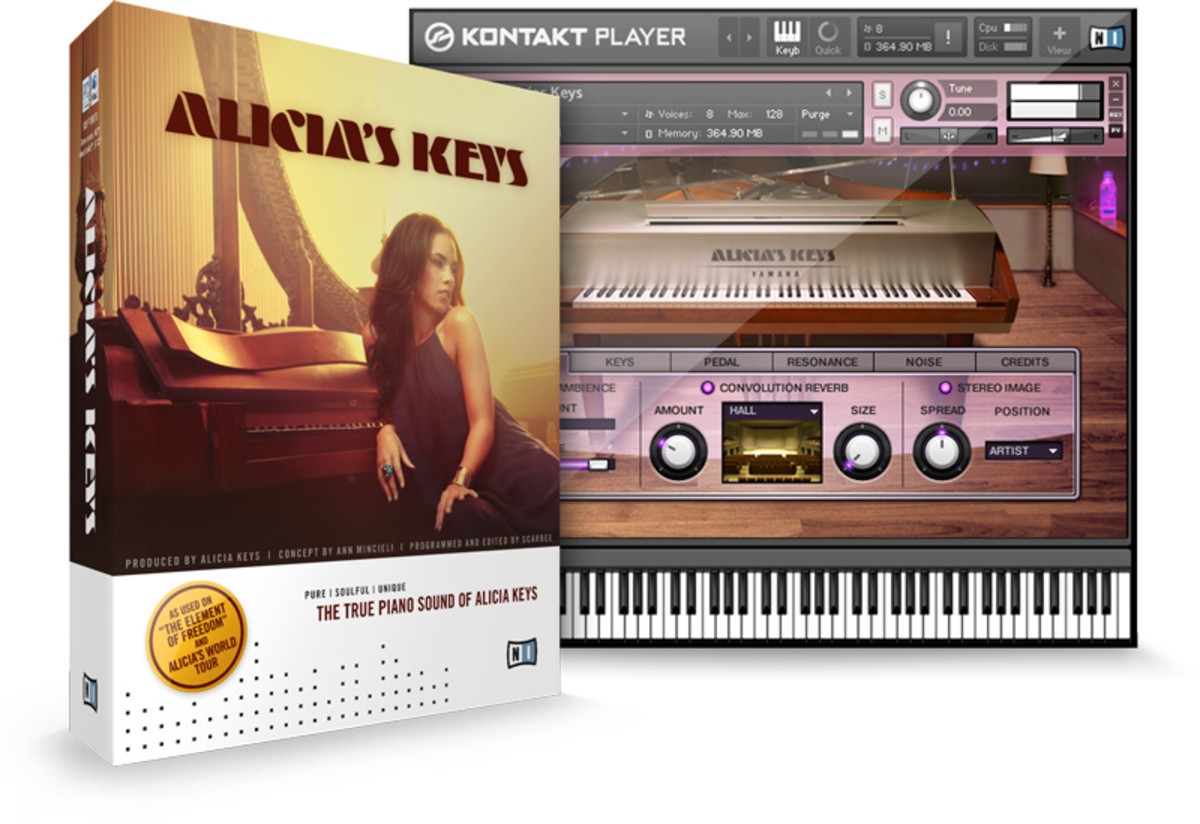 The legendary superstar "Alicia Keys" in collaboration with Sample expert "Thomas Skarbye" (which is better known as scarbee) has both created an award-winning Virtual Piano that comes from Alicia's Keys very own Yamaha­™ C3 Neo Grand Piano.
This is a unique soulful sound that has become one of the best Kontakt Library instruments in the world. Alicia Keys was sampled from her playing, recorded, and supervised by her trusted engineer, "Ann Mincieli", in her very own music studio.
Features:
Alicia's Keys Library works with Kontakt Player 5 and higher, as well as Kontakt Full version 5 and higher.
Product Type: Komplete Instrument
6.9GB (Over 3, 000 individual samples)
17GB of uncompressed WAV Audio
12 Velocity Layer
8) Scarbee – A-200
($69.00)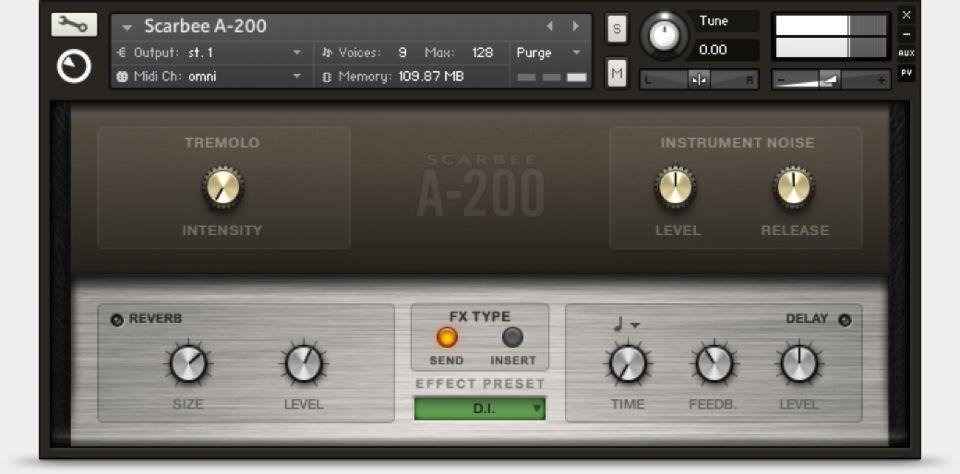 A-200 is a Kontakt instrument by Thoma Skarbye that delivers an unrivaled natural reproduction of one of the most sought-after electric pianos in the world.
Over 2, 000 samples were recorded in 24-bit resolution with each of the 64 keys sampled at 16different velocities, giving the user ultra-sonic edge content production samples and also great capabilities.
Are you aware Thomas Skarbye of Scarbee was involved in the production of Alicia's Keys Kontakt Library? Then you should expect a great package in this library as well.
Features:
Wide dynamic range with 16 velocities per key
An authentic character with all idiosyncrasies
Horizontal Release Technology for realistic sound
Over 2, 000 samples
850 GB installed
1 nki Kontakt instrument presets
Download Manual Included
System Requirements:
Windows 7 or higher (latest Service Pack, 32/64 Bit), Intel Core Duo or AMD AthlonTM 64 X2, 4 GB RAM (6 GB RAM recommended)
Mac: OS X 10.9 or higher, Intel Core 2 Duo, 4 GB RAM
Requires KONTAKT 5 or KONTAKT 5 PLAYER version 5.5 or later
Price: €69.00
9) Session Key ElectricW ($79.00)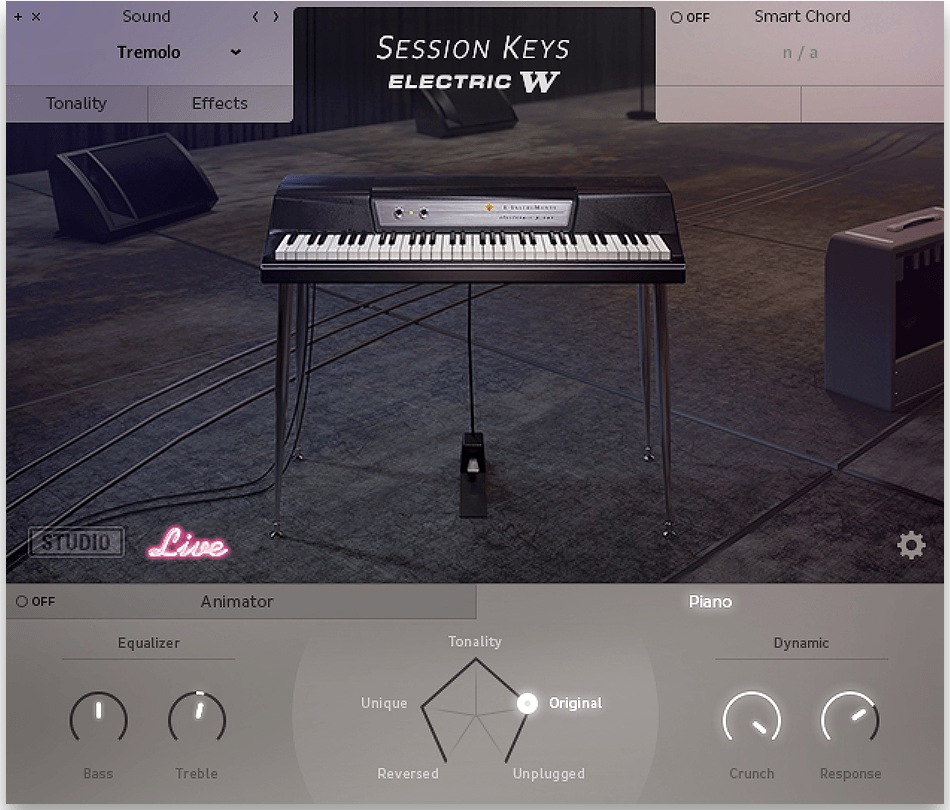 Session Key ElectricW is inspired by the 1974 electronic piano, and features two different sample sets, "Studio" and "Live" Sample sets, giving users possibilities to expand their sonic possibilities to a greater height.
Studio – An unaltered line-out-sound
Live – Captures the sample sounds of the speaker through a complete microphone set-up.
One of the features I find interesting in this Kontakt Instrument Library is the smart chord features, with these features you would be able to create full ensemble chords using one or two fingers.
Also, you will find over 440 ready-to-play riffling in Session Key ElectricW, from RnB to Pop professional playing, and many more genres and styles as the engine of the Animator.
Features:
Session Key ElectricW Works with Kontakt Player 5.7.3 and higher, as well as Kontakt Full version 5.7.3 and higher.
9 GB / 4.5 GB installed
24-bit, 44.1 kHz Stereo Lossless
1974 electronic piano
Two separate sound banks: Studio and Live
Pentamorph sound control to transform the overall sound with a single knob
Animator with over 440 flexible phrases
Smart Chord function to create instant piano chords from single keys or pads
Effects chain with Tremolo/AutoPan, Chorus, Phaser, Amp Simulator, Compressor, Delay, and Convolution Reverb
9 GB / 4.5 GB (lossless sample compression)
24-bit, 44.1 kHz
System Requirements:
Kontakt 5 Player or Kontakt 5 (Version 5.8.1 or higher)
Windows 7 or higher required for PC (latest Service Pack, 32/64-Bit) Intel Core 2 Duo or AMD Athlon 64 X2, 4 GB RAM
OSX 10.9 or higher required for Mac (latest update) Intel Core 2 Duo, 4 GB RAM
Minimum of 4 GB RAM
Piano Kontakt Library (Free)
10) Ivyaudio – Piano in 162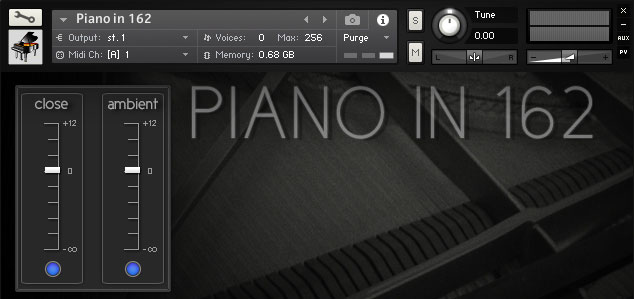 This is a sample library of a Steinway Model B grand piano, which is available in Kontakt, Korg Kronos, and FZ formats.
This sample library requires a full version of Kontakt to run, and not for the Kontakt player, if a user is looking for a completely free option, download the SFZ version and load it into a free sample like Plogue sforzando.
Features:
A simple and easy to use User Interface
Recorded at 96Khz through two pairs of Rode NT5 cardioid microphones
A realistic, sympathetic resonance, two round robins, five dynamic level,s and a separate pedal on and off
Note: To download without paying a fee, you would have to use a BitTorrent client or just donate any fee to download directly.
Download Ivyaudio [Piano in 162]
11) Cinesamples – Jerry's Pianos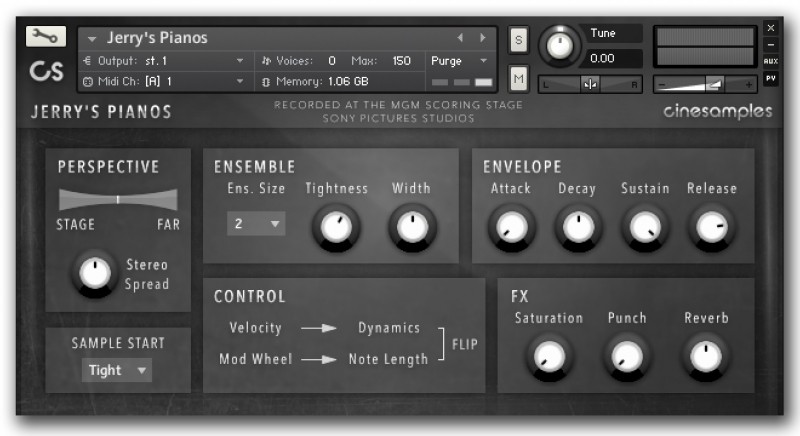 This Library is sampled from dual Steinway Grand Pianos and recorded simultaneously at the Sony Scoring Stage.
Also, in the creation of this stunning sample Library, the sustain and staccatos were sampled to enrich your sounds and also add unique character and detail to low-end passages.
System Requirements:
Kontakt Full v5.3.1 or higher required
Compatible with all major DAWs and with music notation software, using the Kontakt Engine.
PC: Vista® / Windows 7® (32/64 Bit), Intel®Core Duo 2GHZ or AMD Athlon 64, 4 GB RAM
Mac: OS X 10.7 or higher, Intel® Core Duo 2 GHz, 4 GB RAM
1.2 GB required hard drive space
1.2GB of free RAM available
Note: Download requires a free registration
Download Cinesamples [Jerry's Pianos]
12) PrecisionSound – Amore Grand Piano

This Library is sampled from Yamaha grand piano, close-miked in stereo, and has a total size of 200MB.
Amore Grand Piano has a three-intuitive page GUI and is easy to understand with controls for decay, EQ, IR reverb, Delay, and Keyboard response.
This Kontakt Library contains:
One program for NI Kontakt 3+
The total size of the library compressed is 95 MB.
Requirements:
Kontakt full version 3+ or higher and not Kontakt Player
Note: No registration is required to download this file
Download PrecisionSound [Amore Grand Piano]
13) Versilstudios – Upright No. 1

Upright 1 is a VST/AU, and also a.NKI for the Kontakt library, it is a clean sampling of an upright piano with a broad dynamic range and a bright, clear tone.
This library has been the best I have ever seen free of charge, well done to the guys at VersilStudios.net.
Requirements:
At least 2 GB of RAM suggested
Minimum of 465 MB of HD space (Windows)
Minimum of 344 MB of HD space (Mac)
VSTi or Audio Units supported
.NKI format
Note: No registration is required to download this file
Download Versilstudios [Upright No. 1]