I recently wrote a guide on the best chorus VST plugin and I said, a chorus occurs when similar sounds with approximately the same time and very similar pitches are perceived as one. A flanger effect is similar to a chorus effect, unlike a chorus effect where two signals are mixed at the same time, a flanger occurs by mixing two identical signals, where one signal is delayed by a small and gradually changing period, usually lesser than 25 milliseconds.
So, a flanger is also among the family of modulation effect, this is because it adds a time-delayed version of the sound to itself, and then vary the size of that delay over time. With this effect, you can create a beautiful and dramatic sound in your mix.
Enough of the gist, in this guide, I'll recommend the best flanger effect plugins you can use to enhance your music production creativity.
First on the list...
1.) Instant Flanger Mk II

Instant Flanger Mk II is a flanger plugin by Eventide, it is an emulation of the instant Flanger used on David Bowie's "Ashes to Ashes" and Cyndi Lauper's "Time After Time." With this flanger, you can create a pristine sound of a vintage tape flanging, stereo sweetening, subtle modulation, double-tracking and many more.
Additionally, it has dual outputs that create three different sonic images (shadow, deep and wide), so, with this option, you can create something interesting for example, Combining "Wide" Mode with the "Low Cut" control is an easy way to place multiple harmonies behind the lead. Fine-tune the resonance of your flanging effect by using the "Depth" and "Feedback" controls.
Lastly, it emulates the behavior of a tape machine, where it uses servo motors to run at a constant speed, and when someone behind the gear (engineer) pressed a thumb on the flange and then suddenly let's go, the motor servo bounces, this is like pushing down a spring, and when you quickly release your hand, you'll notice how it bounces, this is just a rough analogy of how it works. With Instant Flanger Mk II you can use its innovative "Bounce" control knob to add similar features, which in turn gives a real-world groove to your mix.
Key Features:
Depth controls the intensity of the effect. 100% adds the delayed signal to the dry signal. -100 % subtracts the dry signal from the delayed signal
Three distinct flavors of flanging. Set the Mode switch for Shallow, Deep or Wide
Manual control allows you to control the 'comb' effect by turning the Big Knob
The oscillator drives the flanging at a user-defined rate
The envelope Follower drives the flanging based on the signal's amplitude
Remote maps the flanging control to a mod wheel for tactile manipulation
Bounce mimics the distinctive effect of the tape machine's capstan motor "hunting" for its proper speed when the engineer's thumb was lifted from the tape reel flange
"Side Chain" allows for triggering the Envelope Follower from any source in the mix for inter-track mingling
Exercise total control of the Oscillator with Sync and Retrig
Tame the intensity by removing low frequencies from the flanged signal with the Low Cut control
System Requirements:
Windows 7+ (32/64-bit) or macOS 10.7+ (64-bit only)
Formats for win: AAX 32/64-bit or VST2 32/64-bit
Formats for mac: AAX 64-bit or AU 64-bit, or VST2 64-bit
2.) Antresol

Antresol by D16 group brings the classic stompbox back to life, whether you are a guitarist, instrumentalist, or music producer, you'll find the Antresol useful in your music toolbox, as it pays careful attention to sonic detail to how it mimics the flanger effect of the classic stompbox of the mid-70s era.
The Antresol flanger also offers users absolute freedom of control over every aspect of the BBD-based delay line (including such nuances as calibration of the linearity of the clocking system or the number of analog memory cells constituting the backbone of the BBD).
On top of that, users also have the option to tweak a plethora of parameters such as on-PCB trimpots which would normally be inaccessible without taking the stompbox apart. the ability to delink the stereo channels and control the most important parameters independently for left and right (or mid/side, depending on selected mode), and more.
Key Features:
True emulation of BBD-based analog delay line
Optional independent parameter control for each stereo channel
Selectable L/R or M/S stereo processing modes
Mistress mode allows the whole unit to work the same as the classic flanger
LFO can be synchronized with your host application
3 different LFO-to-BBD clock curves
Ultra-low-aliasing output
A highly musical and pleasant sound
Tag-based browser
Two alternative GUI sizes
MIDI-learn functionality throughout
64bit internal processing
System Requirements:
Win 7 + or macOS version 10.7 and later
CPU 2.0 GHz with SSE (Multicore system 2.3 GHz recommended)
RAM 4 GB (8 GB Recommended)
Software AU / VST / AAX compatible host application (32bit or 64bit)
3.) Flow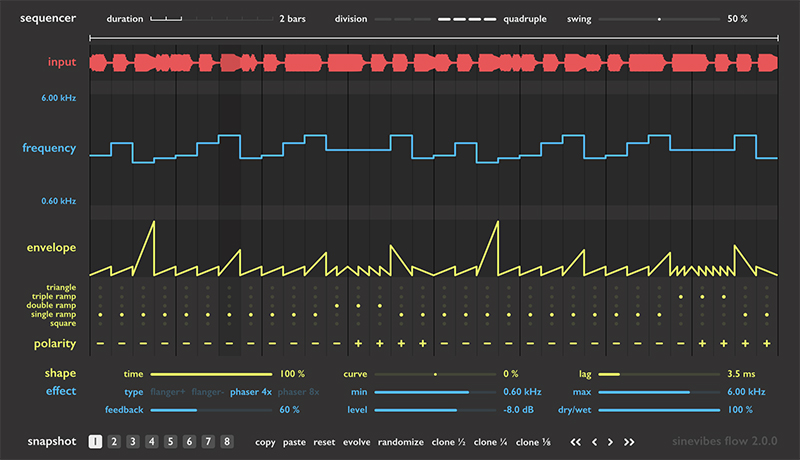 Before you proceed with reading the review of the Flow Flanger plugin, I want you to note that this is only compatible with mac, and won't work on PC computers!
Unlike your traditional flanger effect, Flow can be used for creating an animated flanger and it has a powerful tempo-synchronized sequencer that allows setting different effect frequencies, envelope shapes, and modulation depth per each of its 32 steps.
One thing I love about the Flow plugin is the way the editing tools is programmed, you can create a stepped pattern, complex riffs, random glitches, bubbles, and a plethora of other function.
Another useful feature of the Flow flanger is that it displays a live sound waveform and aligns its sequencer graphics with it, this way, you see what you are doing right off the bat. Since every element in its user interface is color-coded and features subtle animations, it makes your workflow unusually easy and enjoyable. Just don't forget the fact that it only works on macOS.
Key Features:
Sequencer with up to 32 steps, variable duration, division, and swing ratio
Four flanger and phaser algorithms with ultra-wide frequency range (20 Hz to 10 kHz)
Envelope matrix offering 10 envelope shapes; adjustable time, curve, and lag
Eight parameter snapshots in each preset for real-time switching or automation
Host transport synchronization with support for tempo and time signature changes
Color-coded control elements with animated transitions between settings
Multiple utility functions for randomizing, cloning, and time-shifting sequences
Fully hardware-accelerated rendering with support for Retina screen resolution
Added support for mono-to-stereo channel configuration
Waveform analysis is only performed when the user interface is open
and many more
System Requirements:
Supports OS X 10.6 or later, running on 32 or 64-bit Intel Macs
Works with any application that supports Audio Unit (AU) effect plugins
4.) Flanger Snapin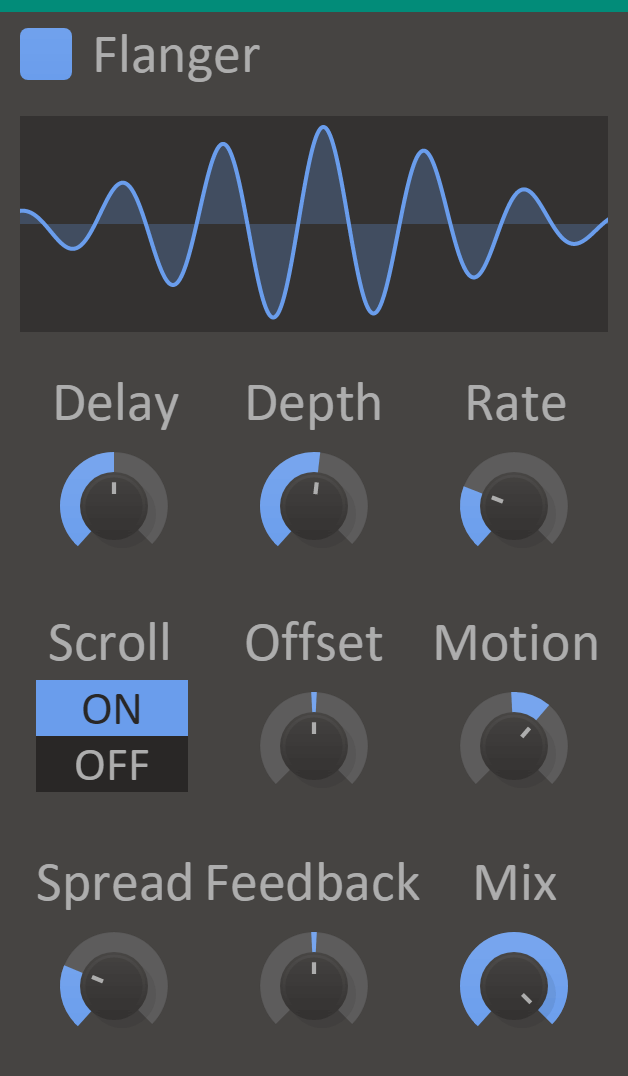 Most of my plugin reviews mostly have the kiloHearts plugins, I review them, because they are really good, and super simple at the same time. With their Flanger Snapin plugin, you can create a dramatically cyclic motion in your sound, think of it as a sweeping comb filter.
If you want to be in control of how the flanger effects work, you can adjust the length of the delay manually, and you can also control the modulation. Optionally, this effect can also add a phase shift between the dry and wet signals to create an infinite barber pole-style flanging effect upwards or downwards.
If you want something really simple, and a plugin that would work without having to tweak numerous parameters, then I would highly recommend Flanger Snapin by kiloHearts.
One powerful thing about this kiloHearts is that you can either use it as a regular VST/AU plugin, or you can use it with kiloHearts snapin hosts Multipass and Snap Heap where you can combine effects in amazing ways. This is like having effects in racks, you get the idea.
Key Features:
Delay: Adjusts the minimum delay.
Depth: Depth of delay modulation. Added on top of the minimum delay set by the delay knob.
Rate: Rate of delay modulation.
Scroll: Enables the phase offset and motion functions of the effect.
Offset: Phase offset between dry and wet signals.
Motion: Rate of modulation for the phase offset.
Spread: The stereo spread between the left and right channels. Affects delay modulation and phase offset.
Feedback: Feedback of the wet signal back into the delay line.
Mix: The dry/wet mix of this effect. A lower value will let some of the unmodified signals through.
Settings panel: Whenever you have your mouse cursor over a snapin there is a small arrow at the top right corner, It opens a settings panel where you handle presets. It also has a "randomize" button that can be useful.
Enabled checkbox: The small checkbox to the left of the plugin name is a checkbox that bypasses the effect when disabled.
Resize handle: The bottom right corner of all Kilohearts plugins is a resize handle for scaling the UI to any size.
System Requirements:
CPU: 2 GHz or faster
Memory: 1 GB or more
Operating System: Windows (7 or newer) or Mac OS X (10.7 or newer)
A VST / Audio Unit / AAX compatible DAW
Supported formats: AAX / AU / VST2 / Snapin
5.) Eternal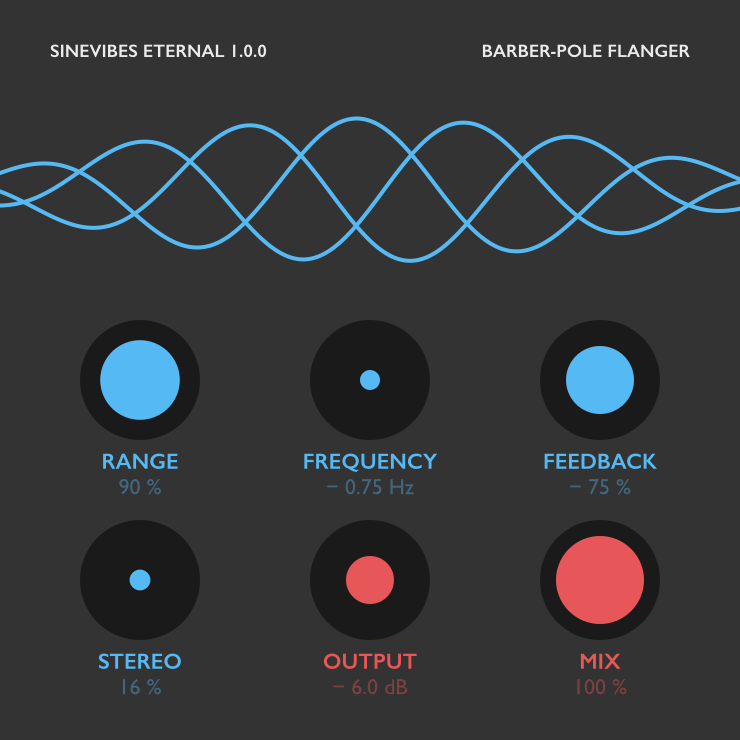 Just like the Flanger snapin by Kilohearts, the Eternal is also a very simple one that doesn't include tons of parameters, just tweak a few knobs, and you are set with a nice groovy flanger effect.
Unfortuately, it is only compatible with mac, and won't work on PC computers!
I have no idea why most of SineVibes plugins (at least the one I have tested) are only compatible with Mac computers, but anyway, onto its features...
It incorporates a barber-pole flanger effect, so, the way it works, is that it goes upward or downwards in a seemingly endless fashion, which is different from a traditional flanger which abruptly has its tone repeatedly go up and down. Sinevibes achieve this effect by using an array of three stereo flangers and six bespoke, thoroughly calibrated low-frequency oscillators.
With two distinct flanger tones thanks to positive or negative feedback, this plugin puts a whole arsenal of unique airy, bubbly, and even psychedelic effects in your hands, enjoy and make a great tune with this one, just note that it only works on mac.
Key Features:
Three stereo flangers with negative or positive feedback.
Six through-zero oscillators for creating endless upwards or downwards "barber-pole" motion.
The stereo modulation phase shift for variable stereo field widening.
Color-coded controls with lightly animated transitions.
Fully hardware-accelerated rendering with support for Retina screen resolution.
System Requirements:
Supports OS X 10.6 or later, running on 32 or 64-bit Intel Macs
Works with any application that supports Audio Unit (AU) effect plugins
Supports Retina screen resolution
6.) Space Invader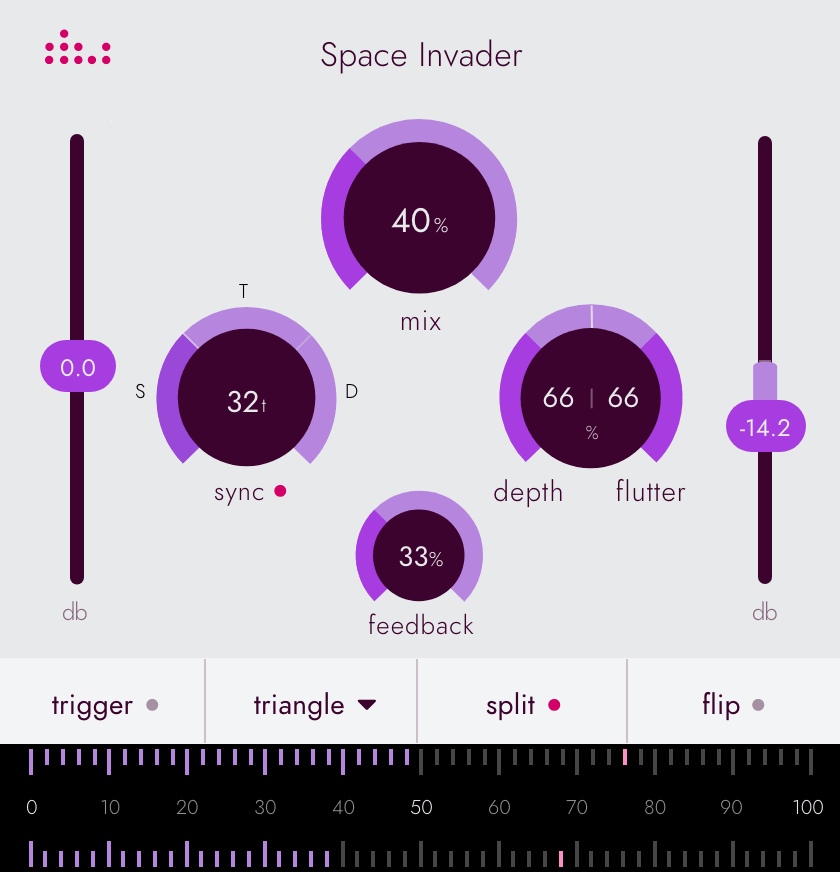 Unlike Eternal which works only with macOS, Space Invader is compatible with both Windows and Mac computers.
With Space Invader, you can create a rhythmical host synced flanger effects or precisely times riser that spans multiple bars. My favorite feature of this plugin is the fact that you can set the flanging speed from 1/32-bar to 32 bars, including strange, triplet, and dotted feel. Note that this would only work when in sync mode.
What if you are not in sync mode?
Well, you can see the flanging speed in hertz and use the trigger button to reset the flanger's internal LFO, allowing you to control the flanger's start point using automation. On top of that, you can choose between three different LFO shapes, and have the option to introduce flutter and 90 degrees LFO offset for a wide stereo effect. If you are looking for something simple and at the same time complex, Space Invader by denise gives you full control of how you can control the flanging effect, and other useful nuggets to accompany you into creating something great.
According to denise, these are some use cases of using the flanger plugin:
1. "You are trying to use a flanger on a guitar or synth part, but there is no way to get the flanging effect to rhythmically lock with your track". Regular flanger plugins don't give you any options to sync the flanging effect to your tracks. The denise Space Invader let's you sync the flanging effect to the host tempo and bar position, allowing you to create rhythmical flanging effects that lock to your track.

2. "You want to use a slow evolving flanger to spice up a built-up section that spans multiple bars, but you can't get the flanging effect's timing right". Regular flanger plugins just start randomly, and don't give you control over the lfo phase. The denise Space Invader lets you sync the flanging effect to the host for fixed BPM productions - spanning multiple bars - but also let's you reset the flanger's lfo phase, allowing you to start the flanging effect at any point in time.

3. "You like the sound of a flanger, but find the effect too linear and repetitive to use in your mix". Most flangers create very predictable movement, and can get boring quite fast. The denise Space Invader lets you re-trigger the lfo start-phase, allowing you to create any flanging rhythm you like using automation. Combined with the additional flip, split and flutter functions, this gives you unlimited options to create fresh and exciting flanging effects.
Key Features:
Control the groove: create tempo-synced flanging effects that rhythmically lock to your track.
Extremely easy to create precisely timed risers and built-ups that span multiple bars.
Re-trigger the effect to create any flanging rhythm you like even on off-the-grid recordings.
Introduce analog flutter and a 90 degrees phase offset for a wide stereo effect that throws you back to the '60s
System Requirements:
OSX: VST, VST3, AU, AAX
Windows: VST, VST3, AAX
7.) EFEKTOR FL3606 Flanger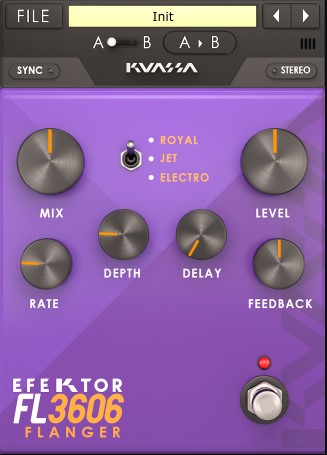 The last flanger plugin on our list is the EFEKTOR FL3606 Flanger by Kuassa, it creates a swooshing sound dubbed as the 'jet engine' effect, which includes:
Royal Flanger: The "Vintage" Flanging Effect.
Jet Flanger: Supersonic Jet Howl or Cool Spacey Stereo Image.
Electro Flanger: Darker, Swirly, Chorus, and Trippy Sound.
Key Features:
Three Models of Modulation in Every Unit.
A/B Compare Buttons.
BPM Sync.
Mono or Stereo Mode.
System Requirements:
Windows: XP, Vista, 7, or Later (32/64-bit)
Mac OS X: Mac OS 10.5 or later (32/64-bit)
VST, VST3, Audio Units, or AAX-compatible Host Software