In this guide, I'll walk you through some of the best VST plugins you'll ever need to harness your music production game, plus a bit of quick advice before getting a synthesizer, and lastly, I would play a couple of demos for a few of 'em, but first...
What is Virtual Synthesizer?
A virtual synthesizer is a software or a Digital Audio Workstation (DAW) plug-in that generates digital audio, they are mostly used for music production but you can also use them for sound design, and or creating all sorts of synthesis.
The good thing about a synthesizer is the fact that it comes bundled with a hell load of presets, and if you can't find the one you like, you can easily tweak a pre-existing preset or create one yourself using the built-in generators.
That said, before you jump into the bandwagon of buying a synthesizer, here is my advice to newbies (skip if you are a seasoned producer):
If you are a novice, start with the in-built synthesizer that comes bundled with your DAW application, it is tempting to quickly jump into the trending virtual synth in the market, but trust me, you can buy a thousand-dollar synth, and still sound way worse, in-built synthesizers are actually a good place to start your music production journey, and once you are comfortable with it, you can go ahead and explore other possibilities by getting more advanced synths
There are no perfect synthesizers that would make your music or melodies sound god-like, after you've gotten a nice synthesizer (I'll recommend some below), make sure you use it to the fullest, the results don't come from the tools you are using, but the person behind the tools/gear.
The more you pay for a synthesizer, doesn't mean the better your sounds would be, don't be swayed by the norms.
Good luck with your journey, I wish you the best, so...
Here are the best virtual synthesizers I have ever come across, Yh, the one I have used myself (feel free to suggest more in the comment section below), starting with...
Lennar Digital - Sylenth 1 v3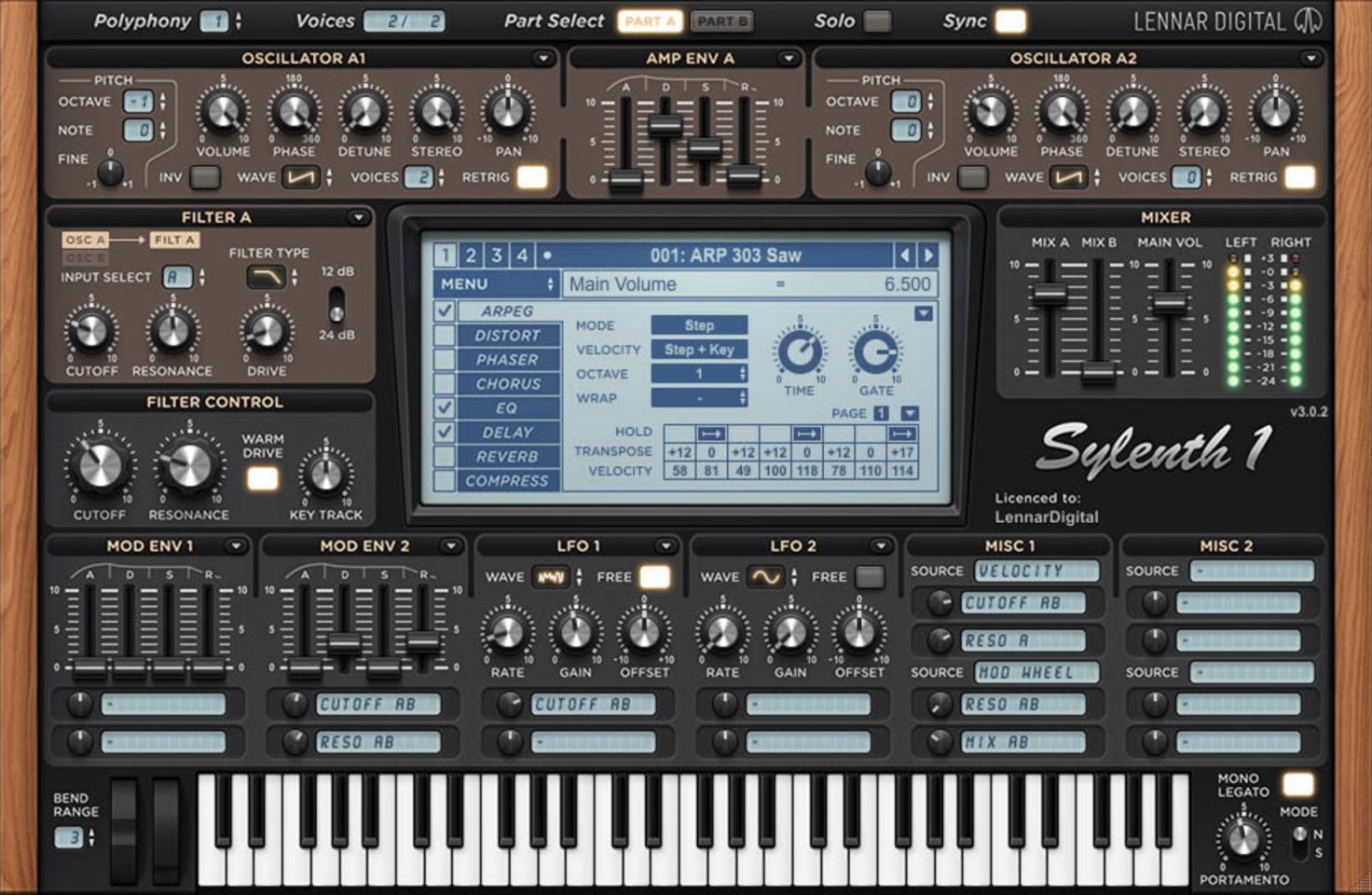 Surprise..., Surprise..., If you aren't new to the game, your expectation as to what should be the number one on this list might be different, here is the thing, Sylenth 1 is one of the easiest to use VST plugins I have ever laid my hand on, no complex interface, a robust sound engine, and even if you are new to Sylenth 1, you can get started with it almost immediately.
Most of my producer friends usually ask me what VST I use for my melodies, and harmonies in general, I tell them, it is the same Sylenth we all know, and they wonder how I came up with soothing melodies.
The thing is, it isn't about the plugin you own, it is how good you are at using the tools, pick something easy to use, master it, and you would be making a pro sound in no time.
Also, the fact that it comes bundled with thousands of high-quality pro-producer presets makes it a superb Synthesizer.
Let's dive deep into its mechanism:
Sylenth1 comprises 4 unison oscillators which is the underlying mechanism of the plugin, it generates analog-shaped waveforms. Each oscillator is capable of producing 8 unison voices in full stereo, adding up to a total of 32 voices per note.
That's not all, it also has 16 notes of polyphony, which means, you can play up to 512 voices simultaneously (be wary of your CPU though :) ).
Furthermore, it supports 2 filter sections which comprise 4 filter stages with nonlinear saturation incorporated, in order to emulate the warmth and drive of a real analog filter.
The resonance control can be turned up to a level way beyond self-oscillation and combined with the drive control this makes it possible to let the filters do all sorts of weird, but cool stuff.
One of the interesting modules I love in Sylenth 1 is the numerous modulation effects that give you the ability to carve a wide array of sounds. There are 2 ADSR envelopes and 2 LFO's which can be used to modulate a whole set of different parameters. Next to that, it is possible to use the extra 2 amplitude envelopes, velocity, keyboard track, or modulation wheel as a source for modulation.
Here are a couple of simple demos:
I wish I could play this in the context of the track, but my boss would sack me ;)
►Key Features:
4 Ultrahigh-quality bandlimited unison oscillators in full stereo, each of which can generate 8 voices per note.
2 State of the art analog-sounding 4-stage stereo filters per note. Selectable lowpass, bandpass, and highpass modes with 12dB or 24dB attenuation. A filter drive knob controls the analog emulation of overdrive in each filter stage.
16 Notes of polyphony, which adds up to a total of 512 simultaneous oscillator voices and 32 filters in real-time.
4 ADSR envelope generators per note.
2 Low-Frequency Oscillators with 11 different waveforms.
16 Modulation slots with 24 different selectable modulation parameters each.
Easy to use built-in master effects section consisting of an arpeggiator and 7 professional-quality sound effects: distortion, phaser, chorus, equalizer, delay, reverb, and compression.
Arpeggiator with built-in step sequencer, 10 different melodic modes, adjustable pitch, velocity and hold settings. Outputs Step Velocity as a modulation source.
4-Stage stereo chorus, with 2x oversampling, adjustable delay time, depth, rate, and feedback for flanging effects.
Smooth reverb with adjustable pre-delay, dampness, size, and stereo width.
Heavily optimized code using high-performance SSE processor instructions.
Easy to use user interface.
Onboard preset browser.
2 Modes of portamento sliding, which will slide both velocity and pitch parameters in polyphonic or monophonic mode.
Whooping 2500+ presets.
►System Requirements:
Any CPU that supports SSE (Intel Pentium III and above, AMD XP and above, all Intel Macs but no PPC)
128MB RAM
Windows 2000/XP/Vista/7/8/10 (32/64bit) or
Mac OS X 10.7 or higher
VSTi, AU, or AAX-compatible host software
Reveal Sound - Spire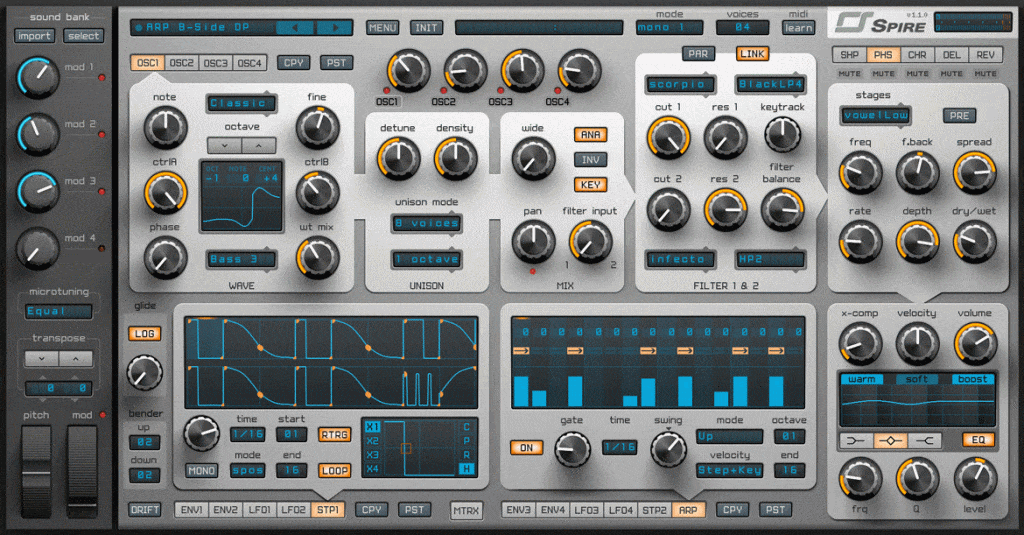 If I am finding it difficult to come up with a patch or I am finding a certain kind of sound I couldn't figure out in Sylenth 1, then the best Synth that works most of the time for me is Spire, and the reason it does work is the fact that it comes bundled with a vast number of high-quality diverse presets.
Spire is sleeker than Sylenth 1 in terms of GUI, and it has some super fantastic modules, let's see how it works behind the scene:
Reveal Sound "Spire" is a polyphonic virtual synthesizer that combines powerful sound engine modulation and flexible architecture, and a graphical interface provides unparalleled usability.
It features a mind-blowing oscillator, that comprises 4x multimode polymorphing oscillators, plus a Classic, Noise, FM, AMSync, and SawPWM Oscillator type.
Also, it has 9x unison voices on each oscillator, a spread of unison voices by chords & octaves, plus the capability of imitating different types of unisons like supersaw and hyper saw.
Here is a simple demo using a preset from the factory bank:
Video Overview
In a nutshell, here are some of its key features:
Over 800 factory presets including complex arpeggios and bass sequences,
a versatile assortment of leads, exhilarating pads, plucks, drums and FXs
2x Steppers, Arpeggiator
4x Macro's, 4x Envelopes, 4x LFOs with morphing shapes,
15x Matrix slots each equipped with 2x sources and 4x targets
FX Processor (Shaper/Decimator, PhaserVowel, Chorus/Flanger, Delay, and Reverb)
2x multimode filters with analogue and digital types of filtering
Perfecto, Infecto, Acido, Scorpio, Combo
and many more.
►System Requirements:
MAC (32/64-Bit)
OS X 10.8 or higher required
Modern powerful CPUs required
Audio Units (AU)
PC (32/64-Bit)
Windows 7/8 or 10 required
Modern powerful CPUs required
VST
AAX
Xfer Records - Serum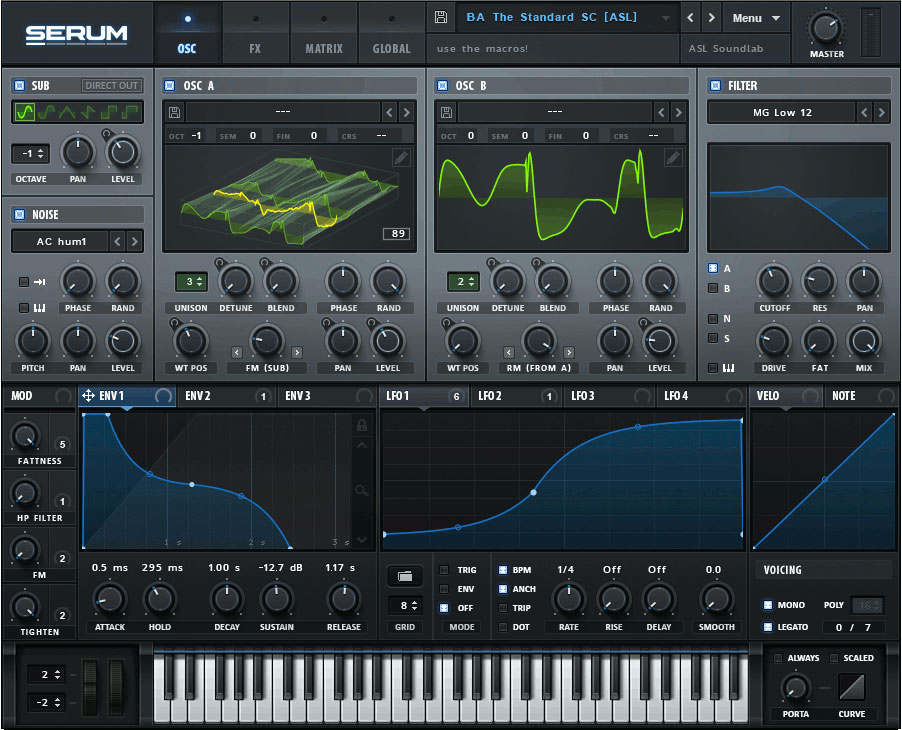 The serum is a beast synthesizer that is not only extremely powerful but also offers endless possibilities when designing sounds. It is a wavetable synthesizer with high-quality sound, you can create your own wavetable, import, edit and even manipulate these on playback in real time.
The good thing about the Serum wavetable is that it has a variety of methods and options for analyzing audio for breaking it apart into individual waveforms, for example, you can import just single-cycle wavetables, if you choose to import multiple at once, you can also do that, it doesn't end there, it also gives the ability to sort or manually re-order it.
The modulation system allows for drag-and-drop connections between mod sources and destinations. Want an LFO controlling a filter cutoff? Simply drag the LFO title to the cutoff knob. This LFO->Filter connection will now appear in the Mod Matrix as well. In other words, you have two views/approaches for creating and modifying your modulations: sometimes a list is nice, and other times you just want the job done fast and easily.
Additionally, you get all of the filter types found in an LFOTool plus some additions, e.g. Flangers, Phasers, and Comb filters all of which can key-track to the musical note you play. Dual filter types let you control or morph between filter types.
What I like about Serum is the ability to stack a single oscillator to use up to 16 voices. Each of the wavetable oscillators has a number of unison advanced parameters. Stack settings allow for note (e.g. octave) layering to get a fuller sound for a single note press.
I'll be honest with you, Serum can be quite difficult to get started with, but you can use the built-in presets as an aid, if you are just getting started with synthesizers, I'll recommend going with either Spire or Sylenth first, as those are easy to use.
Video Overview
►Key Features:
Serum comes with over 450 presets, 144 wavetables
Available in AAX, AU (Mac only), and VST formats (32 and 64-bit)
►System Requirements:
OS X 10.8 or later
Windows 7 SP1 or later
CPU with SSE2
AAX
Audio Units (AU)
VST 2.4
KV331 Audio - SynthMaster Player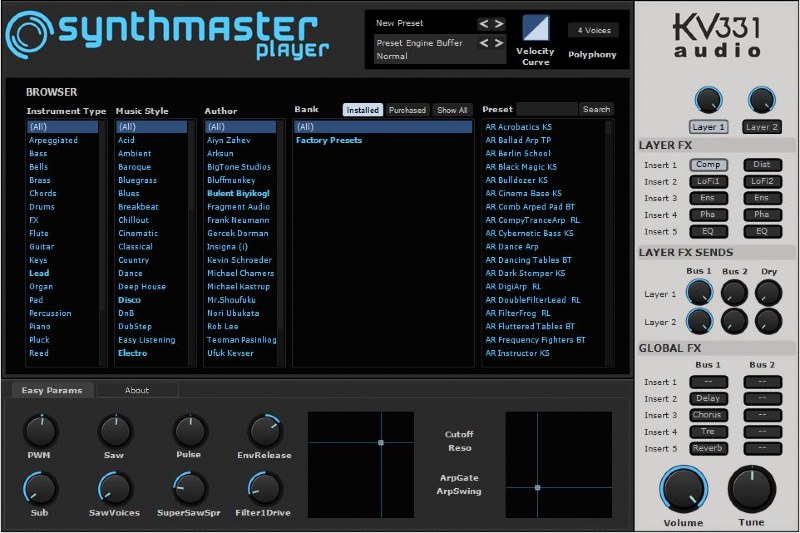 SynthMaster Player is a minimal edition of the SynthMaster with limited editing capabilities, so, if you are a type of user that interested in using presets rather than designing your own sounds, then this is the best synth for you, it comes loaded with 1750 factory presets.
Honestly, I prefer to dig into libraries of preset rather than designing my own sound, I just love to work faster without wasting time on unneeded stuff, so, I'll recommend this for you if all you want to do is work swiftly, of course, you can still edit the 12 easy parameters or the bypass states of layer/global effects assigned for each preset by the sound designer.
Video Overview
►Key Features:
Cross-platform VST, AU, and AAX: SynthMaster Player runs as a VST, AAX instrument on both Windows and Mac OSX, and as an Audio Unit instrument on Mac OSX.
A whooping 1750​ Factory Presets
Easy Parameters: Each preset in SynthMaster Player has 8 easy knobs and 2 XY pads assigned by the sound designer. Users can edit these parameters to modify the preset's timbre.
Microtuning: SynthMaster Player supports Scala tuning, so tuning can be set either for each preset or globally by loading from a Scala tuning file.
Preset Browser: SynthMaster Player features a comprehensive preset browser with separate search criteria for instrument type, preset attributes, music style, or preset author.
Multiple Skins: SynthMaster Player comes with 2 different skins in different color variations. Using the user interface editor (included in SynthMaster/SynthMaster DEMO), users can not only customize the existing skins but also can create their own custom interfaces as well.
►System Requirements:
Windows 7 and above
Mac OS X 10.9 and above
It runs as a VST, AAX instrument on both Windows and Mac OSX, and as an Audio Unit instrument on Mac OSX.
VST
2 GB RAM
2.0 GHz, Intel SSE3 instruction set CPU
AIR Music - Vacuum Pro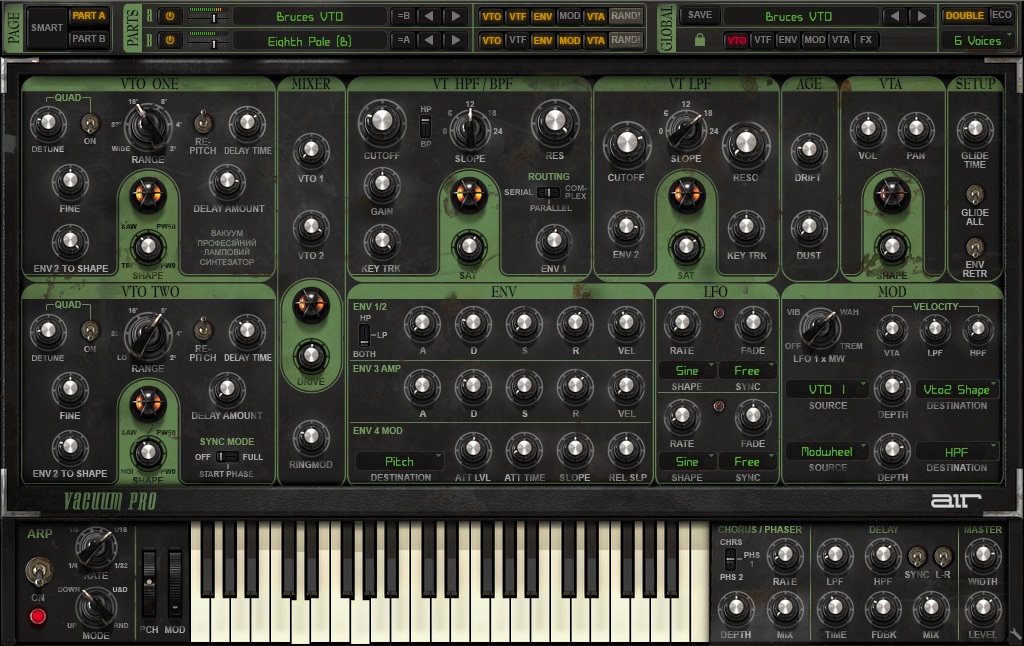 Vacuum Pro is a polyphonic analog synthesizer with vacuum tube circuit modeling that perfectly captures the crunchy, warm sound of the analog era. With four analog oscillators, multiple filters and envelopes, and built-in audio effects.
It lets you dive deep into subtractive synthesis to recreate those sought-after analog sounds from the 70s and 80s.
The interesting about Vacuum Pro is the fact that it is a powerful combination of two separate synthesizer parts that can be stacked, split, and layered to produce big, wide, and fat analog sounds. Each Vacuum Pro part starts with two wide-range, vacuum tube oscillators that can be synched, detuned, and set to various octave levels. Plus, Quad Detune controls per oscillator make it easy to quickly dial in lush sounds.
As if that is not enough, you can use the built-in Doubling effect to instantly widens and thickens up your patches.
Also, it comes complete with 350+ tweakable patches created by acclaimed sound designers Richard Devine and Mark Ovenden. You can load these patches separately into each Vacuum Pro part to combine and experiment with multi-timbral sounds.
Video Overview
►Key Features:
A four-oscillator polyphonic analog synthesizer with vacuum tube circuit modeling.
Super-wide, fat, and organic analog sound captures the character of classic synthesizers.
Two individual synthesizer parts for huge, stacked sounds.
350+ tweakable patches programmed by legendary sound designers.
Smart Sound Randomizer dials in settings to user-defined parameters.
8 Smart Knobs for easy programming and macro control over key parameters.
Economy mode reduces the load on the host processor with minimal impact on the sound.
64-bit plugin: VST, AU, RTAS, and AAX formats.
►System Requirements:
Mac OS X 10.8.5-10.14 (10.15 Catalina not yet supported); Core Duo Processor (Core i5 or i7 Recommended)
Windows 10, 8 or Windows 7 Service Pack 1; Minimum Dual Core 2GHz (Intel Core i5 or i7 Recommended)
VST (32-bit and 64-bit)
AU (64-bit only)
AAX (64-bit only)
RTAS (32-bit only)
Minimum RAM 4GB (8GB or more recommended)
1GB free hard drive space required (Download and Installation)
Future Audio Workshop - SubLab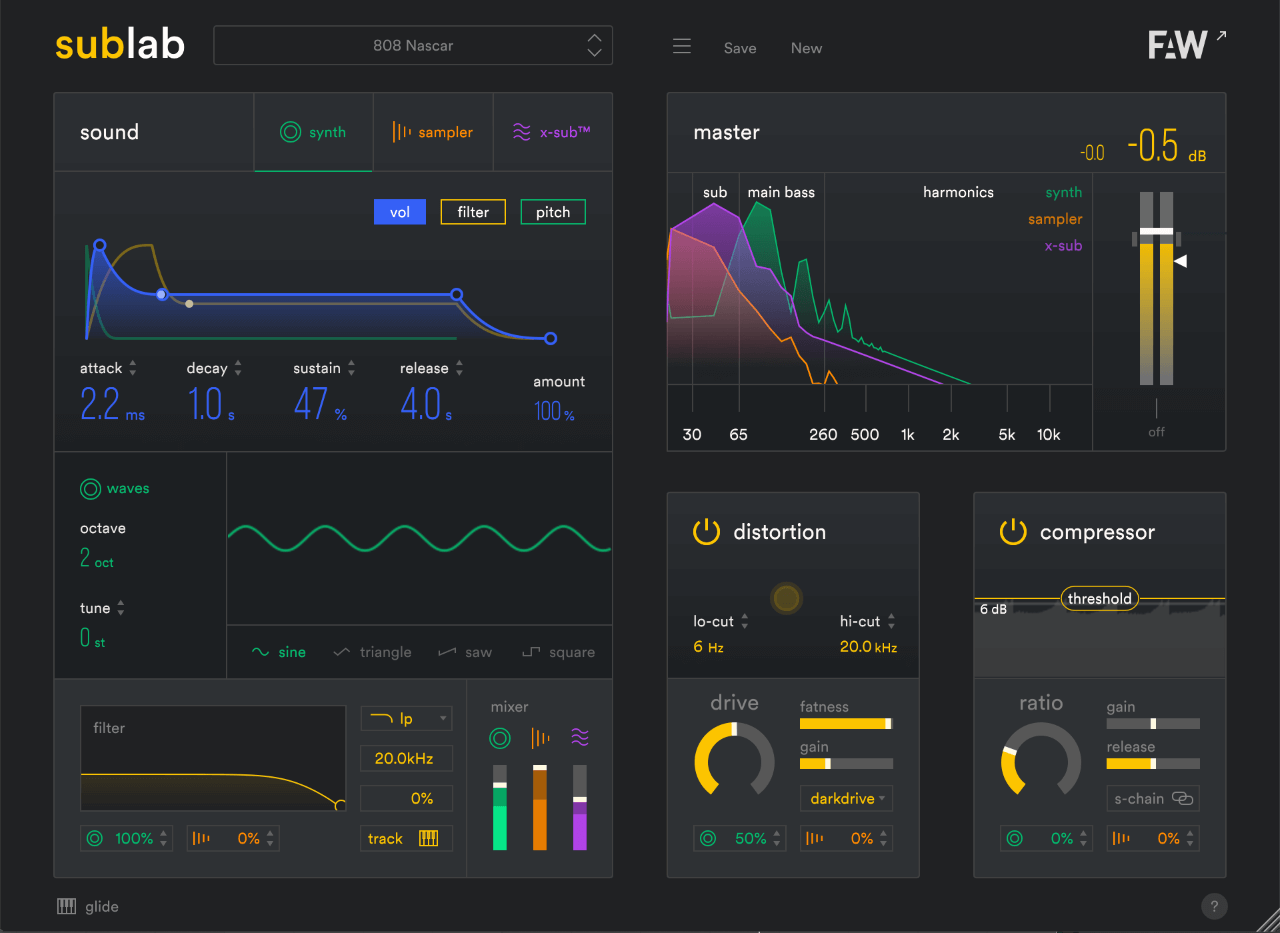 SubLab is a new-generation synthesizer designed for hip-hop, future bass, and trap genres. Create powerful 808-style sub-bass that sounds punchy on every speaker, every time.
It comes bundled with 6 signature Bass Packs and 250 kick samples meticulously recorded from classic analog drum machines and modern modular systems.
You can also drag and drop your own samples into the sampler and SubLab will automatically detect the pitch of your sample for a faster workflow. Build your own sample library and Bass Packs as you go.
►Key Features:
Analog-style synth engine with sine, triangle, sawtooth and square wave options
Access the factory library of 250 kicks and 808s, or drag and drop your own
Delayed sample start for creating delayed 808s
Internal maximizer for expanding and distorting
Loop mode so any sample can be sustained
Lo-cut and hi-cut filtering for sculpting
Analog modeled processing
Low pass, bandpass, and high pass shapes
Mix amount controls for parallel filtering
►System Requirements:
Available as VST2, VST3, AU, AAX
Tested in FL Studio, Ableton Live, Logic, Studio One, Pro Tools, and Cubase
Compatible with Mac OS 10.10 and higher
Compatible with Windows 7 and higher
AIR Music - Hybrid 3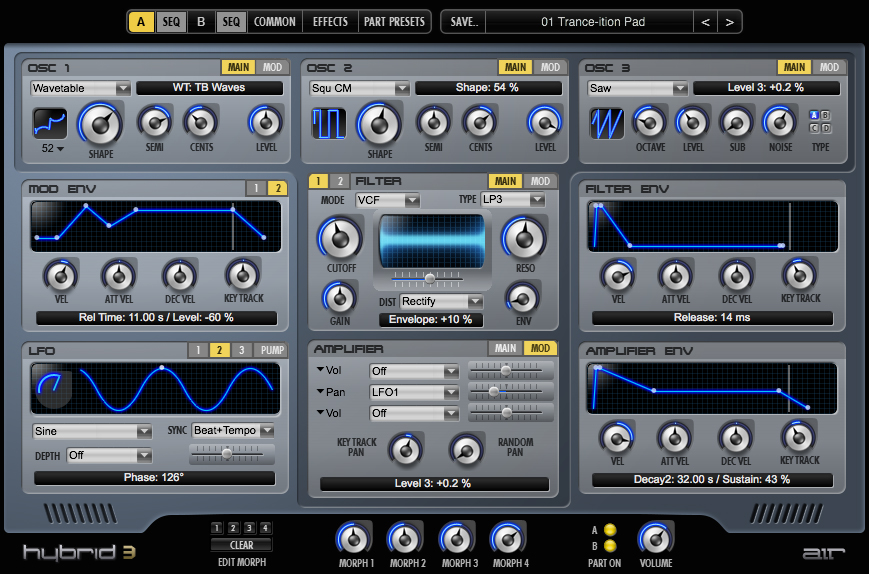 Hybrid, well, is actually a virtual Hybrid synthesizer that combines the soothing warmth of analog synths with a full range of futuristic digital manipulation capabilities.
It comes with over 1,200 inspirational presets designed to jumpstart the creative process. Over 200 new patches, designed by the acclaimed AIR sound designers, include everything from wobbles, synth pads, arpeggios, poly synths, basses, leads, sequences, and much more
With support for two simultaneous parts (i.e. a powerful combination of two separate, 3-oscillator synthesizers), you can layer, split, or spread sounds to produce deep, complex, and wide patches. Plus, the simple patch browser makes it easy to find the preset you're looking for and allows you to load two presets simultaneously, one into each part, for experimenting with rich timbres and playing multi-patch sounds.
Video Overview
►Key Features:
Six-oscillator subtractive and wavetable virtual synthesizer with 1200+ inspiring presets.
Includes 200+ all-new sounds and 1000+ refreshed patches from Hybrid 2.0.
Comprised two simultaneous parts, each loaded with 3 oscillators and a sub-oscillator, filters, LFOs, envelopes, and effects for creating complex patches.
All-new Doubling controls for quickly thickening and widening patches.
Revamped step sequencers allow you to link steps together for rhythmic variation, syncopation, and advanced modulation patterns.
All-new Oscillator Restart for punchy bass sounds, runs, and sequences.
Dual series or parallel filters with vintage Voltage Controlled Filter modes for retro synth sounds.
Flexible modulation options with 8 LFOs including Pump for the pumping-and-breathing effect.
Comprehensive editing parameters for the ultimate in sound tweakability.
Sample-accurate synthesis for super-fast envelopes and high-definition sound.
Performance-driven features, including modulation matrices and multiple-step sequencers for maximum playability.
Available in VST and AAX plugin formats for both 32- and 64-bit operating systems and in AU for 64-bit operating systems.
►System Requirements:
Mac OS X 10.8.5-10.14 (10.15 Catalina not yet supported); Core Duo Processor (Core i5 or i7 Recommended)
Windows 10, 8 or Windows 7 Service Pack 1; Minimum Dual Core 2GHz (Intel Core i5 or i7 Recommended)
VST (32-bit and 64-bit)
AU (64-bit only)
AAX (64-bit only)
RTAS (32-bit only)
Minimum RAM 4GB (8GB or more recommended)
200MB free hard drive space required (Download and Installation)
NI - Massive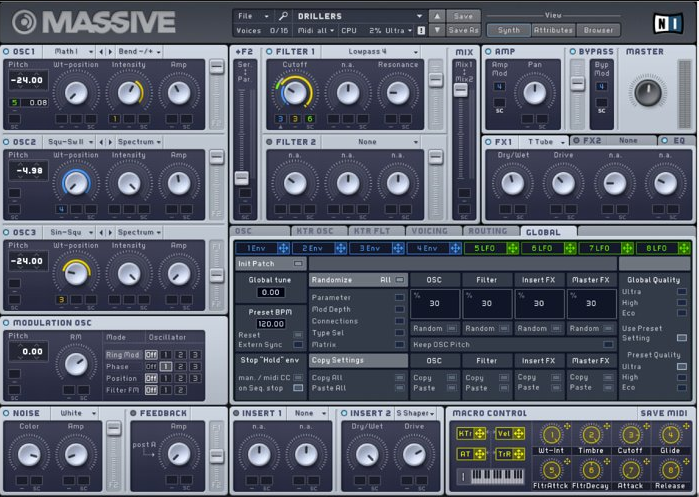 MASSIVE is a synth for basses and leads. It contains over 1300 sounds, all crafted by leading artists and sound designers. The efficient search and intuitive filter functions let you find presets according to specific characteristics and attributes – a particularly musical and intuitive approach.
Its sound synthesis is based on a unique Wave Scanning algorithm, implemented in three parallel oscillator modules. It combines the highest sonic quality with the utmost flexibility and controllability.
Also, it features an unlimited number of these "tracks" in each wavetable as well as two additional manipulation modes relevant to time and frequency settings. Of course, the "tracks" are not restricted to usual sawtooth or pulse waves.
►System Requirements:
macOS 10.12, 10.13, 10.14, or 10.15 (latest update), i5
Windows 7, Windows 8, or Windows 10 (latest Service Pack, 32/64-bit) Intel Core 2 Duo or AMD Athlon 64 X2
Mac OS X (64-bit only): Stand-alone, VST, AU, AAX
Windows (32/64-bit): Stand-alone, VST, AAX
refx - Nexus 3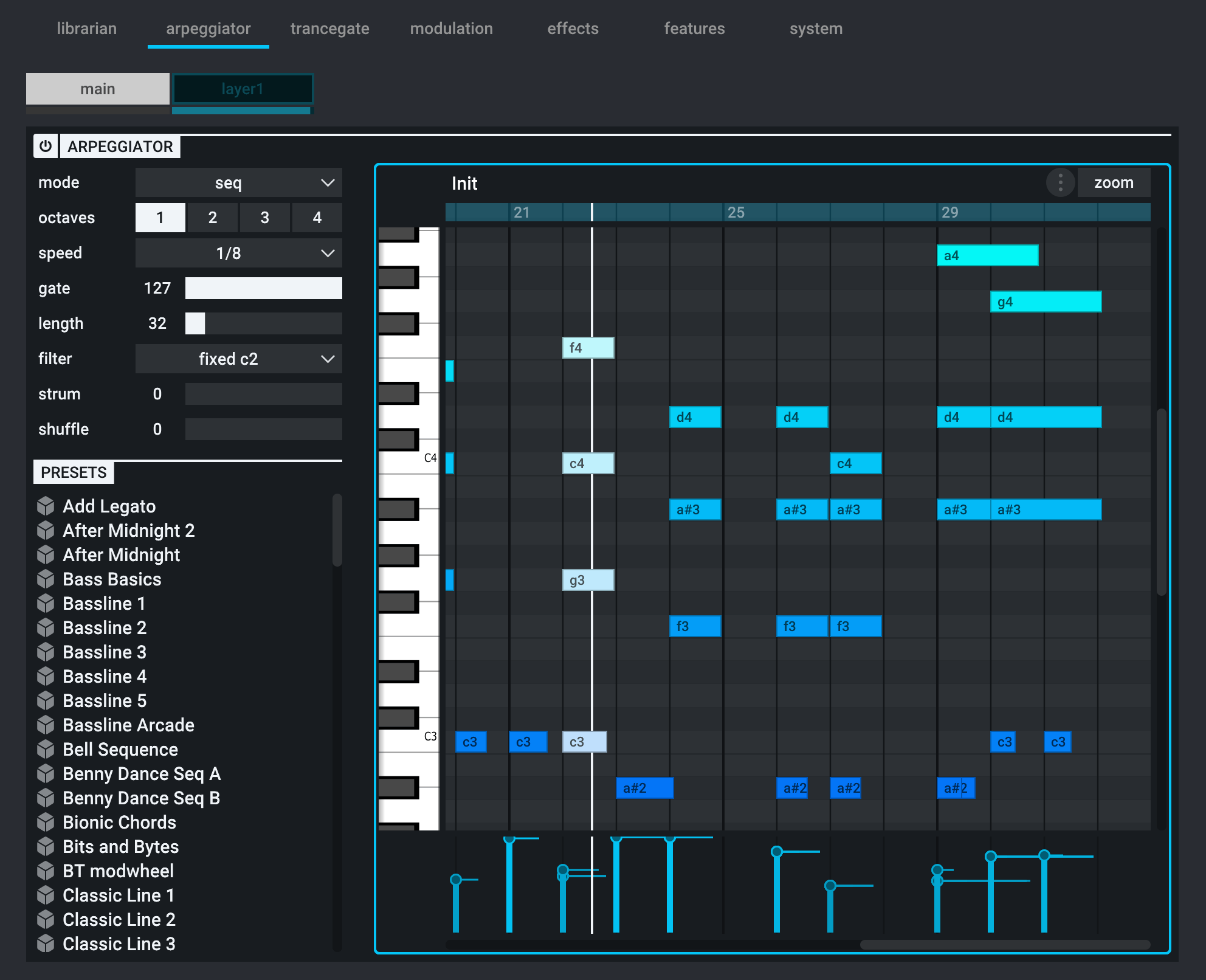 refx Nexus is one of the greatest and most widely used VSTs in the audio production scene, it is a Rom synthesizer plugin, which includes massive hundreds of samples. This is the third version of Nexus, and surprisingly it has been re-engineered from the ground up, here are what it features:
New Intuitive Library: It features three columns for easy navigation, and displays counters for folders, categories, and presets. You can also use color-coded tags, bookmarks, favorites, and a dedicated location for user presets.
Revamped Arpeggiator: You can access all sixteen-layer arpeggiators, in addition to the main arpeggiator. Also, you have the ability to extend the pattern length up to 256 steps and play the most complex patterns you can come up with.
Superb Effects: Fully revamped effects page. Now with visualization of the signal flow to give you real-time feedback. Four insert effects, four equalizers, filter, reverb, delay, impulse, and limiter. Color-coded for navigating incredibly fast.
What I find the most interesting about Nexus 3 is the new Sequencer, you can simply create the most complex patterns with multiple notes per step and set the velocity individually. Zoom in on the x-axis or the y-axis to make fine adjustments or zoom out to have an overview of the full pattern.
More features are:
Four quick-access macro controls and a total of 20 modulation slots.
Preset loading times and CPU performance have been vastly improved.
Automatically store your favorites, bookmarks, user presets, and settings in the cloud.
NEXUS3 is compatible with your existing NEXUS2 library. Load your old beats into your DAW and load the sounds you've had before.
NEXUS3 expands the factory content by more than 350 new, high-quality, hand-crafted presets.
No more dongles or other third-party tools are required when activating.
►System Requirements:
Windows 8 and Windows 10
macOS 10.11 and later including macOS Catalina
8GB of RAM (16GB or more highly recommended)
Internet connection to download license
64-bit only
VST, VST3, or AAX host software
AudioUnit, VST, VST3, or AAX host software
14GB to install the plugin and factory content
Approx. 1GB per installed expansion
Approx. 150GB to install all expansions
iZotope - Iris 2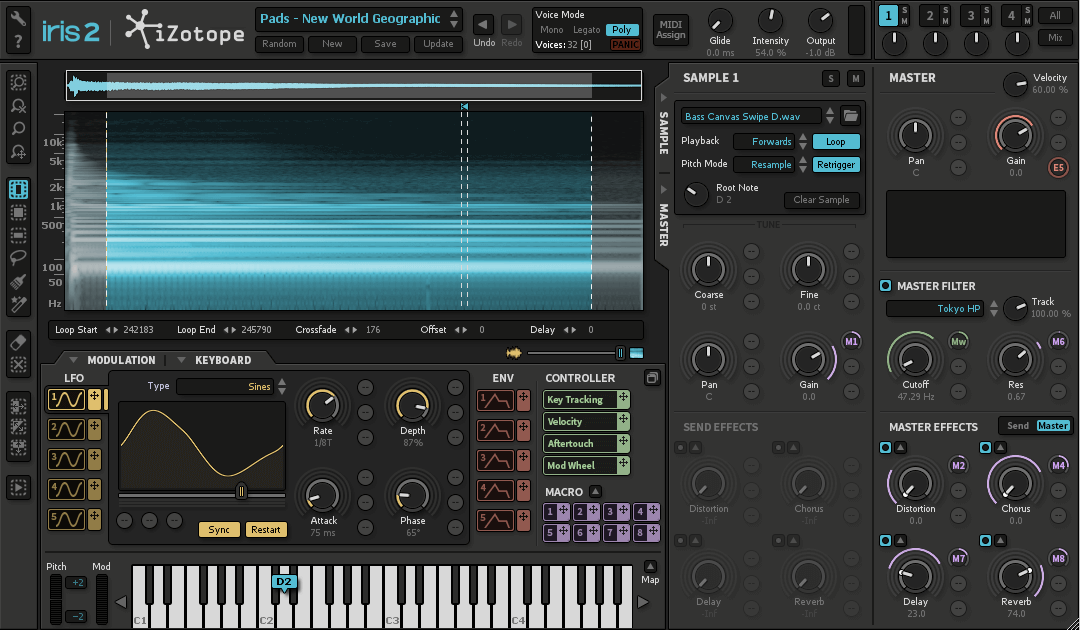 Iris is an inspiring sample-based synthesizer that combines the power of a sampler, the flexibility of a modular synth, and the fun of spectral filtering.
You can get started immediately by selecting from hundreds of expertly crafted Bass, Keys, Leads, Pads, and Rhythmic patches. Then customize or build your own patches with an 11 GB factory library of intriguing audio samples, a modern modulation system, classic filters, evocative effects, and more. Explore a new world of musical possibilities with Iris 2.
►Key Features:
Invent sounds that are completely your own by layering up to four different samples from a built-in collection of analog oscillator waveforms, an 11 GB sample library, or your own personal audio files.
Get the best-sounding and most unique filters by drawing, selecting, and isolating sonic components from each sample layer using iZotope's award-winning spectral filtering technology.
Develop expressive, dynamic, and evolving musical sounds with the powerful and flexible new modulation system. Access every control from one window, or reveal only what you need with a dynamic new user interface.
Inspiring New Patches: Get started quickly with hundreds of compelling new patches by world-class sound designers, in categories like Leads, Keys, Bass, Rhythmic, and more.
Explore 11 GB of audio samples, all provided as 24-bit .WAV files for use in any sampler.
Generate sounds from dozens of classic analog oscillator samples or oscillator waveforms (OSC WAVs), now available in all four sample pools.
Your Own Sound Library: Import your own audio files to craft truly one-of-a-kind sounds.
Draw your own unique filter shapes and isolate specific frequencies to discover new sonic possibilities in your sample library
and many more
►System Requirements:
Mac: OS X 10.8.5 (Mountain Lion) – macOS 10.15 (Catalina) (64-bit only)
PC: Windows XP (32-bit Service Pack 3) – Windows 10
AU
VST
VST3
AAX
RTAS