An audio interface or a sound card is like a middleman handler between the audio coming in and out of the system under the control of software programs.
Audio Interfaces has a digital-to-analog converter (DAC) for playing back audio samples and an Analog-to-digital converter (ADC) to convert sound input from Line In; Instruments, Mic, etc - to data sent to your computer.
Note: I'll refer to an internal sound card as "Sound Card" and an external sound card as "Audio Interface" to make things easier.
Can I use my Pc's or Internal Sound Card for mixing and mastering?
Yh, you absolutely can do that, and I doubt you would hear any audible differences between using an internal sound card vs an external sound card, but there are problems with using an internal sound card which are:
Adds unnecessary enhancement to the sound which is not needed when mixing & mastering, this can be mitigated by turning off the enhancement but how many upcoming mixing & mastering engineer knows that!
Adds electrical noise when recording, the noises are caused by interference, so, getting an audio interface can take any audio processing off the system.
You can't work with a professional microphone, think XLR microphones, you can do this with an audio interface.
You can't plug in a balanced input or a good pair of studio monitors, you can do this with an audio interface.
Limitation of Inputs and Outputs
They aren't portable
Too many issues to deal with, but don't get me wrong, if you would be strictly mixing on your headphones, then there isn't any reason you shouldn't use the sound card as long as it sounds good but the moment you plan stepping up your game, say, planning to get a pair of studio monitors, or connecting midi instruments, then you should perhaps invest in a decent audio interface which would help in the long run.
One thing I want you to note is:
An audio interface has nothing to do with the quality of your rendered (output) tracks except if used to record or a recorded sample in your track.
Since I have explained some reasons you might need an audio interface, I'll be recommending some of the best audio interfaces for mixing and mastering, giving you valuable information about each and every of the recommended interface, so, it is left to you to decide...
Starting with...
(1) Focusrite Scarlett Solo [2i2] (3rd Gen)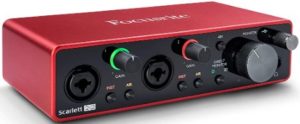 No doubt, Scarlett solo is one of the most popular USB audio interfaces out there, and it continues to get better and better with new build qualities.
Scarlett Solo 3rd generation features high-performance 24-bit/192kHz AD-DA converters which are really nice in some situations where you would want to mix or record at higher sample rates, please note that the higher sample rate doesn't equate to high-quality sound, and in fact, you shouldn't even be using anything higher than 24/44.1Khz unless you have to, why?
Some plugins don't support more than 24/44.1khz, and increasing the sample rate won't do any good, again, if you know what you are doing, then go rocking.
Back to Scarlett's review ;) ...
It also features an upgraded Scarlett mic preamp with additional switchable air settings to reproduce the signature air effects of Focusrite's original ISA mic preamp, this gives your vocal recording a more natural sound.
Also, it provides two inputs, which means you can simultaneously record & playback up to two channels with independently controllable headphones and monitor outputs. For example, you can plug in a mic and instrument at the same time.
I recently wrote a guide on how to install Focusrite Scarlett on Fl studio, it should also work with any other DAW.
Who is this recommended for? – Beginner Studio who isn't too concerned about more I/O, or who isn't interested in connecting multiple instruments at once.
Technical Specifications
2 -input/2-output
No ADAT option
USB bus-powered
24bit/192khz
Compatible with Windows 7 or higher, and Mac OS X 10.10 or higher
(2) Universal Audio Apollo Twin X DUO Thunderbolt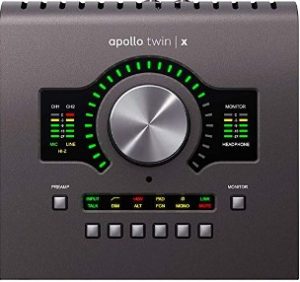 Apollo Twin X Duo price is on the high end, over 800 bucks, and it is expensive for good reasons:
One, it features a Thunderbolt 3 connection which has a transfer rate of 40Gbps, which makes it eight times faster than USB 3.0, four times faster than USB 3.1 and twice as fast as Thunderbolt 2, if you are getting this type of interface, it means, you are ready to step up the game with high data transfer rate. You should note that it doesn't include a thunderbolt cable.
Secondly, it provides a world-class Apollo A/D and D/A conversion of up to 24-bit/192 kHz, you see, the problem with the inbuilt sound card is the crappy DAC, it just doesn't fit professional settings, but with the Apollo Twin x, you enjoy a gold-standard audio quality with its DAC, giving you an astonishing increased dynamic range and an ultra-low Total harmonic distortion (THD).
Thirdly (This is my favorite feature of Apollo Twin X), it has the ability to run Universal Audio (UAD) powered plug-ins in real-time, this way, you can take any UAD plug-ins off your system, which in turn saves you tons of processing power. Note that, the Twin X interface is specifically designed to run on UAD-2 DSP accelerators, so, Native plug-ins that aren't powered by Universal audio cannot run on the UAD-2 DSP.
Note: Apollo Twin X must be connected via a Thunderbolt 3 cable to a computer that has an available Thunderbolt 3 port. In case you don't have a thunderbolt port, you can get an adapter for Thunderbolt 3. If you are confused, drop your comments below, and I'll help you get it up and running.
Who is this recommended for? – Studio of all level who wants a compact, faster audio interface connection, and a portable audio interface while also providing a pro sound quality with options to expand with an ADAT in.
Technical Specifications:
Realtime Analog Classics Bundle Plug-ins which support VST, RTAS, Audio Units, and AAX 64-bit for compatibility with all DAWs
10-in/6-out Thunderbolt 3 audio interface for Mac or PC with two Unison-enabled microphone preamps, providing emulations of classic analog preamps with low to zero latency
ADAT Supported (Up to eight channels of additional input via one TOSLINK ADAT optical port)
High-speed Thunderbolt 3 connectivity for Mac and Windows computers
24bit/192khz
Realtime UAD Processing (Carries UAD powered plug-ins processes to an audio interface, which would result in saving CPU load)
Compatible with Windows 10 (64-Bit Edition), and macOS 10.12 Sierra, 10.13 High Sierra, or 10.14 Mojave
(3) PreSonus Studio 68c USB-C Audio Interface

The maker of Studio One - Presonus presents the Studio 68c Audio interface which features USB-C computer connectivity, unlike Apollo Twin X, you will find 1-meter USB-C to C cable, 1-meter USB-C to A cable, and an external power supply for easy connectivity, so, you don't need to worry about getting an add-on adapter, it is all provided for you, out of the box.
Also, it can operate up to 192 kHz for pristine and clear recording, mixing, and even mastering. One super interesting feature of Studio 68c is that all inputs and outputs run on XMAX mic preamps which delivers a rich sound. I don't know who came up with the design of this interface, but this audio interface is really intuitive, for example, if you are planning on plugging passive instruments (Bass, Guitar), you push the input source button, which in turn engages the instruments preamp when connecting passive instruments.
PreSonus Studio 68c also includes 2 mic-line-instruments inputs plus an additional 2 mic-line inputs with a +48V phantom power which is strictly for condenser mics, do not switch on the phantom power if you are connecting dynamic mics, especially ribbon mics.
Who is this recommended for? – Small to medium size studios that want a faster audio interface connection and a fair number of input and output counts.
Technical Specifications:
6-input/6-output channel
No ADAT option
USB C connectivity
24-Bit/192 kHz sampling rates
2 mic/instrument/line inputs with XMAX Class A mic preamps
2 mic/line inputs with XMAX Class A mic preamps
48V phantom power for condenser mics
USB-c to USB-C and USB-C to USB-A cables included
Includes free download of Studio One Artist and studio Magic plug-in
(4) BEHRINGER (UMC204HD)

The Behringer UMC204HD is a USB audio interface that comes with a fair number of analog input options including ¼" TRS, RCA, and XLR. Also, it features 2 analog inserts for external connectivity, for example, you can connect a compressor, EQs, and others.
Even if you can mix with an onboard sound card, at a point in time, you'll need to step up the game, for example, the UMC204HD features a world-class preamp, which 'of course' includes a +48 volt phantom power for condenser mics, all going through Behringer A/D converter which supports up to 24/192 kHz sample rate.
Who is this recommended for? – Beginner Studio who isn't too concerned about more I/O, or who isn't interested in connecting multiple instruments at once.
Technical Specifications
2 -input/4-output
No ADAT option
USB bus-powered
24bit/192khz
Compatible with major recording software including Avid Pro Tools*, Ableton Live*, Steinberg Cubase*, etc.
2 state-of-the-art, MIDAS designed Mic Preamplifiers with +48 V phantom power
Compatible with Windows XP or higher, and Mac OS X 10.10 or higher
Note: Behringer UMC204 is currently out of stock on Amazon, but you can get the below version which is similar to the one above
(5) MOTU USB-C Audio Interface

The last audio interface on our list is the Motu USB-C audio interface which features a 2 XLR/TRS combo jack that accepts a mic cable or a quarter-inch cable, balanced or unbalanced, from a guitar or line-level source.
There is a couple of stuff I love about this interface, first, I love the way the high-resolution LCD shows full-length meters for all inputs and outputs. Another super interesting thing about the LCD is that, when a signal is overloaded, it indicates a red box at the top of the signal, which is a real-time saver when mixing.
Also, if you are on macOS 10.11 and above, you can connect it to your Mac with a USB cable and use it without installing any software drivers, this is because it is a USB audio class-compliant device. If you are running it on Windows, then you would need to download a driver from the motu website.
Who is this recommended for? – Beginner Studio who isn't too concerned about more I/O, or who isn't interested in connecting multiple instruments at once.
Technical Specifications
2 -input/2-output
No ADAT option
USB-C Audio Interface
Includes a USB-C to USB-A cable
Features 2 Microphone Preamps with +48 V phantom power
6+GB of Free Content - Mac/PC/iOS
Hardware monitoring + LCD screen
Compatible with macOS 10.11 or later; Windows 7 or later (x64
only)