A Tape Stop effect is the slowing down or pitching down a portion of a track, and if you want to spice up the effect, you can incorporate upwind automation to kick it into another element seamlessly.
Tape stop is slowing down and upwind (Not necessary if you only care about Tape stopping) when the pitch slowly goes up in a certain time frame, it's like an inverse of Tape Stop.
This effect can be practically used on any samples or instruments, and the way they are implemented differs from one plugin to another.
In this guide, I'll be recommending the best Tapestop plugin in the music production scene, I will also describe how each of them works, let's dive in...
1.) Tape Stop - Vengeance Sound (Paid)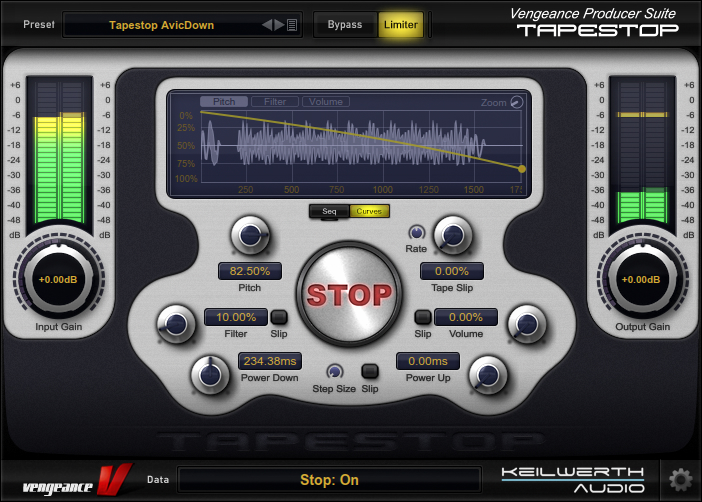 The first Tapestop machine on our list is the Vengeance Tapestop plugin which is not only designed to support numerous pitch effects but also builds in sequencer, volume, and filter envelopes or the new "tape slip" feature you can create crazy effects, way beyond the classic Tapestop pitch-down.
Video Overview
►Key Features:
Simulates Pitch-Down and Pitch-Up
LP Filter can be added
Volume Fades can be added
Tape Slip: simulates worn Tapes/Vinyl
Stepped or smooth pitch effects
Internal sequencer
3 independent envelopes for pitch, filter, and volume
Realtime scope
80 presets with pitch, wobble, or special fx presets
No clicks and 100% sync with your song
The tape stop effect duration can be set in note values
►System Requirements:
Windows Vista/Win7/Win8 or higher and a minimum CPU of Pentium III 800Mhz
Mac OSX 10.8 and a minimum CPU of IntelMac 1.5Ghz
2GB RAM
VST 2.4 compliant host
eLicenser USB dongle
No Power Mac supported
2.) Tape Stop Snapin - kiloHearts (Paid)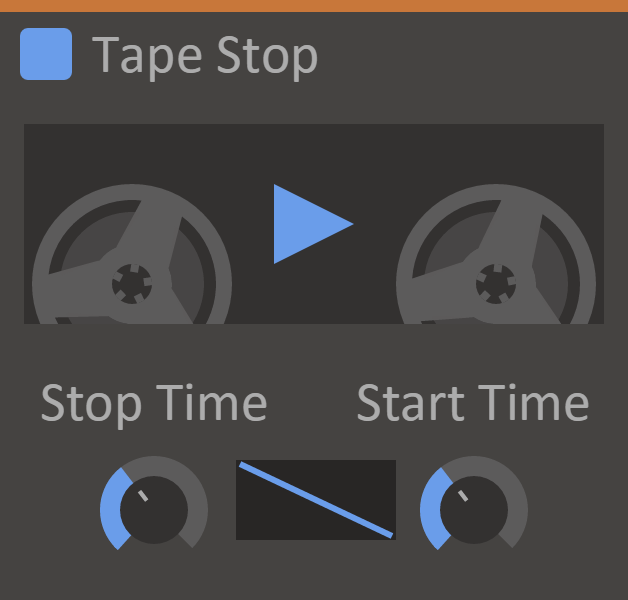 Ever wondered why it is called the Tapestop effect? This is because magnetic tape was the coolest way to store recorded audio back in the day. So, when you start and stop the tape while playing back, you'll hear an interesting effect, like a slowly pitched down of a sound when stopped and a slowly pitched up of a sound when started.
With the Tape Stop Snapin, you can create great spindown/speedup sounds quickly with the push of a button. Again, kiloHearts would always be one of the best plugin manufacturers with a simple and intuitive interface design.
Video Overview
System Requirments:
CPU: 2 GHz or faster
Memory: 1 GB or more
Operating System: Windows (7 or newer) or Mac OS X (10.7 or newer)
Supported formats: AAX/AU/VST2/Snapin
3.) Glitch 1.3 - illformed (Free)
Glitch has been around for a while, and it is the combination of a crusher, stretcher, and tape stop all in one. The downside of using this plugin is that its owner – Illformed no longer supports it.
4.) TbT : Tapestop (Free)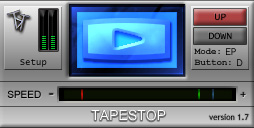 The TbT tape stop features:
PLAY/STOP button: Trigger a slowdown/speed-up.
MODE: EP = A normal slowdown // TD = Do a "search position" at the end.
BUTTON: T = Toggle PLAY/STOP when the PLAY/STOP button is pressed. D = Direct A slowdown as long as the PLAY/STOP button is pressed and sped upon the release of the button. Use the D mode when the plugin is automated to get proper(expected) action.
UP/DOWN buttons: Indicates direction. If pressed it turns grey and disables the selected direction.
SPEED box: LEFT click to select DOWN speed. (green), RIGHT click to select UP speed. (red)
BLUE shows a live position in the slowdown buffer.
PROCESS MODE: REALTIME = for live/automation use.
OFFLINE = will trigger the current PLAY/STOP button direction when the plugin resume is called. This is used when you use for example Wavelab and want to process a selected portion in a wave file.
SPEED FADE:
ON = fade the volume together with the speed.
FULL SPEED MUTE: ON = Mute output when full speed is attained. This is desired when you use the plugin as a send effect.
UP/DOWN OFF FADE TIME: 0%-100% If a direction is turned off then you can set the fade to zero/full time to avoid clicks.
RE-ENTER STREAM CROSSFADE TIME:
0%-100% To smooth the re-entrance from the slowed buffer to the live signal.
BUTTON: NORMAL/REVERSED. Some people think backward and want the PLAY/STOP button to show the "next" state instead of the "is" state.
5.) Scratch It - z3 audiolabs (Free)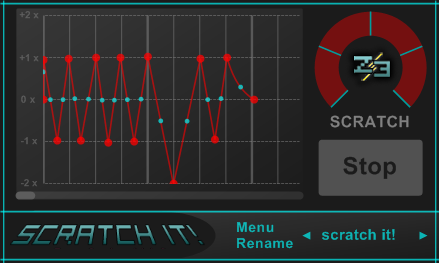 Scratch it! is a free scratch / tapestop vst plugin for windows, it is specially created for live scratching and tape stop effects.
With the envelope you can define how the stop button works on the audio signal, it allows you to define up to 16 points in a synchronized beat grid, like this the stop button can act as a "scratch sequence".
Requirements:
Computer: Pentium III or higher/AMD with SSE support - 1200 MHz - 512 MB RAM - Windows 2000 or XP or newer
Host: VST compatible 32-bit (64-bit when using j bridge) host software - tested and known to work in FL Studio – Cubase – Live – Renoise.