Just like chorus and flanger effects, a delay effect is also a member of modulation effects, where an audio sound is modulated by adding a time-delayed version of the sound to itself and then varying the size of that delay over a specific period of time.
The way delay work is by taking an input signal to a storage buffer (it keeps the input sound in memory), and then playing it back at a later time as defined by the delay time, which is otherwise known as an echo effect.
Delay can add interesting vibes to your mix, consider the following example:
Here is a drum loop I am working on, I love how the element sits together, but, I'll love to add some kind of delay to the clap to make it sound more groovy, here is the before and after:
Without Delay:
With Delay:
Believe it or not, this is all done with delay (Using SoundToys EchoBoy), and I use it heavily when creating groovy drum loops, this just shows you how wide you can go with using delay.
Here is another example using a vocal, I added delay automation to the end portion of the vocal sample:
I can go on and on, but I'll leave the rest to you, having said that, let's dive into the best free and paid delay VST effects plugin I have ever come across, starting with...
1.) EchoBoy by Soundtoys (Paid)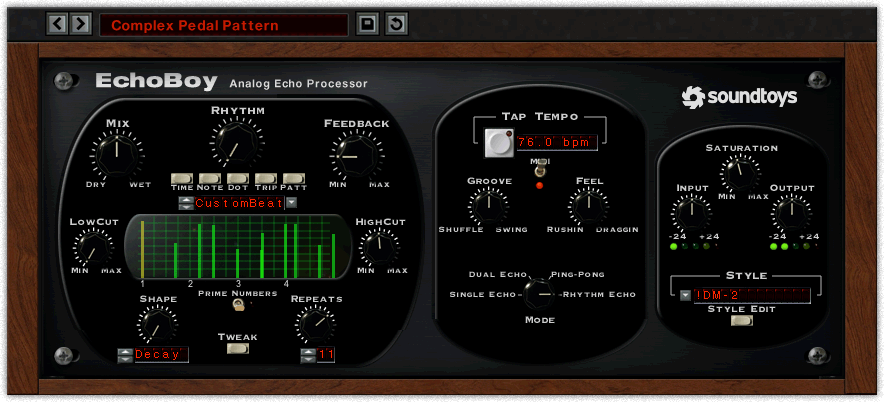 EchoBoy is the collection of numerous, and classic echo devices in one clean cutting edge interface, if you want an echo that just works right off the box without fiddling with tons of knobs, then this is your go-to plugin.
The interesting thing about this plugin is that it features 30 built-in styles modeled on vintage gear, so, no matter the track you are working on, you'll find an echo tone that fits with the mix, for example, you'll find classic echo box tones, including EchoPlex, Space Echo, Memory Man, DM-2, and the TelRay oil can delay.
EchoBoy is not any delay plugin mate, you can achieve an endless possibilities with this plugin, and thank goodness, they've loaded it with super awesome rhythm. Simply switch EchoBoy to Rhythm Echo mode for a new experience entirely. In this mode EchoBoy lets you select the rhythmic timing of up to 16 repeats. Rhythm Mode is like having a tape echo with up to 16 read heads (or "taps").
You can add taps to the Rhythm Editor graph, control their timing, and sculpt their loudness curve using the Shape control. Rhythm Echo mode is a unique take on delay effects that might just become your new secret weapon in the studio.
►Key Features
Choose from 30 different echo styles: Echoplex, Space Echo, Memory Man, DM-2, and many more
Warm-up vocals with high-end tape sound modeled on the Ampex ATR-102
Control saturation, tape flutter, and diffusion for strikingly analog-sounding effects
Create rich stereo delays with Dual and Ping-Pong modes
Adjust shuffle, swing, and accent. The only echo with true "groove"
Design one-of-a-kind rhythmic delay effects using Rhythm Echo mode
►System Requirements
Plug-in Formats (64-bit only):
AAX Native, AAX AudioSuite, VST, and Audio Units (AU)
Supported Sample Rates:
Minimum: 44.1 kHz, Maximum: 192 kHz
Minimum Requirements:
Operating systems: Mac OS X 10.8 or later; Windows 7 or later
An internet connection is required at the time of activation
A FREE account at ilok.com is required (a physical USB iLok is not required)
Officially Supported Host Applications
All version 5 Soundtoys products come with 64-bit VST, AU, and AAX Native plug-in formats. Here is a list of all of the DAWs (Digital Audio Workstations) that we currently support:
Fl Studio 10 and above (I personally tested this, that is what I used in the audio demo above)
Pro Tools 10.3.5 – 2018 (Mac & PC: AAX Native and AudioSuite)
Logic Pro 9 & X (​Mac: AudioUnits)
Ableton Live 9.2.2 – 10.1 (Mac: AudioUnits & VST; Windows: VST)
Digital Performer 8 – 10 (​Mac: AudioUnits & VST; Windows: VST)
Studio One 4.5 (Mac: AudioUnits & VST; Windows: VST)
Cubase 7 – 10 (Mac & PC: VST)
​Nuendo 6 – 10 (​Mac & PC: VST)
2.) Modnetic by Surreal Machines (Paid)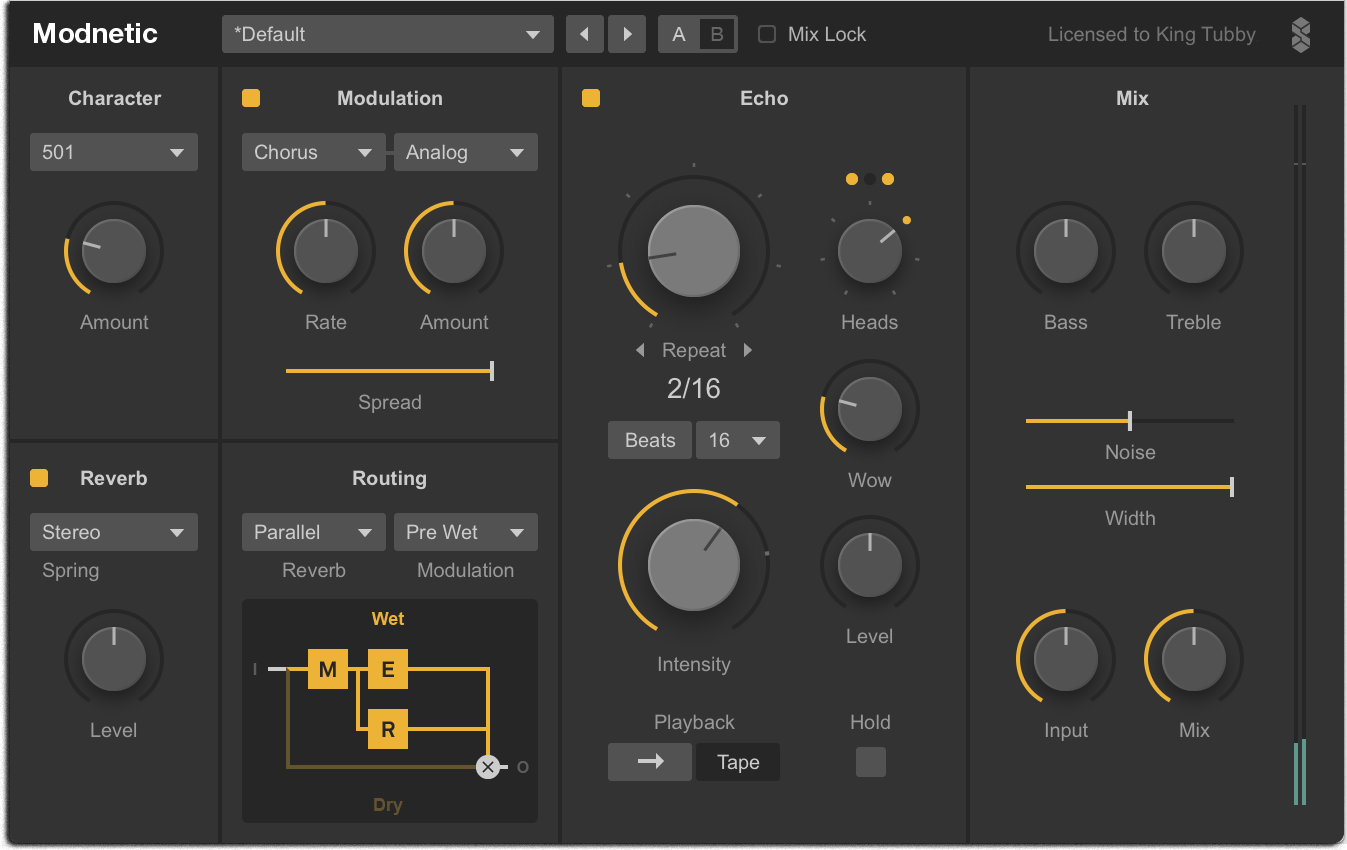 Modenetic offers comprehensive emulation of classic analog tape delay hardware from the 1970s. No mere slavish analog emulation.
You'll find four powerful effects in one: supreme analog emulated tape delay, extremely realistic spring reverb choices, bucket brigade chorus/ flanger/phaser, and classic tone.
Also, it features a classic digital phaser, reverse tape, and clickless real-time routing options that is also built solid enough for live performance as well as to transform your studio.
Modnetic has been optimized from the ground up for better quality and performance, as well as a wider and new set of sounds.
►Key Features:
An Echo section with three combinable virtual tape heads, two different reverse delay effects, and a hold mode for immediately sustained loops.
A Reverb section with 35 carefully crafted IRs
A Modulation section featuring chorus, flanger, and phaser effects, including analog models inspired by BBDs (Bucket Brigade Devices), clean digital effects, and special sonically 'broken' flavors.
Four vintage machine 'characters' that affect the tonal and sonic qualities of the delay and modulation effects, with a character dial that controls the strength of the selected 'machine style'
Comprehensive routing options for blending the three effects in unique and creative ways
Rewritten from scratch since the original Max For Live version to be fully optimized for both sound and performance in all modern DAWs
►System Requirements
Mac:
OS X Lion (10.7) or higher
32-bit or 64-bit VST 2.4, VST 3, or Audio Unit host
Minimum Intel i5 CPU and 4GB RAM or more recommended
Windows:
Windows 7, 8 or 10
32-bit or 64-bit VST 2.4 or VST 3 host
Minimum Intel i5 CPU and 4GB RAM or more recommended
Get Modnetic by Surreal Machines
3.) Imperial Delay by Boz Digital Labs (Paid)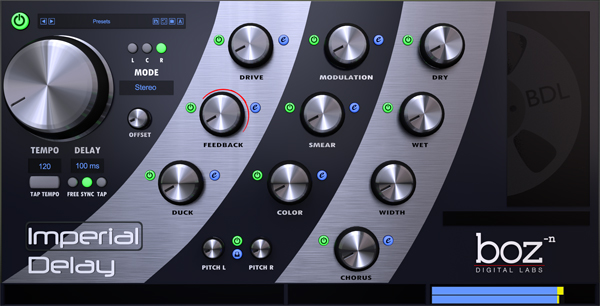 Imperial Delay is designed to be simple and as well versatile, it gives you full control over every nuance of your delay but does so in a way that doesn't get in the way of your creative side.
It features a built ducking (sidechaining) where the direct signal brings down the level of the delay effect to avoid mumbling of too many frequencies. Also, you get dynamic feedback, which has two levels of feedback, level-dependent on the loudness of the input signal.
One of the features I really dig is the Pitch function, this gives you the ability to independently detune left and right channels. It can create interesting effects, as well as doubling. In subtle amounts, it enhances stereo width without phase issues.
The smear knob provides a low-pass filter effect for placing the delay signal deeper into the background, with the effect applied progressively with each feedback pass.
►System Requirements
Available Formats
Win: VST 32/64, RTAS, AAX Native
Mac: VST 32/64, AU 32/64, RTAS, AAX Native
4.) Deleight by Audiority (Paid)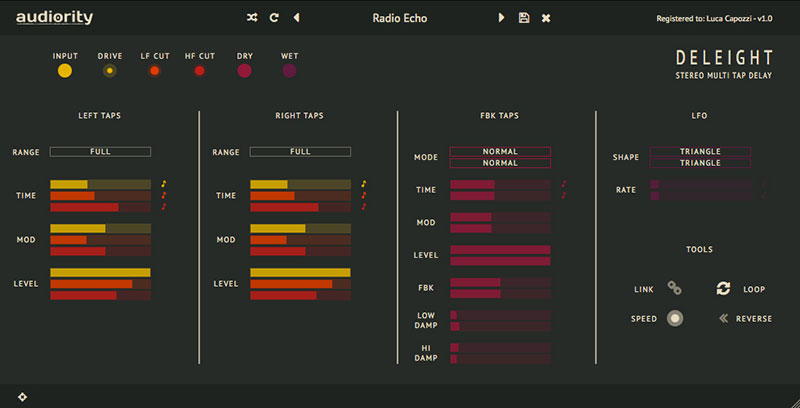 Deleight by Audiority is a stereo multi-tap delay processor that is based on a '90s digital delays hardware processor.
It does more than just a mere delay plugin, it features multiple delay-based effects, whether you want super simple echoes to multi-voice choruses, flangers, doublers, early reverbs, and more. Enable Loop mode to set Deleight as a looper device, with Speed and Reverse controls, to create special effects and textures.
One feature worth mentioning is the Loop mode, you can create amazing effects with this function, also, it supports loop mode with speed as well as reverse controls, this would be awesome when used together with an automation clip.
►Key Features
Stereo Multi-Tap Delay (4+4 Taps)
Delay Buffer of 5 seconds
7 Time Ranges
Tempo Sync
Left, Right, and Feedback channels
Normal and Cross channel feedback modes
LFO with 11 waveforms
Channel Linking
Loop Mode (with Speed and Reverse controls)
Resizeable User Interface
►System Requirements
Mac:
OS X 10.7.5 or later
VST2, AU, and AAX (32-bit or 64-bit host)
Intel i3 or higher
2GB RAM
Screen resolution: 1024 × 768
PC:
Windows XP SP3 or later
VST2, AAX (32-bit or 64-bit host)
Intel i3 or higher
2GB RAM
Screen resolution: 1024 × 768
5.) Reverser Snapin by kiloHearts (Paid)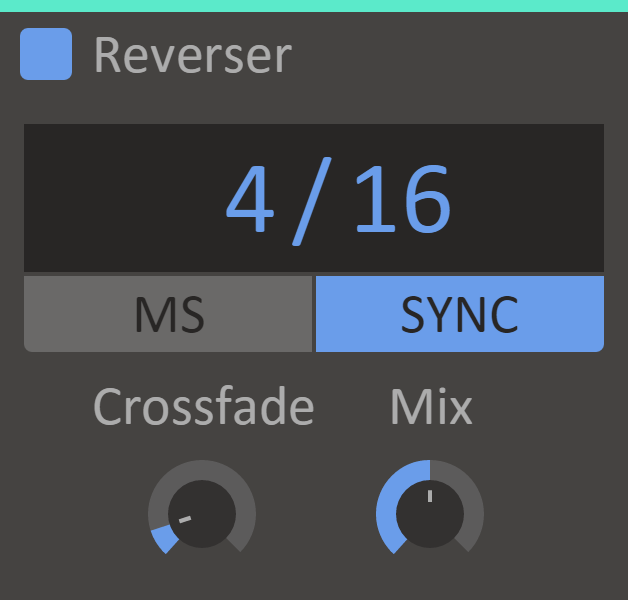 This is a simple and superb plugin by kiloHearts, Reverser does a delay and a reverse section of the input sound, this is particularly handy when you are either trying to break into sections in your music arrangement.
You can either use it as a regular VST/AU plugin, or you can use it with kiloHearts snapin hosts Multipass and Snap Heap where you can combine effects in amazing ways.
►System Requirements:
CPU: 2 GHz or faster
Memory: 1 GB or more
Operating System: Windows (7 or newer) or Mac OS X (10.7 or newer)
A VST / Audio Unit / AAX compatible DAW
Supported formats: AAX / AU / VST2 / Snapin
Get Reverser Snapin by kiloHearts
6.) PlexiTape by Audiority (Paid)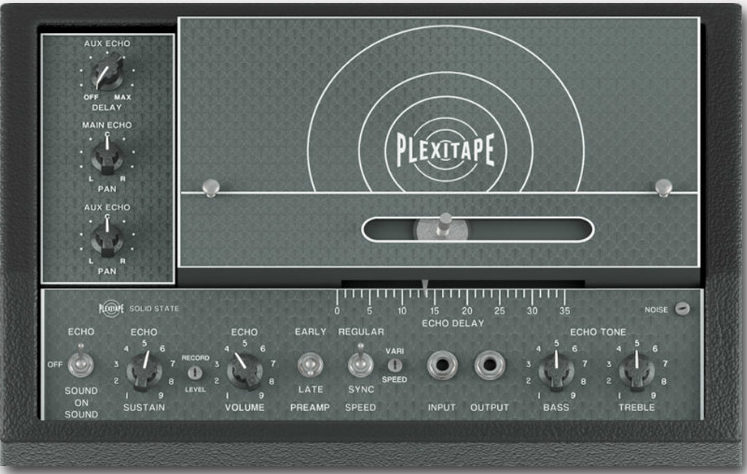 PlexiTape is a clean emulation of a vintage tape echo that made "THE SOUND" of the '70s for its tone and reliability. Audiority modeled the full mechanism of the original tape echo, e.g the motor, tape, FET preamplifier, heads, and even the infamous "Sound On Sound".
SOS allows you to use bypass the echo and therefore use the tape as a looping recorder.
Furthermore, Audiority expanded it with new features including a full stereo double delay line, tempo sync, and more.
►Key Features:
Analog Modeled Vintage Solid State Tape Echo
Auxiliary Echo with Echo Pan for full stereo effects
3 Echo Modes: Echo, Off (Preamp + Tape color only), and Sound On Sound
2 FET Preamp models: Early and Late
2 Playback Modes: Regular (with Varispeed) and Sync
Varispeed from 3 to 15 IPS
Echo Tone equalizer
Internal hum noise (fully adjustable, for increased realism and self-oscillation)
Resizable interface
►System Requirements:
PC
Windows 7 64bit or later
Intel i5 or higher
2GB RAM
Screen resolution: 1024×768
VST2, VST3, AAX 64-bit host
MAC
OSX 10.8 or later
Intel i5 or higher
2GB RAM
Screen resolution: 1024×768
VST2, VST3, AU, AAX 64-bit host
7.) Easy Supra Delay (Free)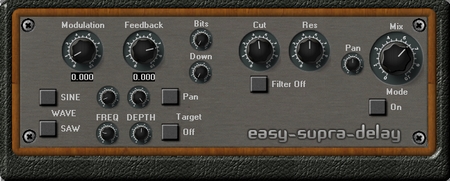 Easy Supra Delay plugin by easytoolz is a free stereo delay plugin.
Features:
Stereo-Delay-FX
ModulationTime -> 10 sec (Free Run) - Feedback
2 LFOs (Free-Run - 6 waves )
Bitcrusher - Downsampling
Filter (LP-HP-BP-BR) Cutoff - Resonance
Pan - Mix
16 Presets plus, you can also make your own
System Requirements:
8.) Adam Monroe's Delay (Free)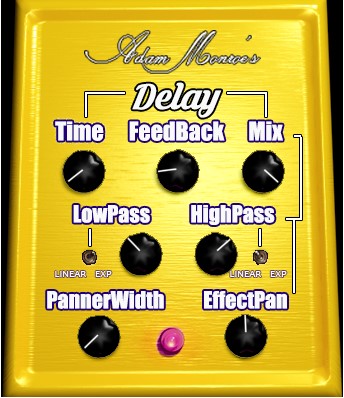 Adam Monroe's Delay is a free delay VST/AU/ AAX plugin. It features traditional delay parameters such as time and feedback, as well as high/low-pass filtering and synchronized ping-pong panning.
It supports both 32 and 64-bit versions:
Download: Win VST / Win AAX / Mac VST / Mac AU
9.) Proximity (Free)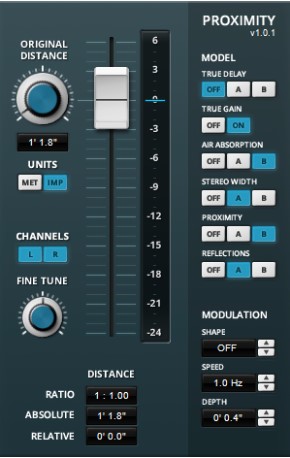 Proximity is easy to use delay plugin based on several psycho-acoustic models. The idea is to give mixing engineers a reliable tool for manipulating the depth of several sound sources in a straightforward and convincing manner.
It is available in both 32 and 64-bit versions for Windows and Mac OS X in VST & AU format.
10.) MykraDelay v3.0 (Free)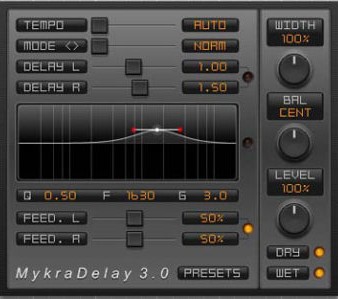 MykraDelay is a discontinued delay plugin by Mykrawaves and comes loaded with tons of features for delaying purposes.
Features:
Auto tempo detection
Independent Left and Right channel delay times and feedback amounts (linkable sliders)
Peaking filter in the feedback path
Stereo widening/narrowing & pan settings
System Requirements: