A noise gate is similar to a compressor in the sense that, it is used to control the loudest and the quietest part of an audio signal, but specifically, a noise gate reduces audio signals that are below a certain threshold, so, when the signals are above a threshold, it let the signal pass-through (opens the gate). on the other hand, if the signals fall below the threshold, no signal is allowed to pass (closed the gate) or the signal is attenuated with respect to the settings dialed.
Practically, noise gates are used to remove noises in an audio signal, for example, if you have some unwanted noise you would love to attenuate, you can use a noise gate plugin to find the threshold where that noise becomes annoying and adjust your settings to quiet everything below that.
Also, it can be used for sidechaining, gluing bass & kick drum together, and in fact, most producers I know use it for stuttering effects, where you can turn a sound e.g an 'Ah' sample sound into the same rhythm as the drumbeat, which in turn makes it groovy and danceable on the dance floor ;)
Since Noise gate works similarly to a compressor, you can read the guide on how compression works to understand some of its parameters. In this guide, I will be recommending the best Noise Gate VST/AU/AXX Plugin for use in your DAW, let's get started...
1.) Gatekeeper - Polyverse ($49.00)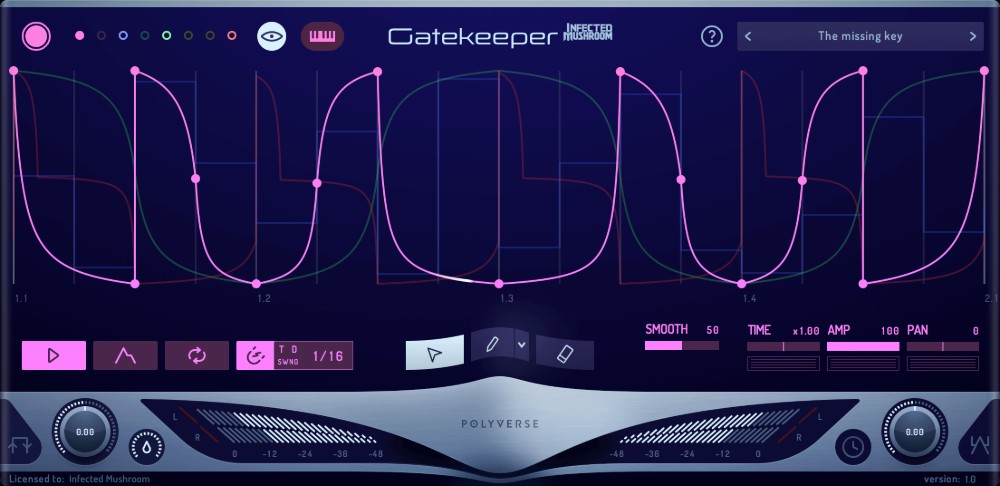 The first Gate plugin on our list is the Gatekeeper plugin by Polyverse, which is not only easy to use but also intuitive and allows for drastic, punchy gating and sequencing while keeping the output smooth.
Whether you plan on using the gate as an LFO, envelope, step sequencer, or volume automation, Gatekeeper is capable of all that, plus it has 8 MIDI programmable envelopes, CV output for external hardware, and hundreds of presets that will spice up your sounds.
Note that, Gatekeeper doesn't work well for denoising, so, if you want a gate plugin that would attenuate noise at a certain threshold, I'll highly recommend using Gatey Watey by Boz Digital Labs, which is what I am reviewing next.
VIDEO SNEAK-PEEK
Key Features:
Sample fast and precise volume modulation
Expressive and fun envelope drawing tools
Boost and clip features for extra punch
Smoothing algorithm to eliminate clicks and pops
8 independent volume envelopes
Fully customizable midi-triggering
Panning tools
Tempo mapped looping
CV output for Modular synths
Hundreds of presets
System Requirements:
OS - Mac/PC
Bit Depth 32/64
Format - AAX, VST, AU
Hardware Requirements - Mac: Intel Core 2 Duo or higher, 4GB RAM minimum
Hardware Requirements - PC: Intel Core 2 Duo/AMD Athlon 64x2 or higher, 4GB RAM minimum
OS Requirements - Mac: OS X 10.6 or later
OS Requirements - PC Windows 7 SP1 or later
2.) Gatey Watey - Boz Digital Labs ($49.00)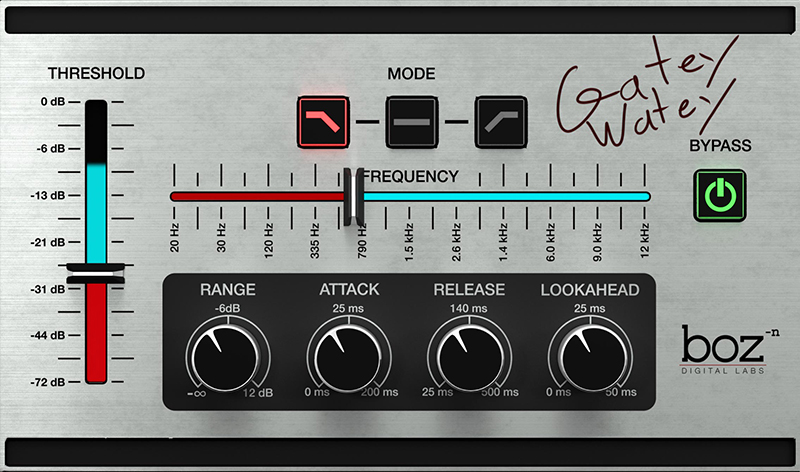 Gatey Watey is a simple and easy-to-use gate plugin, it lets you choose which frequencies you want to attenuate when the signal falls below the threshold, similar to the way the threshold kicks in compression settings. Gatey Watey works well for de-noising annoying signals without affecting the main audio signal, a use case is getting rid of drum bleed without cutting off your drums.
Unlike Gatekeeper which isn't suitable for denoising, Gatey Watey has a frequency selective attenuation, which means you can tell it to only attenuate a certain frequency when the input drop below the threshold. This feature can be really powerful if you know what you are doing, for example, if you want to cut the high hat bleed out of a snare without killing the ring of the snare, Gatey Watey is your preferred choice.
VIDEO SNEAK-PEEK
Key Features:
Frequency selective gating
Lookahead
Simple Interface
No Learning Curve
System Requirements:
Mac
AAX/AU (Audio Units)/RTAS/VST/VST3
Windows
3.) Gate Snapin - kiloHearts ($19.00)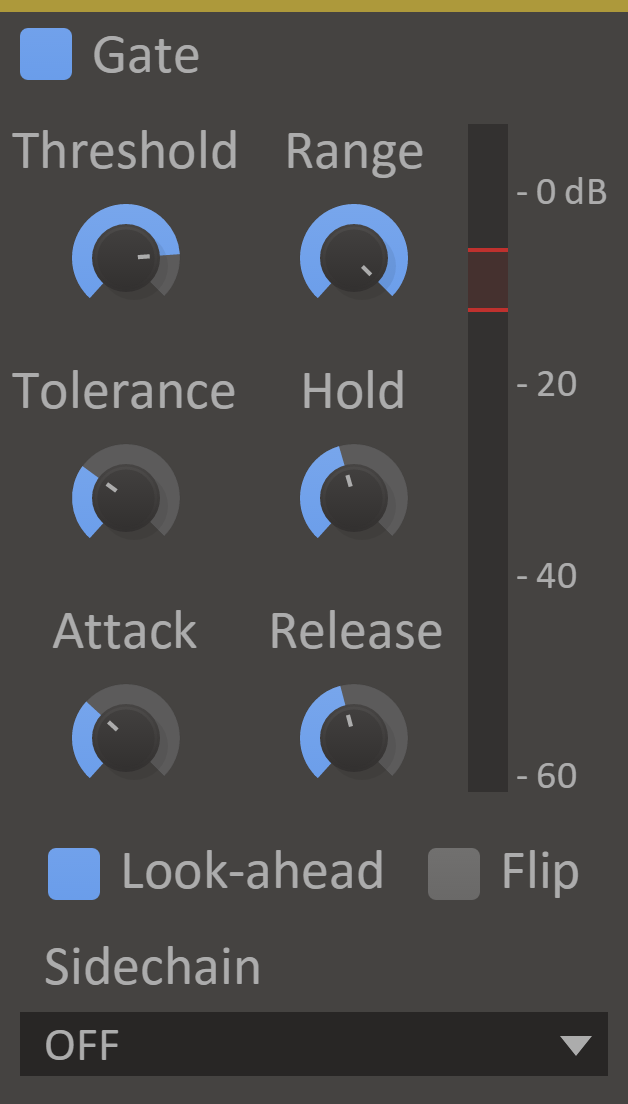 This is my favorite gating plugin, and I highly recommend this for producers or mixing engineers who love simple and straight-to-the-point plugins. The Gate Snapin by kiloHearts helps to get rid of low hum and noise from your audio signal, cut reverb tails short, or exaggerate the dynamics in a beat.
If for some reason, you want a ducking effect/sidechaining, it can be easily driven by an external sidechain signal, However, I'll highly recommend sidechaining through your stock plugins, it's a matter of preference anyway, use what suits your style.
System Requirments:
CPU: 2 GHz or faster
Memory: 1 GB or more
Operating System: Windows (7 or newer) or Mac OS X (10.7 or newer)
Supported formats: AAX/AU/VST2/Snapin
4.) Trance Gate Snapin - kiloHearts ($39.00)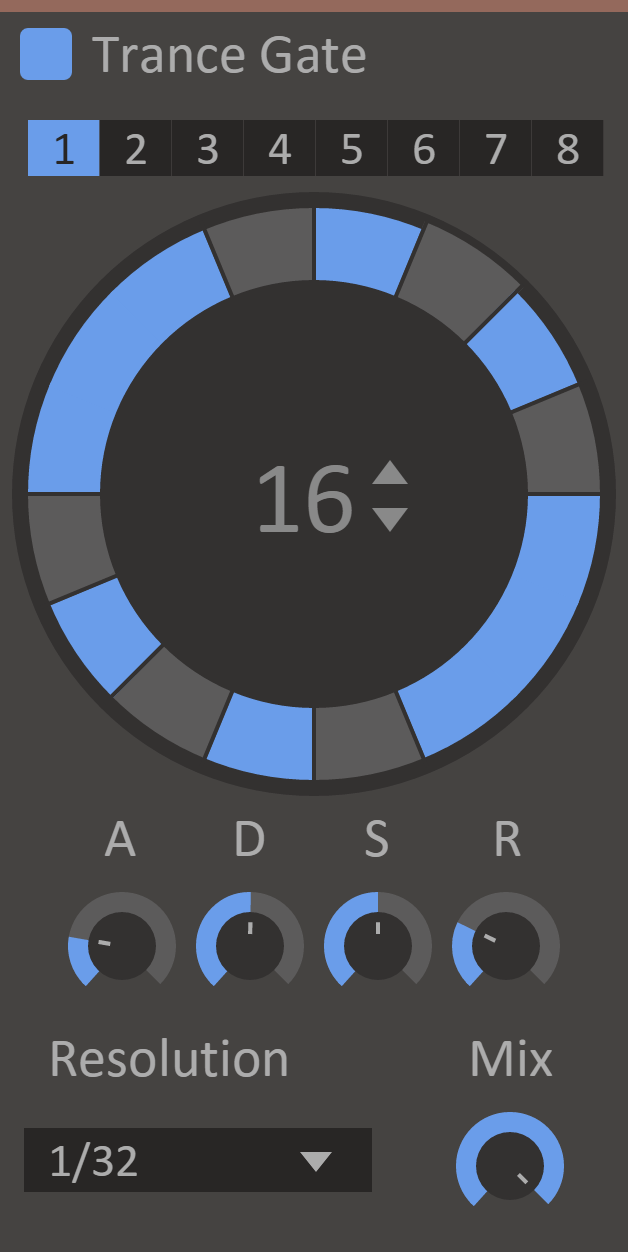 This is another gating plugin by kiloHearts, Trance Gate Snapin can be used to chop up any sort of sound, think of it as a gate sequencer where you chop up an audio signal, and turn it into an arpeggio or rhythmical groove.
System Requirments:
CPU: 2 GHz or faster
Memory: 1 GB or more
Operating System: Windows (7 or newer) or Mac OS X (10.7 or newer)
Supported formats: AAX/AU/VST2/Snapin
5.) FabFilter Pro-G - Fabfilter ($179.00)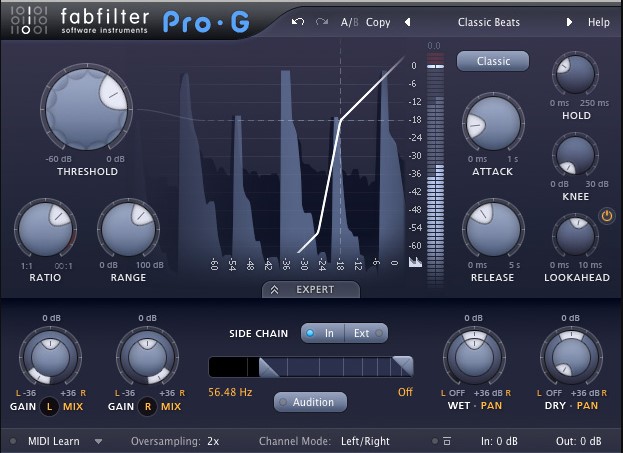 Fabfilter Pro G features 6 awesome expander/gate algorithms, including upward expansion and ducking or sidechaining.
One feature I love about the Fabfilter Pro G is the way you can route signals, also, you can choose between mono, stereo or mid/side processing and in expert mode, external side chain input is available with completely customizable channel linking and routing.
VIDEO SNEAK-PEEK
Key Features:
Six meticulously tuned expander/gate algorithms, including upward expansion and ducking
Program-dependent attack and release curves
Low CPU usage
Adjustable range, hold time, and knee settings
Optional look-ahead time up to 10 ms
Precise and helpful metering, including a real-time level display
An expert mode that offers highly customizable side-chain options
Mono, stereo, or mid/side processing
Up to four times linear-phase oversampling
Zero-latency operation mode
MIDI triggering: open the gate/expander with your MIDI keyboard
External side chain option
Separate dry/wet level settings
Easy to set up for common gating/expansion scenarios with the included factory presets
GPU-powered graphics acceleration
Double-click the text entry of parameter values
Stereo and mono plug-ins are available
Supports common Pro Tools hardware control surfaces
Extensive help file with interactive help hints
System Requirements:
Windows:
32-bit: Windows 8, 7, Vista, or XP
64-bit: Windows 8, 7 or Vista(x64)
VST 2/3 host or Pro Tools
Mac OS X:
32-bit: OS X 10.5 or higher
64-bit: OS X 10.6 or higher
AU or VST 2/3 host or Pro Tools
Intel processor