An acoustic guitar is one of a member of the guitar family, it differs from an electronic guitar that uses an electronic amplification system, so, in the real world, an acoustic doesn't rely on electronic amplification.
If you don't want to go over the hassle of learning to play a guitar, tunning, adding effects, and setting up a good studio recording room, then you can opt-in for a virtual acoustic guitar that has been designed to work close to a professional guitar.
Before I recommend you to some of the best virtual acoustic guitars, here are some reasons you should use one...
You don't have access to a professional acoustic guitar
Want to quickly lay down a track without the hassle of setting up a studio recording session, finding the perfect angle, and tuning a guitar.
You have a guitar but want to use it as MIDI-Controlled guitar for electronic manipulation.
That said, let us look at the best virtual acoustic guitar VST instrument plugin in the music production scene.
Starting with...
1.) Virtual Guitar Amber ($129.00)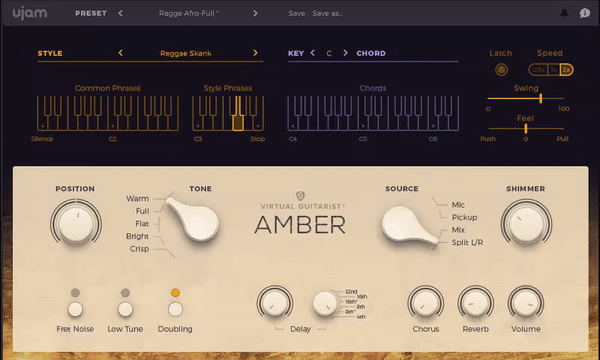 First on our list is Virtual Guitarist Amber by Ujam. Amber features a vastly expanded realism guitar library, easy to use, intuitive, and built for musicians of all levels.
Practically, when setting up a real acoustic guitar for recording, you would want to make sure your mics are properly positioned, your guitar is properly tuned, and you are recording in a good studio recording room, I guess you can imagine how complex that would be if you are just getting started, with Amber, all you need is a laptop, your Daw, and to be creative. It is designed to produce a realistic great acoustic guitar sounds without distracting you from the complexity of setting up a real guitar.
The way Amber works is using patterns and styles, You press a key on the keyboard or a piano-roll, and then Amber play strum chords in designated phrases combined into styles & determined by the notes you play.
With over 600 phrases & 50+ styles, you can experiment and unleash the power of various playing styles and rhythmic sounds.
So, if you aren't capable of owning a professional guitar, or you can't record a live acoustic guitar professionally, then Amber is what you need. Keep in mind though, Amber is mostly based on strum chords.
Video Sneak Peek
Key Features
Steel-string acoustic guitar strumming
More than 50 Styles and 600 Phrases
From full-bodied warm to metallic-sparkling bright
Select or mix between a microphone and pick-up signal
System Requirements
Windows 7 or higher, Mac OS X 10.9 or higher
VST/AU/AAX/NKS
Minimum requirements of 4 GB of RAM, 6 GB of Disk Space and 1280x768 px Display
2.) Ample Guitar M III ($169.00)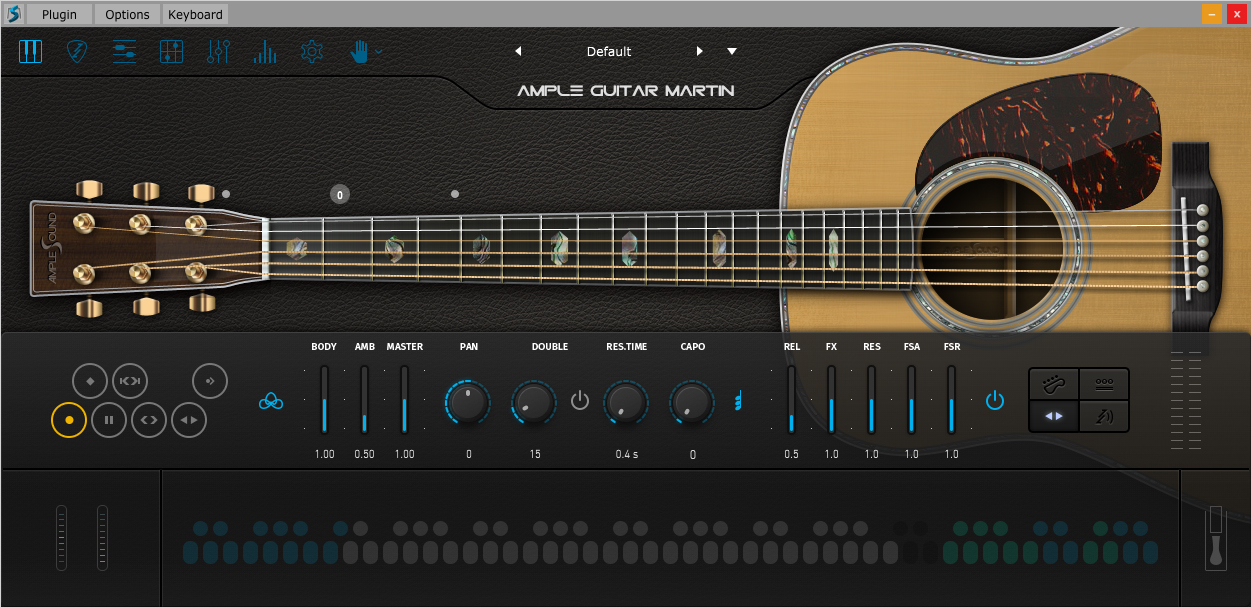 Ample Guitar M III is an acoustic guitar by Amplesound and a model of Martin D-41 acoustic guitar, which is where the M comes from. It features an astonishing library of more than 3800 sound samples in 24-bit / 44.1kHz.
Unlike Amber which is mostly based on Strum Chords, Ample Guitar M III includes complete strum samples for each chord and every music style, which can either be played by fingers or picking. What makes this guitar stand apart from other virtual guitars is the way you can control the resonance sound, Legato Slide, Slide in & out, Palm Mute, Pop, Natural Harmonic, and many more you won't think of.
Another super interesting feature of Ample Guitar M is the Random Riff Generator, which is built to summarize the rules by analyzing a bunch of music scores, this could quickly give you the inspiration to lay down a good track.
Video SneakPeek
Key Features
Strum, Finger two sample libraries.
14 Strum notes + 28 ways to play for every chord.
Strum Legato - legato articulations can be played while strumming.
Strum SEQ with customized rhythm.
4 humanization settings.
Controllable Resonance Sound.
Rich Fingering Sound.
Multiple Capo Logics - providing various options of automatic fingering logic to cover different performances such as solo, chorus, and so on.
CPC (Customized Parameters Control) - any controller can be controlled by MIDI CC or Automation.
and so much more
System Requirements
Windows 7/8/10, 64-bit only (32-bit not supported), and Mac 10.9 or higher.
VST2, VST3, AU, AAX, and Standalone host.
10 GB Hard Disk, Intel i5 or higher.
3.) Taylor Acoustic Guitar ($15.00)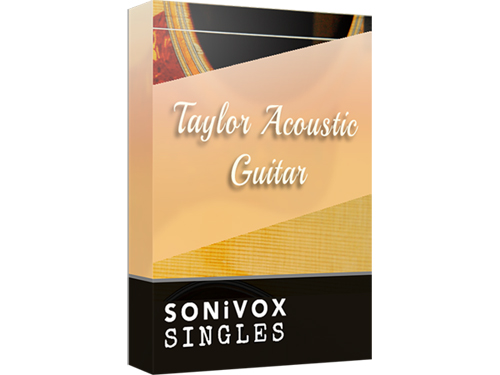 Taylor Acoustic Guitar is the most affordable guitar, it is around $15, but what do you get for this price?
The answer is a sampled model of the Taylor 810 Acoustic guitar for its pristine and soothing sounds. According to the manufacturer:
We sampled Taylor Acoustic Guitar with the excellent Lawson Tube microphone and it sounds amazing. To top it off we have included more than just single note samples. We've also included fret noise, harmonics, up and down strummed chords, and muted chord "chunks".
This is one of the most popular virtual guitars out there, and honestly, I was forced to try it after seeing a couple of great reviews about it, for the price point, you won't see anything better.
Key Features
A model of Taylor 810 Acoustic Guitar
Fret noise, harmonics, up and down strummed chords, and a muted chord
System Requirments
Windows 7 or higher, and OS X Version 10.8 or higher
Minimum 2GB RAM, 4GB Recommended
A VST 32/64 or AAX 32/64 compatible host application
A FREE iLok account & manager is required for authorization of this software - no iLok USB key is required
4.) Fractured: Prepared Acoustic Guitar ($99.95)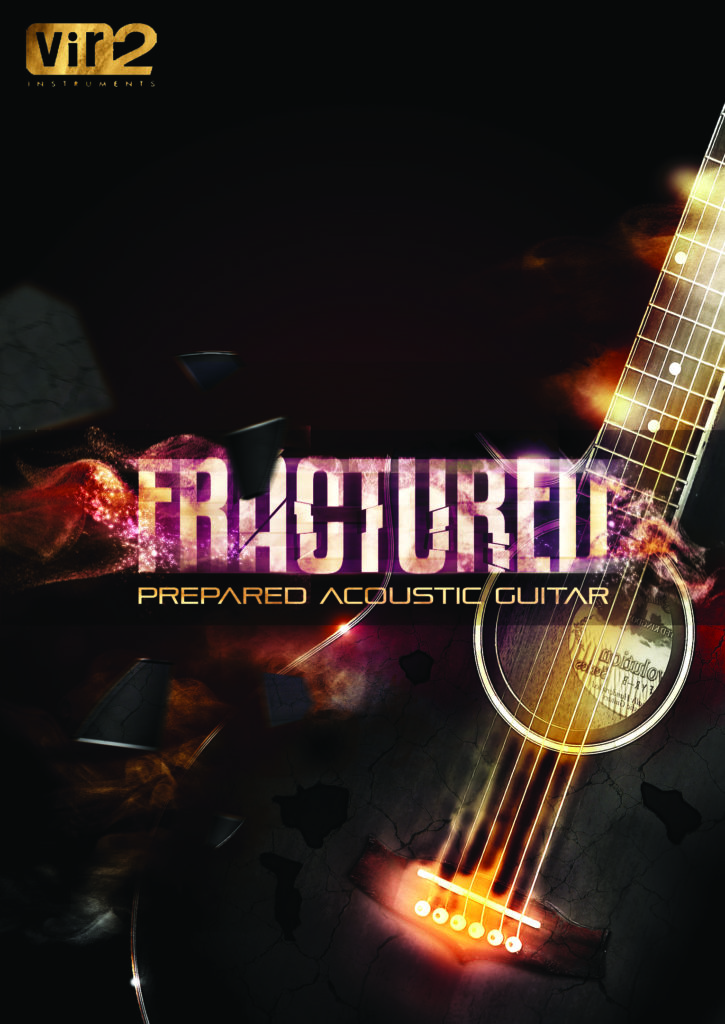 Fractured is a Kontakt Instrument by Big Fish Audio. Whether you would be using it musically or sound designing, Fractures is the right Prepared Acoustic Guitar for you. It isn't just an acoustic guitar instrument but an innovative new collection of instruments featuring creative and esoteric samples and manipulations of various acoustic guitars.
Big Fish Audio Fractured features 2.3GB of compressed samples and more than one hundred new instruments with numerous variations and effects built into each. One feature I dig about Fractured is the playable and dynamic rhythmic loops and patterns. If that isn't enough for you, you still have multitimbral arpeggiated creations, huge cinematic impacts, gritty electronic drums, gnarly, and much more.
What makes Fractured stand apart from others is the built-in Drum Kits made with mallets, fingernail scrapes, metal scrapes, cardboard scraps, and pouring rice over the guitar.
Video SneakPeek
Key Features
Sub-divided Instruments: Chromatic Kits, Drum Kits, Melodic, Pads & SFX, and Tempo Synced
You can tweak the instrument further using: Quantization, Envelope controls (attack and release), Stereo spread, Effects (reverb, delay, drive, flanger, vibrato, rotator, wobble, and others), AutoPan, and more
2.3GB of Compressed samples.
Over 100 patches of creative and esoteric samples and manipulations of various acoustic guitars.
The library includes the free Kontakt Player 5
System Requirements
Windows 7 Intel Core Duo or higher, and Macintosh OS 10.6.8 Inter Core Duo or higher
A minimum of 2GB Ram and requires at least 3GB of free hard drive space.
Fractured will run in standalone mode and is also compatible with Major DAW such as Fl Studio, Apple Logic & GarageBand, MOTU Digital Performer, Digidesign Pro Tools (8 and higher), Steinberg Cubase, and Nuendo, Ableton Live, and more.
5.) Blue Cat's Re-Guitar ($99.00)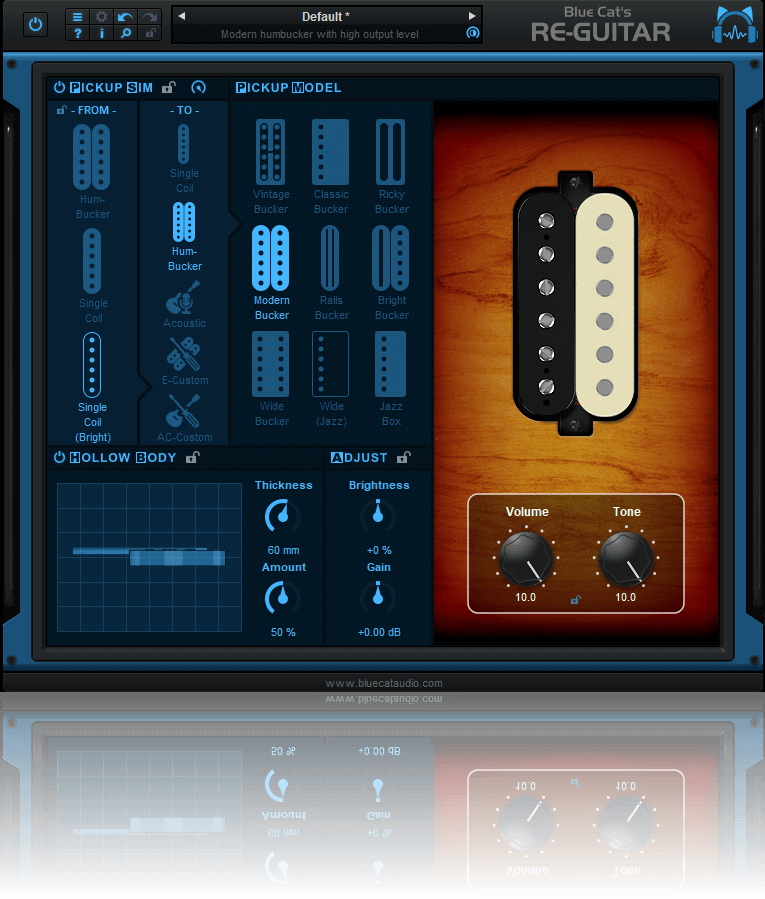 The last acoustic guitar on the list is the Blue Cat's Re-Guitar, which is designed to emulate many kinds of guitar tones, be it an acoustic or an electric guitar, this is especially handy in a project where you wouldn't like to be switching various guitar instruments.
The way Blue Cats Re-Guitar works is by letting you choose from a selection of popular guitar pickups, and it emulates the electric guitar pickup without you needing to modify them. You can also dig and expand the body "in the box" to craft your own hollow body guitar tone thanks to the body simulator. In addition to that, it includes a selection of acoustic guitar simulations, and you can craft your own too.
Video SneakPeek
Key Features
Guitar tone modeler with electric pickups, acoustic guitars, and hollow body emulations.
Built-in single-coil pickups: single hot, vintage, modern, active, tele, neck+mid, bridge+mid, P90, P90J.
Built-in humbucker pickups: vintage, classic, Ricky, modern, rails, bright, wide, wide(jazz), jazz box.
Built-in piezo & acoustic guitars: solid body piezo, acoustic sim pedals, modern & vintage dreadnought, jumbo, mini jumbo, 000, small.
Create your own electric pickups or acoustic guitar emulations with the custom electric and custom acoustic models.
Adjust hollow body thickness and amount.
Adjust simulations brightness and gain.
Built-in virtual volume and tone pots.
No latency.
System Requirements
Windows Vista or higher (Pentium 4 or newer), and Mac OS 10.7 or higher(intel processor.).
Any VST/AAX/AU compatible host software (32 or 64-bit).
Any sample rate supported.